5 Great Fall Activities in Greater Boston
There's nothing quite like fall in Boston. From the golden light on the brownstone buildings to the beautiful colors of fall leaves, we love the changing seasons. There's so much to enjoy before the weather turns cold that it can be hard to pick the fall activities you want to do. We've rounded up a list of some of our favorite things to do in and around Boston so you can make the most of this beautiful season. All of our suggestions are outdoor activities, so bundle up and get ready to explore!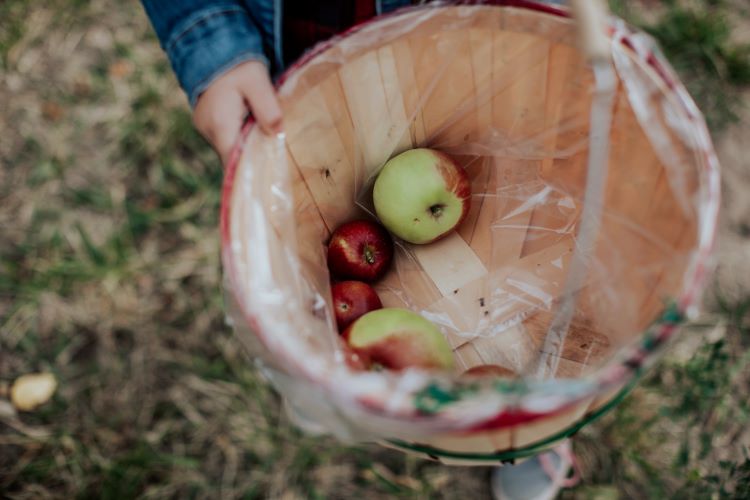 Apple picking
Apple picking is a favorite New England pastime, so it had to be first on our list. Take a break from hectic city life and head out to an apple orchard for farm fresh apples, hot apple cider, delicious cider donuts, and even fun fall activities like corn mazes. Here's a few of our favorite local spots:
Honey Pot Hill (Stow, MA)- head over for a fun afternoon of apple picking. You'll get to take a hayride from the parking lot to the orchards, then take your pick from over five varieties of apples. There's something for everyone here, including farm animals and mazes for kids and a hard cider tent for the grownups.
Belkin Family Lookout Farm (South Natick, MA)- this Massachusetts institution is one of the iconic orchards in the area. They offer more than just apples, so you can stop by multiple times this season for their Asian pears and pumpkins too. Visit during the week for a farm play area, a hay pyramid, and a moon bounce, or head over on the weekend for more fun, like face painting and train rides.
Brooksby Farm (Peabody, MA)- come to this Peabody favorite when you're looking for apple picking and fall treats. Their store dishes out delicious apple cider, warm cider donuts, homemade fudge, and more tasty baked goods. It's a great place to stop whether you want to pick apples or pick up some fall goodies. Connors Farm (Danvers, MA)- if you love everything Halloween, this is the place for you. In October, the farm becomes a spooky playground for people of all ages with corn mazes, hayrides, haunted corn fields, and a haunted farm.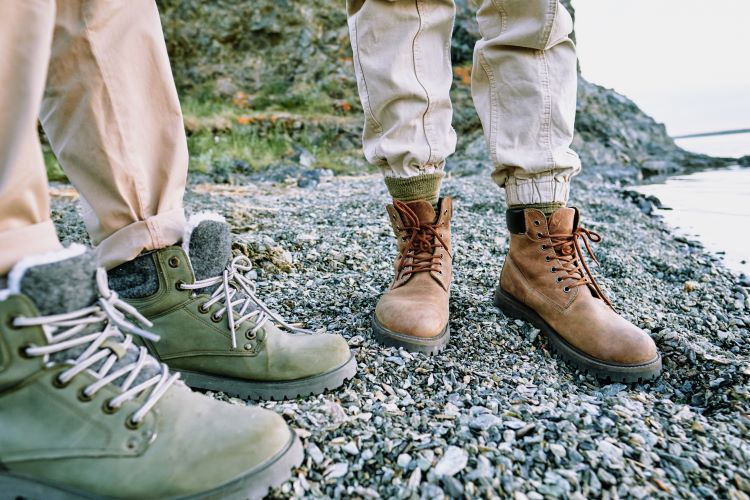 Hiking
The best way to see the gorgeous New England fall is to get out of the city and out into the fresh air. Boston is close to so many beautiful parks and mountains that you'll find stunning vistas all around.
Emerald Necklace (Brookline)- if you want to stay around downtown Boston, head over to the Emerald Necklace, a great collection of smaller parks, including sights like a baseball field and Jamaica Pond.
Battle Road Trail (Concord, MA)- this one is for the history buffs. On this nearly five mile trail you'll find markers that tell the story of the minutemen and the beginnings of the American Revolution.
Middlesex Fells Reservation (Stoneham, MA)- a local favorite, Middlesex Fells is close to the city but it has acres of pristine land to set the perfect backdrop for a fall hike.
Halibut Point State Park (Rockport, MA)- head north of the city and visit this beautiful seaside park with views of the rugged shore, and on a clear day, Maine's mountains.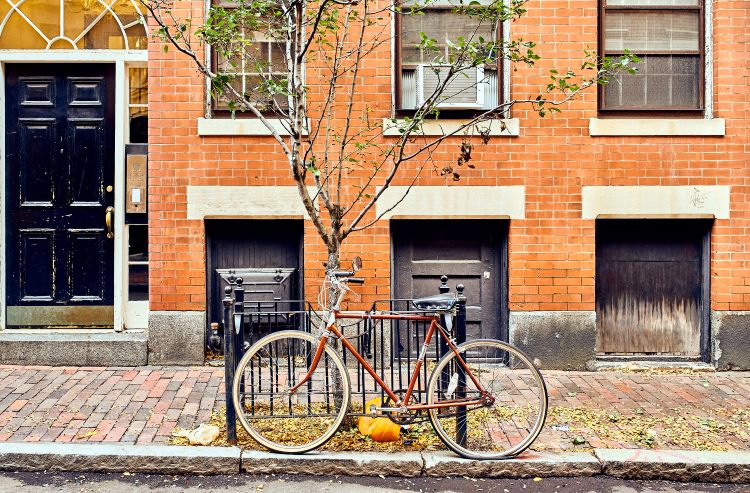 Bike ride
Fall weather is perfect for a leisurely bike ride around the city. Boston is home to some beautiful bike paths, both in nature and in the city, so take your pick of scenery and head off on your ride.
Charles River Bike Path (Boston, MA)- take a ride down this beautiful path alongside the Charles, all the way from the Museum of Science to Watertown Square.
Southwest Corridor Bike Path (Boston, MA)- admire the architecture of Back Bay and South End from this path, which stretches from Back Bay to Forest Hills.
Arnold Arboretum (Jamaica Plain)- visit America's oldest public arboretum and bike around the 4.5 mile space for gorgeous foliage and stunning views of Boston.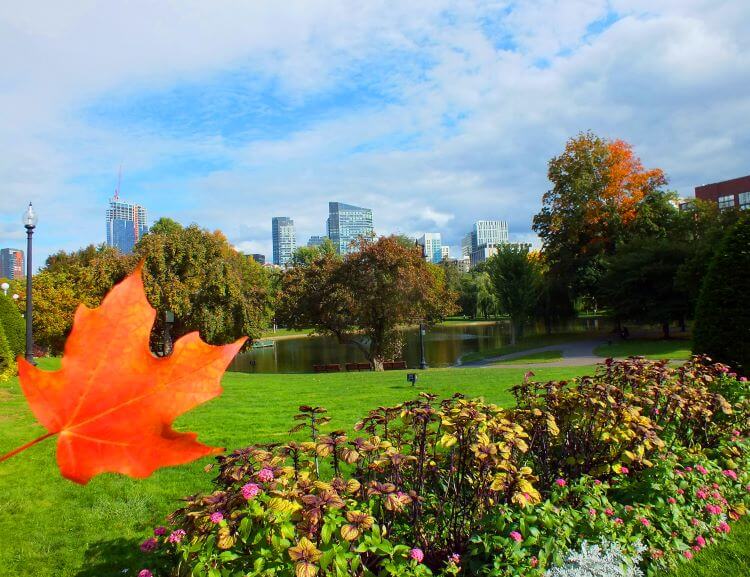 Picnic
Before the freezing Boston winter descends, enjoy some fresh air with a picnic. There's tons of green space around the city, but here's a few of our favorite picnic spots.
Boston Common (Downtown Crossing)- Boston Common and the Boston Public Garden is a classic for a reason. With beautiful landscaping and plenty of open space in the heart of downtown, it's a go-to for any picnic. With tons of restaurants nearby, it's a great place for a takeout picnic.
Bunker Hill Monument (Charlestown, MA)- get some history and some good eats at this grassy space. The nearby Charlestown Navy Yard is also a great spot for a historic picnic and great waterfront views.
Rose Kennedy Greenway (Waterfront)- you'll find a cute green space along the water here with plenty of space to spread out and enjoy a picnic. Take a walk down the Greenway for parks, water fountains, and other nice spots.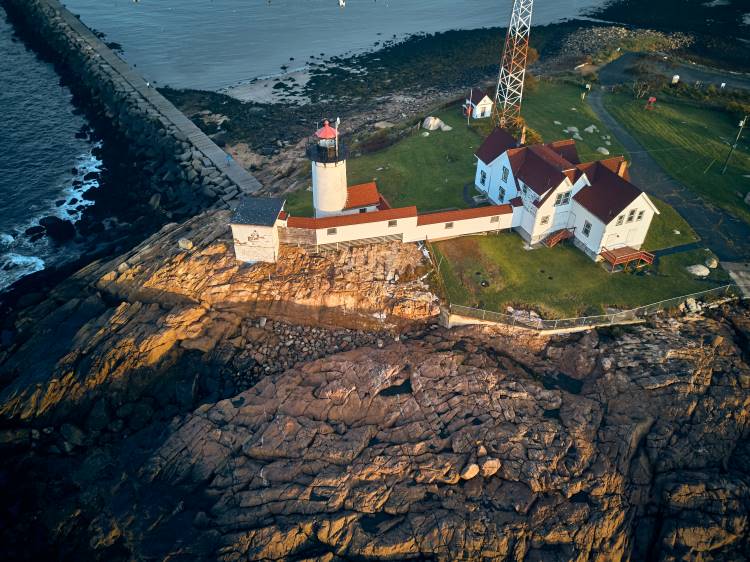 Beach trip
Just because the temperature drops doesn't mean you can't take a beach day. The areas around Boston are home to some beautiful beaches and lower temperatures means fewer crowds, so it's the perfect socially-distanced activity.
Crane Beach (Ipswich, MA)- located on the historic Crane Estate, Crane Beach is a beautiful and pristine piece of coastline. You can also visit the estate and gardens at Castle Hill while you're here.
Nantasket Beach (Hull, MA)- right on the Massachusetts Bay, this has been a favorite spot for Bostonians since the Victorian Era. Come here if you want the true New England boardwalk experience.
Gloucester (Gloucester, MA)- can't decide where to go? Gloucester offers seven different beaches so you can pick one once you get there. You'll find quiet relaxing beaches and some cute shops around this area.
There's Nothing Like Fall in Boston!
Get your scarves and hats out because there's so much to do before winter hits. Take your pick of fall fun activities in Boston from our list, or give us some of your recommendations! Remember to dress appropriately and adhere to any special COVID-19 guidelines while you're out. Happy exploring!
Tags: