Top 5 Takeout Spots for Comfort Food in Boston
Look, we get it. Eating healthy is always a challenge, and it can be even more difficult while sheltering in place. But sometimes, you just want something warm and cozy: something that soothes the soul, and leaves you with a smile on your face… and in some cases, the urgent desire to take a nap.
In short, comfort food.
While this can mean different things to different people, we've gathered some of our favorite spots for good comfort food in Boston for that delicious, affirming, feel-good takeout experience.. So whether you're having a rough day, are looking to celebrate, or are just tired of cooking all the time, Boston's got no shortage of excellent takeout options.
Let's get into it.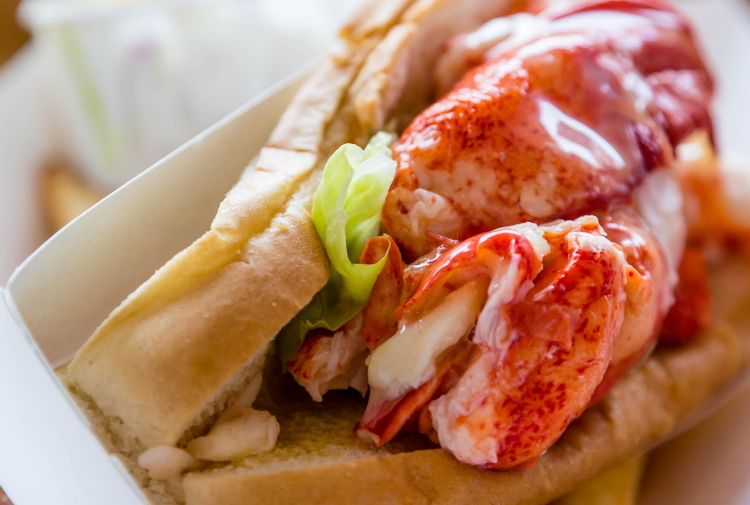 Lobstah On A Roll
Lobstahonaroll.com
(617) 424-7067
537 Columbus Ave
Boston, MA 02118
(b/t Claremont Park & Worcester St)
Lobster rolls. Is there any dish so quintessentially Bostonian? Chowder for sure — but people the world over know about Boston Clam Chowder (also known as "the good kind of clam chowder"). But travel to say, Wisconsin, and any mention of Lobster rolls is likely to be met with a blank-eyed stare at best.
Here in the Hub, it's a different story altogether. And when you want Lobster, but you know… on a roll, Lobstah On A Roll has you covered. Kitschy name aside, if we had to pick just one lobster place in Boston (and for this post, we did), then the thought of life without Lobstah On A Roll's Lobstah Mac N' Cheese is too much to bear. The "Chowdah" is also up to whatever standards you care to apply, but let's be clear: it's the titular lobster rolls that steal the show here, accents or no.
Bostonia Public House
bostoniapublichouse.com
(617) 948- 9800
131 State St
Boston, MA 02109
(b/t Broad St & Chatham Row Downtown)
Some days you want healthy food. And some days, you want tater tot poutine and sweet potato donuts, and woe to anyone who gets in your way. For the latter, there's really only one choice: the legendary Bostonia Public House.
In addition to the diet-demolishing glory of that poutine, Bostonia also boasts an exceptional bowl of clam chowder, and possibly the best burgers in Boston — at least, as far as selection is concerned. Feeling brave, or just want to challenge yourself with the messiest burger in Boston? Grab an Ultimate Burger, and just try to keep your outfit clean..
Nights out at the Public House are a Boston tradition: but there's no reason you can't have a wicked good time with a night in from the Public House as well.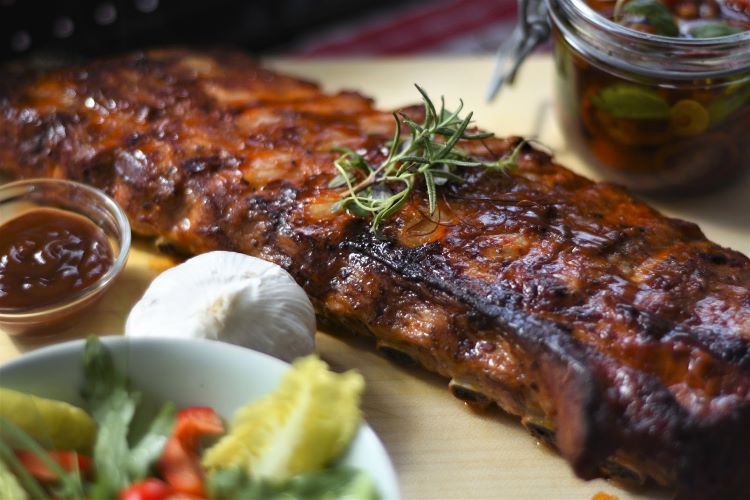 Dorchester Brewing Co. & M&M BBQ
dorchesterbrewing.com
(617) 514- 0900
1250 Massachusetts Avenue
Dorchester, MA 02125
Dorchester Brewing crafts some of the finest brews in New England. So to ensure that Bostonians have access to it, while ensuring the health and safety of all involved, Dorchester Brewing Co. offers 4 packs and growlers for pickup & delivery (order form here). Craft beer delivery just might be the best thing to come out of 2020 so far, but if you'll forgive the pun, there's plenty more on tap here.
If you missed it, the legendary M&M Food Truck is the M&M BBQ as of this January. And it is every bit as good as the reputation suggests. The Dumpster Fries just might be our favorite use of pulled pork to date, and the "street name" sandwiches are worth the order by themselves. Of course, if you're looking at M&M BBQ for the first time, you really owe it to yourself to pick up a rack of ribs. Can't decide what to order? The Smokers Club combines pulled pork, beef brisket, and beer-braised brats (or 3 ribs if you prefer), over pickled cabbage, onions, and good old-fashioned regular pickles.
It's ridiculous in the best possible way.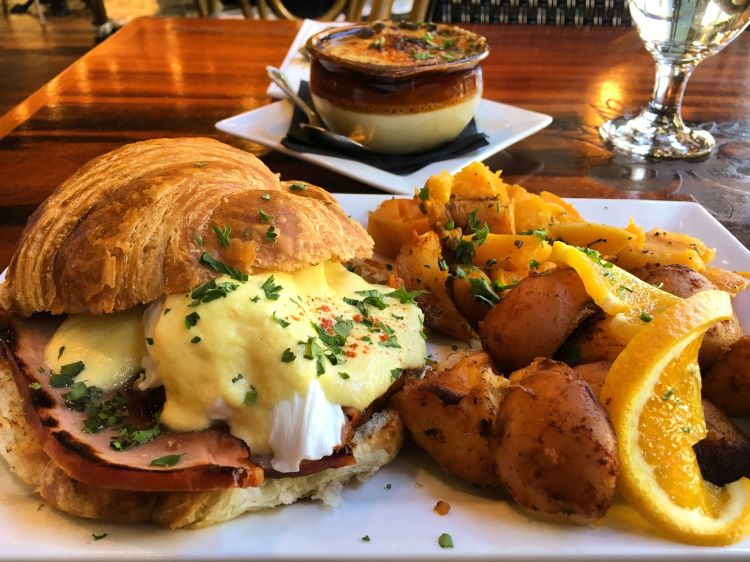 Grand Tour
Grandtourboston.com
(857) 277-0800
314 Newbury Street
Boston, MA 02115
Comfort food doesn't have to be a low-brow affair. In fact, when you've been subsisting on microwave mac n' cheese for months, what you really want is some of the choice, world-class cuisine that Boston is famous for. Some of the most fun that you can have in Boston is checking out new restaurants to see what they're bringing to the (literal and metaphorical) table.
And while you'd be forgiven for thinking that simply isn't happening right now, you'd be wrong… and might miss one of the best new restaurants in Boston in Back Bay's Grand Tour. Opening during one of the most… let's say challenging times to start a business that typically relies on in-person attendance, Grand Tour has shown a fighter's spirit and a chef's grace: rolling with the punches in true Boston style, and refusing to let circumstances dictate their dreams.
Also, making a wicked good steak.
If you're craving upscale French Bistro fare, or just a foodie looking to broaden your horizon, Grand Tour's an excellent choice for something on the finer side. From steak tartare and lamb burgers, duck confit, and all-natural, hormone-free prime ribeye steak, this place is a carnivore's dream. That said, from heirloom tomatoes and Moroccan-style ragoût ensure that those craving top-shelf vegetarian & vegan dishes are not left out in the cold.
Do we even need to mention that their wine game is top notch?
Yes we do. Top. Notch.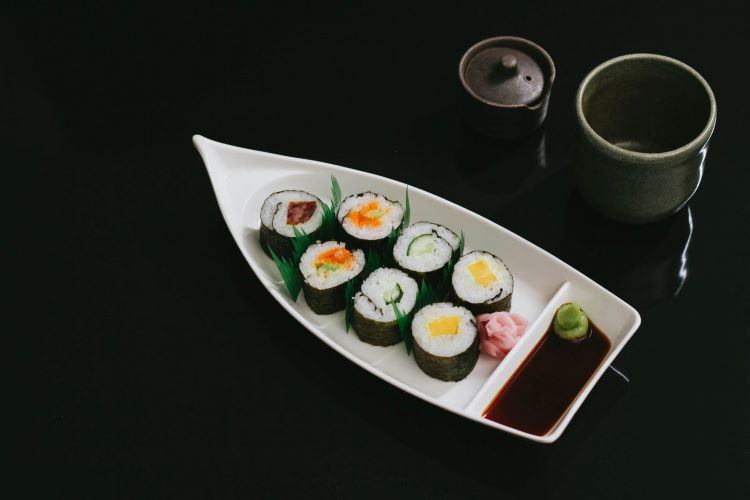 Fish Market Sushi
FishMarketSushiBar.com
(617) 783-1268
170 Brighton Ave
Allston, MA 02134
Living in Boston means access to excellent fresh-caught fish. Sushi is at its best when made with excellent, fresh-caught fish.
You see where this is going, right?
Fish Market is arguably the best sushi in Boston… but when we say "arguably," we mean it: as with most things, Bostonians can get feisty about our favorite sushi shops. However you feel about rankings, Fish Market is inarguably excellent: once that maki combo is in front of you, the rest of the world just kind of melts away for a moment.
Salmon, yellowtail, eel: the fare takes advantage of the location, no doubt. With Kobe beef, scallop tempura, jalapeno hamachi, even purple sweet potato fries – Fish Market's appetizer game is strong, as is their selection of Udon.
Bottom line: if sushi hits the spot, then you owe it to yourself to check this place out.
The Best Comfort Food in Boston, Delivered
One of the best things about living in Boston is access to top-notch cuisine of all sorts. We're pretty far removed from that 2-week period when it seemed like everyone was trying to bake sourdough, and especially with school starting back up, many of us are well overdue for some comfort food.
Take advantage of living in the best city in the world, and grab some AAA comfort food. Don't live inside delivery range? We can help with that, too.
Tags: