Multi-Family Homes in Boston For Sale Under $1 Million
Multi-family homes in Boston are in high demand- there's no question about it. With home prices continuing to move upwards, you might be asking yourself: is buying a multi-family home a good investment?  For the most part, yes, buying a multi-family home is a good investment. Real estate investing is a great way to build long-term wealth.  If you hold the asset for 20 years or longer you can build up some incredible equity that you can use to purchase other investment vehicles which certainly helps with retirement.  That being said, not all investment properties are created equal and you still need to do your due diligence.
If you have vision and can see opportunities to renovate and reposition the asset; you can often get amazing returns that other people would not think of implementing at a property.  Therefore, it is important that you take the time to consider all options before you buy a property.  You can always ask to bring over a reputable contractor to get some potential estimates on the price of renovating so that you can figure out the potential rents you are seeking.  Often times you can put in some capital improvements that propel the asset into a much more attractive and lucrative position in the marketplace.
If you're thinking of purchasing a multi-family in Boston, work with a reputable agent with access to real-time market data in each specific neighborhood.  You want to know the rents at all levels based on the condition of the asset.  It is also preferable that you work with real estate agents that have considerable knowledge and potentially own rental properties themselves so they can give you their personal insight. They'll be able to help you find the right property for you, and accurately price your future rental units. Working with a seasoned agent will give you an upper hand when buying in such a tight market!
Here is a glimpse into what the Boston multi-family market looks like today around the $1 Million price point: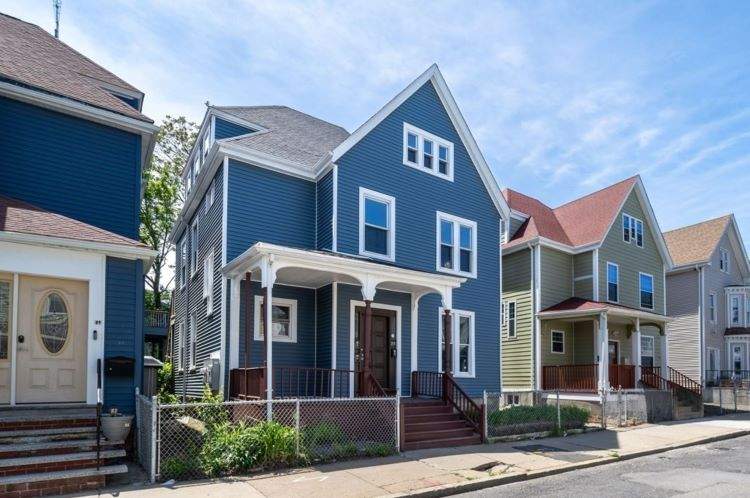 List price: $935,000
Square Footage: 2,757 SQ FT
Approximate Monthly Mortgage Payment: $4,483
This 5 bed, 3 bath is a great opportunity for first-time owner-occupants and seasoned investors alike. Two of the units are currently 2 bed, 1 bath apartments, while the third is a 1 bed, 1 bath. However, there is the potential to add a bedroom to each as well as basement storage units for additional income. The roof and siding are new, and the property has been recently painted as well. An investment property in such great condition won't last long!
Courtesy of Seller's Representative: Minjie Li, Proactive Realty
List Price: $849,000
Square Footage: 2,492 SQ FT
Approximate Monthly Mortgage Payment: $4,075
This 6-bed, 3-bath property still features many of the original architectural details. It's located on a corner lot and features not just driveway parking but garage parking as well. The location is extremely convenient, with easy access to Downtown Boston and Logan airport by car, and a stone's throw away from Upham's corner. The first-floor unit is a 2 bed, 1 bath while the second-floor unit is a two-level 4 bed, 2 bath.
Courtesy of Seller's Representative: Kate Duggan, Bostonia Properties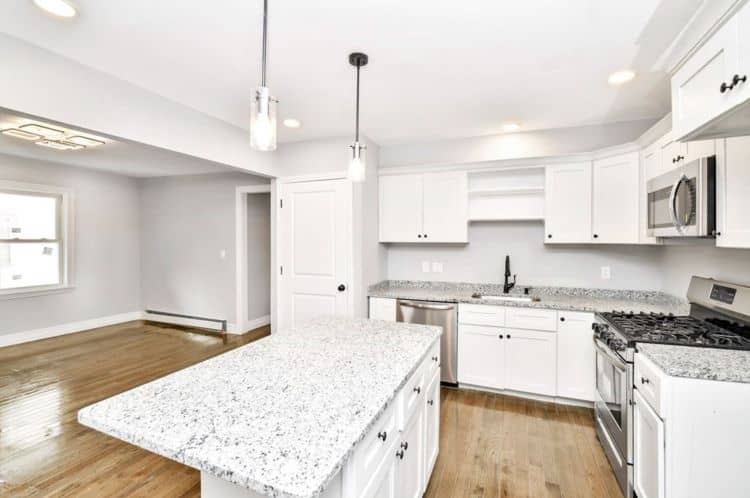 List Price: $989,999
Square Footage: 2,500 SQ FT
Approximate Monthly Mortgage Payment: $4,747
This 5 bed, 4 bath property has been completely updated. The good news is it won't need any work to be done before you move in or rent it out! The kitchens are absolutely gorgeous, and were designed with the home chef in mind. Kitchen amenities include white cabinets that are both stylish and functional. There are beautiful granite countertops, and a center island. Other highlights include in demand features such as recessed lighting, pendant lights, and gleaming hardwood floors throughout the property. Each unit has its own master suite with an absolutely stunning full bathroom. Owner occupants will love living here, and with such beautiful interiors the unit(s) will be easy to rent out as well.
Courtesy of Seller's Representative: Anthony Jean-Baptiste, Boston Trust Realty Group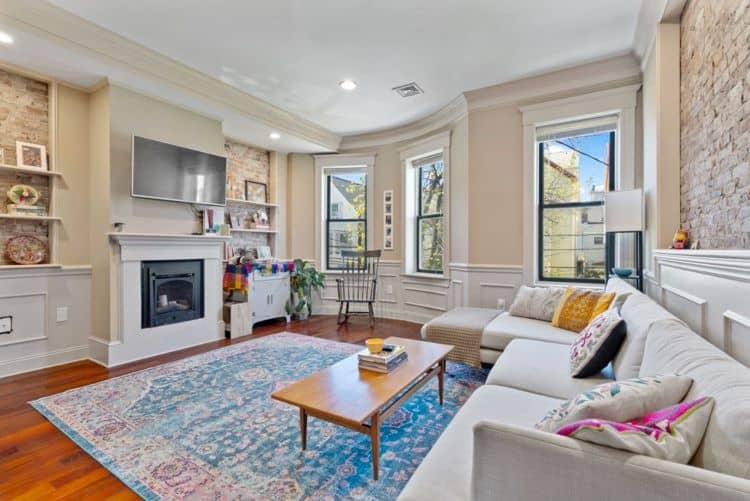 List Price: $975,000
Square Footage: 1,816 SQ FT
Approximate Monthly Mortgage Payment: $4,675
East Boston becomes more popular with homebuyers and renters alike every year. If you've been looking for multi-family homes for sale in Boston that are turn key and ready to move into, then this may be the perfect property for you. This two unit brick row house in Eagle Hill is close to the Blue line and features a common backyard and patio. Unit 1 features an open kitchen with breakfast bar. It also has one large bedroom, a rarity for the city of Boston. Laundry is available in the basement. Unit 2 has been more recently renovated. It has two large bedrooms, and a bathroom that will make you feel like you've just spent time in a professional spa. As an added bonus, this one has in-unit laundry for your convenience. Other features include central heat and AC, and gorgeous hardwood flooring.
Courtesy of Seller's Representative: Steven Cohen Team, Keller Williams Realty Boston-Metro | Back Bay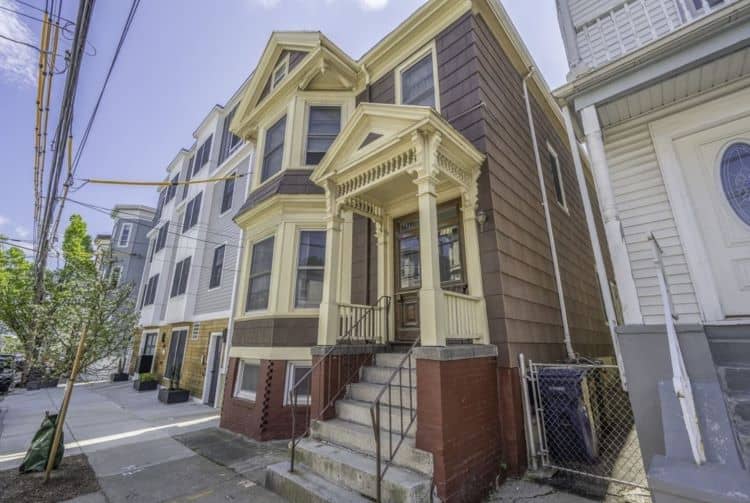 List Price: $1,025,000
Square Footage: 2,918 SQ FT
Approximate Monthly Mortgage Payment: $4,915
Although this multi- family is slightly above the $1 million mark, it has so much space and potential we had to include it. Multi-family homes for sale in East Boston in this price range are getting harder to find by the day. Unit 1 is located on the first floor. It has three (3) nice sized bedrooms and an office space. Both the kitchen and bathroom have been recently updated. The kitchen has gorgeous new cabinets with crown molding, quartz countertops, and stainless-steel appliances. Unit 2 is located on the second floor. It has four (4) generously sized bedrooms, a large living room for entertaining, a formal dining room, and an eat-in kitchen. As an added bonus there is a walk up third floor that contains more than 600 square feet of living space. The bonus area even has a second full bathroom for your convenience or your tenants convenience.
Courtesy of Seller's Representative: Nicholas Daher, Broad Sound Real Estate, LLC
Call a Real Estate Professional Today!
There are some great choices for multi-family homes for sale in Boston under $1 Million that are available now. You can find even more on the Boston Pads Real Estate Portal. To speak to an agent about your home- buying options, call (617) 208- 2121 today!
Tags: