2022 Somerville Apartment Rental Market Report
We're now two weeks removed from the peak of the 2022 apartment rental market and something remarkable is happening in Somerville.  Historically, the real-time vacancy rate (RTVR) spikes on 9/1 on account of the large number of apartment leases expiring on 8/31.  Over the past 3 years, Somerville's September RTVR increased by +175.85% (2021), +293.10% (2020), and +272.73% (2019) compared to August.  Now in September 2022, Somerville's RTVR is up just +64.71% compared to August when RTVR was at an all time low in Somerville (0.34%).
In fact, both RTVR and real-time availability rate (RTAR) hit new record lows last month in Somerville.  In mid August, apartment availability sank to a new historic low of 1.16%.  RTVR bottomed out at an all-time low of 0.34% at the beginning of last month.  Despite the unprecedented shortage of apartments in Somerville, MA, rent prices have yet to exceed their previous record-highs of 2020 as they have in most neighborhoods in Boston this year.  Here are the main trends driving Somerville's apartment rental market in 2022.
Unprecedented Apartment Scarcity in Somerville, MA
Somerville's current RTVR is 0.56%, a record low for mid-September by a long shot.  That figure is -80.95% since September 2020.  Remarkably, Somerville's current vacancy rate isn't among the 5 lowest RTVRs out of Boston's closest suburbs.  Waltham (0.13%), Brookline (0.26%), Arlington (0.27%), Newton (0.32%), and Revere (0.48%) all have vacancy rates below that of Somerville.  To see vacancy rates this low in September is nothing less than astonishing.  We've never seen a September like this since we've been tracking Greater Boston.
| | |
| --- | --- |
| Area | Real Time Vacancy Rate |
| Somerville | 0.50% |
| Revere | 0.48% |
| Newton | 0.32% |
| Arlington | 0.27% |
| Brookline | 0.26% |
| Waltham | 0.13% |
Somerville's current real-time availability rate (RTAR) is 1.36%. That marks a -60.12% year-over-year decrease in Somerville's RTAR and a -30.61% drop in apartment availability compared to pre-pandemic levels in mid-September 2019.
The current RTAR in Somerville is nearly double the availability rate for Boston apartments (0.69%).   Historical rental data for Somerville MA shows that RTAR typically bottoms out in January as opposed to most of Boston seeing the lowest seasonal availability during the fall.  Accordingly, we expect Somerville's RTAR to continue to dive lower throughout the remainder of 2022 as demand for off campus apartments near Tufts remains strong.
With vacancies and apartment availability so low, you'd think that Somerville's average rent price would be at all-time highs like they are in most Boston neighborhoods.  Surprisingly, that is not the case.
Average Rent Prices in Somerville MA 2022
Somerville's current average rent price is $2,631.  That figure is up +7.80% year-over-year and ranks as the 4th most expensive suburb to rent an apartment in Greater Boston.  A year ago, Somerville held the 3rd highest average rent price among Boston's suburbs, but Newton overtook that position early this year.
Somerville is one of the few neighborhoods where average rent price has not hit an all-time high thus far in 2022.  Somerville's current record for highest rent price was recorded in April of 2020, when average rent reached $2,665.  At the current pace of price growth, Somerville would eclipse that previous record sometime in late October, which is likely to happen considering the market for Tufts students will keep demand strong over the next few months.

Somerville Rental Market Forecast 2023 and Beyond
In the short-term, the rental market data in Somerville MA suggests that we will be looking at a very tight rental market for Fall 2022.  Tufts students will be looking at much less inventory in Somerville and Medford than they have seen in previous years, which will continue to push prices higher as we near the end of the year.
The long-term rental market outlook for Somerville appears less certain.  Low apartment inventory and rising rent prices are usually the signs of a strong and healthy rental market, but one can't help but get the feeling that tougher times are ahead.  Inflation is running rampant, interest rates are rising, and our economy is entering a recession.  This will eventually lead to corporate layoffs and demand destruction, the extent of which we have yet to see.
For now, prices are rising thanks to a strong demand for rental apartments in Somerville. As interest rates continue to rise, more potential buyers will be pushed towards renting, which could create additional demand pressures on the already desperately low inventory of available apartments.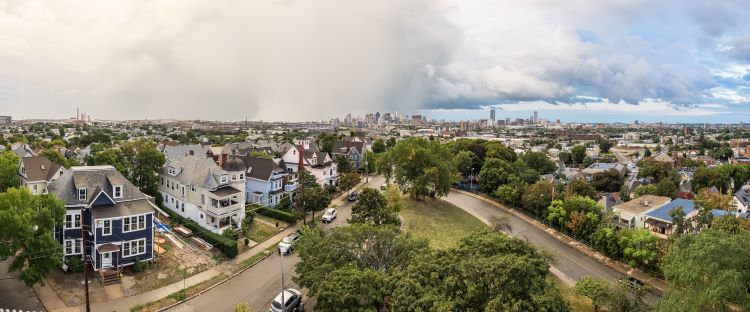 Somerville's apartment developers have been quite active in the permitting process for the Union Square area.  While this could help increase apartment supply in a tight Somerville market; numerous developers have been worried about excessive inflation and high energy and material costs halting the ground breaking process. The labor participation rate has been lower than expected. There are still too many people that have not reentered the work force. This fact has been driving wages/costs and development times to extend out further than traditional construction time frames. As projected carrying costs increase there is a lot of uncertainty in building properties.  Numerous Somerville apartment developers have been stating that their development costs are running between $350-$400 PSF for new construction.  With these increased costs; many developers as of late have been debating on moving forward with their projects or waiting until economic conditions improve.  Details in real estate development really matter.
There is a great degree of financial uncertainty on the horizon, especially with the Fed most likely announcing a .75 percentage point rate hike on Wednesday. All this turbulence in the marketplace and vast runaway inflation is clouding visibility to predict accurate apartment rental pricing. However, due to the overall incredibly low numbers we are seeing for available and vacant apartments in Somerville, overall we predict that rent prices in Somerville will continue to rise throughout the rest of 2022. Our thoughts are that as the economy worsens we can prices will flatten out during the first few months of 2023. Short of vastly increasing supply of both fossil fuel production as well as housing options; we could be in a tough period of economic times and possibly even see stagflation. Depending on how bad the recession hits in 2023 will probably reflect in how far rental prices fall towards the second half of 2023. These are challenging times to make accurate forecasts.
We will continue to monitor these trends as they develop.
Tags: