5 Best Price Reduced Apartments in Boston This Week
Listen up house hunters! We've found this week's best price reduced apartments in Boston in many different neighborhoods! Whether you're looking to save on rent and build your savings or just snag a great deal, look no further than this list. We're bringing you the best of the area, from Cambridge to Beacon Hill, at prices you've never seen before. All of these apartments have just had their prices lowered, so if any of them catch your eye you better act fast before someone else grabs it.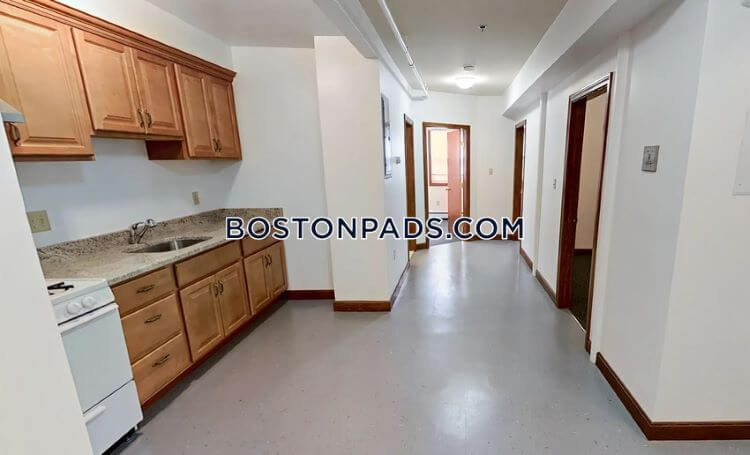 3 Bedroom Apartment in the Symphony Area
First up, we have this spacious spot in the Symphony/Northeastern area. The location is great, just steps away from the Symphony Green Line T station. With three bedrooms and one bathroom it's the perfect size for you and a few friends. Plus- with amenities like parking on the street, laundry in the basement, and heat and hot water included in your rent, you'll save money living here.
The kitchen and attached living room provide plenty of space to spread out and the kitchen comes with plenty of cabinet storage space. Moving to the bedrooms, they're all spacious with lots of natural light and closets. If that doesn't sell you on this place, the rent was just reduced to $3000/month from $3600/month, and there's no broker fee. Take a look at the listing for a virtual tour and the agent's contact info.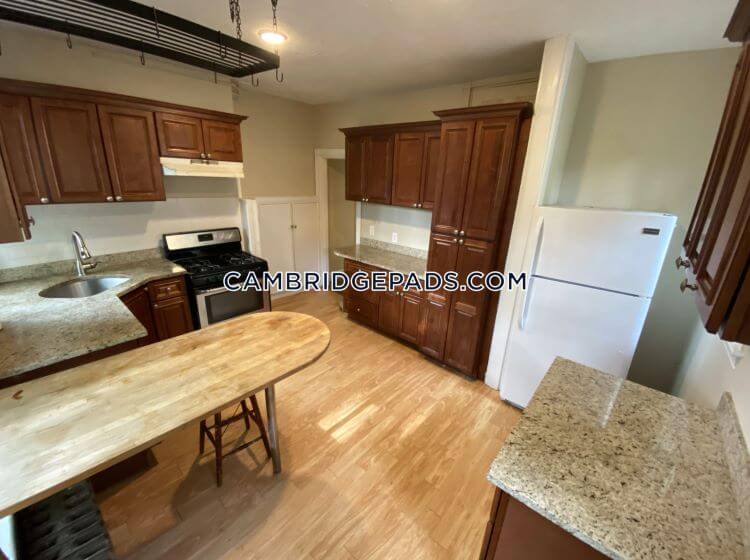 6 Bedroom Apartment in Cambridge
If you want to move in with all of your friends and keep your quarantine bubble, this is the place for you. With six bedrooms and two and a half bathrooms across three floors, this huge has plenty of space for all of your friends to spread out. Plus, this apartment is only blocks away from Harvard Square for ultimate convenience.
The apartment is a modern unit and it has a great kitchen with granite countertops, stainless steel appliances, and plenty of cabinet storage. The whole house has beautiful hardwood floors and central air conditioning. Each of the rooms is spacious with plenty of natural light and a bathroom on the bottom two floors. Another selling point of this place- you'll also get laundry in-unit here. Check out the listing for a virtual tour and more information, but act quick! This apartment dropped a stellar $1,900 at once- now it is $6600/month as opposed to the original $8500/month so it's sure to get rented soon.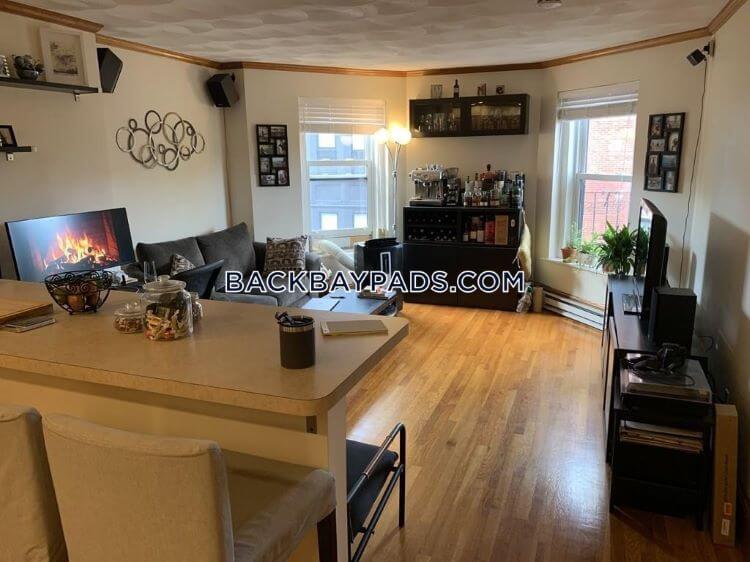 1 Bedroom Apartment in Boston's Back Bay
We found a cozy one bedroom place in Back Bay that has everything you need. The apartment has beautiful hardwood floors throughout, plus plenty of windows to let in the natural light. The kitchen is spacious with lots of counter space thanks to the island that doubles as a breakfast bar. You'll love the bedroom with its gorgeous view of Newbury Street and the closet so big it's almost a walk-in. This place is definitely luxe on a budget with its chic interiors and desirable location right off of Newbury Street at an unbeatable price.
As a renter, you'll get on-street parking and access to laundry in the building. The price was just lowered from $2200/month to $2100/month and the broker's fee was dropped. That rent also includes hot water, so you'll save even more. Get in touch with the agent or look at the virtual tour on the listing page to claim this chic space as your own.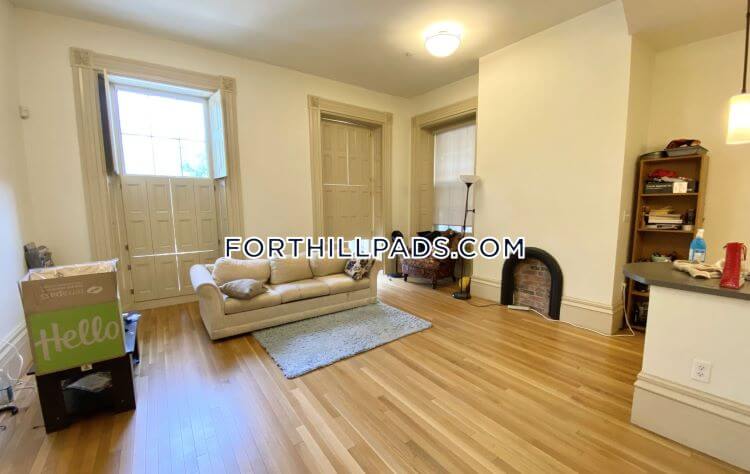 2 Bedroom Apartment in Fort Hill
If you're looking for an apartment with flair, this is it. This beautiful apartment still has colonial touches, like the huge windows, moulded door frames, and huge columns on the patio, with modern and updated interiors. The spacious unit has hardwood floors, a modern kitchen (including a dishwasher), and huge rooms. The bathroom has also been recently updated with a contemporary all-white tile look.
Located near the Roxbury Crossing Orange Line T stop, you'll get style and convenience here. Coming in at $2200/month after just being reduced from $2800/month, you'll be getting a great bargain on this apartment. You won't have to pay a broker fee either, so you'll be keeping some extra change in your pocket too. Check out the listing page for lots of photos and the agent's contact info. Act fast since this apartment is available now and with all of this style for a low price, it's sure to go quick.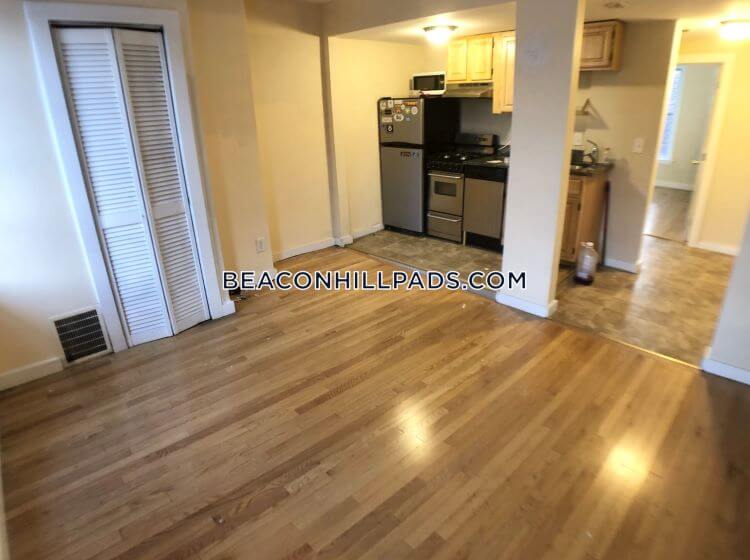 2 Bedroom Apartment in Beacon Hill
Lastly, we've done the impossible- we've found a great apartment at an even better price in Beacon Hill. Located blocks from the Bowdoin Blue Line T station, you'll be in the heart of Beacon Hill for a reasonable price. The apartment is recently updated with stainless steel appliances in the kitchen and hardwood floors throughout. The living room and bedrooms are spacious, both with lots of natural light coming through the windows.
On top of the great location and nice living space, you'll also get street parking, access to laundry in the building, and utilities (heat, hot water, and gas) included in your rent. All of this can be yours for $2250/month (recently dropped from $2850/month) and you won't even have to pay a broker's fee. Check out the listing page to contact the agent before this hot apartment goes off the market.
Want to See more Price Reduced Apartments in Boston
Deals can be hard to come by in the Boston area. It's a notoriously expensive place to live, but there's always a great deal around the corner if you know where to look. Remember, keep an eye on our ever-changing database for the latest deals and price reduced apartments in Boston. You never know what incredible deal you might find!
Tags: