Average Boston Apartment Rent Prices by T Stop
BOSTON, MA: BostonPads.com, a comprehensive digital resource for Boston real estate, published an infographic showing the average per-bedroom rent prices of Boston apartments in nearly every neighborhood in Boston. The infographic looks like an MBTA map with a dollar amount next to the name of each stop. The familiar visual allows readers to easily explore rent price trends in Boston.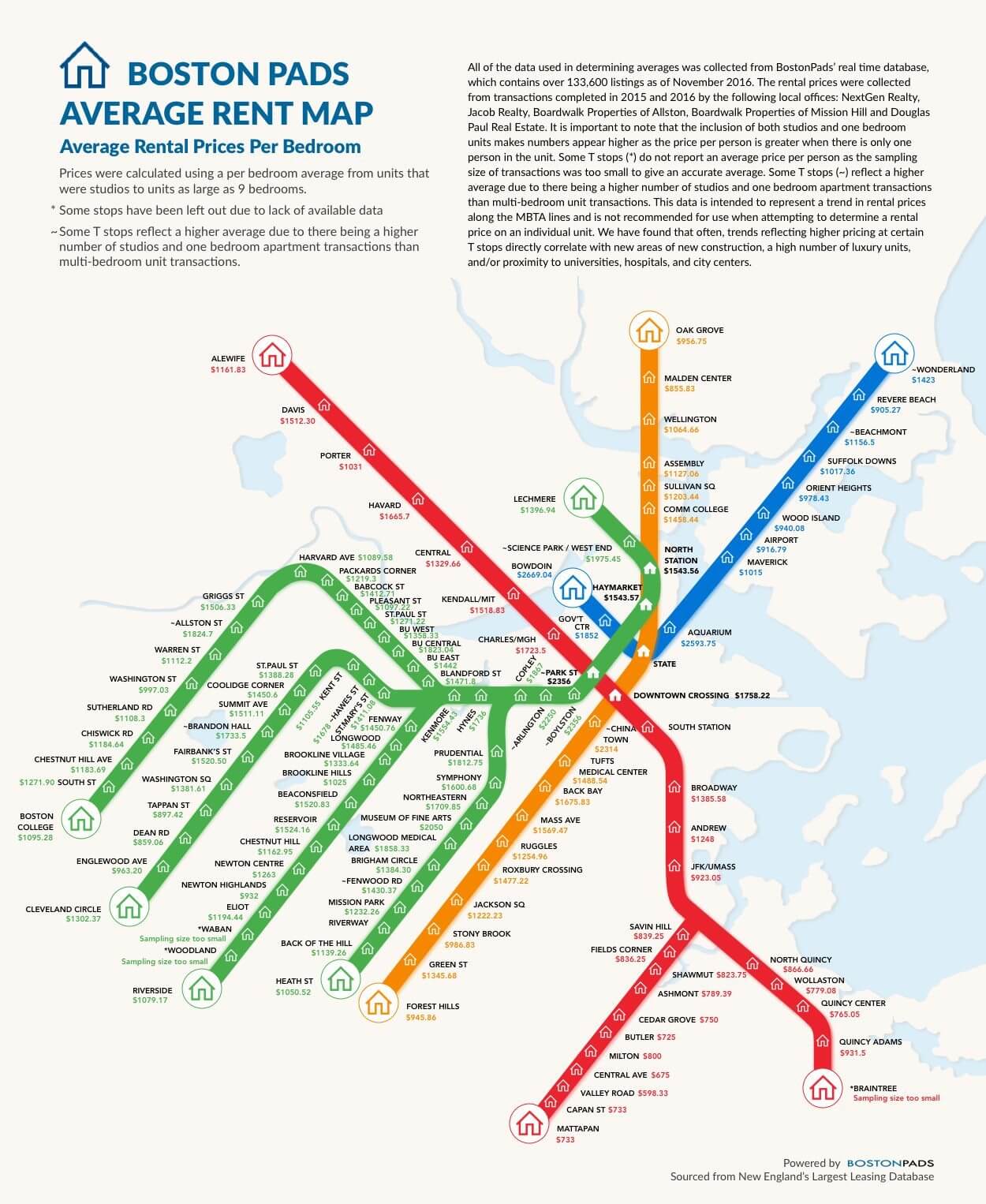 BostonPads.com founder Demetrios Salpoglou said: "We are excited to offer an accessible way for our users to observe patterns in housing prices throughout Boston. I hope this graphic provides Bostonians who are choosing a neighborhood to live in with a practical reference of which areas they might consider based on their budgets. I also hope it is an exploratory tool for those interested in housing price trends throughout the Greater Boston Area!"
About the Rent Prices by T Stop Infographic
The graphic shows higher prices in the Downtown, Back Bay, and North End neighborhoods. Stops further along the T lines, like those in Quincy and Allston, indicate more affordable rentals. Higher average prices cluster around universities, hospitals, government buildings, and cultural institutions like museums. Our data source is the BostonPads database, which contains over 133,600 listings as of December 2016. We calculated rent prices from apartments ranging from studios to 5+ bedrooms. The data comes directly from actual rented properties, not listed apartment rental pricing. Prices at some Boston T stops were impacted by an above average number of studios and one-bedroom units. These units trend higher in per bedroom pricing than apartments with more bedrooms. Thus, we present the graphic as an exploratory tool, not a reference for determining prices for individual units.
About BostonPads.com: BostonPads.com is the premier resource on the web for every Boston real estate need. The website features an interactive database of apartments for rent, as well as properties for sale in Boston, and its surrounding areas. The real time apartment database, which is the largest of its kind, is easily searchable by numerous filters. It is powered by over 150 experienced, local Greater Boston real estate agents and refreshed daily by a dedicated staff.
Among BostonPads.com features are free comparative market analyses for property owners, information about construction, renovation, property management and many other services. Boston Pads aims to provide the best resources for every Boston real estate need through innovative technological platforms that make things simple for buyers, sellers, renters, property managers and consumers.
Tags: