Best Luxury Apartment Buildings in Medford
In typical times, Medford is a charming area where residents gather to enjoy local dining, bars, arts, and culture – and it will be again, soon. But, in these months of business closures and social distancing, Medford has also been a respite for safe, outdoors entertainment. It has miles of walking and biking trails and a waterfront perfect for kayaking and canoeing. In these uncertain times, there are luxury apartment buildings in Medford, MA that will place you right next to all you love about the great outdoors and just a ten or fifteen minute train ride out of the city. Many of these buildings are offering major incentives! Rent discounts, flexible leases, and other specials to make your search for luxury housing in Medford a little bit easier, amongst them.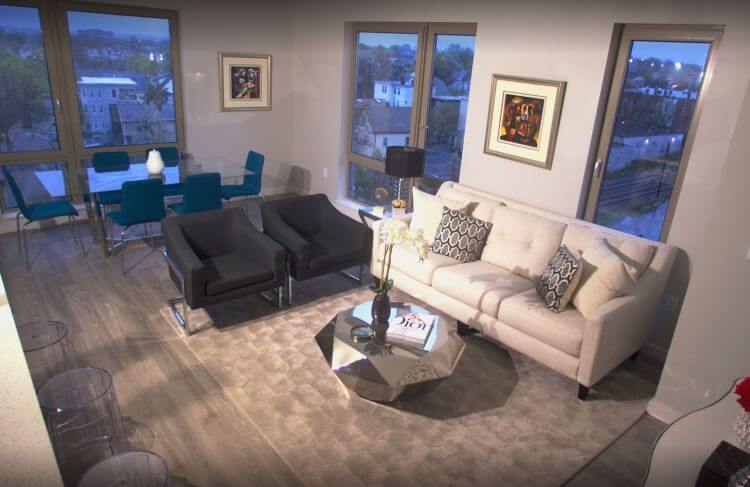 Sphere Luxury Apartments
Do you love hiking, biking, and public transportation? Sphere is the perfect choice for eco-friendly and outdoorsy tenants who do not want to lose the benefits of city life. Need to head into Boston? Grab the Orange Line, Green Line, or Red Line. Need to get out of the city? Hop onto a nearby community bike path that will take you to miles of biking and hiking trails.
Whatever your excursion, you will come home to amazing amenities. These include a resident lounge with a wet bar, high definition television, and roof deck. Looking for more? You'll also find a state of the art fitness center, a modern security system for your peace of mind, online service requests and bill paying for your convenience, and secure indoor bike storage. Depending which of the nine floor plans you choose, you will get apartment amenities like seven foot windows, an in-unit washer and dryer, walk-in closets, or a private balcony. Your furry friends are welcome, there are both furnished and unfurnished apartments available, and Sphere also offers flexible lease terms including academic year leases. Plus, there are green initiatives and a recycling program, so you can live in luxury while doing good for the earth.
Sphere Luxury Apartments has one-bedroom units available starting at $2,600 per month and two-bedroom units starting at $3,100. There are also select affordable housing units in the building available at a lower cost.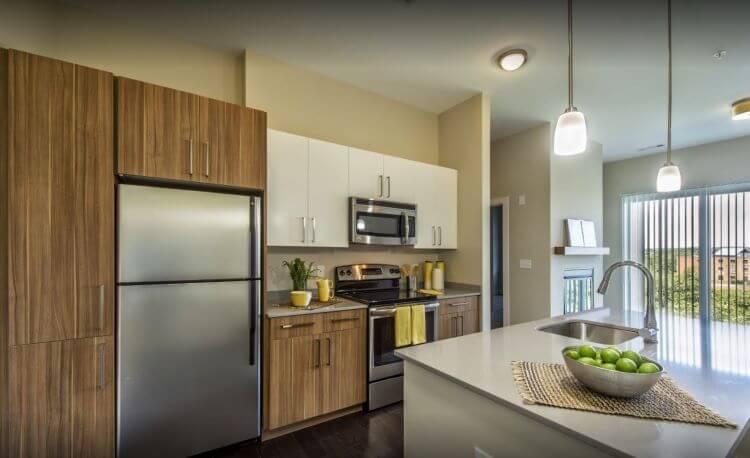 Lumiere
Imagine yourself in an open concept apartment with a private balcony overlooking the Mystic River or Boston skyline. Does it sound like a dream come true? If so, Lumiere might be the perfect choice of Medford Luxury Apartments. The modern building offers five fitness centers, a pool with a sundeck, direct access garage and electric vehicle charging stations, a green deck with outdoor games, billiards table, valet services including dry cleaning and groceries, and more. In your apartment, you might find amenities like quartz countertops, hardwood floors, an in-unit fireplace or washer and dryer, walk-in closets, and more.
Lumiere offers studios, one-bedroom apartments, and two-bedroom apartments. The studios start at $1,782. One-bedrooms start at $1,902, and two-bedrooms start at $3,079. Plus, for a limited time, you can get one of the best luxury apartments in Medford for $1,000 off or with one month free during your first lease by inquiring about Lumiere's special offers.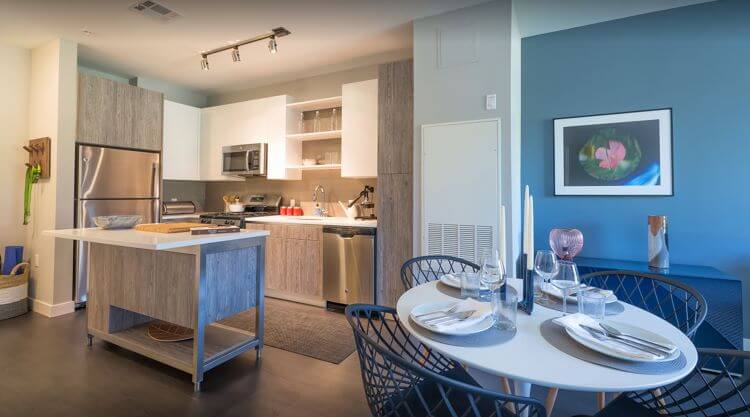 Modera Medford
You will find more of the best luxury apartments in Medford at Modera Medford. These studio, one-bedroom, two-bedroom, and three-bedroom apartments feature industrial fixtures and come with stainless steel appliances, den or loft layouts, quartz countertops, and, in select units, washers and dryers, fireplaces, and views of nearby green spaces or the city skyline.
The equally enticing community amenities include a wildlife observation deck, roof deck, kayak launch with direct access to walking and biking trails along the Malden River, theater room, fitness center, yoga studio, game room, pet spa, pool, loaner bikes, and more.
One-bedroom apartments at Modera Medford start at $2,232. Two-bedrooms start at $2,406, and three-bedrooms start at $3,353. In light of COVID, the management is currently offering virtual tours and a special offering one month of free rent.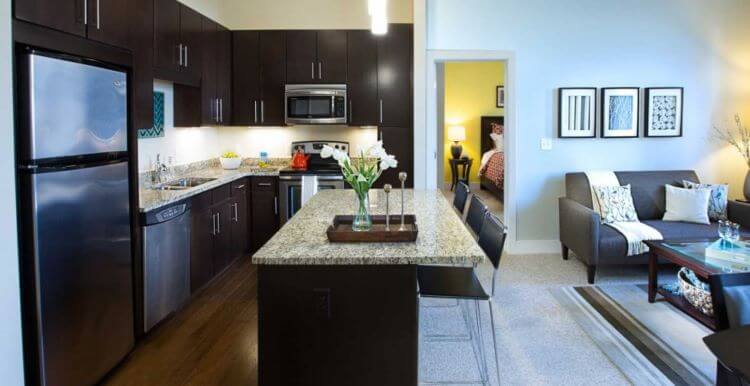 The Residences at River's Edge
These sophisticated and modern luxury apartments in Medford include gourmet, open concept kitchens with stainless steel appliances, granite countertops, and custom-built cabinetry, plus spa-inspired bathrooms with oversized tubs and mirrors. Other apartment features include hardwood floors and fireplaces, patios and balconies, 10 to 14 foot ceilings, and walk-in closets.
The building amenities are designed with community in mind. The building has ample space for clubs, classes, and guests, including the rooftop pool and sun deck, landscaped courtyards, fitness center, and clubhouse with theater and game room. For visiting friends and family, there are furnished guest suits. Plus, this community is dedicated to green living, with a one and a half acre restoration project in nearby wetlands, running and walking paths along River's Edge Park, solar panels, and high-efficiency HVAC systems.
At the Residences at River's Edge, studios start at $1,983, one-bedrooms start at $1,994, two-bedrooms start at $2,358, and three-bedrooms start at $3,292.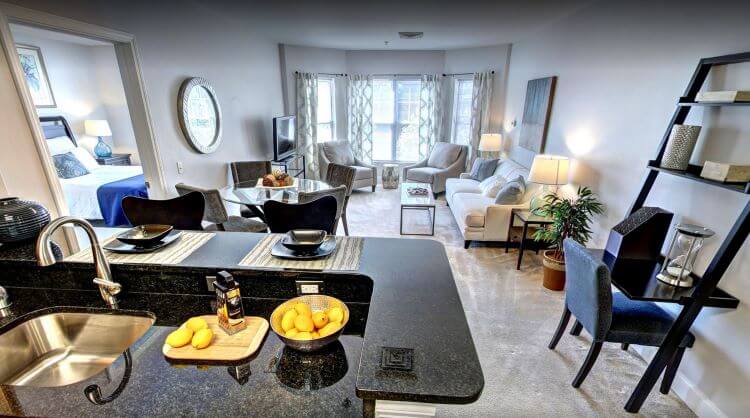 Wellington Place
Wellington Place boasts some of the best luxury apartments in Medford for residents looking for a tranquil, homey escape from the hustle and bustle of city life. The grounds boast meticulous gardens, the security is top-notch, and the hardworking staff tend to your every need.
Additionally, the wheelchair-accessible apartments have amenities like air conditioning, dishwashers, modern kitchens with granite countertops, and in-unit washers and dryers. The outdoor community amenities include multiple grilling and barbecue areas with fire pits, pools, and a fitness center. On top of that, you'll find the club room with its media lounge and breakfast bar, and a parking garage. Wellington Place is pet-friendly and offers flexible lease terms, including short-term leases.
Management is currently offering one month of free rent to applicants for its one and two-bedroom apartments. The one-bedrooms start at $2,065 per month and the two-bedrooms start at $2,590.
Choose amongst the best luxury apartment buildings in Medford for your next home
Finally, if any of the communities you read about here sound appealing, Boston Pads can help you find your new home in one of them! Keep in mind that during this pandemic we have been seeing tons of fluctuation in pricing, and some of these luxury buildings have been providing some incredible deals. Many of these luxury building incentives have been quick to appear and disappear to stimulate rapid occupancy. You will want to check in frequently on luxury apartment buildings in Medford since catching a great deal can be all about timing. If chasing apartment deals sounds like it is far too complicated, simply reach out to one of our professional Medford real estate agents found on our website and they can track all of them for you. Please feel free to contact one today!
Tags: