The 5 Best Luxury Apartments in East Boston
Ah, Eastie. Close to downtown, hip, and packed with local flavor, East Boston is an increasingly popular destination for Boston residents: especially those with uncompromising tastes. But when trying to find the best luxury apartments in East Boston, how can you distinguish between the different options? With this many good options available, it's easy to get lost in the weeds — but never fear. We're here to help you narrow down your search.
For our money, these are five of the best apartment complexes in East Boston. Each brings something different to the table: identifying the best luxury apartment in East Boston is going to come down to personal preference above all else.
That said, you can't go wrong with any of these.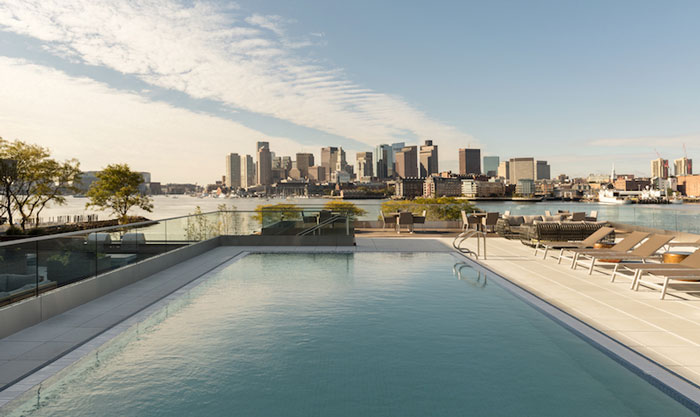 Cresting along Boston's waterfront, The Eddy makes the most of its exceptional ocean view. Every apartment has unobstructed views of Boston Harbor and the Hub's elegant skyline, and residents enjoy multiple vectors to soak in the view. Naturally, massive windows provide a scenic view within your luxuriously appointed unit, but there's also an outdoor terrace complete with grilling stations, a fireplace, and an outdoor pool. The view from the rooftop deck is a treat year-round, and if you're looking for a hip restaurant, Reelhouse at Eddy is a super trendy and fun spot, right on-site: it's a great outdoor bar and restaurant with some truly amazing sunset views from the patio.
Excellent views are always welcome, but what if you want to head out and take advantage of all the Hub has to offer? Built with transit in mind, The Eddy's location is perfect for taking the T, accessing major highways, and one of our favorites, Water Taxi Stop 63, giving you access to the entire Waterfront: and free water taxi in summer to Pier 6 in Charlestown. Like all our choices, access to Logan Airport is a breeze, making this an excellent nest for the busy traveller. With a local market hosted monthly, green living resources (think non-toxic cleaning supplies), and a natural gas turbine producing power heat for the building, The Eddy is decidedly green, without sacrificing quality.

If you follow the old real estate adage, the three most important factors are location, location, and… you guessed it, location. But when all of your options boast similarly excellent East Boston addresses, how do you distinguish between them? Nothing makes it to our list without offering best-in-class amenities, uncompromising luxury, and a great location: but Portside at East Pier sets itself apart from the pack with an excellent suite of on-site resources.
This can be a genuine game-changer — especially during aggressive New England winters. If we're honest we all know somebody — certainly not us — who skips going to the gym due to the weather. Well, Portside not only boasts a fully-equipped fitness center, where you can pump iron or hit the treadmill with spectacular ocean views, it also has a second fitness center, complete with spin and yoga rooms. With a resident clubroom, golf and sports simulator, craft room for projects, indoor pool, and a coffee area, you can cut down on extraneous trips and wasted time.

If the name didn't give it away, Clippership Wharf makes ample use of Boston's Waterfront. A seven-acre complex of restaurants, public art, and residences to purchase or lease, Clippership Wharf creates a serious waterfront playground. From water taxis, access to the Harborwalk, and a boat dock, the coast plays an integral part in the Clippership Wharf experience. WiFi enabled spaces and private work-from-home stations make for an excellent remote experience, and between the onsite dog park, children's play room, waterfront lounges with catering kitchens, and so on, you won't be wanting for activities, and the onsite concierge can handle all the day to day needs you'll encounter..
Which is not to imply that Clippership Wharf is solely for loners: quite the opposite. Boasting one of the more vibrant communities in Boston, there's never a shortage of things to do, and events to build a genuine sense of community. As they say, join for the waterfront view, but stay for gatherings at the Amphitheater. You'll get to know all your neighbors at the waterfront lounges or shooting pool, meandering through rotating exhibits at the art gallery, and otherwise taking in all that Clippership Wharf has to offer.

Located at 128 Border Street, what East Boston's Boston East lacks in creative naming, it more than makes up for in substance, being voted the best new building in Boston. From studio apartments to three bedrooms, there's a floor plan for everyone from single professionals to families and everything in-between. 800 steps from the Blue Line Maverick T stop. Three blocks from the water taxi. Indoor parking, onsite Zipcar, bike storage: it's safe to say that Boston East has put some thought into your commute.
This focus on convenience and attention to detail really shines through in Boston East's convenience amenities. Need your dry cleaning done? Get it handled on-site. No time for busy work? Let the concierge handle it for you. Don't feel like heading over to the adjacent grocery store? Get your food and other packages delivered to the 24/7 package room, complete with refrigerated storage to keep your groceries fresh. And if you're looking for a pet-friendly apartment, the onsite pet spa isn't the only amenity for your furry friend (be sure to stop by the concierge desk for treats).
Boston East is easily one of the most exciting new luxury apartment buildings in Greater Boston, regardless of neighborhood. As Shakespere once wrote, "what's in a name?" And this rose smells particularly sweet.

Curb value is a big deal — and Maverick Landing has nothing to apologize for in that department — but It pays to be beautiful on the inside. And award-winning Maverick Landing is perfect where it counts. If you're looking for a taste of the good life without approaching the cost of purchasing a small island nation, Maverick Landing has the goods. Units come with all the amenities you'd expect, with a laundry room on each floor and washers and dryers on each floor, as well as in market rate units.
As the first LEEDs certified multi-family development — not just in East Boston, but all across New England — you can expect some serious green tech. From photovoltaic structural panels, to.energy-efficient appliances and lighting, Maverick Landing effortlessly blends environmental responsibility with smart design. And for residents with physical challenges, Maverick Landing earns high marks for accessibility as well, with thoughtful touches evident throughout. Bottom line: if you're looking for a taste of life in the Wharf district, near all the coffee shops, art galleries, and restaurants that implies, then Maverick just might be your landing spot.
Welcome to the New Boston
Eastie is enjoying a serious renaissance: it's an exciting time to be moving to this dynamic neighborhood. While the above represent our favorites, they're just a taste of what East Boston has to offer. If you're looking at moving to Eastie, but haven't settled on the details yet, feel free to contact us — our agents will be happy to help you find a luxury apartment that perfectly suits your needs.
Tags: