Top 10 Apartments Available Now!
Recently, we put out a post for the top 5 apartments available right now… and as the market is changing every day, we have another update for you!
TEN of the best units available from now until the end of the month are listed below, from apartments you can move into today, through apartments with lease start dates of June 1. Remember, if you don't see exactly what you're looking for in this article, it doesn't mean we can't help you find your ideal apartment! With nearly 208,355 listings in our database, we have something for everyone.
FALCON ST (EAST BOSTON) – 3 BED, 2 BATH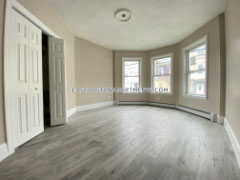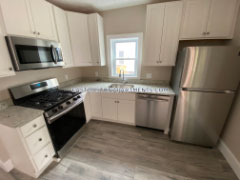 This gorgeous, newly gut renovated unit is available for June 1! The kitchen has white cabinetry and stainless steel appliances- and not to worry, this is including a dishwasher for your convenience! Right off the kitchen is an outdoor patio, with sliding glass doors that allow for great natural light all day. Great natural light can be found all over the unit, thanks to large windows throughout. The bedrooms are spacious with great closets, but the real showstopper is that this duplex has two living rooms- one on each floor! To see more details, pictures, and a video of this great apartment check it out at this link where you can also connect to an agent about it: https://bostonpads.com/east-boston-apartments/east-boston-567744
BUTTONWOOD ST (DORCHESTER/ SOUTHIE BORDER) – 3 BED, 2 BATH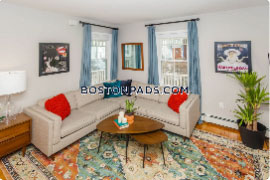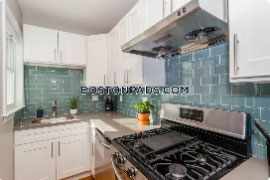 Fully furnished, 3 bed, 2 bath where Dorchester meets South Boston! This gorgeous unit is available for an immediate move in, with flexible lease terms. A perfect balance of both modern and cozy, this great unit blends details like stainless steel appliances with a teal back splash in the kitchen. It's conveniently located close to shops, restaurants, and bars- with plenty of options to choose from in each category! A private, in unit laundry machine is also a big selling point along with big closets, gorgeous bathrooms, and furniture handpicked to make this apartment feel like a home. See it for yourself, though! Click the link to talk to a leasing specialist, and view assorted media including a walk through virtual tour that will make you feel like you're in the unit from the comfort of your own home: https://bostonpads.com/south-boston-apartments/south-boston-575302
BELFORT ST. (DORCHESTER- SAVIN HILL)- 6 BED, 3 BATH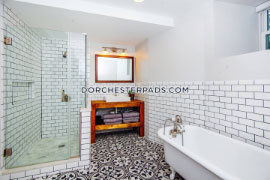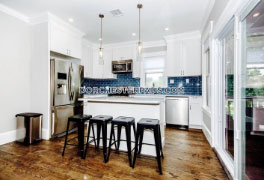 Have a big group looking for a good deal? Look no further! This 6 bed, 3 bath is available right now! Laundry in unit and a great outdoor yard space are two of the great features, but this apartment is unique beyond this. Bathrooms may not be an usual selling point for a property, but after seeing the claw-foot tub and separate, spacious shower, subway tiling on the wall, and gorgeous mosaic- like floors you'll find yourself wanting nothing less. The kitchen has an island/ built in breakfast bar that is not only sleek and beautiful, but also makes it easier for those that love to cook to really have some fun without worrying about the counter-space. Each room merits more detail than a quick description could give, so click this link to see it for yourself and talk to an agent about how you can make it yours: https://bostonpads.com/dorchester-apartments/dorchester-569696
DUDLEY ST. (MISSION HILL) – 4 BED, 2 BATH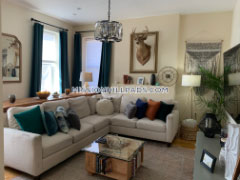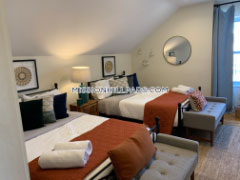 Under $1,000 per bedroom in Mission Hill? Talk about getting bang for your buck! This charming 4 bed, 2 bath apartment is available now. As you'll be able to see from our virtual tour, it does come furnished with carefully selected pieces that can match anybody's taste. The kitchen is nice and updated, with a gas stove and plenty of cabinet space. Since it does come furnished, some of the rooms come with multiple beds. The living space is ideal for entertaining, as it is spacious and connected via an open floor plan to the kitchen and a variety of seating options are available throughout the space. Want to know more? Click on this link to check out our exclusive virtual tour and talk to an agent: https://bostonpads.com/mission-hill-apartments/mission-hill-575364
EAST 2ND ST. (SOUTH BOSTON) – 4 BED, 2 BATH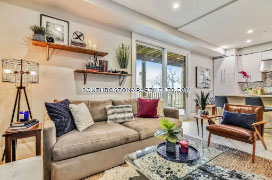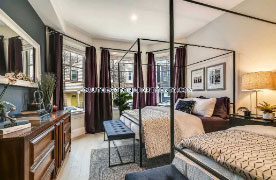 If you like high ceilings, ample living space, and luxury finishes then this is the place for you. Available for an immediate move in, this gorgeous 4 bedroom has everything! The kitchen is every modern cook and entertainer's dream, with plenty of counter space to prep food as well as serve on the breakfast bar with ease. A private outdoor porch opens up from the living area, an ideal spot to have a morning coffee or tea in warmer weather. There is also a shared yard space. Inside, it's a dream. Location can't be beat. The best part? You could make this home your own today! Details, a virtual tour, and contact information for one of our dedicated agents at this ink: https://bostonpads.com/south-boston-apartments/south-boston-570644
LINWOOD ST. (FORT HILL) – 4 BED, 2.5 BATH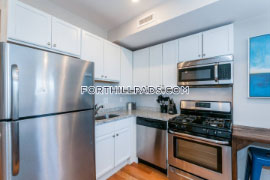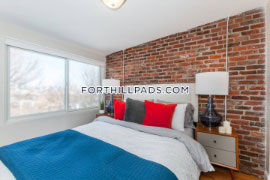 Beautiful units exist everywhere, but this one is something special. At $3,400 it is a steal, located in popular Fort Hill. It comes fully furnished, including a flat screen TV, meaning it is move in ready- just bring a suitcase and personal items! Big rooms, hardwood floors throughout, central A/C, and laundry in unit are just a few of the great features offered here. There is parking available, which in a city is always a tough find, as well as a furnished outdoor patio. Close to public transportation as well as bike routes, the location is convenient no matter where in the city you need to commute to. Take a virtual walk through right now and ask one of our agents about how to rent this property: https://bostonpads.com/fort-hill-apartments/fort-hill-574726
LAWRENCE PLACE (BRIGHTON) – 1 BED, 1 BATH

At $1,650, this one bedroom is one of the absolute best deals in town! It features hardwood floors throughout as well as separate and spacious bedroom and living areas. The sunny apartment has good windows but also a skylight to make the most of the sun's rays. The kitchen includes an electric stove and a dishwasher, and easily connects to the dining/ living area for convenience especially if you want to have a few friends over for dinner. This apartment is located in Oak Square, a charming area with beautiful tree lined streets and close to many bike paths- a popular hobby, or mode of transportation, for many Oak Square residents. Additionally, this great apartment comes with the option of having your very own off street parking spot for just $100 more! If you want a good deal, and no more parking tickets, contact one of our agents after clicking this link: https://bostonpads.com/brighton-apartments/brighton-581316
EVERETT AVE. (SOMERVILLE) – 2 BED, 2 BATH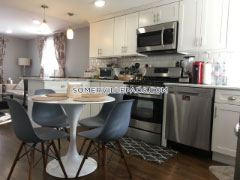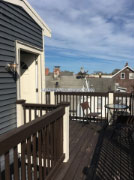 Somerville has boomed in the past couple of years, and quickly risen to the top of most competitive rental markets near the City of Boston. Home to dozens of incredible food spots with varied cuisines, as well as local breweries, comedy studios, and more- it's easy to see why! This has brought a surge of incredible renovated units, such as this one on Everett Ave in East Somerville! It is a gorgeous and modern 2 bed, 2 bath with laundry in unit and a private deck. The living room kitchen area is open and shared, but spacious- an excellent space for entertaining. As if all this wasn't enough, this apartment also comes with a private deck with great views- perfect to enjoy a morning coffee, or just catch some much needed fresh air. This could be your next home so take a look using our virtual walk- through technologies and talk to one of our agents here: https://bostonpads.com/somerville-apartments/somerville-582855
SOUTH HUNTINGTON AVE (JAMAICA PLAIN) – 3 BED, 2 BATH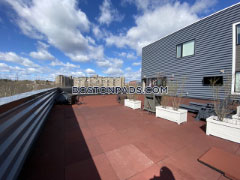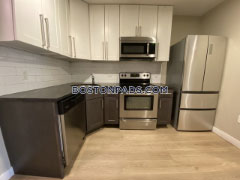 We are highlighting this gorgeous 3 bed, 2 bath, but this building also has 1 bedroom and 2 bedroom options available! Conveniently located, this luxury home is close to the Jamaica Plain, Brookline, Mission Hill, and Longwood Medical Area neighborhoods making it ideal for almost anybody! Aside from nice finishes in the home- like central A/C, laundry in unit, hardwood floors, floor to ceiling windows, and modern kitchens- this building has great amenities too. All residents can share the enjoyment of the fitness center, a media/ game room, the resident lounge, and a gorgeous roof deck with a view. For those that drive, there is garage parking available. For those that commute on public transportation, this building is across the street from a green line T stop as well as buses. Take a virtual tour here: https://bostonpads.com/jamaica-plain-apartments/jamaica-plain-581976
QUEENSBERRY ST. (FENWAY/ KENMORE) – 1 BED, 1 BATH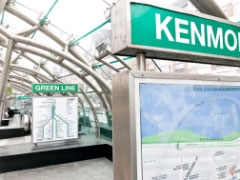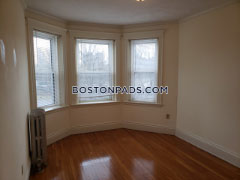 This spacious and sunny 1 bedroom is located on popular Queensberry St, in the heart of Fenway. Hardwood floors throughout and big windows are big selling points, but at $2,350 with heat and hot water included it is an absolute steal and one of the best deals in the Fenway neighborhood. The kitchen has a dishwasher and plenty of cabinet space, and there is a laundry room right in the building! Secure this gorgeous apartment and you can live in the middle of the best that Boston has to offer- iconic restaurants, assorted shops, great bars, and Fenway Park. More information at this link, including a virtual tour: https://bostonpads.com/fenway-kenmore-apartments/fenway-apartments-577119
As you can see, there are a variety of great deals to choose from! The famous Boston rental market hasn't slowed down- we've just needed to all adjust to a more virtual process. Here at Boston Pads, we have focused on getting more details and more media, including more virtual tours every day to make this process as seamless and easy for our clients. In addition, our accounting departments have been equipped to send and receive money entirely electronically! If you have a move coming up, either for this month or for September 1, give one of our agents a call. We have the most options available to our clients, and we can definitely find something for you.
Tags: