Top 20 Luxury Buildings of 2019
***ARTICLE UPDATED*** We've updated this article for 2021! Click here to see the best luxury apartment buildings in Boston for the year 2021.
Living in a city as historic as Boston means residents can get a glimpse into the city's past every day- passing by Paul Revere's house in the North End to overlooking the Boston Harbor where the Boston Tea Party happened are just a few examples! While this certainly gives Boston a lot of its charm, part of it comes from seeing significant architecture of the past fitting in seamlessly next to new residential and commercial buildings. These new, primarily luxury, buildings have been increasing in popularity over the past few years- rivaled only by the classic Boston Brownstones everyone has come to know and love. Luxury buildings have many, differing perks so you have to consider each of the many features and options carefully.
As we close out 2019, we have curated a list of the top 20 luxury buildings in and around the Boston area for you to consider for your next move! While a waterfront view may be the most important for some, others may prefer being close to the many historical sites throughout Boston, or you may simply want the greatest amount of modern amenities and personalized services in one building. Only you know you best, and we hope this list can streamline your decision making process! We rented a tremendous amount of luxury apartments in Boston over the last year. The twenty luxury buildings mentioned below are the ones that stand out from great customer reviews, to our agents simply noting that they had a little bit more, or that special touch that pushed them to the top of the list. Let's begin!
1. The Eddy (East Boston)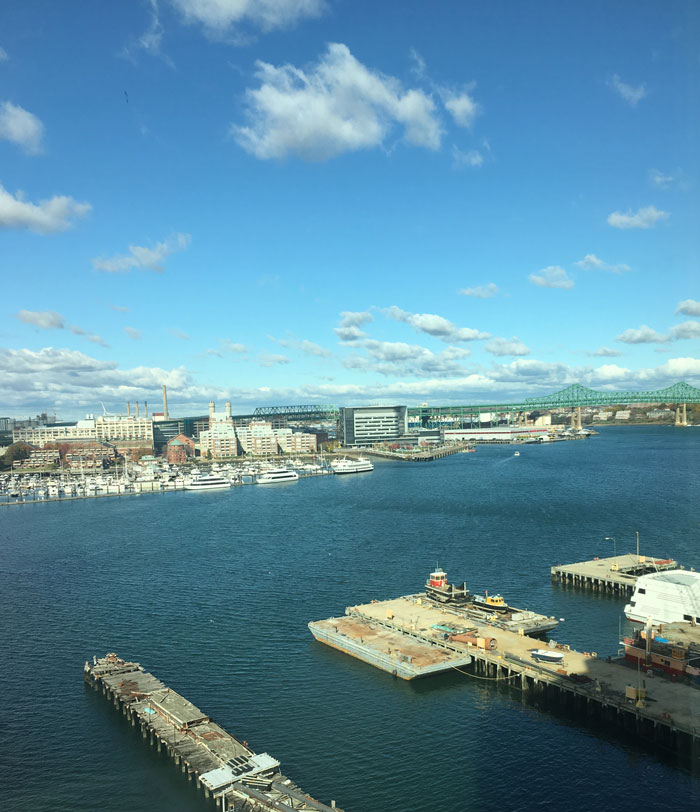 Located on 10 New Street and constructed in 2016, this luxury building allows residents to embrace the best of Boston's scenic sites, for which the city is so well-known; from a panoramic view of the city's glittering skyline to the boundless, beautiful blue of Boston harbor, residents get the unique opportunity of appreciating the finest aspects of urban living from the comfort of their own home. Accessibility, convenience and sustainability are key elements of what this luxury building has to offer: a vast network of scenic pedestrian routes along the harbor and a variety of sports facilities, which are all within close proximity to the residence's charming, modern apartments, and are all powered by the Eddy's devotion to green and sustainable living (LEED Gold-certified since 2017). This luxury building
also offers state-of-the-art athletic facilities, as well as a lounge with a chef's kitchen, music room and private conference rooms. Dedicated to sustainable living and accessibility, the Eddy provides residents with both bike parking and maintenance facilities, as well as bike routes that provide easy access to the Blue line of the T-subway system, and easy access to the water-taxi ports.
2. Watermark (Seaport)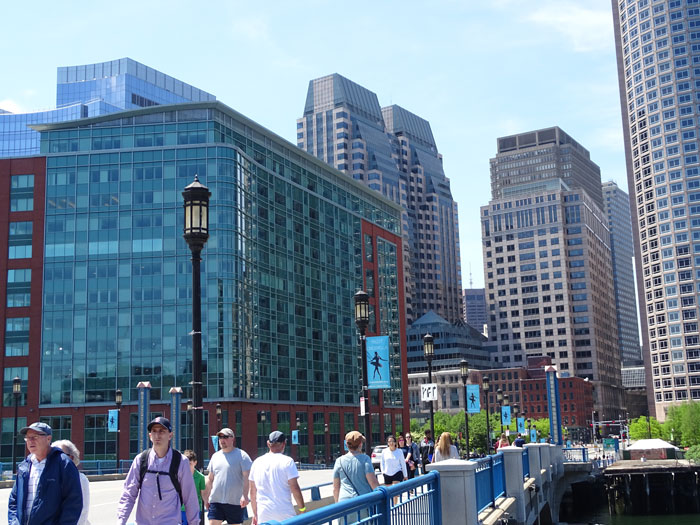 Located between the lively Financial District and culturally-rich Seaport District, the Watermark sets itself apart as a luxury building that embraces the excitement of urban living while conserving the comfort of luxury life. The convenience of this location cannot be overstated; its proximity to the MBTA bus and train lines allows for easy and efficient transportation throughout the city. The Watermark truly embodies the meeting point of elegance and convenience; the 24-hour concierge service, building-wide Wifi, a fitness center/yoga studio, and additional storage facilities are beautifully integrated within the building's modern, loft-style architecture. One of the additional amenities that is nearly exclusive to Watermark living experience is the option to use refrigerated facilities for food and grocery deliveries to accommodate your busy schedule. One of the unique aspects of the Watermark is its variety of apartment styles in order to better accompany your living needs; residents have a choice of Innovation(composed of perfectly aligned and beautifully polished hardwood flooring), Loft (uniquely equipped with industrial-style steel beams and concrete flooring) and Tower (which provide stunning views of the skyline and harbor) residences. While each of these living experiences are different, they all maintain the same level of high-quality convenience and luxury.
3. The Ink Block (South End)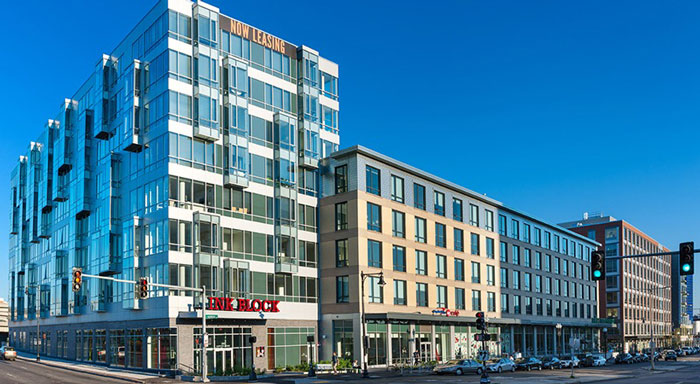 The InkBlock, one of the newest luxury buildings located on 300 Harrison Avenue, is a great option for those looking for a lively and creative environment. The InkBlock devotes and understands the importance of open-space for its residents, which is why it has built a large, community courtyard, a roof-top pool and botanical garden for residents to enjoy. The public entertainment lounges, conference rooms, and athletic facilities are all tastefully accented with a diversity of art pieces that exemplify the beauty of city living, so you will never be out of options for the next time you entertain co-workers, friends, and family. Offering three different apartment styles, stainless-steel appliances, sophisticated quartz countertops, and open-concept floor plans to its residents, the InkBlock truly embraces the blend of convenience and quality that luxury living offers. The floor-to-ceiling windows invite a generous amount of natural sunlight, which accentuates the careful architecture and tasteful features of the respective floor-plans offered, and if you've dreamt of having a walk-in closet, the dream becomes a reality when you move in to one the InkBlock's several vacant apartments. For those looking for a more active environment within their living space, the residence offers a yoga studio as well as two, state-of-the-art 24-hour gyms. One of the defining features of this luxury building is its welcoming policy towards pets; the InkBlock goes beyond other common pet-friendly policies by offering residents pet grooming stations, indoor-relief areas, and a large pet park for your pet to get the attention and care they need.
4. The Lantera (Brighton)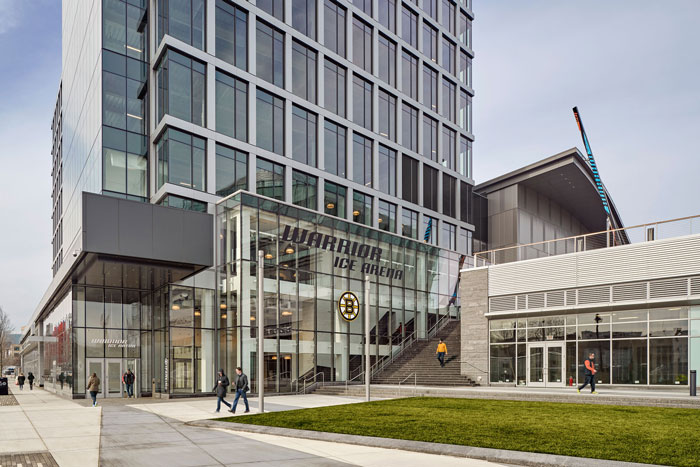 The Lantera, located on 125 Guest Street, stresses that modern living goes beyond the architectural design on apartments; modern living concerns every aspect of the building, from public to private spaces, which is why this luxury building combines the convenience of integrated technology to provide a unique living experience for its residents. Equipped with keyless entryways, countless USB and outlet ports, and high efficiency washing and drying units, the Lantera ensures that its residents have access to the very best technology can offer modern city-residents. tenants at the Lantera find abundant natural light in all of their spaces; this is part of the Lantera's wider mission to bridge the gap between natural beauty and modern architecture. The Lantera stresses that modern living concerns every aspect of the building, from public to private spaces, which is why this luxury building provides a wide variety of large, open spaces for entertainment through the Veranda Clubroom (includes a kitchen, bar and gaming area) as well as a private zen garden for those looking for a more tranquil atmosphere. There are also a number of work spaces throughout the building designed to facilitate a productive work-environment, such as the Tech Bar.
5. Via (Seaport)
With its unparalleled location in the heart of the Seaport District – Via Seaport Residences rises above three levels of one of the most exclusive and vibrant retail, dining and entertainment destinations in the city of Boston. While being nestled atop 125,00 sq.ft. of high end dining, shopping and entertainment is one of the most appealing aspects of the property, this allure is easily matched by the inspired, ultra-hip design of its residential units, With units ranging from studios to 3 bedrooms blending glass and copper for a modern, elegant aesthetic, Via's 20-story tower offers some of the city's best views of the Boston Harbor and skyline. Designed to be eco-friendly, Via's residences offer a range of state-of-the-art features such as Nest thermostats, high-efficiency water-source heating and cooling, high capacity Bosch washer-dryers, and built-in USB charging points. Via's impeccably crafted interiors feature multiple color schemes, kitchens styled for the foodie, open concept living, oversized spa bathrooms, expansive windows, sizable storage and walk-in closets, and private oversized balconies, In addition to a vibrant location and inspired living spaces, Via offers all kinds of community amenities such as resident lounges, a roof deck living room, a fitness center, 24-hour concierge, WiFi throughout the property, and room service, among others.
6. Garrison Square (Back Bay)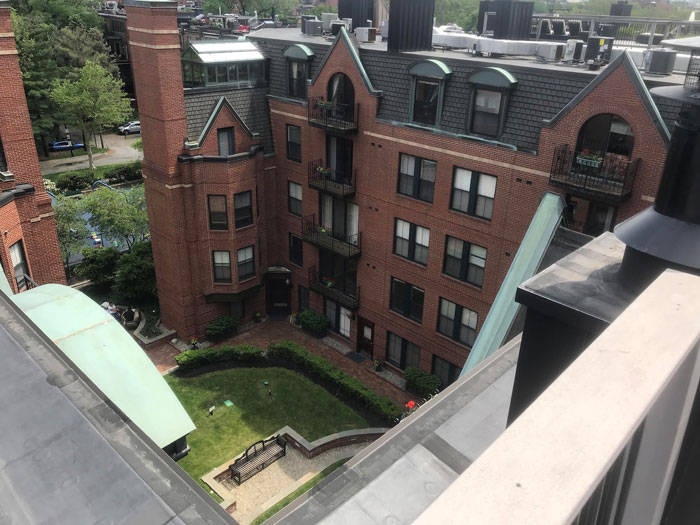 Located on 32 Garrison Street, the Garrison Square is one of the most attractive buildings in the Back Bay area as it not only embraces the convenience and desirability of luxury living, but also the classic and rustic New England-style, red-brick facades for which the region is so well known. While one of the most attractive aspects of this luxury building is its location, what the Garrison Square has to offer behind its doors is just as exciting. The warmth offered by each and every apartment of the Garrison Square is unmatched; the meticulously aligned, hardwood floors, elegant fireplace and spacious vaulted ceilings are both inviting and innovative, and are coupled with energy-saving, arched windows that allow for an ample amount of natural light to paint and highlight the beautiful architectural finishes of the building. Each bathroom is equipped with a spacious, Italian-style walk-in shower with designer finishes, which is almost unique to Garrison Square apartments. Tenants are also invited to enjoy the roof-deck area for evening events and relaxation, a private courtyard surrounded by a bucolic scenery of beautifully kept gardens and ruby-red brick facades, and a state-of-the-art gym. The dedicated staff of the concierge service provides 24-hour package reception for any of your shipping needs, and will welcome both you and your pet every time you come through the door; as a Wag! Preferred-Partner, the Garrison Square has been granted exclusive pricing on dog-walking, sitting and boarding services.
7. 11 West Broadway (South Boston)
Located at the entrance to South Boston, 11 West Broadway is a new boutique development offering a rare blend of comfort, convenience and community features. Situated adjacent to the Broadway stop of the MBTA red line, the building also houses over 8,000 sq.ft. of restaurants and coffee shops, ideal for the fast-paced on-the-go city dweller. Consisting of only 50 available one and two-bedroom units, 11 West Broadway apartments are richly appointed with high end finishes such as granite kitchen countertops, stainless steel appliances, and hardwood floors in the living areas, Notably, the floor plan of all the apartments at 11 West Broadway include a den, building maximum comfort and versatility into the space. High-end features such as 9 ft ceilings, tons of closet space, and large operable windows add to the overall design. The building has put a lot of thought into the communal amenities, making sure they fit the lifestyle of its residents with features such as bicycle storage, available underground parking, fitness room, and a common area roof terrace that can be enjoyed by residents. Pet friendly policies, and 24/7 access to management add to the building's appeal. This combination of features, along with its proximity to the Seaport District, Downtown Boston and Back Bay, make 11 West Broadway a worthy member of this list.
8. Avalon at Exeter (Back Bay)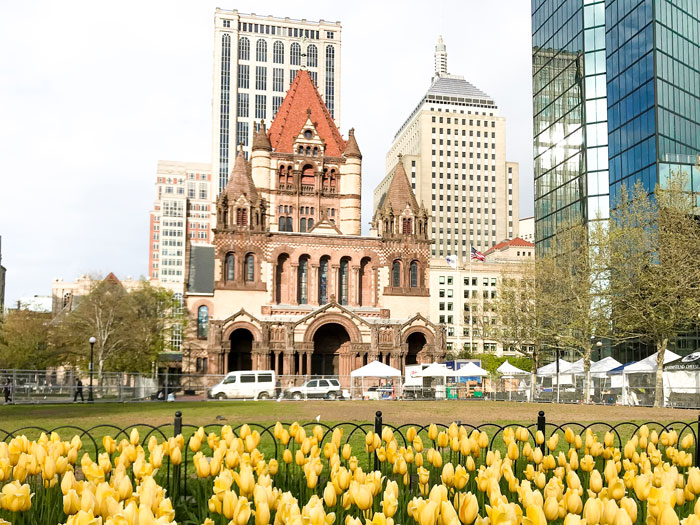 Nestled near the beautiful 17th century, English style buildings on Commonwealth Avenue, luxury restaurants and retail stores, the Avalon at Exeter delivers on its mission to rendering the process of renting an apartment as convenient as its location. This luxury building is beautifully integrated among the historic sites of the city, such as the Boston Public Library and Trinity Church, through a careful architectural design that embraces a balance between modern interior designs and classical exterior finishes. The wide, panoramic views of the city and the Charles River, which residents enjoy through energy-saving windows not only allow for an abundance of natural light to accentuate the remarkable architectural finishes of Avalon apartments, but also save residents from paying higher energy bills. However, the Avalon's dedication to sustainable living is epitomized through its adoption of green plumbing infrastructure and HVAC facilities, as well as integrated ENERGY STAR®. All Avalon apartments come equipped with chef's kitchens and quartz countertops; the size and sophisticated finishes of the kitchen are some of the most striking centerpieces of the apartment. Though an array of the city's finest restaurants (such as those on Boylston Street and Newbury Street) are within a short distance of this luxury property, residents can also enjoy the convenience of Porto restaurant, located in the Avalon at Exeter's partner property, Avalon at Prudential Center, a mediterranean restaurant led by world-renowned Chef Jody Adams.
9. The Piano Craft Guild (South End)
Located on 791 Tremont Street in the historic South End neighborhood of Boston, the Piano Craft Guild residences are as unique as one can imagine. Located in a landmark historical building, the property consists of a collection of loft residences, each with its own unique floor plan -no two units are the same, Offering spacious one, two, and three bedroom loft units of up to 2,000 square feet, the historical aspects of the property come to life in each loft unit with its stunning exposed brick walls, wood beams, hardwood floors and soaring ceilings up to 30 feet high. While historical in its origins, the Piano Craft Guild units feature modern touches one might expect in a newly constructed building, such as Energy Star stainless steel appliances, granite and quartz counter-tops, high speed WiFi and cable-ready wiring. The building's top line amenities are as unique and stunning as the residences, including a luxury heated indoor infinity pool, complimentary lobby coffee bar, a stylish resident lounge with pool table and flat screen TV, a study lounge,indoor bike storage, concierge service with VIP program, enclosed one acre landscaped courtyard, outdoor lounge patio, as well as a Bocce court and Zen garden. Residents of the Piano Craft Guild can experience the convenience of a complimentary gated resident parking, 24 hour resident assistance, door to door cleaning service, online payment portal, resident laundry, storage units, passenger and freight elevators, and professional on-site management and maintenance. This unique property is in the culturally-rich South End neighborhood of Boston, only steps away from some of the best restaurants in the city, Symphony Hall, the Museum of Fine Arts and Northeastern University. Nearby attractions also include Copley Square, the Prudential Center and Fenway Stadium, as well as easy access to public transportation and major thoroughfares.
10. The Pierce (Fenway)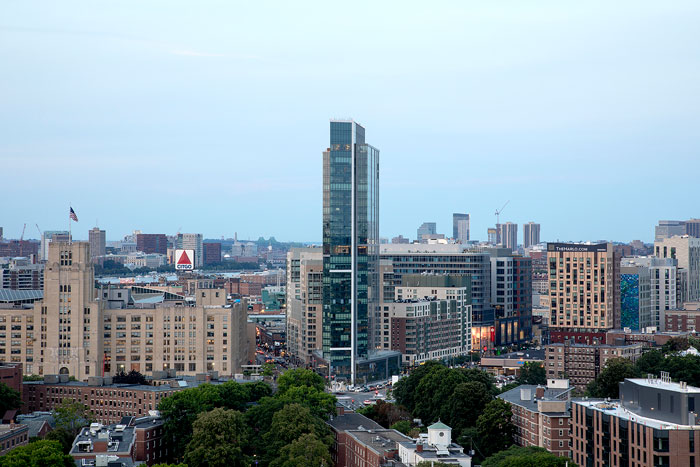 Located in the renewed, booming area of Fenway, the Pierce is one of the premier modern luxury buildings in Boston, designed by the renowned Miami-based architectural firm Arquitectonica. The mixed use property includes two levels of luxury retail space that is home to restaurants such as Nathalie Wine Bar and celebrity chef Tiffany Faison's Italian concept Orfano, as well as stores such as furniture store CB2 and wine shop The Wine Press. The residential units offer unparalleled modern living in an imposing glass and metal tower that includes over 100 condo units and 240 rental apartments. The rental 1, 2 and 3 bedroom units range from 621 to 1472 sq ft, featuring floor to ceiling windows and panoramic views of the neighboring area. High end finishes and bold design are a staple of the apartments,which were designed by CBT, Luxury amenities include 24-hour concierge, a rooftop pool, state-of-the-art fitness room, a lounge on the 18th floor, a video arcade, and even a theater. The Fenway area has seen an unprecedented redevelopment in recent years,even by Boston standards. In addition to obviously being steps away from Fenway Stadium, the Pierce is across the street from a major grocery store, the newly opened Time Out Market, a Regal movie theater, and steps away from dozens of restaurants, bars and coffee shops.
11. The Radian (Downtown/ Chinatown)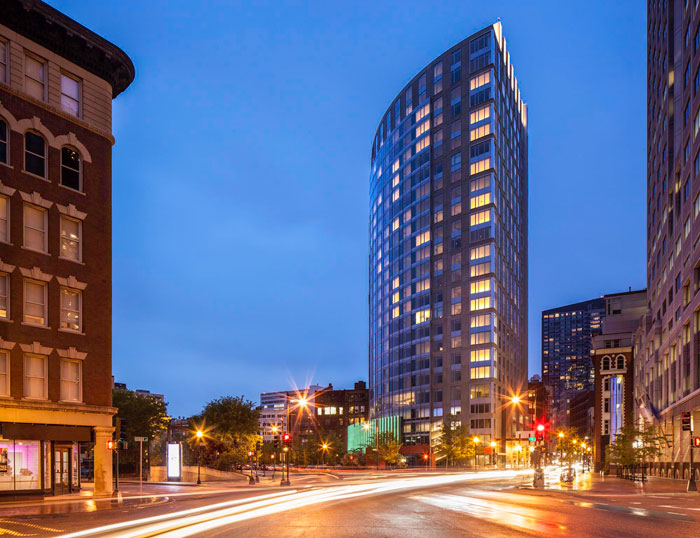 With its convenient downtown location, adjacent to Chinatown, the Radian offers sophisticated contemporary apartments designed with the greatest attention to detail and quality. The Radian's unique architectural design makes it a distinctive property in the Boston skyline, with sweeping views of the city. A 26 story tower overlooking the Rose Kennedy Greenway in Downtown Boston, the Radian is steps away from Chinatown, South Station, and the Seaport District. Nearby attractions also include Faneuil Hall, the historic North End, and the TD Garden.The Radian offers high end modern luxury apartments ranging from studios to three bedroom units, with impeccable finishes and design. Features include oversized windows, hardwood floors, professional grade kitchens with granite counter-tops, state of the art appliances, custom vanities, and Bosch washer and dryers. The Radian's most unique apartments are the luxurious penthouse level units, which offer 10' high ceilings, the most spacious floor plans, upgraded kitchens, the finest finishes and the most expansiveviews. The beautifully appointed apartments at the Radian are only matched by the sophisticated amenities of the building, which include original works of art throughout the property, elegant entertainment rooms, 24/7 concierge services, a fully equipped fitness center, a guest suite for visitors, and an onsite access-control parking garage. Penthouse level apartments also include complimentary services such as in-home dry cleaning pickup, and in-home package delivery.
12. Portside at East Pier (East Boston)
The Portside at East Pier is an exclusive waterfront property located on the edge of East Boston, a traditional neighborhood of Boston known for its abundance of ethnic restaurants and proximity to Logan International Airport. The MBTA Maverick station is just a few steps away, and from there, you are just one train stop away from the city; or a water taxi can take you right into the Seaport district across the harbor. Offering some of the best views of the Boston skyline, the Portside at East Pier is a unique luxury property offering modern studio, one and two bedroom apartments that feature oversized windows, stainless steel appliances, kitchen islands, hardwood floors, brushed nickel fixtures, ceramic tile bathroom flooring, washer and dryers in every unit, balconies and harbor views in select homes, and espresso cabinetry with under-cabinet lighting.The Portside at East Pier offers some of the most impressive amenities such as two state-of-the art fitness centers, full-time front desk concierge, indoor pool, rooftop deck, resident club room, a high-tech golf and sports simulator, a craft room, a conference room, a children's room, and wifi available throughout the common areas. The Portside at East Pier is a pet-friendly property, and it also offers a dog-run and recreation area for your pooches if you have any.
13. The Kensington (Downtown)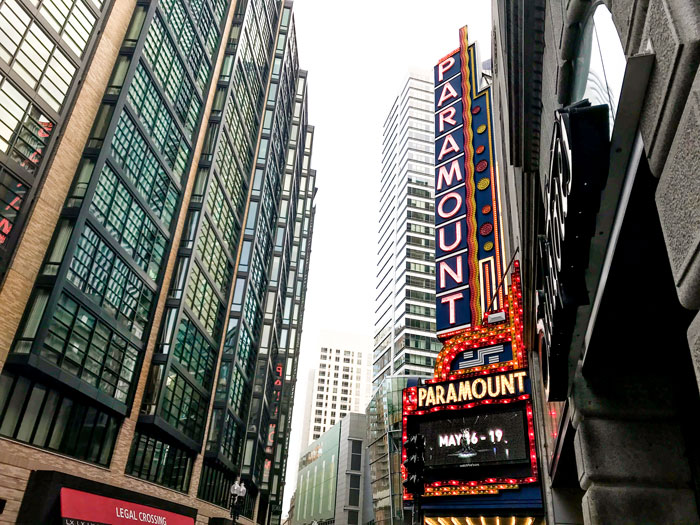 Located in the heart of the Theater District in Downtown Boston, the Kensington sits on the edge of Chinatown, just steps away from the Boston Common and Downtown Crossing. The Kensington has been consistently ranked as one of the top properties in Boston, offering award winning services, modern yet luxurious floor plans, and a focus on sustainable living. The Kensington is a commuter and eco-friendly dream, having been built to maximize the convenience, comfort and health of its residents in a LEED Gold certified property, surrounded by multiple public transportation options, and a smoke-free environment. The ground floor retail space houses an upscale coffee and wine bar, and is surrounded not only by the many culinary options offered by the Chinatown neighborhood, but also steps away from bars, restaurants, theaters- including the beloved and iconic Paramount, night clubs and shops. The Kensington's prime location makes it a commuter's dream, placing it within walking distance of the Financial District, Back Bay, and the South End neighborhood of Boston. The well appointed residential units include studios, one and two bedroom apartments, one bedroom units with dens, and penthouse level apartments. The Kensington is known for being one of the most "Green" buildings in the city, offering energy efficient centralized heating and cooling, Energy Star appliances, solar shade window coverings, low flow fixtures, sustainable and recycled building materials, LED and CFL lighting fixtures, lighting sensors, single stream recycling program, and use of green cleaning and consumable products. The eco-conscious focus of the Kensington, nowever, is only matched by the luxuriousness of its amenities, such as a business center, a state of the art 3,350 sq ft fitness center, a yoga studio, a game room, multiple meeting rooms, a pool deck and grille, a library lounge and an indoor solarium. The Kensington is a pet-friendly property, and your furry friends will be able to enjoy a top-of-the-line pet spa, as well as an indoor pet relief area to keep them away from the elements on harsh weather days.
14. 30 Dalton (Back Bay)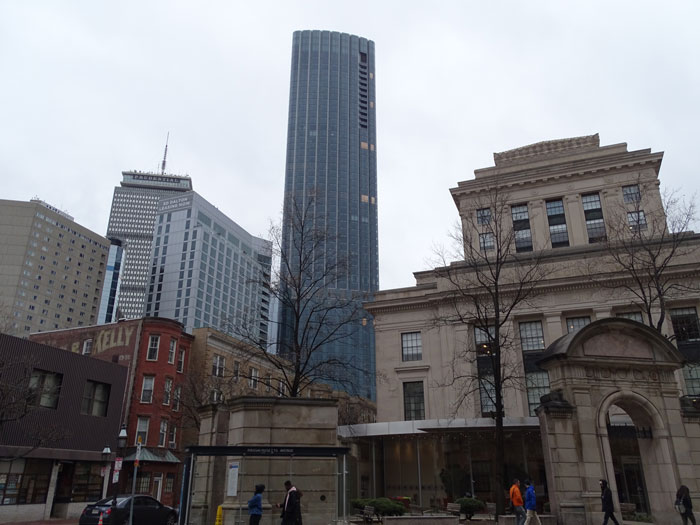 Located in the heart of Back Bay, 30 Dalton is one of the most exciting luxury residential projects in the entire area; its unique positioning in the city centre is not only revered for its convenience and proximity to the best restaurants, shops and entertainment areas in Boston, but also for its dedication to creating a customized living space for each tenant. The residence applies a "European Sensibility" to the architecture of each floor and apartment through the implementation of high ceilings and wide open-floor plans that boast an elegant finish and allow for an abundance of natural light to highlight the unique features of the many luxury apartments. Though 30 Dalton offers many of the same amenities that one may find in the growing number of luxury buildings in the Boston area, such as cutting-edge fitness facilities, elegant conference rooms and pet-grooming areas, this luxury building offers an unbeatable panoramic access to the boundless and beautiful views of the city. These luxury apartments also equally include step-in Italian-style showers and spacious walk-in closets in order to optimize the storage capacity of each unit. Each individual apartment will also have a unique view of the city's historic landmarks, such as the renaissance style Church of Christian Science or the beautiful red brick Boston Symphony Orchestra building.
15. The Benjamin (Seaport)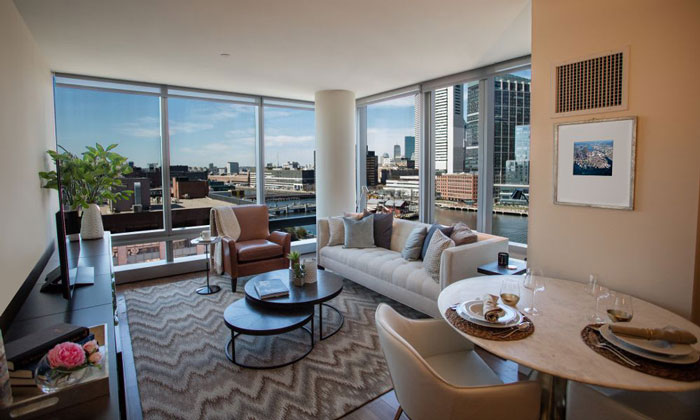 Located on 25 Northern Avenue, the Benjamin is a Berkshire Community and as such it features luxurious finishes and contemporary design. Being in the heart of the Seaport District puts the Benjamin in great company, surrounded by a plethora of high end dining, shopping and entertainment options. The Benjamin's floor plans include studios, one, two and three bedroom units, and the apartments are designed to offer the ultimate experience in contemporary luxury living. High end features include your choice of palette design color, contemporary chef's kitchens with custom cabinetry, stainless steel appliances and Ceasarstone countertops, open concept layouts with high ceilings, hardwood floors, oversized spa bathrooms, and spacious walk-in closets. Green, Eco-conscious features include Nest thermostats, Bosch high efficiency washer/dryers, LED lighting, high efficiency water source heating, and built-in USB charging ports. Residents can take advantage of the expansive floor to ceiling windows by selecting their choice of a view of the Boston Harbor, the Blue Hills, or the downtown skyline. Penthouse residences offer an additional level of luxury for those with the most refined taste and a desire for privacy, featuring private elevator access, butler services, custom finishes, and private oversized balconies. All residents can enjoy an unparalleled set of amenities that include a pool and deck with waterfront views, a fitness center, an outdoor terrace, a residents only lounge, concierge and door attendant services, and garage parking with electric vehicle charging stations. The Benjamin is a pet friendly community, and as such it also houses a VIP spa for pets.
16. Fenway Triangle (Fenway)
Located in the heart of the Fenway neighborhood – one of Boston's most vibrant communities – the Fenway Triangle is an established mixed use development featuring lively retail options as well as luxury apartment residences. The building's retail occupants include restaurants, coffee shops, a bank, a dry cleaning service, a hair salon, among others. In addition, it's across the street from a large grocery store, a Target, a movie multiplex, a newly opened TimeOut Market, and within steps of dozens of one of the greatest varieties of restaurants, bars, and entertainment venues in Boston – including the iconic and historic Fenway Stadium, as well as the Museum of Fine Arts and the Isabella Stewart Gardner Museum. Offering luxury one and two bedroom apartments, the units at the Fenway Triangle feature well appointed finishes such as hardwood floors and stainless steel appliances; as well as superior amenities such as a private courtyard, a game room, a fully equipped fitness center, a business lounge, a residents lounge, 24-hour concierge, and underground parking. The epitome of urban living, the Fenway Triangle is ideal for those who seek a vibrant lifestyle close to dining, shopping, culture and entertainment. Its proximity to the Longwood area with its concentration of some of the top ranked hospitals and medical schools in the country make it a great choice for those residents pursuing a medical profession.
17. 100 Pier 4 (Seaport)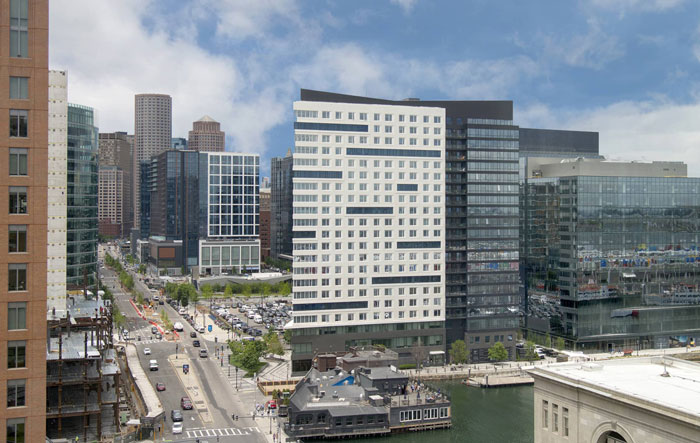 Located on a historic pier in the Seaport District of Boston, 100 Pier 4 is one of the most significant luxury properties in this fantastic neighborhood. Facing the Boston Harborside, the building's stunning modern design and waterfront location catapult this historic location well into the future. Situated next to the Institute of Contemporary Art (ICA), this Seaport building is steps away from one of the highest concentrations of high end dining, shopping and entertainment options available in the city of Boston. Representing luxury modern lifestyle at its best, this property is within walking distance of downtown Boston, the financial district, and South Station. Notable nearby attractions include the Blue Hill Pavillion – a lively outdoor concert venue, the Boston Convention Center, Faneuil Hall and the historic neighborhoods of South Boston and the North End. 100 Pier 4 offers luxurious studios, one, two and three bedroom apartments, featuring meticulous design and superior finishes suitable for only the most discerning of residents, such as high ceilings, hardwood flooring, designer kitchens with granite countertops and stainless steel appliances, floor to ceiling windows, and luxurious bathrooms with soaking tubs and dual vanities. 100 Pier 4 residents can enjoy amenities such as a fully appointed 24-hour fitness center, a yoga and fitness studio, a rooftop pool, a sun deck, 24-hour concierge service, two conference rooms, a cyber lounge, a pet washing station, and retail level options such as the renowned steakhouse Ocean Prime.
18. The Victor (West End)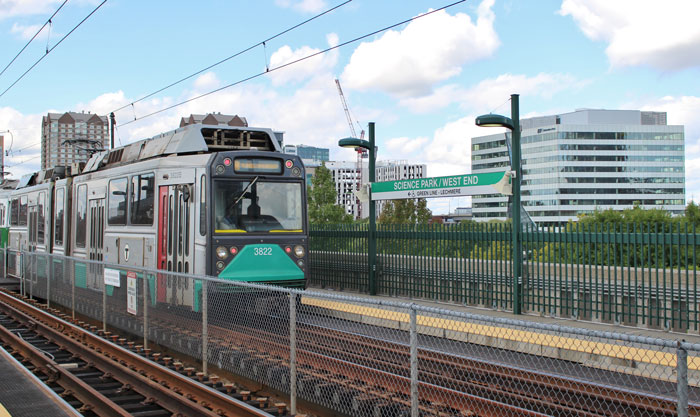 Located in the heart of the West End on Beverly Street, the Victor is a luxury apartment community only steps away from the TD Garden, home of the Boston Celtics and Bruins sports teams. A multitude of restaurants and bars are available within walking distance, making it a lively destination suitable for residents looking for an active urban lifestyle in which the ability to catch a game or a concert and following it with dinner or drinks is possible right outside your door. The Victor is also a commuter's dream, since it's located across the street from the MBTA North Station and close to the Science Park Stop, and down the street from the Callahan tunnel that leads to Logan Airport. Nearby attractions within a short walking distance also include Faneuil Hall, the historical North End neighborhood of Boston, and the Boston Aquarium. The Victor offers well appointed studios, one and two bedroom apartments, ranging from 550 to just over 1,300 sq ft. Features include designer kitchens with high end finishes, hardwood flooring, stainless steel appliances, and full-size washer/dryers. As expected in a property as exclusive and well designed as the Victor, luxury amenities include a 24-hour concierge service, a state-of-the-art fitness center, a sports lounge with a 75" flat screen TV, private conference rooms, an indoor sports court, work-from-home nooks with wireless printing, complimentary wifi in all common areas, and two separate outdoor rooftop terraces. The Victor is a pet-friendly property, subject to restrictions and fees.
19. Avalon North Station (West End)
A sister-location of the Avalon at Exeter, the Avalon- North Station offers state-of-the-art, modern architecture apartments in close proximity to Boston's North End. Offering a balanced view of the glittering city skyline and deep, reflective blue of the historic Boston Harbor, the Avalon-North Station offers the very best of one of America's most culturally rich cities, all of which can be enjoyed from the comfort of luxury living.Of the 503 units dispersed among this luxury's buildings 38 stories, the Avalon North Station offers an endless range of living options and amenities to its current and future tenants. The Avalon North Station is revered for its balanced approach to sustainable and luxury living; each unit is equipped with stainless steel appliances, quartz countertops, in-unit washer-dryer units, walk-in closets and tasteful tiling throughout the cleverly designed, open-concept spaces. Each of these luxurious amenities are powered by this luxury's buildings commitment to green living; Energy Star® appliances, one of the most efficient and sophisticated gadgets in luxury living, are complemented by the energy-saving, floor-to-ceiling windows, LED light fixtures, and environmentally-friendly HVAC equipment. It is no wonder that the Avalon- North Station has been awarded one of the highest honors in green certification, the LEED Silver Certification.For those that wish to stay in the comfort of their luxury building, the Avalon-North Station offers a range of entertainment, such as a fully-equipped athletic gym and a Sky Lounge with panoramic views of the city, all of which have access to the residence's free, high-speed WIFI.
20. 1330 Boylston (Fenway)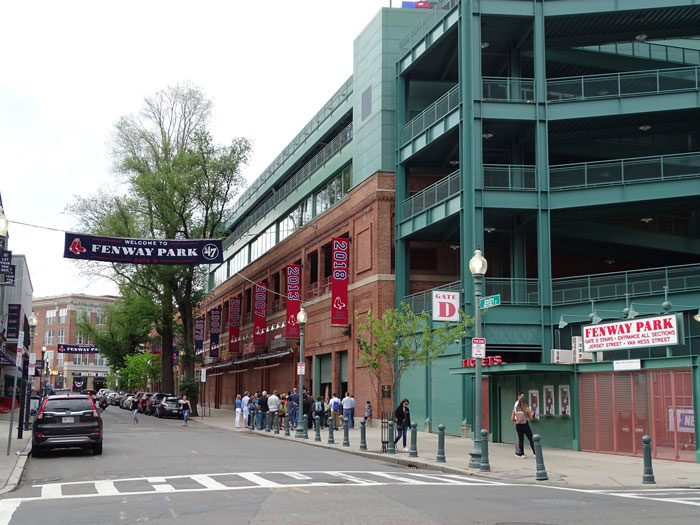 Fenway is one of Boston's most vibrant neighborhoods, and 1330 Boylston is right in the middle of it. Only a block away from the historic and iconic Fenway Park, and surrounded by a myriad of restaurants, bars, coffee shops, and retail stores, this property is located in a prized location on Boylston Avenue. Its proximity to the Prudential Center to the East, Kenmore Square to the North and Longwood to the South make Fenway a favorite home location for those seeking to enjoy the most of Boston's active lifestyle. Close to major Universities such as Boston University, Berklee College of Music, Harvard Medical School and Northeastern University make this building a great housing alternative for residents affiliated with these educational institutions. 1330 Boylston offers sophisticated one, two and three bedroom apartments with modern finishes, stainless steel appliances, walk-in closets, granite countertops, plug-and-play internet hookups, in-unit washer/dryers, and balconies in selected units. The building offers its residents superior communal amenities such as a rooftop pool and sundeck, a private courtyard, a resident lounge, 24-hour concierge services, green roof garden, fitness center, wifi access in common areas, and dry cleaning pickup/drop-off service, making it a versatile property whether it be to relax at the pool, take in the city views, or gather with friends before a night out on the town.
In summary, putting together this top twenty list of Boston luxury apartment buildings was an agonizing and time consuming process. Boston has so many great luxury apartment buildings that we really had to do our research and drill down on what we were seeing, hearing from our customers, and what was renting with ease. We have over 356 Luxury buildings in the Greater Boston Area in our real time real estate database so you can imagine these were not easy or quick decisions. It is important to note that we had many great buildings that almost made this list. There are so many factors to making the list including but not limited to: pricing in luxury apartment buildings change rapidly, availability of different floors and views matter, fees vs. no-fee, subjective amenities with their perceived value and many other reasons than we have time for in this article. Suffice to say that you can get easily confused touring all these great Boston luxury apartments and trying to remember all these nuances.
We suggest you take copious amounts of notes and bring along a great real estate agent. Find an expert luxury real estate agent that is willing to write down all your important needs and keeps track of vital points you mention during these tours. It's important that you perform a full recap of all buildings over the course of your tours so you can know you are making the best decision possible. We have a firm belief that two heads are better than one when it comes to figuring out the best luxury apartment in Boston for you! If you would like to go on a highly efficient and organized tour of luxury buildings throughout Boston and beyond; we have several real estate experts standing by. They can line up everything for you so that you don't have to worry about the time consuming process and frustration of setting up a full day of seeing the best ones that meet your needs. The time you save and the confidence you will have will be more than worth it! Please contact us today! We know luxury apartments!
Tags: