Vacancy Rates for Boston Apartments Almost Back to Pre-Pandemic Levels
Did you know that Real Time Vacancy Rates (RTVR) for Boston apartments are almost back to pre-pandemic levels? This is good news for property owners. For some time, Covid-19 disrupted the supply and demand balance in the city. Historically speaking, there have always been more future tenants looking to rent Boston apartments than units available for lease. During the height of the pandemic, that flip-flopped as all walks of life moved further from large cities. There were too many apartments available for rent compared to the amount of people who were looking to lease them.
Numerous students were not renting Boston apartments. Instead, many stayed home and attended classes remotely. Boston apartments were also available because a plethora of people decided to leave the city. Some of them included working professionals who were relegated or adapted to working from home. They no longer needed to plan their housing based around their commute. This once in a lifetime phenomenon tipped the scales in favor of the tenants. That meant that apartment hunters could actually start negotiating terms, which in turn drove down the prices. That was great news for people who were still looking to move into the city last year. It also allowed many renters to seek apartments in Greater Boston neighborhoods that they were previously edged out of.
Boston Apartment vacancy rates Are Getting Back To Normal
Now, apartments in Boston are renting rapidly and getting back to our historical normal. As of this writing, nearly all College campuses across the city will be open in the early fall. September is less than two short weeks away. That means students will be returning to Boston in droves. Now that things are moving back to "normal", working strictly from home is quickly becoming a thing of the past. Many companies are requesting their employees to return to the office on a full-time basis. Even if they are not requiring it, many workers prefer to have a dedicated space to work and be efficient. Some of the renters we have been speaking with say they will be going to the office two or three days per week. For many, part of their work will be performed from their Greater Boston Apartment.
Vacant apartments in Boston are rare again. Rents are starting to increase. Landlords may not be willing to waive fees or accept new pets for their other apartments much longer. Lease flexibility may soon be a thing of the past. Rental rates for are starting to stabilize across the entire city. The bottom line is that people who are searching for Boston apartments are about to lose some of their negotiating leverage. It maybe a prudent decision for a renter to grab an apartment now and lock in a longer term lease. There will be opportunities this fall to still grab a great apartment in Boston, but if you see something you like – don't hesitate.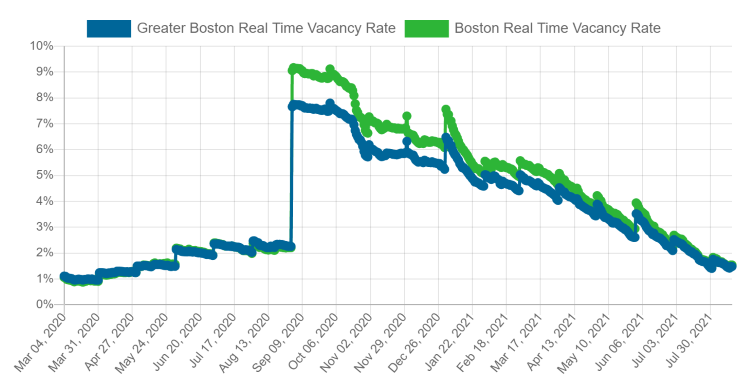 The Real Time Vacancy Rate
According to Boston Pads the Real Time Vacancy Rate (RTVR) is nearly back to pre-pandemic levels. The RTVR calculates the amount of Boston apartments that are vacant at any given time. When the RTVR is high it means that there are a significant number of Boston apartments available for rent. That of course favors the tenants. On the other hand, when the RTVR is low it means the exact opposite. In March 2020, immediately before Massachusetts declared a state of Emergency, the RTVR was 1.11% for the Greater Boston Area and 1.06% for the City of Boston. Today, the RTVR stands at 1.48% for Greater Boston and 1.54% for the City after having peaked at 9.17% and 7.8% respectively during the height of the pandemic.
In essence, the lower and declining RTVR favors property owners at this time. When in doubt, let your feelings go and put trust in the apartment data. "In apartment data we trust" should be the moniker of the Boston apartment seeker and Greater Boston Landlord alike.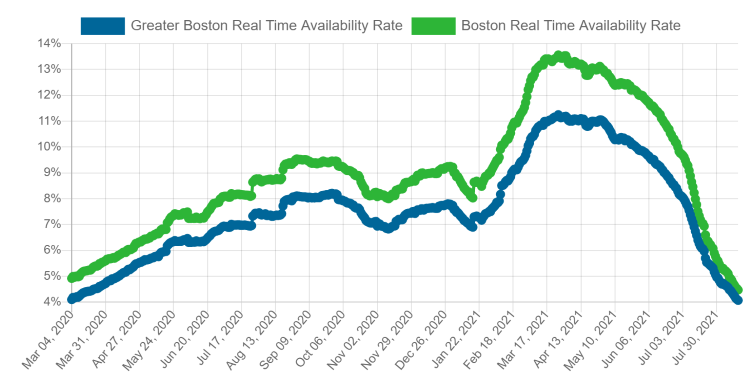 The Real Time Availability Rate
Boston Pads has also noticed that the Real Time Availability Rate (RTAR) is incredibly close to that of pre-pandemic levels. The RTAR measure the percentage of Boston apartments that are available for rent at any given time. When the RTAR is high it means there's a large number of Boston apartments on the rental market. A high RTAR completely favors tenants who are searching for rentals because it's a sign of high supply and low demand. However, when the RTAR is low it means that there are not many Boston apartments available for rent. A low RTAR drives up demand and favors property owners, landlords, and management companies. For example, the RTAR in early March 2020 was only 4.10% for Greater Boston and 4.92% for the City. As of today, the RTAR is only 4.07% for the Greater Boston Area and 4.47% for the City of Boston.
What Does This Mean For People Looking To Rent Boston Apartments?
Here's an interesting fact. The apartment rental market in Boston is rebounding faster than most cities across the United States. That means rents are also climbing back to previously normal levels. Apartment hunters who think that they're going to get as great a deal maybe quickly be disappointed. If you're planning on renting in Boston, you probably won't be able to get a month of free rent with no deposits down. Luxury buildings will not be offering two- or three-months' rent for free any more. That being said, we are also quickly approaching September 1st and landlords do not like being vacant during the fall. It might be a great idea to strike while the iron is still hot before it's too late.
Landlords will not be as flexible on lower credit scores, income ranges, and the tenant's employment situation. During the pandemic, many buildings approved tenants based on their unemployment income. That is not expected to continue. Some Boston Landlords were even forgoing the requirement that students have a parent co-sign the lease agreement during Covid-19. Numerous property owners were paying the broker fees themselves, and 45.8% of property owners still are in an effort to get their rental properties quickly rented. The data is suggesting that within several months we should start seeing a dramatic drop in the amount of landlords willing to pay the broker's commission. Obviously there are future considerations to take into account. For now, it should suffice to say the overall direction appears to be moving toward city living coming back strong.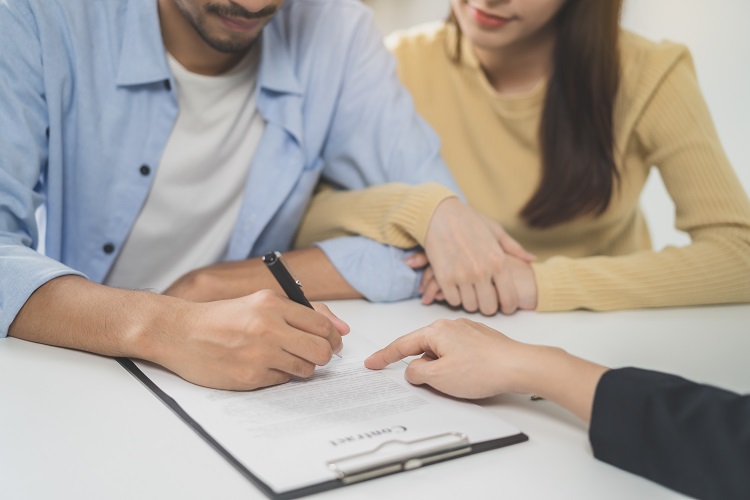 Boston Apartments Are Renting Fast
If you plan on looking for Boston apartments, it's time to get the search underway. Units are being rented left and right. At this point there are not as many options available for the September time frame. Apartment hunters are even starting to compete for the same units as they did before Covid. The competition is starting to get fierce at this time, but it's not impossible to find some great Boston apartments. It's important that you have good credit and a high level of job security.
It is also important to work with a real estate platform or ecosystem that has access to the most landlords and the most listings. You will probably want to work with a real estate agent that can show you the most apartments in Greater Boston. This way, you can make the best decision on the spot. Working with untrained agents often delivers lack luster results because they are not on top of their game. It might be a good idea to seek strong local platforms that only have up real listings- not outdated ones.
Be leery of what websites you are looking on. If you see the apartment has been listed for a while – chances are someone might be leaving it up there to get calls. Either way, it is simply frustrating and sometimes unethical. Choose offices that only provide real- time clean apartment data.
If you're a Property Owner…
If you're a property owner with units still on the market, things are looking up. Call our Greater Boston landlord listings desk at (617) 208- 2197 to talk to a rental specialist about how to get your property rented ASAP. You can also sign up for our Property Owner Portal (POP) so you can see exactly how your property compares to other listings on the market, and how you can be competitive. Boston Pads is proud to give our landlords access to the most real- time data points so they can make empowering decisions. Our portal puts you in control of your rental listings, so you can view them in real- time, on your schedule, and make instant updates. The best part? Any updates you make to your listings get immediately syndicated to all of our sites.
Boston Landlords can rest assured that their listings are getting exposed to the widest possible audience through apartment syndication technologies that are built in the most local and accurate manner.
Call Boston Pads Today!
In conclusion, you can take a significant amount of the stress out of renting Boston apartments if you use local leadership and accuracy developed by Boston based people that care such as Boston Pads real estate portal at www.BostonPads.com. Here you will find a plethora of tips, tools, and valuable information. Boston Pads is your number #1 resource for everything related to Boston real estate and the real estate scene across the city. It's the perfect resource for renters, buyers, sellers, landlords, property owners, property managers, and real estate agents. If you've been looking for a one stop real estate source than your search is over. Welcome to Boston Pads!