What types of Boston apartments are renters looking for in a COVID-19 environment?
Those of us who live and work in the city of Boston know other cities have had it much worse during the COVID- 19 pandemic. That being said, renters have new priorities that need to be accommodated. As the leading apartment leasing platform in Boston, we have experienced first-hand the new demands and requirements sought after by apartment seekers in the area. These are some of the top trends we are seeing.
Apartments with enough space for a dedicated office / study area
Back in March we saw a surge of people suddenly having to work from home. Very few apartment dwellers had the opportunity to work remotely before, so this is definitely a new and sudden change in lifestyle trends. Some renters are looking for an extra room to turn into a private office, even if this also means having a roommate to afford the extra space. The dedicated space may also come in the form of a den, or even just a large enough section of the bedroom that can be used for this purpose. Good lighting in this workspace is also a key consideration, because of the need to hold virtual meetings and video calls using tools such as Zoom or Skype. We also see some tenants adding tactical sound proofing to rooms that they conduct business in so that there are no outside distractions coming from roommates etc.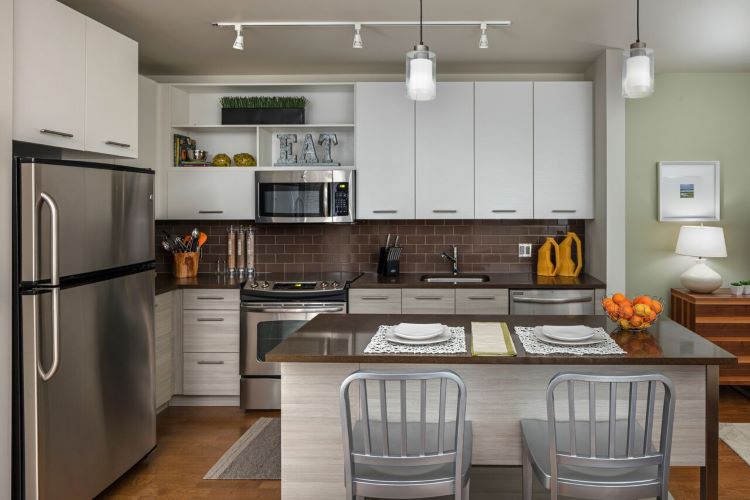 Apartments with Large Well-Equipped Kitchens
The kitchen is typically considered the heart of a home. However, apartment dwellers in Boston range from: college students, families, young professionals and just about everyone else who commute to some location on a regular basis. Eating out and on the go is part of their way of life. Many didn't need a large kitchen with all the appliances before. In a COVID environment, this changed. Indoor dining at restaurants was suspended. Kids were being home schooled. Having to spend more time at home, it is only natural that people started cooking more. And grilling more. And watching endless hours of Instagram videos with the latest banana or sourdough bread recipes. This all requires a kitchen with a full range of appliances. We see people still looking for larger kitchens with plenty of storage of pots, pans and other items.
Perhaps leading the way in most sought after kitchen appliances is a dishwasher. While a few renters didn't see it as a need before, with more dishes come more reasons to want to have one. More cooking, unfortunately, also equals more cleaning. It is currently almost impossible to rent an apartment in the Greater Boston Area if it doesn't have a dishwasher. We often suggest to landlords and property managers that if you are vacant and you don't have a dishwasher – Now is the time to install one!
Apartments with Private Outdoor Spaces
With the quarantine and stay-at-home restrictions a few months back, people were inside their homes a majority of the time. It became quite suffocating for people who are used to walking unencumbered around the city of Boston. Boston's picturesque neighborhoods are meant to be explored and admired, after all. Having access to an outdoor space is a great way to be outside while keeping distance from the crowds. Consequently, many apartment seekers are looking to have an open outdoor space where they can breathe freely without having to use a mask or face cover. This can take the form of a balcony, a deck, or a rooftop and it has become an increasingly sought after feature since.
If you're really lucky, you may have found a gem with a backyard. These highly sought after homes will often require the help of a real estate professional, as they quick to disappear off the market.
Apartments with Enough Room for Home Fitness
Another aspect of life that changed with the pandemic was working out. Gyms closed. Not everyone enjoys jogging or running outside. Instagram feeds were saturated with stories of people gaining weight since the start of the quarantine. Influencers who had the space to have fitness equipment at home showcased how staying at home became the catalyst for them to take the time to work on their physique. In addition to needing space to work from home, renters now need more space to workout at home. This could mean a den for yoga, an alcove to fit a Peloton bike, or an extra room to fit a weight-lifting bench and dumbbells. It has been quite a transformation in some apartments to see a huge uptick in fitness equipment in them. We have seen a lot of basements converted into makeshift gyms.
Boston being a city full of people that like to exercise, this need to stay fit at home is a trend that may be here to stay even in a post covid environment. Many people have developed new habits that are quite positive in nature with stretching mats and finding weights in front of TV's quite the norm lately.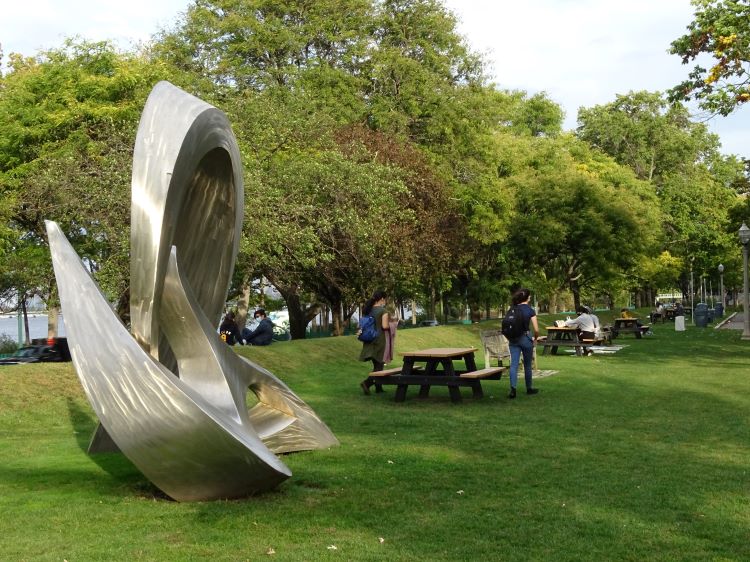 Proximity to Parks and Open Spaces
It is not always easy or affordable to find an apartment with a built-in outdoor space such as a deck or a balcony. As an alternative, renters are looking for proximity to open spaces such as parks, beaches, or the harbor. What they're looking for is the ability to be outside and get a dose of fresh air without having to be overly vigilant. Having a picnic looking at the Boston skyline from a quiet corner of the esplanade or the harbor walk have become two of the best and most popular date nights around during these post-COVID days.
Proximity to Workplace
This has always been a top search criterion for renters. However, now it's crucial for an entirely different reason. Those who still need to go into an office setting instead of working remotely from home are looking to avoid the potential exposure in a crowded public transportation vehicle. Before COVID, renters didn't mind having a relatively long commute as long as they were close to a T stop. Post COVID, now they are searching for options that allow them to walk to work, or at the very least not to have to be in a crowded train or bus for a long period of time.
If your circumstance now requires you to look for an apartment with any of these criteria, let us help you find your new place. Boston Pads has the largest database of listings in the area, as well as the most exclusive listings in Boston.
Tags: