Why Boston Apartments Are So Expensive
Boston apartments have some of the highest rents of any major metro area in the United States. In fact, only New York City and San Francisco are more expensive. Although Boston has recently experienced a building boom, the supply of residential housing remains critically low. Yet, the demand for housing in Boston remains incredibly high. This factors into why Boston apartments are so expensive versus other cities, in the United States and around the world.
Average Boston Apartment Prices
As you now know, Boston is the third most expensive city in the country. So, how does that affect renters in regard to rental fees? According to Boston Pads Real Time Data the average rent for a Boston apartment is currently….
| Apartment Size | 2022 Average Rent Price | 2021 Average Rent Price | % Change |
| --- | --- | --- | --- |
| Studio Apartments | $1,840 | $1,821 | +1.04% |
| 1 Bedroom Apartments | $2,134 | $2,188 | -2.47% |
| 2 Bedroom Apartments | $2,645 | $2,602 | +1.65% |
| 3 Bedroom Apartments | $3,203 | $3,080 | +3.99% |
| 4 Bedroom Apartments | $3,954 | $3,719 | +6.32% |
| 5 Bedroom Apartments | $4,762 | $4,457 | +6.84% |
Please note that these figures are for average Boston apartment prices as of June 1, 2022 and June 1, 2021.
Boston Rental Prices Are Bouncing Back
It's true that the pandemic drove down the rental fees a bit during the height of the pandemic. When campuses and offices closed in 2020, it caused our rental supply to surge to unprecedented levels. This caused prices to fall during the latter half of 2020 and into the first half of 2021. However, prices in Boston have bounced back. Now in 2022, average rent prices have already exceeded their previous all-time high set in June of 2020.
When the vacancy rate soared to record levels in September of 2020, landlords took it as an opportunity to make much-needed renovations while their outdated apartments lay empty. As a result, Boston's apartment inventory is much newer now than it was prior to the pandemic which is a positive. With better inventory you're going to see higher prices.
High Real Estate Prices Pushing More People Towards Renting
Real estate has been historically expensive in Boston. However, sales prices have been through the roof lately. Boston is currently experiencing an incredibly strong Seller's Market. That means there is higher demand than there is supply of homes for sale in Boston. Some buyers are paying way more money than the asking price. Others are waiving important contingencies that are intended to protect the buyer. Many buyers are doing both. So, a great deal of would-be buyers are priced out of the market. They simply can't afford the exorbitant purchase prices. This segment of people ends up renting instead.
It is worth mentioning, while home prices have increased in 2022, so has inventory. Higher interest rates are pushing even more buyers out of the market this year. This will put additional demand on the rental market in 2022. We're already seeing historically low apartment availability thus far in 2022, and the average rent price broke its previous all-time high in early May of this year. As interest rates rise, home price growth will likely decelerate and the Boston real estate market may soften for buyers in 2022.
Tenants Have Money To Spend
Although many people can't afford to purchase real estate in Boston, they still have plenty of money to spend. According to Payscale.com the average salary in Boston, Massachusetts is $82,000. That's significantly higher than the average salary in the United States, which is $51,916. In addition, tenants in Boston are willing to spend a significant portion of their salary on rent for convenience. For example, if they work in the city, it's easier to live in the city as well. Many tenants are willing to spend upwards of 30 percent or more of their income on rent instead of dealing with the infamous Boston traffic.
According to US News, Boston has the worst traffic out of all US metros. This is due to the fact that it's a small, tightly compacted, and incredibly popular metropolis. There are a great deal of people who commute into Boston on a daily basis for work or school. Typically, when traffic congestion is bad, the more demand there is to live in the city. This holds particularly true in Boston. As a result of high demand, apartments in Boston can rent for top dollar, especially those located close to main public transportation lines.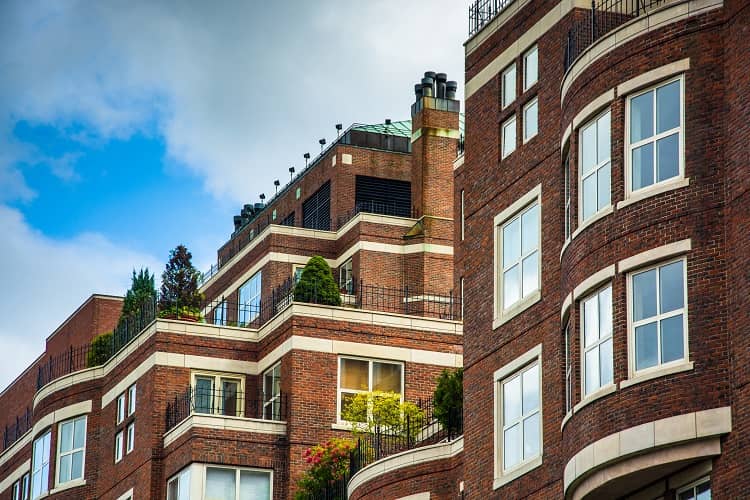 Low Inventory of Apartments
Another reason why apartments are so expensive in Boston is due to the fact that the inventory is low. According to Boston Pads the Real Time Availability Rate, or RTAR for short, is currently at 4.93%. That means only 4.93% of the total amount of apartments in Boston are currently on the rental market. In addition, the Real Time Vacancy Rate, or RTVR for short, is now at a record-low level of 0.43%. In essence, only 0.43% of the total amount of apartments in the city are laying vacant. Those are both low figures to say the least.
Steadily Growing Demand For Apartments
Did you know that the population in the Boston Metro Area has been steadily increasing over the past decade? According to MacroTrends.net the population in the Boston and surrounding suburbs this year is 4,315,00. The population was 4,185,000 in 2010. That's an increase of 130,000 people over the past decade alone.
There are two factors contributing to the population growth in Boston. Growth in enrollment numbers at local Universities is one. The demand for off-campus housing is a key component to Boston's rental market, and that has consistently grown over the past decade. In addition to that, Boston is the 3rd largest US Metro in terms of total venture capital invested for startups according to Pitchbook's Venture Monitor. This has attracted more white-collar workers to the city and placed additional demand strains on an already tight rental supply.
That demand may have temporarily subsided in Boston during COVID-19. Now that the pandemic restrictions have eased and things are getting back to normal, many people are required and want to go back to the office. Combine that with the elimination of remote learning at Universities, those who left the city in 2020 are coming back in droves in 2022.
Given the high demand and low supply, apartments can be hard to come by in Boston. That's another factor why apartments are so expensive in Boston.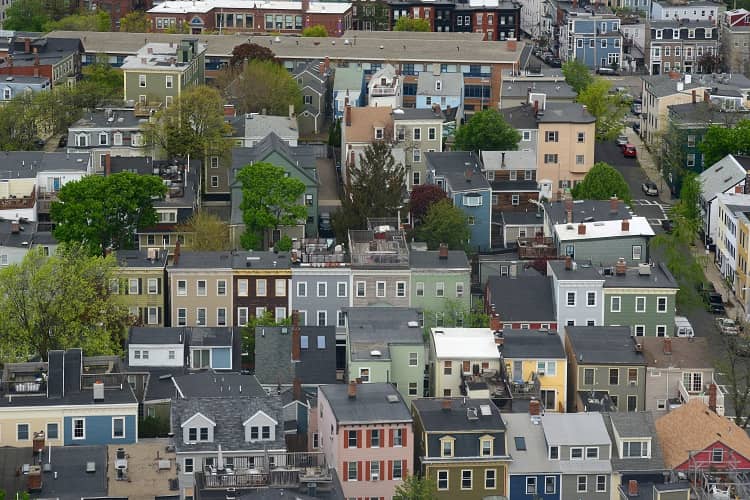 Boston Ranks High Compared To The World's Top Performing Cities
Did you know that Boston ranks as one of the top 25 global cities in the world according to A.T. Kearney's 2019 and 2020 Global Cities Report. Boston actually ranked 21st in that index in back to back years. The report reveals the world's top-performing cities and those that have the most potential. Factors such as corporate investment, public policy, and human capital were used to determine the rankings.
Housing Development Rate Verses Job Growth Rate
The housing development rate verses the job growth rate is yet another reason why apartments are so expensive in Boston. Bostonplans.org released data showing that officials allowed the permitting of 2.3 new residential units per every 1,000 residents on average from 2008 to 2018. However, the job growth rate increase by significantly more than that during the same period. It grew by an average of 5.8 jobs for ever 1,000 residents. That equals a job growth rate of 2.5 more jobs than new housing units available per thousand people. The bottom line is that there simply isn't enough new housing being developed in the Boston area. People who are moving to Boston for new jobs are in competition with each other for apartments.
Rent Inflation?
If you thought rent prices were safe from the devastating effects of inflation, think again. Landlords are now paying upwards of 25% more to renovate and maintain their properties for several reasons. Labor shortages have added to the cost of labor. Supply chain disruption and incoherent energy policy has added to the cost of materials. As the cost of maintaining properties continues to rise, the effects will trickle down to the renter in 2022 and rent prices will rise. We're already seeing that occur in 2022.
Tenants Are Not Moving
Our final reason why apartments are so expensive in Boston is due to the fact that tenants are staying put. Inventory is low and rents in Boston are high. It makes sense that people are living in their apartments longer. This holds true even if the landlords are raising the rent each year. It's still more cost effective when compared to moving. However, people do need to move to new apartments for various reasons. For example, you may need more space for a growing family. Perhaps you need less space because a roommate or roommates are moving out on their own. Whatever your reason is for moving into an apartment in Boston it makes sense to conduct some research first.
On that note, if you're interested in real estate and real estate related topics, please check out the Boston Pads real estate portal at www.BostonPads.com. Here you will find a plethora of tips, tools, and valuable information. Boston Pads is your number #1 resource for everything related to Boston real estate and the real estate scene across the city. It's the perfect resource for renters, buyers, sellers, landlords, property owners, property managers, and real estate agents. If you've been looking for a one stop real estate source then your search is over. Welcome to Boston Pads- find a place you'll love, guaranteed.
Also Check out our article on How Much You Need To Earn To Live In Boston