Top 10 Condos in Boston Under $700K
The Covid- 19 pandemic caused many qualified buyers to head for more space out in the suburbs. Raging demand in these outlying areas has caused some to overlook the amazing condo inventory in the more urban core of Boston, and surrounding cities. While it's understandable why many are searching for their dream homes in areas where space is plentiful, I will always bet on life in the city. I have lived in the South End, Cambridge, and now Somerville. I'm attracted to the allure of culture, community, and activities that city life provides. If you don't want to show up to an Open House with 100 buyers lined up and down the street in the 'burbs, then consider this a good time to buy a condo in the urban core. Please see my top condos in Boston (or near it!) on market right now for less than $700K.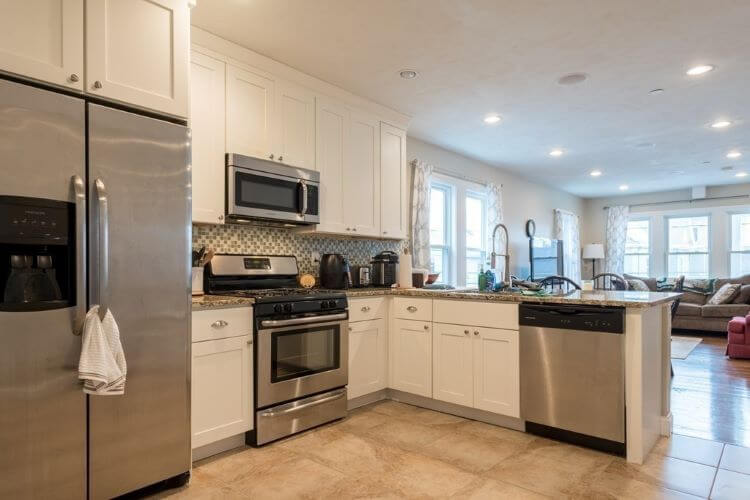 2 bed, 2 bath
844 sq ft
$639,995
This one is in my beloved neighborhood, but, bias aside, the location of this unit is incredible- tucked between Spring Hill and Magoun Square in Somerville. Updated in 2015, the unit comes with not just one but two exclusive porches. The Somerville Community Path is just a block away, so you can stroll down to Davis Square to grab some Dave's Fresh Pasta, a local gem. You can bring your provisions home and prepare a delicious spread in your modern kitchen with plenty of counter space (and a breakfast bar!). You can easily catch the Red Line in Davis Square, or the soon to be completed Green Line Extension (GLX) in Magoun Square into downtown Boston.
Listing Courtesy of Albert Azatyants – Branch Out Residential Team – Compass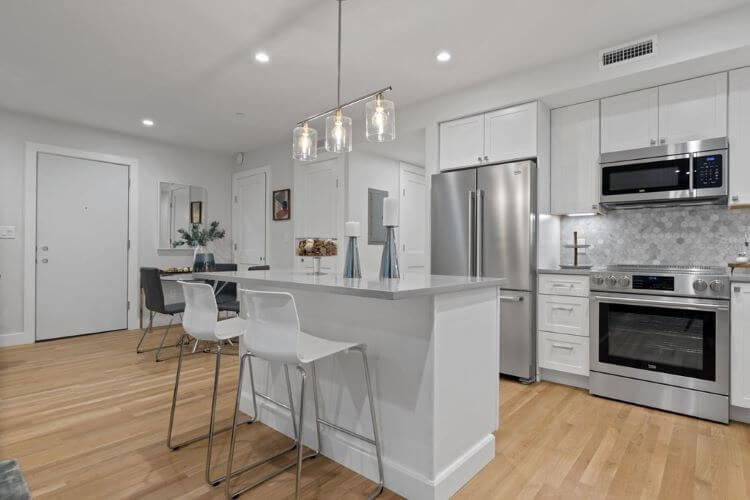 2 bed, 1 bath
880 sq ft
$585,000
This energy- efficient abode is built to the Passive House Institute Low Energy Standard, meaning it is a cost- effective option for the discerning buyer. High performance luxury living with a modern kitchen and bath in Mission Hill? Sign me up, please! The unit is masterfully curated using modern architecture with an open concept and a functional floor plan. Close to Longwood, Brigham Circle, and the Green Line on one side as well as Fort Hill, Roxbury Crossing, and the Orange Line on the other. Mission Hill is a vibrant neighborhood where inventory is low and moves fast. Don't miss out on the great opportunity to own a little slice of "The Hill".
Listing Courtesy of Mark Savage, Drew Boujoulian, Micholas Leandres – Buy Boston Team – Coldwell Banker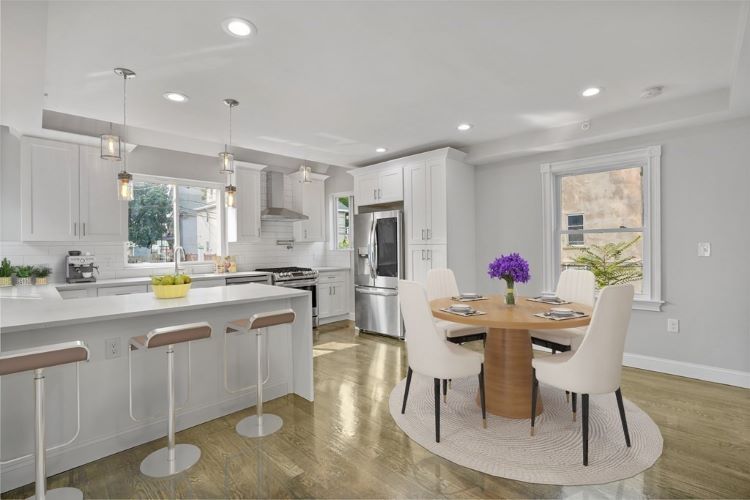 3 bed, 3 bath
1,800 sq ft
$575,000
If you're looking for space in a freshly renovated unit look no further. This spacious beauty shows well, with two floors of living space and high end finishes. The open layout is modern as well as functional, and the floors are insanely gorgeous. Wrap that up with outdoor space and 2 deeded parking spots and you'll have a sanctuary you won't want to leave! Come see for yourself! That being said, the close by Talbot Ave Train Station has a commuter rail line to quickly zip you into downtown Boston should you need it.
Listing Courtesy of Stephen Powell – Powell Realty Group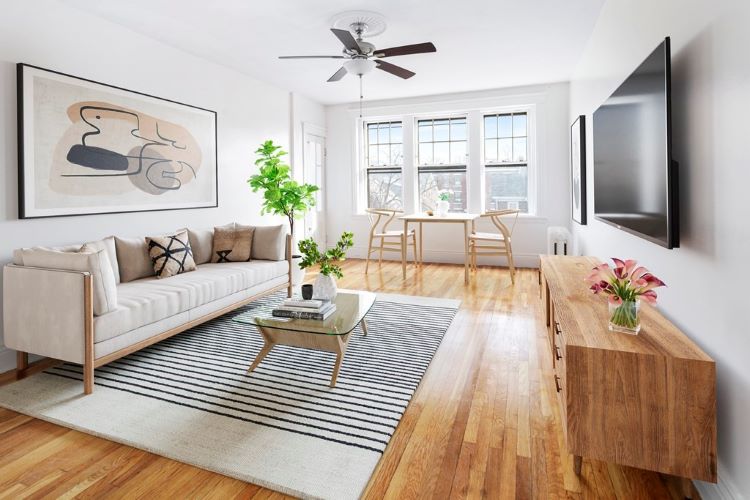 1 bed, 1 bath
630 sq ft
$390,000
Be in the center of all that Brighton has to offer in this Comm Ave charmer. Sip your coffee on your private outdoor deck, and then enjoy going outside around the Chestnut Hill Reservoir. With the Green line in close proximity you can get into downtown quickly, or grab some groceries at the nearby Whole Foods. At this low price this condo won't last long, so make sure to check it out ASAP!
Listing Courtesy of Elizabeth Bain – Commonwealth Standard Realty Advisors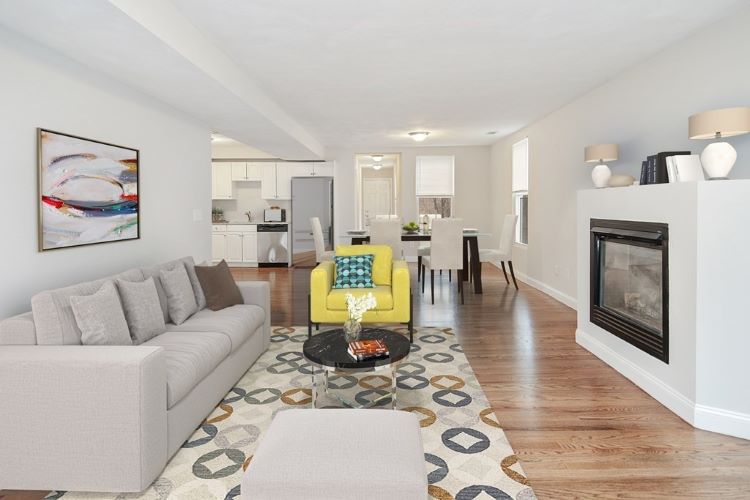 4 bed, 2 bath
1495 sq ft
$689,000
Fort Hill is one of the most beautiful neighborhoods in Roxbury. This spectacular Mansard Victorian property boasts 1,450 sqft over two floors and has stunning finishes throughout. It also features a very coveted amenity: garage parking! The Jackson Square Orange Line stop is a few blocks away too. Come check out this listing and you'll be mesmerized at the Victorian homes dotted throughout the neighborhood, including some of the other great condos in Boston.
Listing Courtesy of Markese Daise – Boston Trust Realty Group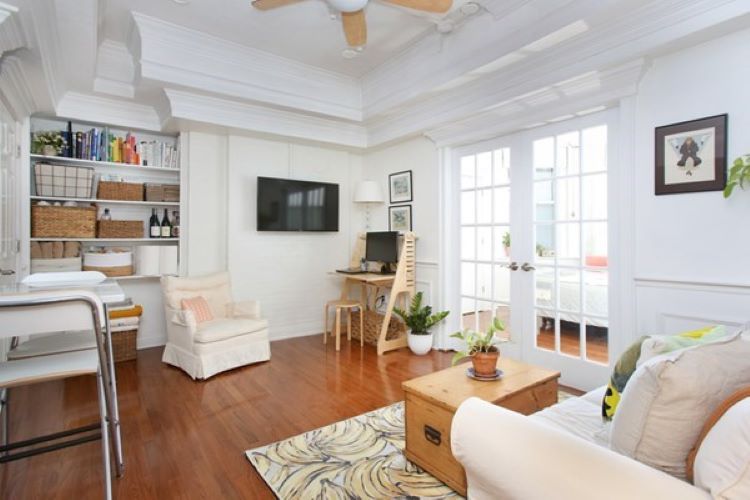 1 bed, 1 bath
415 sq ft
$540,000
This recently renovated unit is in one of the most quintessential Boston neighborhoods- the Back Bay. Although it would make a great pied-a-terre, it would also be a fabulous full-time home for the entry level buyer looking in Back Bay. Period details include intricate wood moldings and a built-in bookcase, for a seamless and unique blend of the old with the new.
Listing Courtesy of Amy Goldberg – Compass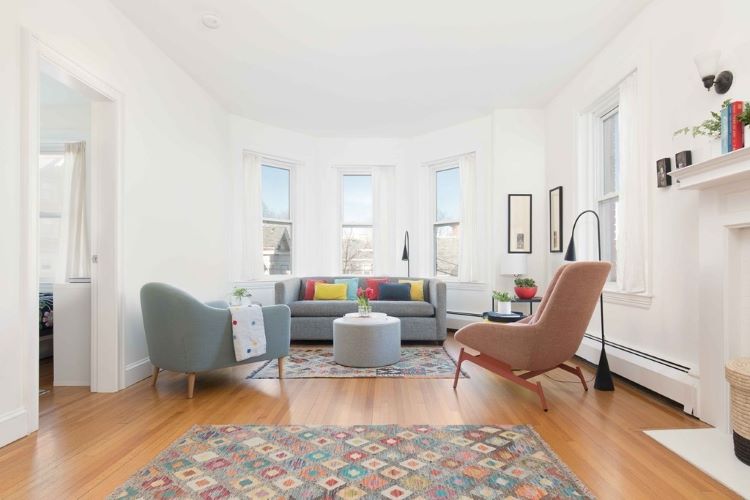 1 bed, 1 bath
612 sq ft
$610,000
Tucked off of Massachusetts Ave on a tree- lined Mid-Cambridge street, this unit is nearly equidistant from Harvard Square and Central Square. This sun- drenched corner unit has an efficient modern kitchen, gleaming hardwood floors throughout, and 1 off- street deeded parking space- making this a great find in the Cambridge market. Bring your fur buddy to this pet friendly building and explore all that Cambridge has to offer.
Listing Courtesy of Christian Jones, John Petrowsky – The Petrowsky Jone Group – Compass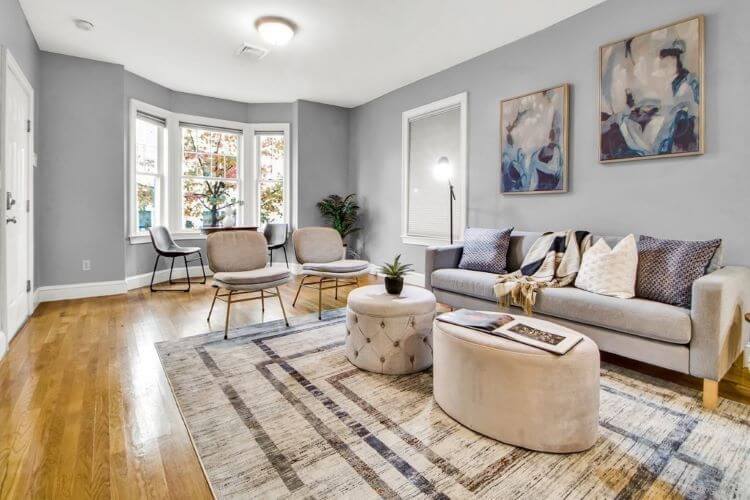 2 bed, 1 bath
832 sq ft
$582,500
Living in this unit grants easy access to Carson Beach in the summer to relax, read, and catch some sun rays! You can also easily ride the Red Line at Andrew Square and be in the city center within minutes. This unit has an updated eat- in kitchen and 2 good sized bedrooms, and the master has a walk- in closet. Other features include a jetted tub to relax, and a private outdoor space to make your own little oasis.
Listing Courtesy of Herb Entwisle, Marissa Valdez – The Entwisle Group – Cityscapes Int'l Realty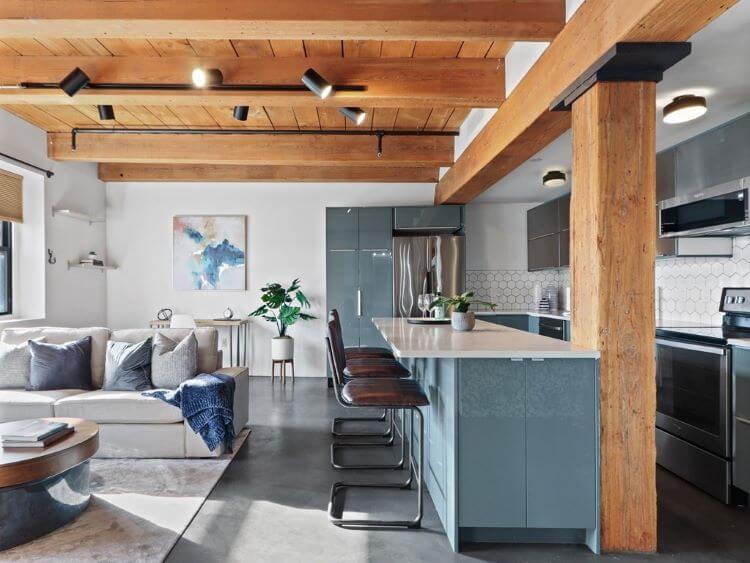 1 bed, 1 bath
777 sq ft
$675,000
Looking for that loft-life in one of Boston's most sought after neighborhoods? Look no further than this stunner located in the South End's 1850 Lofts. Bring out your inner chef with this updated kitchen including an over-sized island, plenty of prep space, and high end stainless steel appliances. The building is professionally managed with an elevator, and includes 1 deeded parking space. Enjoy the historic, the homes, the parks, and the lights out dining the South End offers.
Listing Courtesy of Crystal Roach, Michael Sherman – The Roach & Sherman Team – Compass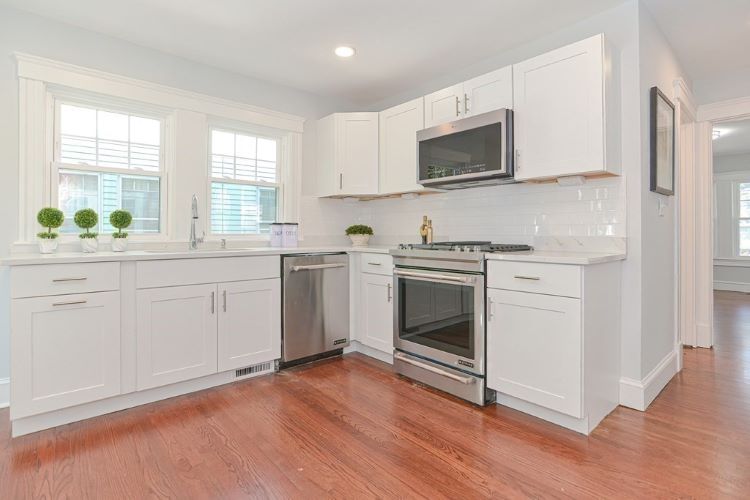 2 bed, 1 bath
912 sq ft
$599,900
This South Medford condo offers the best of both worlds- you can feel you're in a suburban neighborhood, while actually being well connected to the city center. The soon to be completed Green Line Extension (GLX) will open up new doors for this neighborhood, and you're in close proximity to Tufts University. This completely updated unit with an open- concept living room, dining room, and eat- in kitchen make this a great unit for entertaining guests when the pandemic relinquishes its hold on our day- to- day lives. In the meantime, enjoy socially distanced gatherings on your shared paved patio or back deck.
Listing Courtesy of Scott Cutler – RE/MAX Andrew Realty Services
Love what you see, but want to see other condos in Boston?
At Boston Pads, we pride ourselves on providing our clients with the most listings- whether you're looking for rental options or condos in Boston or its neighbors. Now is a great time to buy, not just in the suburbs! To talk more about sales, give me a call at (617) 285- 5884 or check out more of our sales listings here. For all things real estate, follow my Instagram @nextgenben.
Tags: