6 Ways to Give Your Boston Apartment the Illusion of More Light
Most Boston apartments tend to be small and with limited natural light sources. This is partly a function of the prevailing architecture of older houses and townhouses. These have been converted into multi-family apartment rentals. It is also a result of the high prices apartments in Boston can command, which is mostly determined by the size of the apartment. As a consequence, most apartment renters in the Greater Boston area need to make a sacrifice or two in order to select an apartment that meets their budget and needs. For instance, an apartment in Back Bay, the North End, or Beacon Hill, is going to be centrally located. It is also likely going to be an older home that was divided into several different apartment units. This means that at some point a window needed to be split between two different units, or cut in size, or even shuttered entirely. It also means that walls which were not there before needed to be put up to create new separations and living spaces.
These changes over the years have the effect of not only reducing the natural light coming into an apartment, but effectively blocking the flow of light from one room to the other. In this post, we will suggest different ways to enhance the lighting in your Boston apartment (without getting in trouble with your landlord).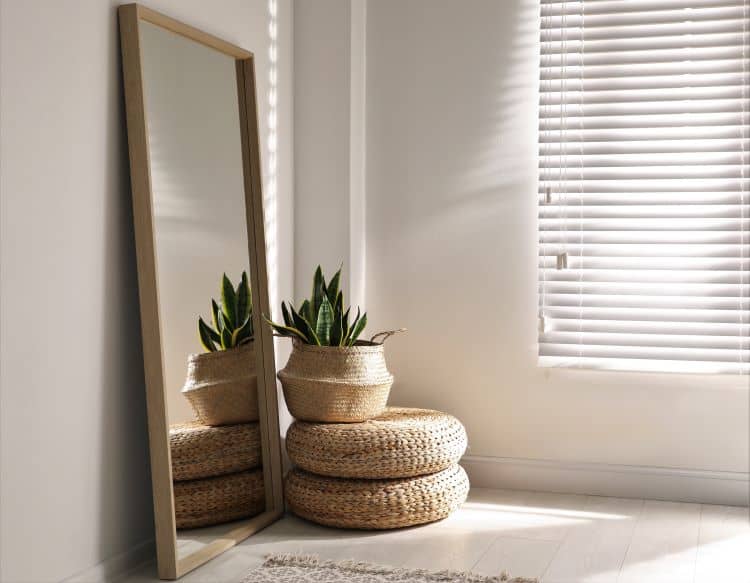 Mirrors
Mirrors are perhaps the most versatile way to enhance the appearance of an apartment. For starters, mirrors create an optical illusion of depth, by reflecting the room they are placed in as if they were a window into another room. And as with any other "window" they also give off light by reflecting it from any other light sources in that space. Oversized mirrors are one of the favorite décor accessories of interior designers. They give an apartment the appearance of being larger and more spacious. You don't need necessarily need to hang them on the wall, you can lean a large mirror onto the floor. You can also place a smaller one on top of a credenza or dresser. There are many ways to make it a light enhancing accessory for your Boston apartment.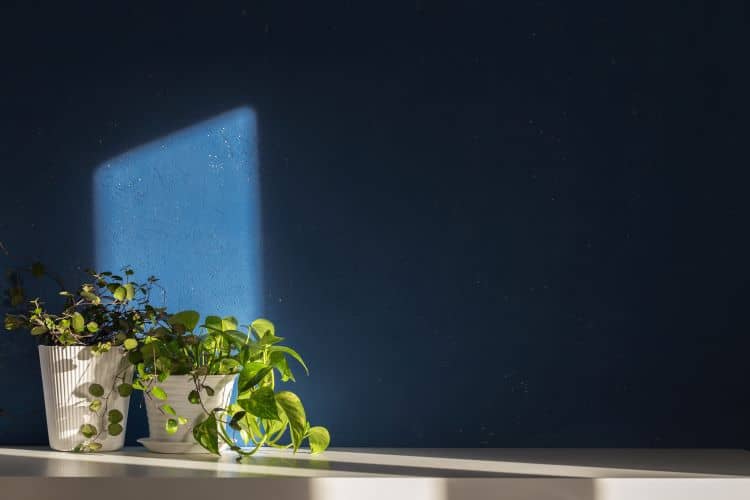 Add plants/ greenery
Plants may not necessarily bring in more light into an apartment, but they do bring a pop of color into it. Particularly in the winter months, where most outside vegetation in Boston is leafless and bare, indoor plants can help bring a livelier atmosphere to an apartment by showcasing color and greenery. If your Boston apartment is small or doesn't have a lot of natural light, make sure that you use plants that are tolerant of low-light conditions. These include snake plants, zz plants, as well as certain ferns and palm trees. If your apartment has few windows or sources of natural light, make sure that you place the plants near the light source but without blocking it so that the light can still illuminate the apartment.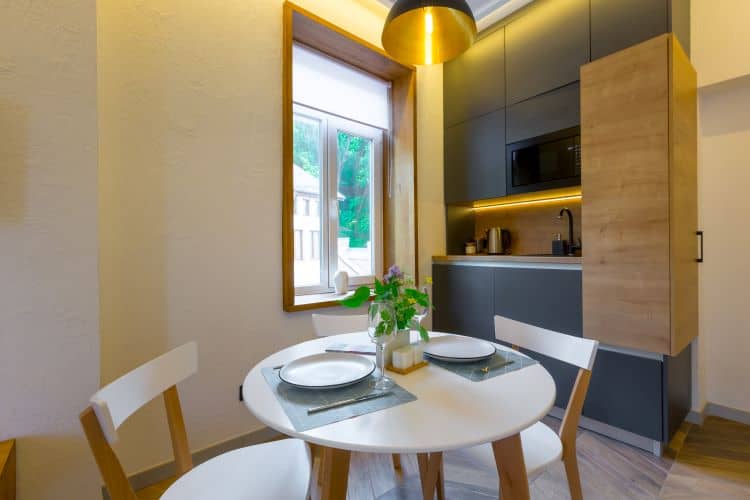 Avoid dark colors
Darker colors absorb the light in the environment and can make a space feel smaller than it is. For this reason, if your Boston apartment is like most (small and with limited natural light), using light paint colors on your walls is typically a better alternative. Choose light paint colors for your walls and primary surfaces. A lighter colored wall will also provide a great contrasting accent against the exposed brick walls that many Boston apartments have. White is generally a good color choice, but if you feel it's too stark you can use eggshell white, or a light cream instead, as well as light pastel colors. What's most important is to use the colors of the wall to accentuate the space and match your overall décor.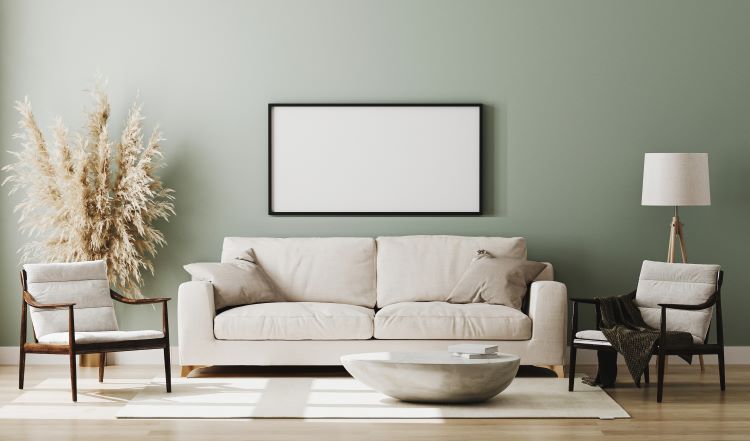 Adopt a minimalist style
Using a minimalist style with a clean design aesthetic is another way to create the illusion of light and space. The less pieces cluttering a room, the more light that can permeate and bounce around the space. Using apartment-sized furniture pieces is a key part of this recommendation. Particularly in Boston, where apartments tend to be small, and the elevators and staircases are even smaller, it is of key importance to choose pieces that will fit the space.
Use light fabrics
Lighter colored fabrics and materials tend to reflect more light, making a room fill more spacious. You don't necessarily need to use all white or beige. Although that is perfectly ok, you can use lighter shades of other colors as well. You can also use fabrics that give the impression of being lighter such as linen, silk, or jute. Feel free to use "heavier" fabrics and materials such as velvet or leather, but if you do, choose a light color palette for them. If your Boston apartment doesn't have a lot of light sources, try using sheer curtains instead of the blackout type. Lighter tones in fabrics and materials have the added benefit of generally being more washable than darker tones. This is particularly useful if you have pets or children. If that's the case, also consider a stain-resistant "performance" fabric in a light tone.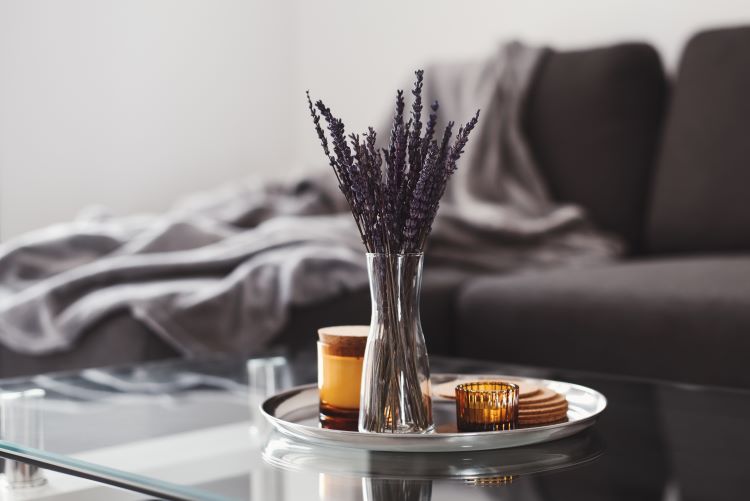 Add a little shine
Glossy and shiny elements act as miniature mirrors in a room, allowing for light to reflect and bounce back around the space. Consider using furniture with a glossy finish such as lacquer, acrylic, or a shiny varnish. Transparent acrylic elements such as coffee tables, side tables and even chairs and accessories can also help create the sense of a larger space visually. Metallic elements and accessories can help bring a little "bling" and sophistication into a space while being highly reflective of the light around them. Glass tops on dinner and coffee tables are also a stylish choice that can help bounce the light and illuminate the space in your Boston apartment.
Looking for a light- filled Boston Apartment?
If natural light is important for you to have in your Boston apartment, we suggest you look as soon as possible. Apartments are already available and renting for September 2022! If you find the right apartment for you, but not all the rooms get as much natural light, these tips will be helpful. For all your real estate needs, from home improvement to our latest data- driven rental market reports, check out the Boston Pads real estate portal.
Tags: