What are the Benefits for Landlords to Signing an Exclusive Right to Rent Agreement?
Massachusetts Landlords have multiple routes when it comes to listing a rental property. Those options range from listing it directly by owner, to using dozens of real estate agencies in the area. This article will discuss the benefits for landlords to signing an "Exclusive Right to Rent Agreement," and the important factors to look for in a real estate agency.
What is an exclusive right to rent agreement?
In this type of agreement, you as a landlord give exclusive rights to one agent or company to rent your property during a specified period of time. What's unique in this arrangement, is that it entitles the agency to be the exclusive listing agent for that property. It commits the landlord not to list it with any other agent or real estate company. This agreement is signed for a limited period of time, and the agent is paid a commission only if the property is rented during the fixed term of the agreement. Keep in mind, it doesn't have to cost the property owner anything out of pocket!
In the current market environment, only 12% of property owners are paying the full broker's fee, 10% are paying some of the broker's fee, and 78% of property owners are not paying any of the fee- the tenants are paying the fee. The Real- Time Availability Rate (RTAR) is 1.01% in Greater Boston, so owners are at an advantage here.

What are the risks and benefits to the landlord?
Some landlords believe that an exclusive right to rent agreement can limit the marketing exposure for their Greater Boston apartments. Once an exclusive rental agreement is signed, it is quite true that a property owner has limited some of their wider brokerage audience options. However, under the right circumstances, with an reputable agency, it can produce great results. Here are some key takeaways to examine:
Convenience
Having to deal with only one agent or company translates into having a single point of contact, a single line of communication, and a streamlined schedule of showings. This, in turn, means less headaches and greater peace of mind for you as a landlord over having to deal with multiple agents. There is no question that having a single point of contact will reduce the amount of calls you will receive. The more important question to consider is which brokerage can actually help you today? Technologies and teams change so it's important you examine their marketing efforts and achievements over both the short and long term.
Before you decide to give any company the honor of your exclusive right to rent,  ask them a few questions to make sure they're up to the task. 1). Can they help you accurately price out your unit? You want to maximize rents while remaining competitive- an accurately priced Boston apartment should rent in less than 2 weeks, as long as the property is in good condition. 2). Do they have technology in place to make sure any rental leads for your property are contacted immediately? You don't want to sign an exclusive agreement with a brokerage that allows their leads to get lost in a sea of e-mails. And 3). Do they have custom local syndication technologies that place your Boston apartment on the most websites and social media outlets with one click of a button? You want your property to be featured across multiple websites and every social media site- ask exactly where your Boston apartment will appear beyond the usual LIS sites that any agent can access.

Efficiency
Because as a landlord you would only have to deal with a single agent, there is a single set of listing documentation forms to sign. Also, a single stream of emails and communications to reply to and a single source of rental applications. In short, as a landlord using this type of agreement you will benefit from increased time efficiency in the rental process. It's important that you look at what you are signing. A properly priced apartment will rent quickly so there is no need to sign long exclusivity for an apartment. When an agent asks you to sign for 90 days or longer be very weary as it shows they have little faith in their ability to get the apartment rented. Some agents get exclusives just for the sake of saying they get many exclusive right to rent agreements to get more exclusives. Efficiency can be great, but hard work and due diligence of the agent and company are far more important.
Do they have a specific marketing plan for your unit? Do not be fooled by glossy marketing material of certain national brands that focus on residential sales because they are probably not the best choice for apartment leasing. Renting apartments is vastly different than residential sales. Renting apartments requires a broader team based approach and quicker real- time feedback than residential sales. In essence, it maybe counter productive to go with efficiency at the expense of results. It maybe wiser to seek companies that have exceptional data points on the vacancy rates and average rents of apartments that are your competition.
Extensive Marketing
Most landlords know that numerous agencies list their units in disparate and incomplete marketing methods. The internet is so wide at this point that without working with a company that accelerates at local search engine optimization and social media, you could be shortchanging your chances of the best possible outcome. For the most part, some agents with limited abilities to provide proper marketing channels will tell you they will "throw it up on MLS" and see what happens.
Here is the truth:
MLS may be great for residential sales but it is a poor performer in getting apartments rented. There are few agents that like to co-broke rental apartments because the commissions are small compared to sales listings. The bottom line is that the commission for the agent becomes extremely small when they have to share it with two parties and their office. Many agent that tell you that they will take your apartment listing and put it on MLS often just "set it and forget it." This is why MLS has never really taken root as a dominant channel in rental leasing.
Most experienced apartment leasing agents look at MLS as the platform of last choice or hope. However, if you give your exclusive listing to an apartment leasing company that uses the widest syndication technologies or has high ranking websites, you will almost always see better performance. Find companies that have unique websites with strong local domain names. If your apartment is located in South Boston, it may serve you well to see who owns domain names that match those keywords. See if they have strong social media presences in those neighborhoods. The greater the presence and exposure to proprietary online websites with virtual tours – the better! Of course, this relies on the assumption that the agency has a good digital team behind them using state-of-the art real estate technology and resources.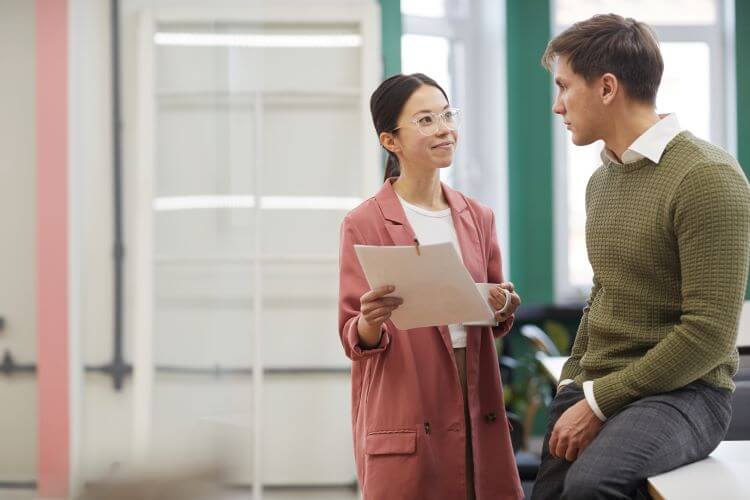 What factors to look for in an exclusive listing agent?
There are many factors to consider when providing an exclusive right to rent listing to an agent. From marketing considerations to technological and logistical issues, we work very hard at Boston Pads to make sure we earn your exclusive business. Boston pads was developed to optimize property owners exposure. Boston Pads is the product of years of working with landlords and listening to their needs. Below is just a small example of what Boston Pads brings to the table:
1. Proven Track Record –
We at Boston Pads have most experienced team in the Boston rental market – and the track record to prove it. Our solid, growing network of 17,000+ landlords is a testament to our strongly held belief that landlord relationships come first. We want you as a landlord to be happy with our services so we continue to receive your listings year after year! We rent the most properties for landlords each year. Our technology and teamwork has earned local and national notoriety as the most comprehensive apartment renting solution in New England.
2. Paperwork Expertise –
All the forms and documentation in our leasing packets have been created and developed by expert real estate professionals. We work extensively with industry leading real estate attorneys to make sure forms protect all parties and transactions flow smoothly. New forms are drafted with every change in legislation, markets, and special situations. We help get landlords to the proper resources so that their questions are answered in easy speak so that they can also craft custom addendums that keep them in compliance.
3. Quality Control –
At Boston Pads, we have strong quality control checks in place for every real estate transaction. We make sure our management team checks every transaction to ensure that all contracts and documents are filled out properly, lessening the possibility of any problems arising. Unless a company rents Boston apartments on a nonstop basis – many important items can be overlooked. You want apartment rental expertise that only comes through the experience of renting thousands of Boston apartments.
4. Digital Documentation –
Our company uses electronic signature and dedicate storage solutions for documentation in our rental transactions. This happens at the corporate level; so even if the agent you work with isn't available at that moment, we can obtain and email all leases and forms related your specific transaction when you need it – whether it be on the same day, or even years later. We have you covered.
5. Proprietary Database Technology –
We at Boston Pads have a proprietary database and software specifically developed to make the most out of your listings. No other company in the Boston area has a shared real time database with over 120 agents spanning across six key offices and a full time technical and listing staff updating data seven days a week. This ensures that your listings are up to date and have the information needed to get your Boston apartment rented to the most qualified of tenants. Regardless of whether you like to call, text or email in your listings – we have a live professional standing by to help get your listings out to market faster than any other service.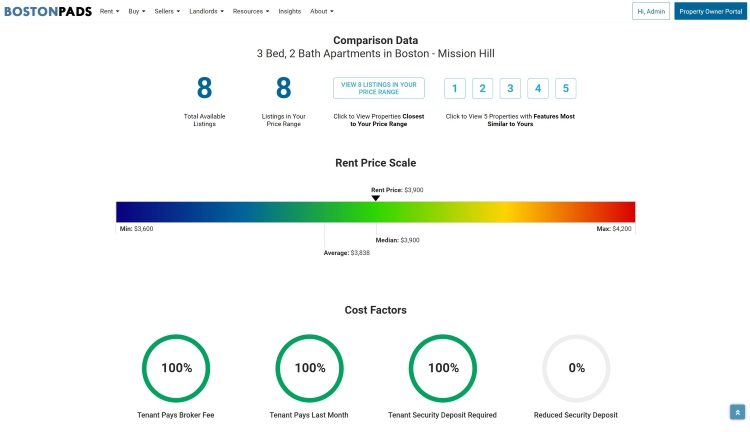 6. Pricing Expertise –
We price properly. Boston Pads uses the proprietary information of all the 200k+ listings in our database to properly price your apartment in Boston using the widest and most accurate real- time comparable data. Our agents are trained to provide you with the pricing feedback to help you maximize your rental income. No other real estate company in the Boston area has this level of resources. With over 72,000 galleries and 24,000+ videos and virtual tours – we can see information that other companies can't compile.
7. Safety is paramount –
We have all agents use company specific photo identification key cards. Your tenants never have to worry about who they are letting into their units again. Our apartment leasing training platform has live instructors that go over best showing practices.
8. Largest Virtual Tour Team –
Our virtual tour team works closely with landlords to get the most advanced media so that your property is shown in the best manner possible. We have a professionally trained media team that gets the best photos, videos and virtual tours so you don't have to worry.
9. Key Security and Tracking –
Our landlords' keys are under lock with camera surveillance and also a KeyTrak system. Each key is signed in and out electronically every time using a finger print scan. Nightly automated reports are run to ensure keys are returned daily. There is a reason more landlords trust us with keys than any other real estate platform. Agents from other offices often come over to see our keys and are blown away by their presence. The best indication of whether or not a real estate company generates trust with landlords is to see how many keys they provide to them. Property owners only give keys to companies they know like and trust. We feel honored our landlords see our value.
10. Our Property Owner Portal (POP) –
The POP allows you to see exactly how your Boston apartment is listed and how it compares to similar properties! We provide over 30 data points across 10 categories, including: Rent Price & Cost Factors, Amenities, Utilities, Marketing, and more! The agent you sign an exclusive with will go over all of this with you, but we understand the importance of allowing landlords control over their properties.

You don't have to do the hard work alone- we're here to help!
In short, when it comes to signing an exclusive right to rent agreement, it is preferable to go with trusted market leaders that posses long standing impeccable track records. We at Boston Pads are constantly innovating and delivered the highest level of landlord care. We were the first real estate company in the area to adopt electronic signatures for leasing paperwork in 2012. We pioneered the education of numerous landlords into utilizing better tools for them. Our team continues to provide the best real time vacancy rate information in the region. We developed the Real Time Vacancy Rate(RTVR) and the Real Time Availability Rate (RTAR) for each neighborhood in Greater Boston so that our property owners could get a daily pulse of the market.
Our landlord are treated to the best real time comps in the industry. We continue to learn and stay abreast of the most up to date technology – in compliance with current rules and regulations – to make sure paperwork is being done in the most secure, professional, and immediate fashion. If you want to know more about us, or you want to talk about that listing you've had trouble renting, please reach out to us now! You can fill out that form, or give us a call at (617) 208- 2197 and one of our licensed professionals will be happy to talk.
Tags: