Miami vs. Boston: Cost of Living Comparison
The Boston housing market has been near the top of the list of most expensive places to live in the country for the past decade. However, Miami is quickly catching up to Boston. The Florida city is no longer the significantly less expensive alternative that it used to be.
A new rivalry has been born between Boston and Miami, and it's not sports related. We're talking about the increasingly high housing costs. So, how high is the cost of living in Boston compared to Miami? The rest of this article will compare it head to head in terms of median sales prices, average rent price, and the median income to housing expense ratios.
Is Boston More Expensive than Miami?
Yes, Boston is more expensive than Miami. However, this is only at first glance. Consumer prices are only 6.09% lower in Miami than in Boston on average. In addition, the median salary in Miami is $44,268. It's $76,298 in Boston. That means the average salary in Boston is 42% higher. $32,030 more per year in Boston adds significantly more buying power towards housing and daily living.
Consumer prices might be slightly lower, but the price of many common grocery items are higher in Miami. One pound of boneless chicken breast costs $7 in Miami and only $5.55 in Boston, for example. When you crunch the numbers that's a 24% difference.
There is also a big difference in transportation costs. The current average price of one gallon of gasoline in Miami is $4.80 vs. $5.02 in Boston. However, keep in mind that Miami is a much larger city that requires driving longer distances for most errands. Miami commuters travel the longest distances in North America. Boston also has one of the best public transportation systems in the country, but public transportation in Miami costs 41% more. Public transportation costs $127 per month in Miami and only $90 per month in Boston.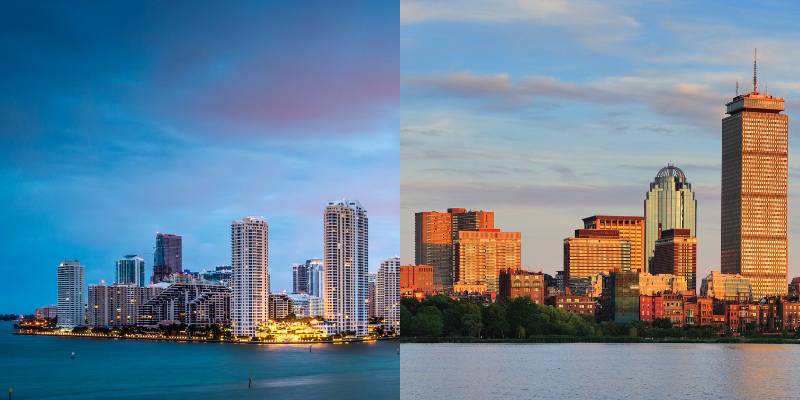 Miami vs. Boston: Median Sales Prices
The median sales price for homes in Boston is higher than it is in Miami. According to the most recent Multiple Listing Services (MLS) sales data, the median sales price for all types of residential property in Miami is $530,000 as of June 30, 2022. Although that's 32% lower than  median sales price for Boston real estate ($780,000), the 27.3 year-over-year increase is significantly higher than Boston's 3.6% year-over-year increase. That proves that the median sales prices in Miami are increasing nearly 8x as fast as in Boston.
The question that remains is how long will it take for Miami to surpass Boston in the median sales prices category? It could easily happen just a few years down the road with these projections. Some people may be under the false impression that the lower median sales prices make Miami a better choice from an economic point of view. However, when you factor in the significantly higher yearly salaries in Boston and the fact that the overall cost of living is comparable, Beantown remains the better choice.
Miami vs. Boston: Average Rent Prices
The average rent prices in Miami are only slightly lower than they are in Boston. Although most people think that the Boston housing market is considerably higher in this area, that is no longer true. The average rent for a 1-bedroom apartment in Miami is currently $2,132 per month. On the other hand, that figure rises slightly to $2,164 per month for 1 bedroom apartments in Boston. Furthermore, rental prices are increasing at a significantly higher percentage on a year-over-year basis in Miami than they are in Boston.
Miami vs. Boston: Income to Housing Expenses Ratios
Income obviously has a direct effect on the true affordability of a city. For example, the median sales prices in Boston are 32% higher than they are in Miami. However, the median salary in Beantown is 42% higher than it is in Miami. That means the Boston cost of living is actually more affordable for most people. Based on the median salary and rent figures, the rent to income ratio in Miami for a 1 bedroom apartment on average is nearly 60%. That's incredibly unaffordable.
The rent to income ratio in Boston fluctuates between 28% and 34%, which is a significant difference. It follows the 30% rule, the budgeting recommendation that you should spend no more than 30% of your income on rent. Furthermore, the home price to income ratio in Miami is 11.97% and 10.22% in Boston. That means even though the median sales prices are higher in Boston, the homes are actually more affordable based on the average salary figures.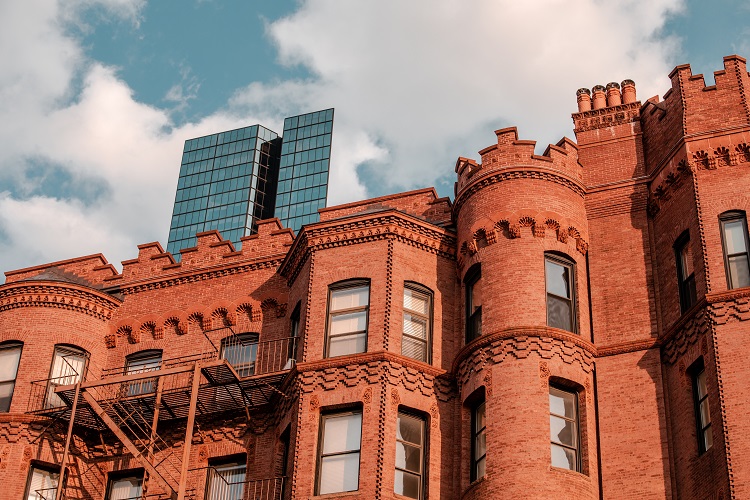 Conclusion
Although many people believe the opposite is true, it's actually more expensive to live in Miami than it is to live in Boston, all things considered. Of course, everyone's circumstances are different. As always, we encourage you to dig deep into the data and decide for yourself. For both apartment and sales listings, market updates, and other cost of living comparisons, visit BostonPads.com.
Tags: