NYC vs. Boston – Cost of Living Comparison
Over the past decade, Boston has been rapidly ascending the list of most expensive places to live in the US.  As the metro region has grown, real estate and rent prices have soared due to an ever-increasing demand for housing and a limited supply of apartments and property listings.  In January, the Herald reported that Boston could soon surpass San Francisco as the second most expensive city behind New York City.
So it appears that we now have a new type of rivalry with the Big Apple: sky-high housing costs.  But how high is the Boston cost of living compared to NYC?  In this article, we'll compare the two in terms of median sale prices, average rent, and median household income.

Boston vs. NYC: Median Sale Prices
If you compare real estate prices in Boston vs. New York, you'll find that homes for sale in Boston are slightly less expensive than those in NYC.  According to MLS data from Redfin, Boston's median sale price for all residential property types was $805,500 in April 2022.  That is 6.88% lower than New York City's median sale price of $865,000.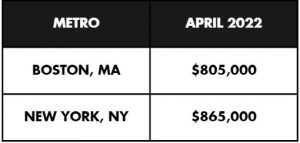 Boston vs. NYC: Average Rent Price
A comparison of average rent prices in NYC vs Boston reveals an even wider price gap.  The current average rent price in NYC is $3,650, which is $1000 more expensive than the monthly average rent for Boston apartments ($2,659).  A closer look at the per-bedroom average rent prices shows that NYC is particularly more expensive for smaller apartments, and the price disparities are less for larger apartments.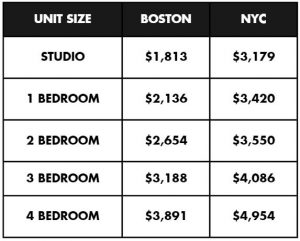 Boston vs. NYC: Income to Housing Expenses Ratios
Another important component to cost of living is median income levels.  High rents and home prices can be manageable if household incomes are high enough to support them.  Here's where it gets interesting.  According to the most recent income data, the median household income in Boston is over $10,000 higher in Boston compared to New York City.

When you compare median income to housing costs for both metros, we can see that the average cost of housing is much more manageable in Boston for both renters and homeowners.  Boston's average rent to income ratio is at 33.79% compared to an astronomical 52.67% in NYC.  Also, the home price to income ratio of New York is 18% higher than that of Boston.
In Conclusion
All this data combines to show that for now, the average cost of housing in Boston is less expensive than the Big Apple.  It also shows that when rent prices and home values are adjusted for income, Boston provides a much more affordable environment than that of NYC.  It will be interesting to see how this data evolves over the next few years, but for now, Boston still has a way to go before it starts seeing NYC prices.
Tags: