How Is Boston's Housing Market Reacting to COVID-19?
***ARTICLE UPDATED*** – We've updated this article for 2021! Check out our 2021 Greater Boston Apartment Rental Market Report for fresh data and insights!
We're now a little over six weeks since Governor Charlie Baker issued Massachusetts' stay at home order. The negative impact of coronavirus on the local economy is undeniable. Prior to COVID-19, Boston's housing market witnessed unprecedented real estate growth. People now wonder, how will the current apartment market fair in the face of this pandemic? As new sets of real time and weekly data come in, we are seeing some interesting and perhaps surprising trends.
Vacancy and Apartment Availability On The Rise
It should come as no surprise that we're seeing an increase in apartment inventory as a result of COVID-19. Prior to the outbreak, it's worth noting that the City of Boston was experiencing record lows in apartment availability and vacancy rates. At the end of January 2020, the Real-time Availability Rate (RTAR) for Boston apartments was at 4.51%, a solid 10% decrease from late January 2019.
Greater Boston Area Real Time Vacancy Rate vs. Real-Time Availability Rate
As of the second week of March, the Real Time Availability Rate (RTAR) was still down 10% year over year. However, we've seen an unusual trend since the beginning of April where the RTAR is still on the rise. Last year, the RTAR peaked in early April as landlord confidence was high and most got their units out on the market early. This year appeared to be trending similarly until the COVID-19 outbreak made its entrance.  Real time data and endless landlord phone calls reveal several key trends.
A Shift in Strategy
During April, we saw a wide divergence in how landlords are approaching and applying leasing strategies during this pandemic. Many landlords spent the month of April trying to negotiate directly with tenants to re-sign their lease for another twelve months. Numerous landlords and property managers that we spoke with indicated it took more communication and negotiation than usual to complete these tasks. Many landlords mentioned that they were asking for rents at the same price or perhaps even at a slight discount to encourage tenants to stay. We are seeing some landlords that know of upcoming potential availabilities delaying putting their units out on the market in an effort to not bother tenants with respect to social distancing.
Several landlords have told us they are holding off giving out their inventory because they believe pricing may be better in late May or June. Some landlords are even avoiding contacting their tenants about renewals until mid-May to see what transpires in the market. There are also quite a few landlords working with their tenants to get them to take pictures and videos of their apartments on their own so that they can be re-rented from a virtual standpoint. All of this has increased the sales cycle in terms of procuring and closing the apartment transactions. Many landlords have formulated their own ideas but are also changing or modifying their strategies based on input and demand from real estate agents.
As a result of the varied business philosophies of property owners, the RTAR has steadily increased throughout the month of April. As of the first week of May, it hit 6.47% for the City of Boston as a whole – just above the 6.44% peak we saw on April 1, 2019. However, if our economy continues to be shut down, and we see the RTAR surpass 8% by June, it could be a cause for serious concern.
COVID-19 Impact on Real-Time Vacancy Rate (RTVR)
The Real-Time Vacancy Rate (RTVR) is trending in an unusual upward direction for this time of year as well. In the week following Governor Baker's March 24th stay at home announcement, we saw a dramatic 20% increase in vacancies around the city – rising to 1.17% from 0.92% as some of the city's residents went running for the hills. It is important to note that you will always see a temporary spike in the RTVR on the first day of every month. That quick one day jump is due to the fact that nearly all leases are structured to vacate by the last day of the month at midnight.  Therefore, you want to closely observe the overall absorption rate over the following several weeks after the first day of the month. If you still see the RTVR increase throughout the month, it means we could be seeing some potential leasing and pricing power challenges.
Greater Boston Area Real Time Vacancy Rate for the Past 3 Months
Due to the uncertainty of the COVID-19 crisis, the Real-Time Vacancy Rate for the month of April was higher at the end than at the beginning. The RTVR in the City of Boston is 1.26% as of April 30th, which is .08% higher than April 1st. Historically, after the initial spike of vacancies on the first day of every month, the RTVR will slowly decline as vacant apartments are absorbed throughout the month. Fewer leasing transactions actually pushed the RTVR higher over the Month of April. The first day of May saw another sizable jump in the Vacancy Rate, rising to 1.49% from 1.25% a day earlier. As of May 7th, the RTVR is up to 1.53%, which could be a concerning trend if it continues upward over the next two weeks.
All things considered, the increase in inventory has not been so drastic that it would have a seismic impact on the Boston apartment market as a whole at this point. Apartment prices are still on the rise despite the increase in supply. However, we are now seeing a shift to more landlords providing incentives and paying broker fees in order to get their target rent prices. There is always concern when you have a high RTVR heading toward the end of the peak leasing season. This time compression will make it more difficult to rent out all available units by September, and prices will fall as a result. Boston has always had a strong cyclical leasing season based on September 1st.
Boston Apartment Rental Price Trends During COVID-19
If we're seeing an increase in apartment inventory, logic would tell you that would coincide with a decrease in pricing. Even strong housing markets like Boston are not immune to the basic law of supply and demand. We are currently seeing apartment pricing holding steady, as rent prices have slightly increased for all sized units in the City of Boston since Governor Baker's announcement in late March. The question is, how long can the market sustain this before prices start trending downward?
City of Boston Historical Average Rent Prices
We predict this trend in increasing rent prices will level off in the month of May.  However, this could change quickly if the executive stay-at-home order is extended into June. If that is the case, we predict prices to begin to decline in the latter weeks of May as landlords drop prices to fill units. There's also the fact that more landlords are paying the broker's fee to maintain their price point.
COVID-19's Impact on the Real Estate Business
The impact COVID-19 has had on all industries has been widespread and very unbalanced. The effects of social distancing have presented a tremendous challenge for agents that rely on face to face interactions and apartment showings. For many in the housing industry, it has forced them to adapt to digital-age marketing strategies, such as virtual showings and electronic paperwork – all of which will be a must for future success in real estate.
As for leasing transactions, we've definitely seen a significant reduction in March and April, but we're starting to see an uptick going into May. According to Google, searches related to housing in Boston were down 26% in April, but we're seeing record traffic on bostonpads.com at the moment, up 56% in the past 60 days. We were seeing a lot of virtual window shoppers throughout March and April as they adjusted to the digital apartment showing process. So for the past 2 months, those renters who were waiting on the sidelines are starting to make decisions. There's also been significant improvement in apartment photo quality, videos, and virtual tours. Tenants have also been extremely helpful in taking pictures and videos for the agents, as they'd rather not have their apartment shown during these times.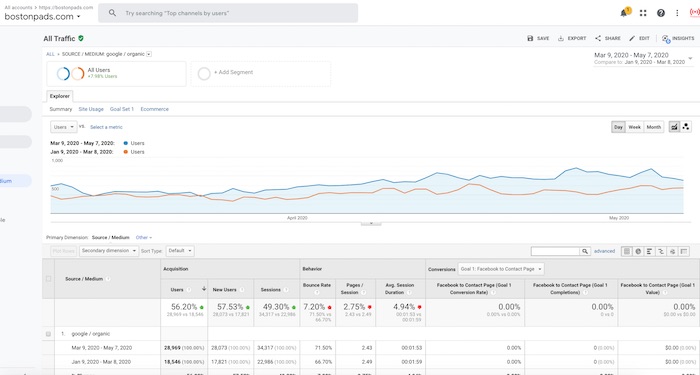 Completing apartment leasing transactions is notably slower for agents as a result of COVID-19, as new precautions were implemented by landlords and tenants. Some landlords and tenants required additional paperwork when a renting an apartment sight-unseen. Addendums now have to be more robust, COVID-19 clauses were needed for some tenants, and subletting clauses were added to many leases to help procure the transaction.
Key Takeaways, Lessons Learned, and Our Predictions for Boston's Apartment Market
COVID-19 has been a harsh reality check in many ways for nearly everyone. Trends in the local apartment rental market in Boston could be a microcosm for the overall national story.
Much like the national economy, Boston's housing market was booming prior to Coronavirus coming to our shores. In January, we were seeing record lows in apartment supply and record highs in rent prices. It's because of that boom in the economy that we are still hanging tough today in spite of the current crisis. For that reason, we recognize that there is a lot of uncertainty in the marketplace, but we're confident that we'll return to normal – it's just a question of when.
It is true that increases in apartment RTVR above 2% in June and/or 8% for the RTAR would be alarming. However, when RTVR and RTAR are as low as they have been here in Boston, an increase in supply could be a pleasant change for local renters. One small positive we can draw from this is that local residents may have more options when apartment hunting in upcoming months.
There are several potential threats to our recovery that could derail a quick comeback. The eviction moratorium has been instituted to protect renters who are unemployed or furloughed due to COVID-19. This has placed much of the potential economic burden on the landlords. We also have to consider what path major universities will take when it comes time to open fall classes. Several universities have stated that they could be providing alternative/hybrid curriculums of online and in-person classes. Some have not declared a full opening for the fall at this point. We also have to consider the international travel ban and how it could affect the 70,000+ foreign students that call Boston home. We'll be looking very closely at Tufts in June, as their leasing cycle primarily runs from June 1st to May 31st. That will give us a good window into what the fall could look like.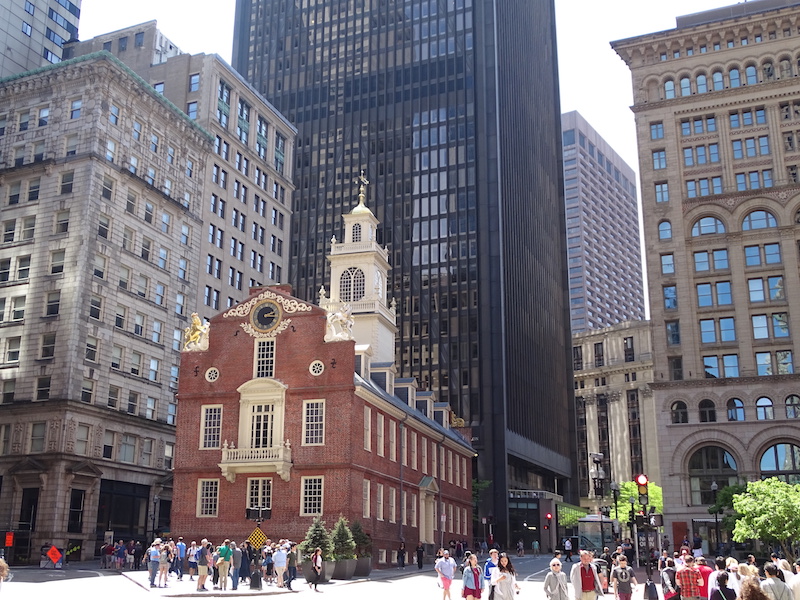 The greatest factor that would slow or halt our recovery would be an elongated stay-at-home order. If that executive order were to be extended into June, the economic hardships imposed on individuals could potentially lead to a significant increase in vacancies. That in turn would lead to rental price reductions, decreased property values, and diminished property tax collection for the state. We must find a way to begin the process of reopening in a quick and responsible manner.
It could be a challenge to get reopened by May 18th, but recent news of TripAdvisor laying off 900 employees and furloughing an additional 850 workers should instill a sense of urgency that we must find a prudent path back to prosperity. Officials at both state and local levels must find ways to get us at least partially back to work while protecting our most vulnerable population.
While there's uncertainty as to what that will look like, we are certain of one thing. The strength of the economy heading into this pandemic was as strong as it had ever been, and it will take much more than COVID-19 to deter the great growth and economic vitality we've seen in recent years. We expect that growth the continue once we start reopening the economy slowly and responsibly.
Tags: