Newest Luxury Apartment Buildings in Boston 2022
Boston's apartment scarcity has been put back in the spotlight in 2022.  The apartment supply shortage took a hiatus during the pandemic, as remote learning and remote work temporarily diminished renter demand. Now that Boston is back in business, rental supply figures are even lower than before COVID.  Sadly, we're seeing historically low apartment availability and as a result, record-high rent prices.  It's time to start talking about how we need to get supply going through a myriad of innovative ways.
Adding More Supply is Key
In order to combat rising rents, we need the Boston Planning and Development Authority to find new ways to add square footage of living space. And, of course, speed up housing development to meet rising demand.  Perhaps thinking of allowing landlords to fully retrofit garden and basement level spaces could quickly open up additional square footage that often remains underutilized throughout the Greater Boston Area.  Even these simple steps which have been wildly successful for other cities could quickly bring on affordable living opportunities without the incredibly long lead times of new construction.  It's time to start thinking a little bit outside the traditional development box.
Small property owners and developers both agree that utilizing the entire footprints of properties could quickly lead to greater supply without extensive expenses.  If we opened up more opportunity to bring more square footage of living space into play – it could help both renters and home owners benefit.  There could also be an acceleration of releasing fallow city owned plots of land that are ripe for development.  With the occupancy rate at record highs in Boston, the need to take action is now. It often takes two years for new construction projects to reach the finish line.
In the interim of waiting for broader housing supply solutions, there have been several new construction projects that have recently been completed this year.  These developments are adding to the supply of luxury apartments in Boston, helping to alleviate the rental shortage.  Here are the top new apartment buildings where construction recently wrapped up.
144 Addison Street – East Boston
On April 12, 2022, construction was completed at 144 Addison St. in East Boston.  This new construction project consists of 2 residential buildings with 230 new East Boston apartments andover 215,565 square feet of living space.  It also offers 169 off-street parking spaces.
Whittier Choice – Roxbury
In November of 2021, construction wrapped up at Whittier Choice, located at 1158 Tremont Street in Roxbury.  This massive development project consists of 387 Roxbury apartments in 3 buildings holding 472,095 square feet of living space.  It also includes 135 new parking spaces.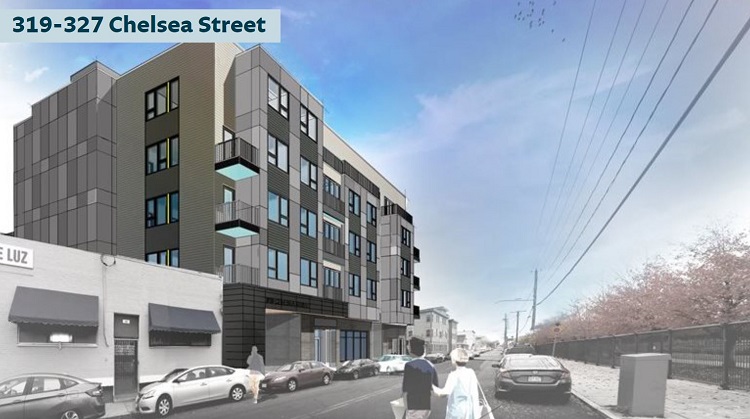 319-327 Chelsea Street – East Boston
In February of this year, construction was finished at 319-327 Chelsea Street in Eastie.  The new development consists of a five-story mixed-used building offering 38 new East Boston apartments along with ground floor commercial and retail space.
55 West Fifth Street
In April of this year, developers completed construction of 55 West Fifth Street in Southie.  This 6 story building has 45,757 square feet of gross floor area.  It will hold 50 new South Boston apartments, 1,600 square feet of retail space, and 43 off-street parking spaces.
Conclusion
These 4 projects are among the largest new housing developments to be completed in the past year in Boston.  New construction efforts were slowed down during the pandemic, the effects of which we're feeling this year in the form of historically low apartment availability.  Now developers are facing additional challenges in the form of: labor shortages, higher construction costs due to fuel prices, runaway material costs, supply chain disruptions and higher interest rates on loans.  It is a very difficult time to be a real estate developer in Boston.  Many of the development deals simply do not pencil because construction is a very energy and material intensive endeavor.  Let's hope we can get our maligned energy policy back on track so we can bring greater affordability to our citizens.
The BDPA will have to find new ways to push more development projects to completion.  The only true way to combat rising rent prices is to add a vast supply of new apartments.  Several large development projects were issued building permits this year promising to provide some relief in the next few years.  We will continue to report these new construction projects as they progress.