Best Breakfast Spots Near Your Somerville Apartment
​Are you a student at Tufts University or a working professional living in the area? Perhaps you're looking for the best breakfast sports near your Somerville apartment? If so, you should be familiar with some of the local coffee shops and breakfast spots. There are plenty to choose from, so we've broken it down into a list of the top five (5) for you. As they say, breakfast is the most important meal of the day. Even if you don't eat in the morning, it's crucial to know where to get a great cup of coffee or tea. If you're like most, then caffeine may be one of your best friends. In addition, coffee shops are great places to meet up with your classmates between classes.
Some college students do their homework and projects in coffee shops. Unlike the library, you can actually eat and drink there. Other college students enjoy frequenting coffee shops because they provide a nice change of scenery. Those still working remotely, but tired of working from home, have also started to frequent coffeeshops. In fact, writers have done this for years!
So, without further ado here are the best breakfast spots near your Somerville apartment. All of these establishments come highly recommended by both recent renters and longtime residents of the area. They are listed in no particular order.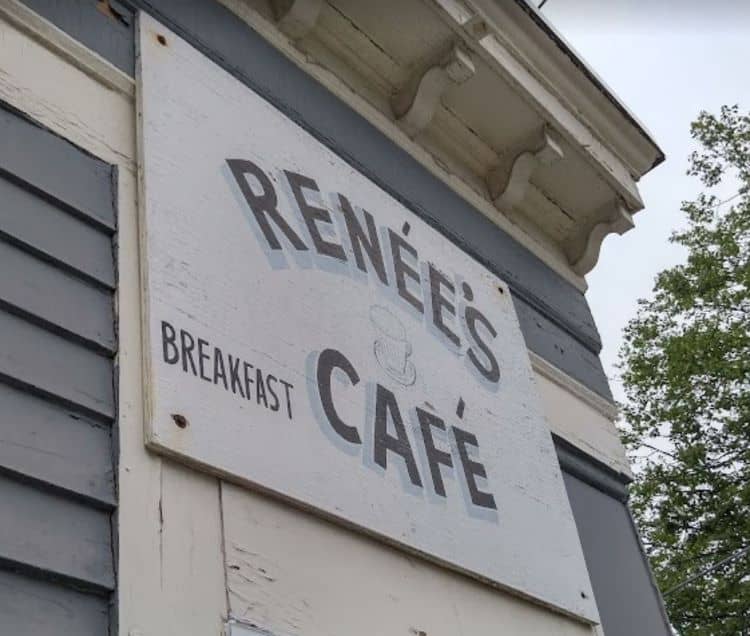 Renee's Cafe
Address: 198 Holland Street, Somerville, MA
Open every Wednesday thru Sunday from 6:30 AM to 12:30 PM
Phone: 617-623-2727
Renee's Cafe is a charming breakfast spot that is located close by to Davis Square. The restaurant is a favorite of locals in the Somerville area and for good reason. Renee's provides customers with a cozy and friendly atmosphere that makes everyone feel at home even if you're a first timer. It is even run by the owner herself! The fast and friendly service just adds to the overall charm of this place. Renee's menu features all of your standard breakfast and brunch items. That includes eggs any way you like them, pancakes, and waffles to name a few of the delectable dishes. You can also choose from a vast variety of sandwiches and specials. Between the reasonable prices, freshly made food, and amazing service, Renee's Cafe certainly has a lot going for it. It's no wonder it's one of the best breakfast spots near your Somerville apartment.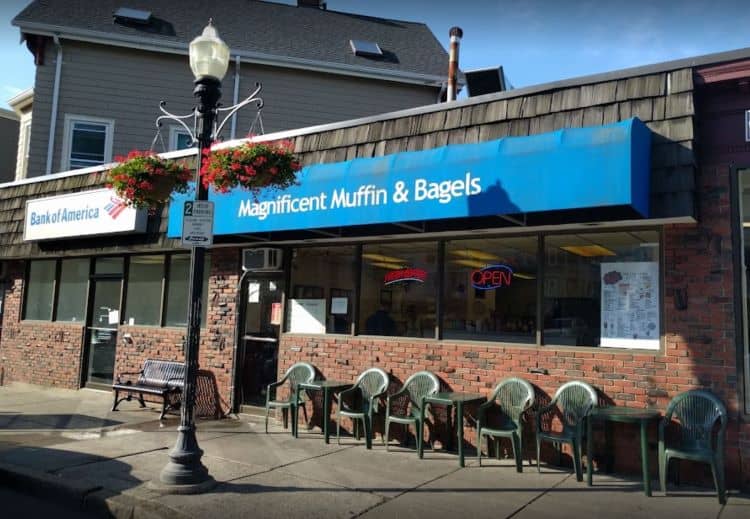 Magnificent Muffin & Bagel Teele Square
Address: 1118 Broadway, Somerville, MA
Open every Monday thru Friday from 6 AM to 12 PM
Open every Saturday and Sunday from 7 AM to 12 PM
Phone: 617-628-9000
Magnificent Muffin & Bagel Teele Square is a Somerville staple. Mary and Gary Nalbandian founded the breakfast joint over twenty (20) years ago. This bagel, muffin, breakfast sandwich and coffee shop has been a morning destination of Tufts University students ever since. In fact, it's one of the best breakfast spots near your Somerville apartment. Magnificent Muffin and Bagel has lines out the door during the weekends. However, the line moves rather quickly, and customers are happy to wait. You will think that the bagels were made in New York, which is famous for making the best version of this tasty breakfast item. The muffins are amazing as well with overflowing tops. Let's not forget to mention the absolutely delicious breakfast sandwiches that are made to order.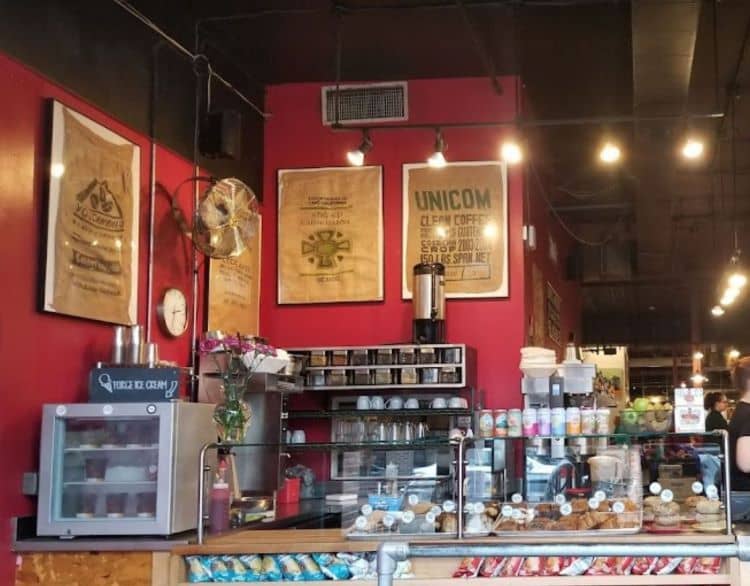 Diesel Cafe
Address: 257 Elm Street, Somerville, MA
Open every day from 7 AM to 5 PM
Diesel Cafe is a breakfast spot located near your Somerville apartment that you can hang out at all day. It's a high-end coffee shop with pool tables, and vegetarian friendly options. The space is hip and industrial. Diesel Cafe was founded by co-owners Jennifer Park and Tucker Lewis back in 1999. The owners aimed to provide a cool spot to serve specialty coffee in a community-based manner. Fast forward twenty-two (22) years. They have certainly achieved their mission. Not only is Diesel Cafe an essential part of the community, but it's also become a fixture with Tufts students.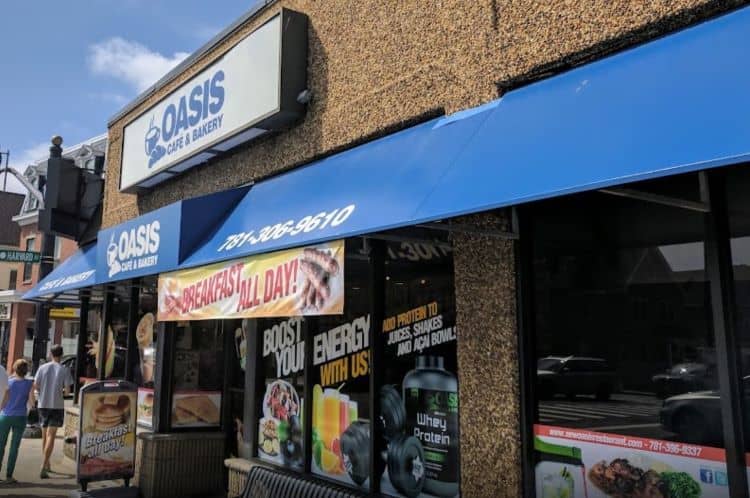 Oasis Cafe And Bakery
Address: 377 Main Street, #1250, Medford, MA
Open every day from 6 AM to 10 PM
Oasis Cafe And Bakery is technically located in Medford, MA. However, it' s definitely worth the short trip from your Somerville apartment. This place is famous for serving authentic Brazilian baked goods. Here you will find favorite pastries such as coxinha and pasteis. The good news is that they actually serve their delectable food from the early morning to the evening. Tufts students and other Somerville/ Medford residents eat breakfast, lunch, and dinner here. You can also grab a late-night snack. Oasis Cafe And Bakery offers a full breakfast menu, sandwiches, and full meals. This place is also famous for great coffee and espresso.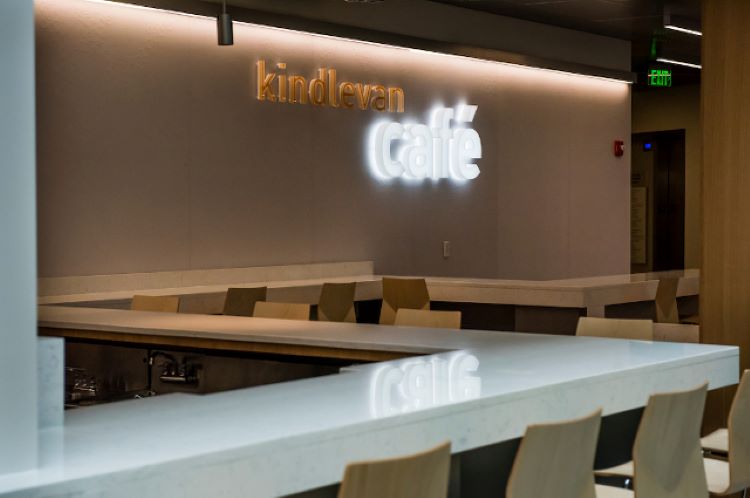 Kindlevan Cafe
Address: 200 College Ave, Medford, MA
Open every Monday thru Friday from 8 AM to 7 PM
Closed on Saturdays and Sundays
Kindlevan Cafe is located in Medford, MA right on the Tufts University Campus. However, it's more than just your average campus cafe- and many Somerville and Medford residents that are not students have recommended it. Although it's last, this place is certainly not least on our list of best breakfast spots near your Somerville apartment. This interesting eatery provides students, faculty, and neighbors alike with a wide range of breakfast sandwiches, panini, and even sushi. You can also find grab and go desserts and snacks, soups and salads. Kindlevan Cafe also offers delicious coffee and tea. They even have fresh pressed smoothies and juices available.
In conclusion, there are some great breakfast spots near your Somerville apartment. Are you interested in learning more about the Sommerville area of Boston or other parts of the city? Please check out the Boston Pads real estate portal at www.BostonPads.com
Tags: