Best Practices to Rent a Boston Apartment in December
The end of the year is creeping up on us, but there's still time to rent a Boston apartment in December. In an ideal world, your search would have been wrapped up by now- but inventory is low and the Boston rental market is extremely competitive right now. There are currently 1,438 Greater Boston apartments for rent available for move-in before January 1, 2023, though, leaving you with plenty of choices so long as you keep a few things in mind and act fast. Whether you were hoping for a last-minute deal or have been simply beaten out for other units, if you still need a new place before January you should read through this guide. We will help you find a fantastic apartment in Boston!
Here are our best practices on how to rent a Boston Apartment in December.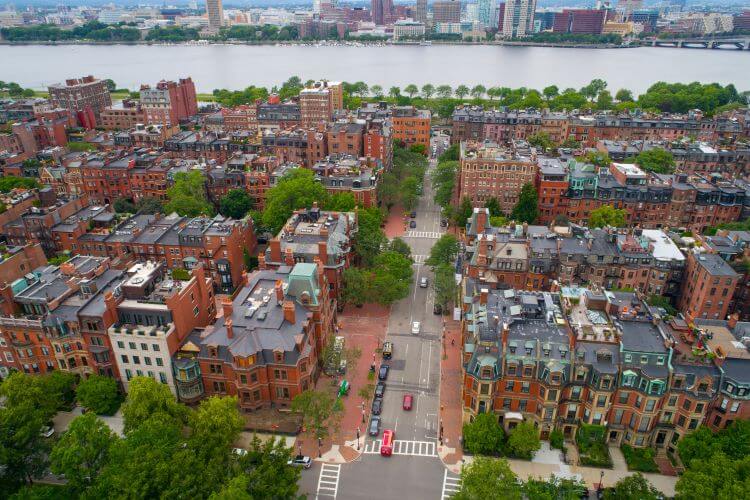 Look at apartments in more than one neighborhood
Whether you're looking in the city or in the suburbs, take a look at real- time rental market data. The Real-Time Availability Rate (RTAR) and Real-Time Vacancy Rate (RTVR), are at near all-time-lows. The RTVR, which measures vacancy at the present moment, is at 0.52% for the city of Boston and 0.54% for Greater Boston. The RTAR, which takes into account currently vacant units as well as all of the apartments that will become available in the future, is at 1.09% for the city of Boston and 1.08% for Greater Boston. This means apartment availability is limited throughout.
In order to give yourself as many options as possible, you're better off expanding your search to more neighborhoods than a single one. Depending on whether you value certain amenities, such as office space or parking, some neighborhoods may offer you considerably more choices than others. If parking is a must-have for you, your ideal Boston apartment might not be in the heart of the city. There might be other benefits to the neighborhoods you haven't yet considered, so stay open to the diversity of locations Greater Boston has to offer.

Start your search for a Boston apartment now- and be prepared!
With December officially here, it's important to be ready to apply at any moment. As you reach out to agents to view apartments, ask them what documents you will need to submit if you decide to apply. Also, make sure you have the first month's rent ready to be submitted as a deposit.
Our website contains the most virtual tours, videos, and pictures in the region. In fact, many of our clients choose to apply for an apartment off of the virtual tours alone so they don't lose it! We're always updating our listings in real-time, so even if you don't see something you love today, tomorrow your dream apartment might be there. You can also sign up for our e-mail and text alert service that will send you listings as they arrive based on your search preferences.
Look for good deals
As we make our way toward the new year, some landlords may start offering more incentives to get their apartments rented. Our data shows that several luxury buildings are offering one or two months of free rent depending on the length of the lease. Some landlords are offering free parking spaces and also reduced or free gym memberships. Don't be afraid to negotiate these things either! Landlords are usually more willing to concede extra deals like these instead of leaving their unit empty. 
Some landlords may be more willing to reduce the initial, fixed costs, such as the security deposit, especially if the Boston apartment you're looking at has been vacant for a while and you have a solid rental history. So, keep an eye for apartments that have been vacant for a few months. Remember, timing is everything- and if you want to get a jump on that apartment you always wanted but couldn't afford – now is your time. With some proactive hunting, you can score an apartment that you wouldn't have been able to rent otherwise.

Find a good agent to help you rent a Boston apartment
As always, working with an agent from a reputable and long standing real estate company will give you a leg up in the apartment search.  Seek companies that have been renting and selling properties for over a decade.  Those companies have had the longest time to accumulate the most and best landlords.  Property owners in Boston prefer working with companies that have been in the industry for a long time.  Boston landlords give their best listings to companies that consistently rent the most property year after year.  Want the best listings? Find those companies.
You should ask a real estate agent how many apartments their company has rented this year.  You should also ask them how long they have been renting apartments. Never stop asking questions!
Great local domain names and websites can make all the difference in the world to getting the most showings and the best apartment.  Not only do good real estate agents know the lay of the land, some real estate agencies also have large databases with lots of units.  Start with a google search of "Boston apartments" work with companies on the first page of google – that shows organic page strength.
The best real estate agents in Boston usually have websites and social media presences that bring in the best landlords over time.  Experienced agents with high web traffic volume websites are going to find you the best deals. They have deep relationships with landlords and a track record of renting their units each year.
Never forget that your time is valuable and you don't want an agent setting an appointment with you only to find out you have already seen the apartment.  A lot of lesser rental listings are often shared among multiple companies. Some rental listings are rental co-brokes, which can often end up in organizational disaster.  To put it mildly, there can be too many chefs in the kitchen causing the deal to be complicated, slow, and often fail. Look for brokerages that have a lot of exclusive listings. Depending on the company you work with, you might even get access to some incredible apartments that only rent through select brokerages. To get all of these benefits, make sure you're working with an established and reputable company. Take a look at their google reviews, Facebook reviews, and general online presence.

Keep your expectations realistic
Another thing real estate agents can help you with is keeping your expectations realistic. You'll need to come up with a list of your wants, needs, and deal breakers when you're looking for a new apartment. You don't want to settle for an apartment that doesn't have any of the amenities that you want, but you also don't want to search for a perfect apartment that doesn't exist. That's where your Greater Boston real estate agent comes in and provides you with the best options. Agents can keep you in check and know where to focus their efforts to get you an apartment that matches your wish list as closely as possible.
If an agent spots a price reduction and calls you and says get there right away – hurry! Great deals with price breaks don't last.  We are currently seeing that the average apartment will stay on the market less than 13 days!  So don't think twice if you see a great apartment in Boston.
If you are looking to rent a Boston apartment in December and still haven't found anything, consider playing around with your move-in date. More apartments will become available for January move-ins over the course of the next month.  If you don't see anything you like in your price range, perhaps it is time to get another roommate.  Getting additional roommates can often get you a better price point on quality.  By sharing utility costs and other items you might be able to score a much better deal.
Have fun!
Looking for a Boston apartment should also be a fun experience. Whether you're a newcomer, or a long-time Bostonian looking to upgrade their apartment, apartment-hunting should be about making you as happy as possible. Have a licensed real estate agent in Boston show you a bunch of apartments on the same day so everything is fresh in your mind. You are much better off going and seeing 10 units with one real estate agent than 2 units with 5 different offices.   Remember if you take your apartment search very casually, chances are there is a group out there that is more organized and will pounce on the best apartment first.  The rule of thumb in apartment leasing is there is always pent up demand, so the hottest apartments always rents first.  So be ready to go and see as many places as you can in a quickest period of time so you are not ending up with the second best apartment.
Remember, save time and negotiate from a position of strength. You will get better clarity and make better decisions with more confidence.  Work with companies that can show you the most apartments in the shortest period of time. Our apartment database is the largest in the Boston area, and it's a greatest resource for anyone looking to rent a Boston apartment. So instead of dreading the apartment finding process, go on our site and have some fun!
Tags: