Boston Apartments with No Broker Fees for June 1
June 1 is quickly approaching, and no fee apartments for June 1 are limited. With only 17 days before move- in day, it's time to get serious and lock down an apartment! Here are a few Greater Boston apartments with no broker fees for June 1 you still have a chance to rent.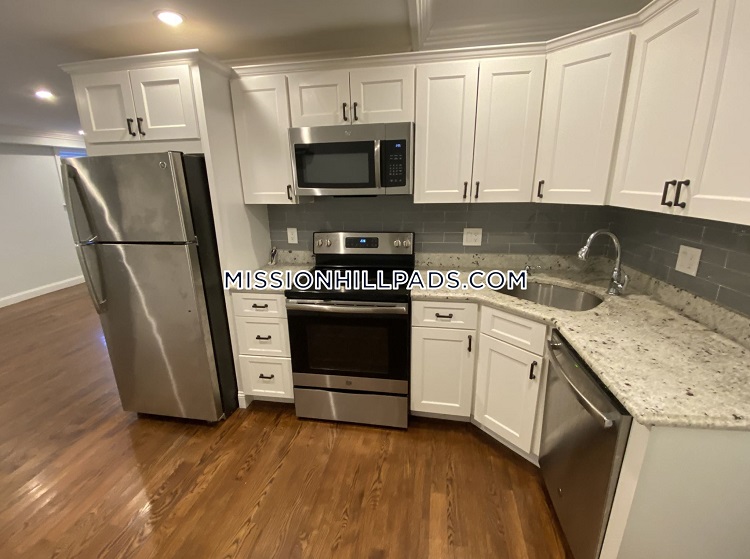 Area of the City: Roxbury Crossing/ Mission Hill
Pet friendly Boston apartments in Roxbury that are this nice at this price are hard to find. So, don't miss out on this unit. Let's begin with the upscale open kitchen. The dark wood cabinets match amazingly with the granite countertops and tile backsplash. The stainless-steel appliances complete the look and include an electric stove, dishwasher, disposal, and microwave oven. The bedroom is spacious and offers a ton of natural light, and good closet space to store the things that you need. Relax in the large living room or entertain family, friends, neighbors, and co-workers.
Other amenities include hardwood flooring, and in wall air conditioning. Parking is available in the street and there is laundry in the building. Roxbury is a great place to live for commuters based on the easy access to highways. There are also multiple public transportation options located within 0.1 mile of the apartment. In addition, this neighborhood is full of activities, attractions and landmarks. In fact, Roxbury is home to a plethora of outdoor areas, parks, playgrounds and recreational facilities. Nearby places include Chilacates, Jamaica Mi Hungry, Sam Adams, Star Fish, and Ula Cafe.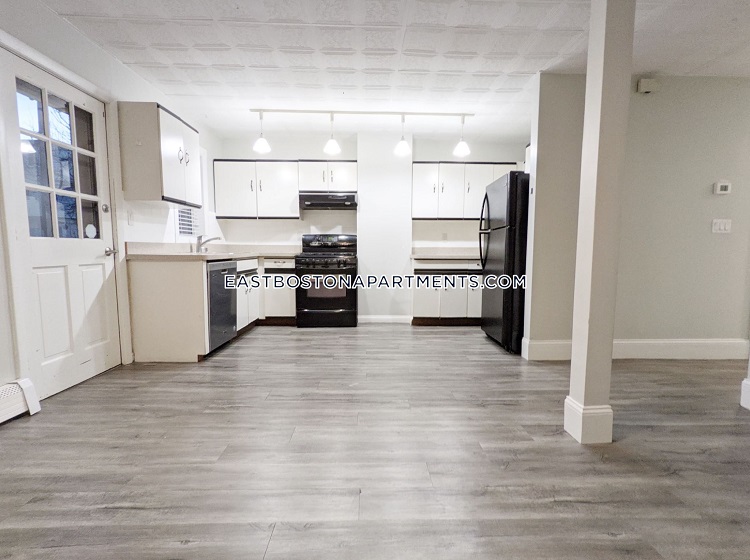 Area of the City: East Boston
If you've been looking for Boston apartments that are located close by to Emerson College, Suffolk University, or Hult International Business School then this unit may very well be your next home. The full kitchen includes stylish white cabinets, and solid countertops. The appliances include a stove with built in fan, refrigerator, and dishwasher. The bathrooms are modern and have recently been updated. The bedrooms are all large. You and your roommates or family can easily fit your bedroom sets in them.
The apartment is spacious and has a ton of natural light. There is plenty of storage space as well. Air conditioner units are built into the walls. Laundry is in the unit for your convenience. This apartment is located in a wonderful neighborhood that has easy access to the highway. Public transportation is located within 0.1 mile. There are actually multiple public transportation options available to you. Nearby places include Dough East Boston, East Boston Neighborhood Health Center, ECCO, Santarpio's Pizza and Topasio.
Area of the City: South End
Fully furnished Boston apartments are rarely listed for rent, especially this beauty that rarely comes to market. This absolutely gorgeous unit certainly won't last long. The gourmet kitchen is absolutely amazing. The white cabinets scream style and sophistication. The beautiful granite countertops truly stand out on their own. However, when you add in the top-end stainless-steel appliances it really seals the deal. They include a dishwasher, disposal, microwave oven, gas stove, and refrigerator. There is gleaming hardwood flooring throughout this awesome unit. Would you like a luxury apartment that has walk-in closets? This unit has them.
Perhaps you need both a living room and dining room? Once again, this luxury apartment has both. There's even a decorative fireplace where you can make virtual Smores. Did we mention that this place has a ton of storage space? Parking is available in the driveway if you have an automobile. However, if you utilize public transportation, there are multiple options all located within 0.2 of the unit. Nearby places include Carleton Court Dog Park, Charlie's Sandwich Shoppe, Gregorios, The Upper Crust, and Tremont 647 to name a few.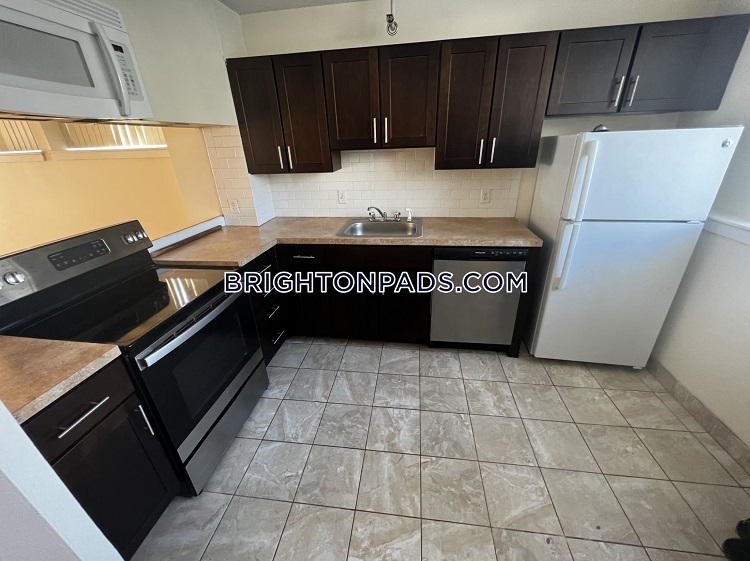 2-Bed, 1-Bath Apartment for $2,850 a Month
Area of the City: Brighton
If you've been looking at beautiful two bedroom one bathroom Boston apartments in Brighton Center, you may have found your next home with this beauty. It includes spacious living areas, hardwood flooring and in-unit laundry. The kitchen features beautiful dark hardwood cabinets, solid countertops, and top-notch appliances including a stove, dishwasher, and refrigerator. Both bedrooms are spacious.
You shouldn't have any issues fighting your furniture. This unit offers plenty of storage space including closets and nooks and crannies located throughout the apartment. There are half a dozen public transportation options located within close proximity to the unit. Nearby places include Brato Brewhouse Kitchen, Rail Stop Restaurant and Bar, Stockyard Restaurant, The Bagel Table, and WGBH Media Library and Archives. Brighton's commercial center and Historic District certainly is a lively area for both bar hoppers and foodies alike.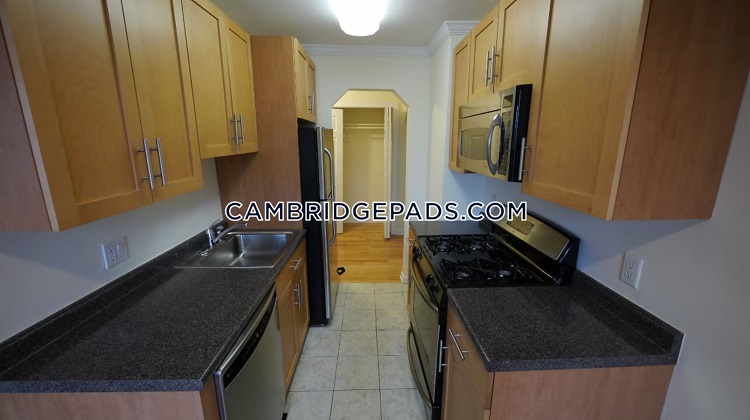 Area of the City: Cambridge/Harvard Square
Harvard Square is an interesting place to live for people who are looking at Boston apartments. This unit will not disappoint. The gorgeous galley kitchen has recently been updated. It now includes wood shaker cabinets and granite countertops. It also has stainless-steel appliances including a stove, dishwasher, refrigerator, and built-in microwave oven. Now you can cook great meals at home or heat up leftovers from last night's takeout. There is newly refinished hardwood flooring that makes you want to slide around the floor in your socks like a little kid.
The price was recently reduced by $90 per month. Both heat and hot water are included. If you use public transportation, there are five (5) different options available to you all located within 0.1 mile of his lovely apartment. Nearby places include Dunkin', Gutman Library, Harvest, Toscanni and Wholesome Fresh just to mention a few. Nearby colleges and universities include Boston University, Harvard University, Massachusetts Institute of Technology and Hult International Business school.
Find Your Next Boston Apartment Today!
In conclusion, there are few Greater Boston apartments with no broker fees available for June 1, 2022. The good news is that there are more listed on the Boston Pads Real Estate Portal. However, BostonPads.com is far more than a real estate listing website. This real estate portal is chock full of valuable real estate related information including real time real estate data. If you're searching for an apartment to rent or own an apartment for rent, this is the place for you. You'll also find information and data about selling and buying residential and commercial real estate on the Boston Pads Real Estate Portal.