5 Things Drivers Must do When it Snows in Boston
Driving in the city is difficult any time of year- but nothing compares to when it snows in Boston. Dealing with even more traffic than usual, icy roads, and diminished visibility are some of the dangers faced by Boston drivers. However, their biggest complaints usually stem from the availability of parking spots (or lack thereof). Most Boston apartments typically don't include an off- street parking option, especially a covered one. During big snowstorms, this can prove to be a real nuisance. If you don't have a dedicated parking spot, here are 5 things you must do when it snows in Boston.
Stay informed.
Throughout the winter, stay on top of the news to know when a snowstorm might hit. The sooner you know that a storm is coming, the sooner you can make arrangements for your car. Your local news channel will be able to keep you informed on whether the city has declared a snow emergency. The city website Boston.gov will always keep you informed as well. Depending on where you usually park in the street, you'll have to move your vehicle. The city has a map detailing parking restrictions, and you should always double check to know what to do when it snows in Boston. Perhaps you live close to a parking garage. If so, you might be able to rent a covered spot for a few days and not have to worry about your car in the storm. Some parking garages in Boston offer discounted rates during a state of emergency.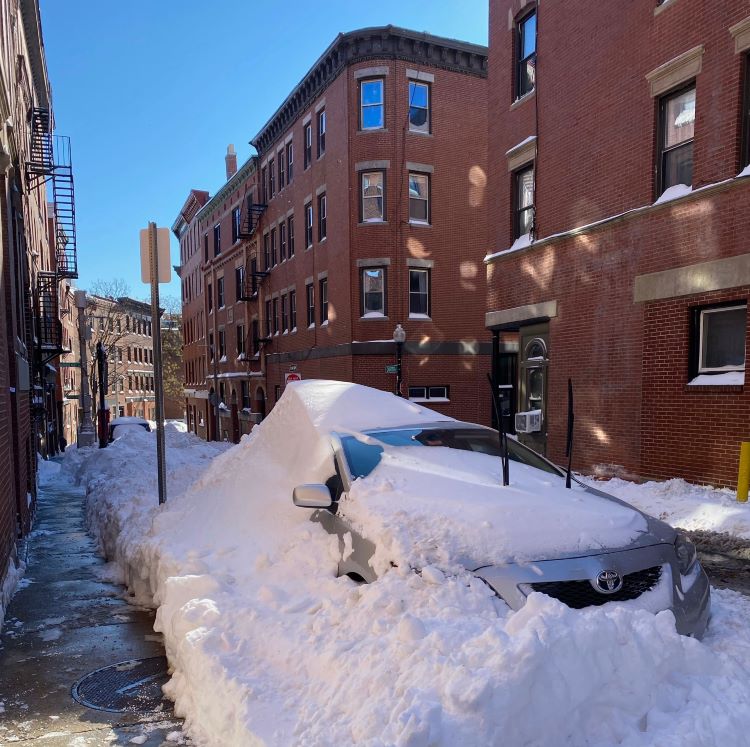 Learn the Rules of street parking in Boston.
Cars are not allowed to park on main roads during a snowstorm in Boston. This is for good reason, since snowplows and emergency vehicles must be able to pass. If you do park on a main road, you'll very likely be ticketed and towed. If you can remain parked on your street during a snowstorm, there are still rules to follow. Stay close to the curb, park 20+ feet from intersections, and don't block fire hydrants or driveways.
Remove Snow from the Roof of Your Car.
This may seem obvious to New Englanders, but if you didn't grow up with heavy snowfall this may not occur to you at first. After all, shoveling snow is tiring business. You may be tempted to do the bare minimum when shoveling your car out by only removing the snow in front of the car and on the windows. Please- don't do this. If you don't properly remove the snow from the roof of your car, it can fly off when you're driving. This creates an extremely dangerous driving environment for anyone behind you.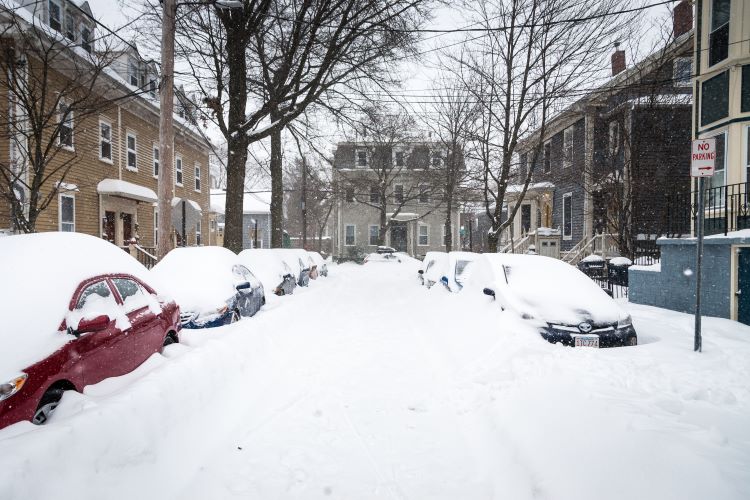 Be a Good Neighbor.
Although the understandings can vary by neighborhood and by neighbor, a few expectations seem to be universal. For example, the city allows for parking spot savers up to 48 hours after a storm. Don't be the neighbor that keeps saving the spot well after that timeframe. Likewise, expect to shovel your own car out as well as the spot you want to keep.
Be extra careful.
If you can avoid driving, or moving your car at all during the snowstorm, that's what you should do. This is for your own safety, as well as the safety of those that may have no choice but to be out during a snow emergency such as first responders. If it's a particularly bad snowstorm, snowbanks will be taller than you're used to. Drive slowly, and always double check for pedestrians, bikes, and other cars behind snowbanks and at all intersections.
Snowstorms in Boston are to be expected- so don't let them catch you unprepared. The good news is the best time to learn how to tackle a new obstacle is now. If you are a new Boston driver, make sure you follow our advice. Your neighbors will be thankful, and you'll be safer for it. For more Boston related news, or to find a new Boston apartment with covered off- street parking, go to the Boston Pads real estate portal. Find a place you love- guaranteed.
Tags: