Boston Homes for Sale Information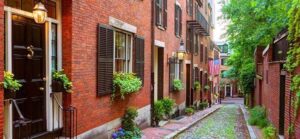 Welcome to Greater Boston's largest inventory of Boston real estate listings. We give you more options of than any other online resource! If you're looking for a new home, a backyard, driveway, and living space, you've come to the right place. We're dedicated to providing everything you need to close on the house you love!
From classic brownstones to Victorian colonials with wrap around porches, you'll find the most beautiful houses on the map in and near Boston. No matter what neighborhood or type of home you're looking for, you'll find the perfect match right here!
Use our easy filters to narrow your searches by price, location, and much more! Use our Save Search feature and get email alerts on new houses that meat your criteria. We have countless new listings and more filters than any agency in Massachusetts to help you navigate to the houses you seek.
You'll have access to Boston's most experienced real estate professionals, who combined have countless years of experience helping buyers like you find and close on their dream homes. Connect with realtors here, and you'll be in the driver's seat, well on your way to owning the property you've always wanted! They can help you simplify the buying process by ensuring you are adequately prepared financially, and they'll connect you with reputable service companies to help you with anything from moving to renovating.
With so much under one roof, there's no other resource you need to find your dream home!
About Boston, MA
Within Boston and its distinctive neighborhoods, you can find real estate near some of the best schools, restaurants, parks, music and theater venues, museums, and innovative companies in the world.
Houses and buildings here are as varied as the neighborhoods in which they reside. Though they appear close on the map, each section is a architectural enclave unto itself with all the personality that makes each of these houses special. Your dream home is waiting.
Allston
Allston is a trendy neighborhood with an easy commute to the area's universities, attractions, and top companies. A majority of the featured properties in this area are residential. Many are single and multi-family homes rich in architectural history that provide more expansive floor plans than some of the newer homes. If you are looking for a house that will provide both a home and an investment, you should contact one of our network realtors to attend an open house or navigate a virtual tour.
Back Bay
Home to the bustling Newbury St. and Boylston St. shopping districts, as well as Boston Public Library, Copley Plaza, and the Prudential center, this neighborhood successfully merges the old and the new. This is one of the most desirable neighborhoods in Boston, MA and should definitely be part of your home search. Contact us to see an open house or a virtual tour.
Bay Village
This small square on the map search provides a small village atmosphere. It's home to pocket parks, sunken gardens and many unique buildings. If you love the ambiance of historic homes but want the amenities of contemporary living, you can buy a renovated unit in a meticulouisly updated building. Our realtors can alert you to an open house so you won't miss out on finding a great home among these luxury properties.
Beacon Hill
Beacon Hill's gaslit streets and historic brownstones exude prestige and charm. This hill is home to the Massachusetts State House and Boston Common. The housing market here is very competitive due to the size of the neighborhood and its allure, but our skilled and knowledgeable realtors can alert you when an open house is scheduled for one of these sought after homes.
Brighton
If you are interested in a place on the Charles River, Brighton should be part of your search. You can find studio to three-bedroom units, townhouses, multi-unit, and single-family homes for sale. There is also some new construction in the Brighton community. Boston Landing has acreage containing numerous businesses and research facilities. Due to its popularity, housing availability here is short-lived. Contact Boston Pads so you don't miss an open house.
Charlestown
Historic landmarks surround properties in Charlestown. The gas lamps and cobblestone streets invite you to step into America's past while still living in homes that have all the amenities of upscale MA real estate.
Chinatown
When looking for a place to buy in Boston, MA, make sure you travel through Chinatown's paifang gate. Units here are intertwined with some of the best Asian restaurants in the greater Boston area. Though it is difficult to find a house for sale in Chinatown, the real estate professionals at Boston Pads can help.
Dorchester
The eclectic nature of Dorchester provides for a great place to find a first home. If you purchase here, you will be near the University of Massachusetts and John F. Kennedy Presidential Library and Museum. Throughout the neighborhood's six-mile radius, you can find a wide variety of homes for sale, including a Boston, MA real estate staple: the triple-decker. There are also lots for development and new home construction on Dorchester Ave., making this area attractive to both investors and builders.
Downtown Boston
Downtown is the largest commercial district in Boston and contains many of the tourist attractions that bring people to Massachusetts. Historic sites include Faneuil Hall, Old State House, Custom House Tower, and Old South Meeting House. It also includes the Waterfront and Theater District neighborhoods. Emerson College and Suffolk University are located here, as is Downtown Crossing, one of the area's busiest shopping districts.
East Boston
Boston Harbor separates East Boston from the mainland. The neighborhood's popularity comes from a combination of modern residences, greenspace, beach access, proximity to public transportation and Logan Airport, water views and relative affordability compared to Downtown and surrounding neighborhoods. That demand is causing home values to increase, so if you are looking for property here, now is the time.
Fenway
Home to Fenway Park, this neighborhood offers some terrific opportunities. Huntington Ave. and Massachusetts Ave. are centrally located, and real estate here puts you in the heart of the action. In addition, your new home will be adjacent to the Longwood Medical and Academic Area.
Hyde Park
This neighborhood's rustic charm makes it feel like a suburb. Few small enclaves in this area can provide their variety of property types. Additionally, it has a commuter-rail stop to quickly get you from home to Downtown. A home here also provides access to the Stony Brook Reservation with its beautiful nature trails.
Jamaica Plain
Jamaica Plain is one of the greenest neighborhoods in Boston, MA. When you find real estate in this neighborhood, you will be near Olmstead Park and numerous trails. Listings can include multiple home types and styles, including Colonial and Victorian single- and multi-residence unts.
Mattapan
Mattapan contains some of the most affordable assets in Boston, MA. You can buy a single-family or multifamily property in a number of building styles. The Boston, MA Nature Center & Wildlife Sanctuary, run by the Massachusetts Audubon Society, is in Mattapan.
Mission Hill
Packing more personality into its 3/4 square mile than some entire cities, Mission Hill is one of the most vibrant and energetic neighborhoods for finding a home in Boston, MA. Its main commercial streets are Tremont St. and Huntington Ave. where residents can enjoy interesting restaurants and shops. There are some lovely multi-unit and single-family homes here.
North End
North End, situated between Downtown and the Waterfront, is the oldest neighborhood in Boston, MA. With its history, world-renowned restaurants, proximity to the waterfront, and lively community spirit, the North End is extremely desirable. Due to high demand and its diminutive size – 0.36 square miles – available homes are not easy to find. When they do come on the market, they do not last long.
Roslindale
Roslindale maintains a cozy neighborhood atmosphere while offering some of the best homes in Greater Boston. Houses in Roslindale are beautifully maintained and some have fenced-in yards. In addition to single-family residences, there are multi-family assets available. Let an agency with experienced real estate professionals such as Jacob Realty or NextGen Realty help you navigate the homebuying landscape.
Roxbury & Fort Hill
When you buy in Roxbury, green space abounds. Your home will be near community gardens and the area's first urban farm. This neighborhood has vintage buildings, multi-families, and single-family houses. You can also find a gorgeous condominium. The Columbus Ave. area can be a good place to look for investment opportunities.
Seaport & Fort Point
If you are looking for one of the most dynamic neighborhoods in the city, Seaport and the map adjacent Fort Point are the places to be. Between 2010 and 2017, this neighborhood attracted over 200 new companies and the need for housing skyrocketed. To meet that demand, developers built some of the most high-tech (and luxurious) homes in the city.
South Boston
Southie property owners love their neighborhood! The huge demand and increasing value is evidence of its continued growth. If you're looking for beachfront property, you will be happy to know that Castle Island is nearby. There are several multi-unit investment opportunities here as well.
South End
New construction, Victorians, and brownstones co-exist beautifully in this historic neighborhood. Homes here are in high demand, and local businesses dot the map throughout. Much of the property here offers spectacular amenities and is an exciting place to call home.
West End
Home to TD Garden, North Station, Museum of Science, Massachusetts General Hospital, and the Zakim Bridge, this neighborhood is hopping with excitement yet retains its scenic value through its historic redbrick architecture. Presently, most of these assets are condominiums, many of which provide spectacular waterfront views.
West Roxbury
If you want the thrill of living in the city but long for the small town feel of the suburbs, check out West Roxbury. Many of these homes have great yards and updated interiors. Choices here can be plentiful, but they sell quickly.
Where to Start
There are so many wonderful listings on the map and so many details to navigate before buying a home! Which neighborhood has best fits your lifestyle? Do you know all of your options for home loans, lenders, and home mortgage rates? How much house can you afford? How do you negotiate with home sellers? If you buy land for your home, who are the best home builders? Are some industry terms such as escrow confusing? We can help you make the right decision based on the right information.
Our map search will show you all homes available and let you refine based on criteria such as lot size, baths, or homes ranging from low to high list price. Our save search feature sends you email updates on new listings you may be interested in that match your search criteria. Then use the mortgage calculator to estimate your costs. Remember, MLS doesn't contain all listings. That's why you need an established brokerage with a reputation for excellence and customer service.