View Boston – Jamaica Plain apartment listings from the area's largest real-time rental database. Use our search tool to refine your results and find the perfect place to live. When you find an apartment you like, contacting one of our helpful agents is only a click away. In addition to property details, each listing provides the agent information and a contact form. Boston Pads makes it easy for you to find your next Jamaica Plain apartment!
Jamaica Plain MA Apartments
Jamaica Plain MA started out as a Puritan settlement. The first people to settle there were William Heath's family in 1630. They moved to the site with the dream of starting a farm.
Since then, this neighborhood has steadily grown in popularity, attracting people from many different backgrounds. In fact, property values have soared not only because of this, but also because of the developments that have been undertaken there. More and more people are attracted to the shopping outlets and other attractions in Jamaica Plain as aptly described in a recent Boston Globe article.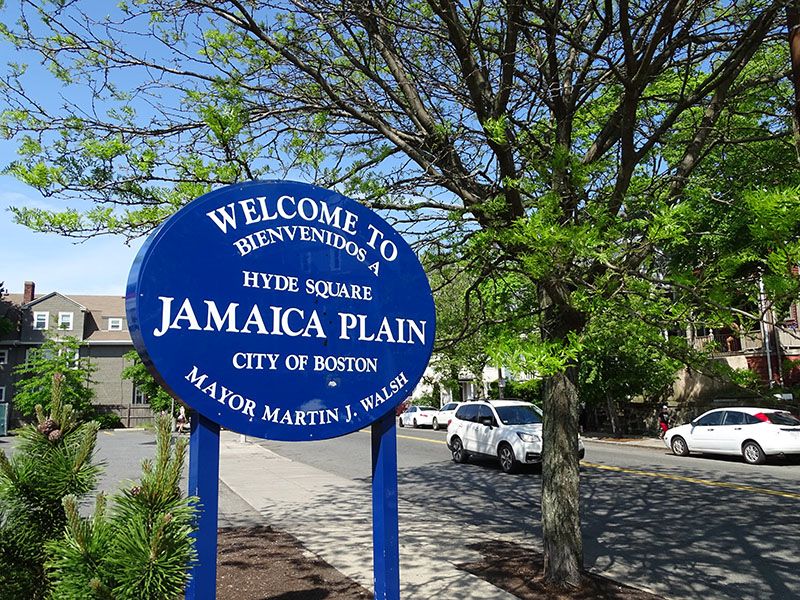 What else makes it worthwhile to settle in one of the Jamaica Plain MA apartments in the area? This article seeks to provide you with a breakdown of the population, schools, market analysis and attractions that make this place one of the most popular spots in the city.
Demographic Analysis of Jamaica Plain MA
According the U.S National Census conducted in 2010, the number of people who live in Jamaica Plain MA is 37,468. The median age is 33 years old, which is 4 percent higher than Boston's median age.
Market Analysis of Jamaica Plain MA apartments
A quick glance at the average real estate data indicates that apartments for sale in Jamaica Plain move like hotcakes. That is in spite of approximately going for 4 percent more than the average price of $700,000.
If you are keen on buying an apartment or condo in Jamaica Plain MA, then you need to have between $250,000 and $1.495 Million. This is according to the prices highlighted by Sladja Vukovic in his comments in Jamaica Plain Gazette.
As for renting, you should anticipate Jamaica Plain MA apartments to go for around $1,700 to $4,750. If you are keen on renting a studio apartment you should anticipate spending $1,227 on average. The cost for renting a 1-bedroom apartment is $1,709. 2-bedroom apartments go for around $2,174. 3-bedroom, 4-bedroom and 5-bedroom rent for an average of $2,906, $3,369 and $4,046 respectively.
Transportation in Jamaica Plain MA
It is very easy to get around in Jamaica Plain. Aside from the streets and sidewalks, there are bicycle paths, busses and the T. The Commuter Rail terminates at the Forest Hills Station. The Boston commuter rail system is interconnected and you can get connections to anywhere in the Greater Boston area from the Orange Line station. If you opt for private transport, there are quite a number of parking lots like Center Street and Hyde Square. As for the bicycle paths, you can use the Pierre Lallement Bike Path and the others that run from the Jamaicaway and Riverway.
Schools in The Area
One of the major considerations that people have regarding settling in a particular area is the school system. Jamaica Plain is committed to providing the highest quality education for its residents, and that is reflected in its excellent school system.
In this section we will explore the schools in the area. We shall also examine what these schools have to offer. There are quite a few schools near Jamaica Plain apartments. Below are some of the schools you will find in the area.
Curley K-8 School
Curley K-8 is an elementary school in Jamaica Plain known for its Reading Recovery and Wilson programs. The staff there is known for helping struggling students to fulfill their greatest potential. They have an extensive list of both curricular and co-curricular activities designed to equip their students with core skills guaranteed to serve them in life.
John F. Kennedy Elementary
John F. Kennedy Elementary helps in the achievement the essential skills needed to be successful. Their core aim is to help their students be creative and adventurous in the pursuit of knowledge. Their teachers emphasize and instill the necessary lessons that will help them achieve success in any learning endeavor through perseverance. In addition, they encourage parents to play active roles in their children's academic pursuits.
James W. Hennigan School
Located on Heath Street, James W. Hennigan School is a K-8 school. It is known for its cosmopolitan and diverse student body. Their teachers always make sure to stay attuned to different student needs to help them achieve their potential.
Mission Hill School
Mission Hill School fosters the independent spirit of its students and teaches them to appreciate the importance of critical thinking. Students are nurtured in an environment that promotes democracy in all levels of student engagement. It is reported that a majority of students who have passed through this institution's doors have gone on to enjoy stellar success in their subsequent educational lives. To learn more about this school, you can visit their website.
Joseph P. Manning Elementary School
Joseph P. Manning Elementary School, located on Louders Lane, is committed to providing students with a high-level academic education and an inclusive environment.
Match Charter Public
This is a middle-school located on Forest Hills Street. It is close to several Jamaica Plain MA apartments. It is worth exploring because its students consistently perform well on standardized and state-approved tests. Match Charter provides its students with skills that promote independent thinking and problem solving.
Neighborhood School
Located at 34 Peter Parley Road, Neighborhood School is a private learning institution. They are famed for providing personalized and systematic learning that enables their students to achieve their full potential. They strive to create an environment in which every child is encouraged to be as creative and as adventurous as possible in their learning quest. If you are interested in learning more about this school, more information is available on their website.
Mendell Elementary School
Mendell Elementary School is located at 164 School Street. It serves kids from kindergarten through fifth grade. This is a large school with a diverse student body. It attracts students from surrounding counties as well. This school prides itself in producing well-rounded students thanks to the efforts of very vigilant teachers. Students are encouraged to be themselves and are provided with the necessary support to aid in fulfilling their potential.
British International School
British International School on Pond Street instills values and skills that will serve children throughout their lives. It is known for fostering a sense of camaraderie and responsibility. The staff will cater to different needs of individual students as they work to give them the right skills in their educational life. They offer classes for children from ages 3 to 18.
English High School
This school holds the distinction of being one of the first public high schools in the US, having been established in 1821. Located at 144 McBride Street, this school is just a short distance from the many Jamaica Plain MA apartments in the area.
It is a good school for children to get a head start in college through the AVID program. In addition to the academic side, they have two co-curricular programs: athletics and Junior Reserves Officers' Training Corps. These programs are world class and designed to foster toughness and discipline. If you are keen on learning more about this place, you can visit their website.
Hollow Reed School
Hollow Reed School is located in 93 Sedgwick Street. It is one of the most highly rated kindergartens in the Jamaica Plain area. They are known for fostering a learner-centered approach with every teacher attuned to the child's needs. This in turn ensures that their students get the necessary skills to move to the next level. In addition, they are very big on parent participation in their children's education life.
Eliot School of Fine and Applied Arts
Located on Eliot Street just near multiple Jamaica Plain MA apartments, Eliot School of Fine and Applied Arts is a school worth considering. The reason is that it offers children an opportunity to develop and sharpen their artistic skills.
They are very big on community service with their teachers catering to both children and adults. This historic school has left a very huge impact on its surrounding community and stands as a bastion of inspiring lifelong education. They imbue their students with skills that will ensure lifelong learning and curiosity.
Margarita Muniz Academy
Margarita Muniz Academy is located along Child Street, just a short distance from Jamaica Plain MA apartments. They are known for fostering good community relations. They offer their students Spanish lessons as well. The consensus among most parents with students who attend this school is that its teachers are very committed to enriching the lives of their students. If you would to learn more about this school, information is available on their website.
Meridian Academy
Meridian Academy is located at 54 Brookline Avenue. It is known for its diversity and its practical curriculum that is based on giving students long term projects. The aim of these projects is to provide their students with problem-solving skills that will serve them for lifelong learning. This school is just a short distance from Jamaica Plain MA apartments.
Stony Brook School
Located at 284 Amory Street, Stony Brook School is an innovative pre-school. They are known for using the Reggio Emilia approach, whose premise basically emphasizes helping the child achieve a love for lifelong learning. Their staff is well versed in helping individual students according to their needs. If you would like to learn more about this school you can visit their website.
Community Academy
Located at 25 Glen Road, Community Academy is a small alternative high school. They have a very favorable student to teacher ratio of 15 to 1. They have a created a variety of original academic activities. One of their most notable academic activities is their MCA prep classes. They also undertake regular field trips to colleges and college fairs.
Forest Hill Montessori
Forest Hill Montessori is known for their care and diligence while supporting children. Their teachers provide dedicated attention to help them acquire the necessary skills required to move to the next grade. They make learning fun and memorable to their pupils.
Places To Visit around Jamaica Plain MA
Wondering what there is to do close to Jamaica Plain MA apartments? Then this section will help you out. It highlights places and events you can take part in while you are there.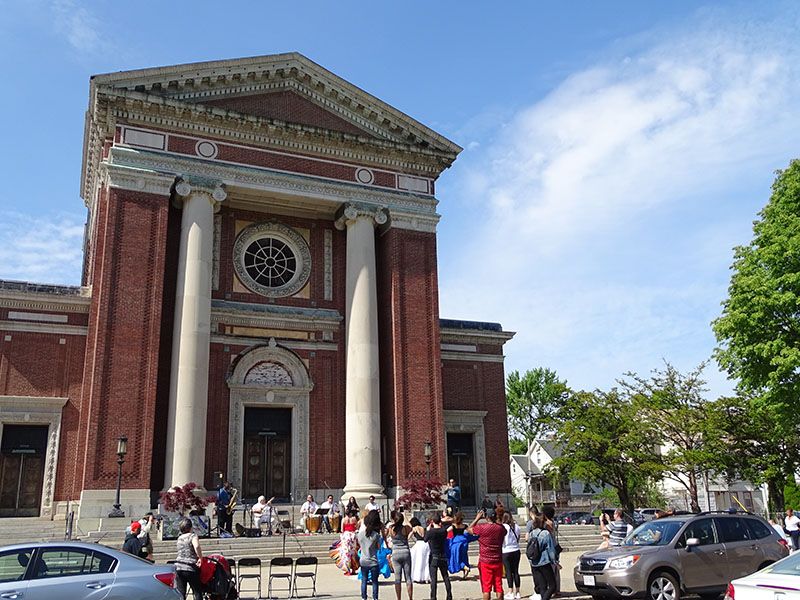 Jamaica Pond
This pond is just one of Fredrick Law Olmsted's creations. It is the Muddy River's source, which in turn drains into the lower Charles River. It is the ideal place to go for a quiet and serene afternoon. Also it attracts a lot of people who are into water-based activities like fishing, sailing, and rowing. During Halloween, this place hosts The Lantern Parade.
Doyle's Café
Doyle's Café has been around since 1882. It is known for attracting really suave characters ranging from famous people to local politicians. This exquisitely designed café is a must-visit if you live in Jamaica Plain MA apartments. They have very substantial portions of food that are guaranteed to tantalize your taste buds and keep you coming back for more.
El Oriental de Cube
This is the place you must visit if you are hankering for really expertly prepared Cuban food. It has served the people of Jamaica Plain well for years. They are known for their signature pork tamales and shredded beef. If you are looking for a Cuban spot with a very rich menu and very substantial helpings, then El Oriental de Cube is the place to be. However, you must make a reservation to avoid a long wait in this very popular spot.
Brendan Behan Pub
If you love to experience good food, good drinks and good company, then Brendan Behan Pub is the place to be. Brendan Behan Pub is a quaint and intimate pub that attracts a lot of people from all over the city.
Olmstead Park
If you are keen on experiencing the best of athletic fields and beautiful ponds, then Olmsted Park is the place to be. It was built in 1900 from Fredrick Law Olmstead's designs. The park has three beautiful ponds: Ward's Pond, Willow Pond, and Leverett Pond. It is a great getaway from the hustle and bustle of the busy city.
The Franklin Zoo
The Franklin Zoo is a 72-acre zoo in Franklin Park, which boasts of the title of "Boston's Largest Park". It is home to a number of attractions, namely: The Tropical Forest, Serengeti Crossing, Kalahari Kingdom, Outback Trail, Giraffe Savannah, Birds World, and Butterfly Landing.
In the Tropical Forest, you will find animals ranging from primates to birds. If it lives in a tropical rain forest, you will find it there.
In the Serengeti Crossing, you will find birds, zebras and white-bearded wildebeests, just to mention a few. You can move around designated paths and view the animals.
As for the Kalahari kingdom, you will find lions and tortoises, and other fascinating animals. In the Outback Trail, you will find animals from Australia. The Giraffe Savanna exhibit has giraffes and zebras. Birds World is a great place to check out various bird species in pens that mimic their most natural habitats.
Finally, there is the butterfly landing which is a seasonal exhibit. You should check out their site for more information so that you can catch this majestic spectacle up close.
Visiting this wonderful and well-maintained zoo is a great way to get away from your apartment and just take a pleasant safari.
Arnold Arboretum
Established in 1872 by Harvard University and designed by Fredrick Law Olmsted, Arnold Arboretum is a picturesque 281-acre park. It was designated as a National Landmark and features a variety of flora. It is known for its well-curated plant species and offering free guided tours.
Samuel Adams Brewery
Samuel Adams is virtually a national treasure. If you are keen on experiencing this classic American beer, why not get in on the Samuel Adams Brewery tour. In it you will learn how this fantastic beer is made. The best part is that the tours are free and you can sample beers. That's right, free beer! Crown your visit by checking out their gift shop and get yourself a keepsake to remember your visit there.
Ten Tables
Ten Tables is a cozy and intimate restaurant that only has 10 tables. Way to live up to the brand, guys! It is a very popular place with both locals and tourists. They are known for using only organic and locally grown produce. It is definitely a must-try if you live in Jamaica Plain apartments.
Tres Gatos
Tres Gatos combines two great past times that appeal to booklovers who are foodies. They have a wide menu selection that gets people filled to capacity. The owners created an exquisitely designed, charming and intimate spot. They also have outdoor seating. You can wind down with a bottle from their wine list after finishing your tapas dish.
40 South Street
40 South Street is a relaxed thrift store. It is known for offering really great vintage and thrifty gear. This place is usually packed to the brim, as evidenced by the huge lines in the shop. It has something for virtually everyone. It is a great place to spend weekend afternoons searching for the perfect clothes. You never know if you might find a retro-chic outfit on their shelf.
The Footlight Club
The Footlight Club is an iconic and historic community theatre that has been around since 1877. Known for their stellar productions, they are America's oldest community theater. Also worth highlighting is that Jamaica Plain's history is closely intertwined with this community theatre. If you would like to learn more about this place, please visit their website. There you will get to see schedules for upcoming performances and get access to a wealth of information about the theater and its productions.
Tikki Masala
Do you have a hankering for a good Indian dish? Then try out Tikki Masala. It is just a short distance from most Jamaica Plain MA apartments. They have an extensive menu that caters to both vegetarians and meat eaters.
Ula Café
If you are looking for a spot where you can enjoy a good cup of coffee in great company, then Ula Café is the place to be. It is known for its professionally brewed coffee and excellent baristas. You can chow down on a pastry or two that is freshly prepared from the kitchen as you browse on the free Wi-Fi.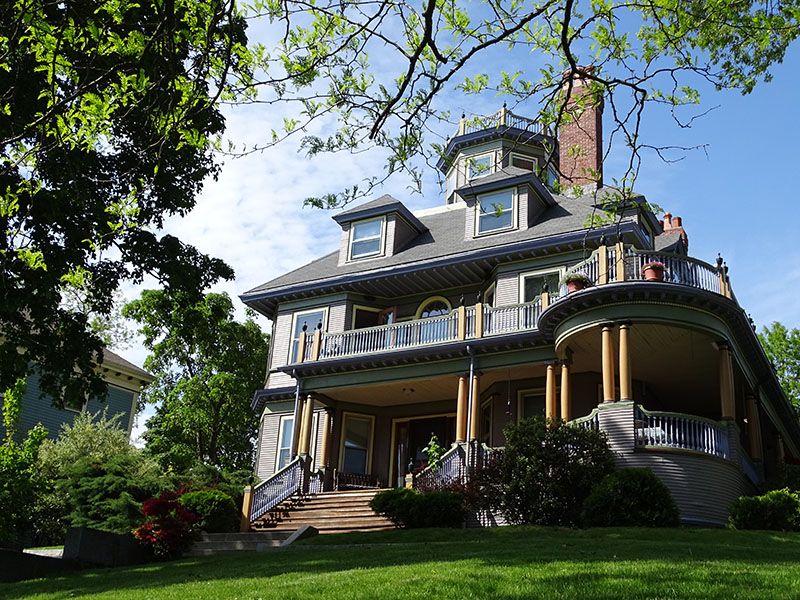 Final Thoughts
If you are keen on getting a place that is cosmopolitan and lively, then moving into one of the Jamaica Plain MA apartments that is available must be on the table. Its very rich and diverse cultures will offer you new, pleasant and unforgettable experiences.
Jamaica Plain Real-Time Average Rent Prices
Jamaica Plain Real-Time Vacancy Rate
3.49%
Jamaica Plain Real-Time Availability Rate
11.16%