Mission Hill Apartments FAQ
View listings for Mission Hill apartments in Boston from the area's largest real-time rental database. Use our search tool to refine your results and find the perfect place to live. When you find an apartment you like, contacting one of our helpful agents is only a click away. In addition to property details, each listing provides the agent information and a contact form. Boston Pads makes it easy for you to find your next Mission Hill apartment!
About Apartments for Rent in Mission Hill, MA
Mission Hill is a neighborhood in the southwestern part of Boston. It is bordered by Brookline, Roxbury, Fenway-Kenmore, and Jamaica Plain. The Boston Globe included it as one of the top 25 "Best Zip Codes in Massachusetts". It earned this honor due to the many restaurants and shopping places, and the availability of public transportation. Those looking for apartments for rent in Mission Hill, MA will be happy with the options available to them.
Overview
Mission Hill is one of the fastest growing neighborhoods in the greater Boston area. Mission Hill real estate and Mission Hill apartments move quickly! Its proximity to many terrific universities and colleges, businesses, and retail centers elevates it popularity. Apartments for rent in Mission Hill, MA are attractive to renters due to their having more reasonable rates than other apartment listings around Boston. In addition to the numerous apartments for rent in Mission Hill, MA, there are condos for rent and townhomes for rent. As of this writing, there were also a number of furnished apartments for rent including furnished studio apartments.
The two main commercial streets in Mission Hill are Tremont Street and Huntington Avenue. These streets have small restaurants, shops, and easy access to public transportation. Many apartments for rent in Mission Hill, MA are located on or near Parker St., Huntington Ave., Tremont St., and Parker Hill Ave.
Huntington Avenue and Tremont Street are the main roads that connect and continue into the neighborhoods of Back Bay, Fenway-Kenmore, Roxbury, and Longwood. They also allow for easy access to Copley Square and other commercial centers. The middle part of Huntington Avenue is known as the Avenue of the Arts. There are many art related venues and educational institutions close to the Mission Hill neighborhood such as Symphony Hall and the New England Conservatory.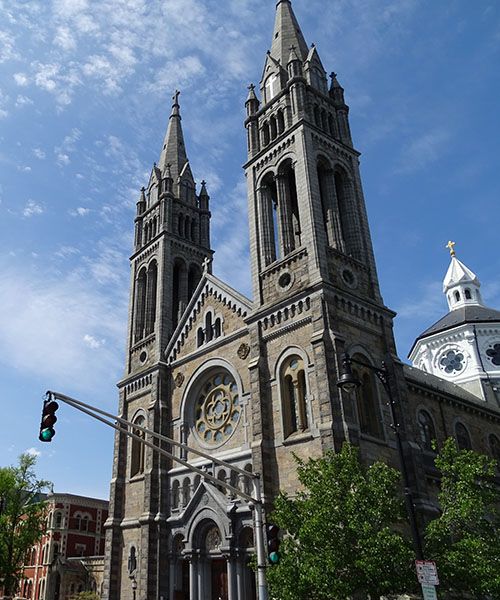 Mission Hill History
The neighborhood known as Mission Hill was originally a part of the town of Roxbury. When the city of Boston annexed Roxbury in 1868, Mission Hill came with it. At the time, it was known as Parker Hill and most of the area was an orchard farm. There is still a small orchard at the top of Parker Hill Ave.
In 1870, the Redemptorists, a congregation of the Catholic Church, built a simple wooden mission church. Eventually known colloquially as the "Mission Church," many believe it is the source for the neighborhood's present name. In 1954, Pope Pius XII elevated the church's status to a basilica making it one of less than 100 basilicas in the United States.
Transportation
There are multiple transportation options near apartments for rent in Mission Hill, MA. There are several Green Line stops in Mission Hill along the E branch, but Mission Hill apartments are also accessible by the Orange Line. Several buses go through the neighborhood as well.
Green Line – E Branch
This subway line has six stops in Mission Hill. The Green Line furnishes access to the entire MBTA subway network and provides an easy commute to almost anywhere in Boston including Downtown, Back Bay, and the South End.
The Orange Line is also available in Mission Hill through the Roxbury Crossing subway station. The Orange Line can take you from Jamaica Plain all the way to the city of Malden. It also passes through Chinatown and the city of Somerville.
Mission Hill is also served by more than a dozen MBTA bus routes that can help you get around Mission Hill and beyond. For example, if you want to go to Dudley Square, Brookline, or Cambridge, you can take the MBTA route #66.
Living in any of the apartments for rent in Mission Hill, MA means that you can quickly get to anywhere you need to go in Boston!
Apartments for Rent in Mission Hill, MA – Notable Buildings
Parker Hill Apartments
These Mission Hill apartments for rent on 170 Parker Ave. should be on everyone's apartment hunting list. The location and amenities will lead you to find the perfect apartment. There are several floor plans available in these homes for rent including studio apartments, one-bedroom apartments, and two-bedroom apartments.
To ensure that these are friendly apartments, the property management company Housing Management Resources, Inc. professionally supervises Parker Hill Apartments. For additional convenience, the available apartments have 24-hour maintenance, controlled access to the apartment building, an elevator, and rents payable online.
Building amenities include a laundry room, and one amenity that is rare in rental listings – no-fee parking! And, at times when you need public transportation, you are only a short distance from a variety of options.
Apartment amenities in these Mission Hill apartments are also plentiful. The kitchens provide you with everything you will need to prepare and enjoy a great meal – dishwasher, garbage disposal, stove, refrigerator and dining room. Utilities included are heat and hot water. When you want to view the scenery, step onto the private balcony overlooking the Boston skyline. These apartments for rent in Mission Hill, MA make living in Boston almost effortless.
If you are looking for an apartment near Northeastern University, MassArt, or Wentworth Institute of Technology, these are your best apartments for rent. These apartments on Parker Hill Ave. are only minutes away from those schools.
Valor
These apartments for rent in Mission Hill, MA are some of Boston's finest new apartments. Their open floorplans and meticulous attention to detail make these some of the best luxury apartments in Boston. At the time of this writing, they were leasing a one bedroom apartment, a two-bedroom apartment, and a studio apartment for rent.
If you want to rent an apartment with state-of-the-art amenities, these homes for rent will help you narrow down your searches. When you find an apartment here, you will be thrilled with the in-unit washer-dryer, the hardwood floors, the stone countertops, and the stainless steel appliances. Even the 505 square-foot studio has luxuries not often found in all apartments for rent in Mission Hill, MA. For your added convenience, there is garage parking available. Take a virtual tour today!
Oliver Lofts
These remodeled lofts for rent are simply amazing. It is not often that one could describe lofts as upscale, but these apartments for rent in Mission Hill, MA definitely fit that description. You owe yourself a virtual tour to see the exceptional finishes and modern designs that distinguish these homes for rent. There are still some apartments available.
Community amenities include on-site property managers, LEED certification, washer and dryer on premises, and 24-hour emergency maintenance. Apartment amenities are stunning. They include designer bathrooms, granite countertops, vaulted ceilings, walk in closets, quaint wood beam ceilings, and other architectural details that you need to see to believe. These apartments for rent in Mission Hill, MA will definitely bring out your inner artist!
City View at Longwood
Located at 75 Alphonsus St., these apartments for rent in Mission Hill, MA provide spacious living areas with spectacular views. Choose the floorplan that suits your needs. They have one bedroom apartments for rent with one bath, two bedroom apartments for rent with 1.5 baths, and three bedroom apartments for rent with two baths.
Every inch of these homes for rent exudes elegance. Some of these units have plank flooring and some parquet wood floors. There are some units with white appliances and some with stainless steel. If your search for apartments includes balconies, you need to take a virtual tour of these property listings.
These apartments for rent include the lifestyle amenities that can create a perfect home. Gas for heat and cooking is included in the monthly rent. A concierge is available 24/7 to assist you and on-site maintenance is available. If you need a place to live that allows pets, you don't have to look further. Renting an apartment here means your dog even has a dog park to play in! (Cats are also welcome, but they don't have their own park.) No matter what your schedule is, you can always exercise; the fitness center is open 24 hours. If your rental search includes facilities for relaxing and socializing, residents of these apartments for rent have access to a lounge, a swimming pool, a rooftop deck, and a picnic area.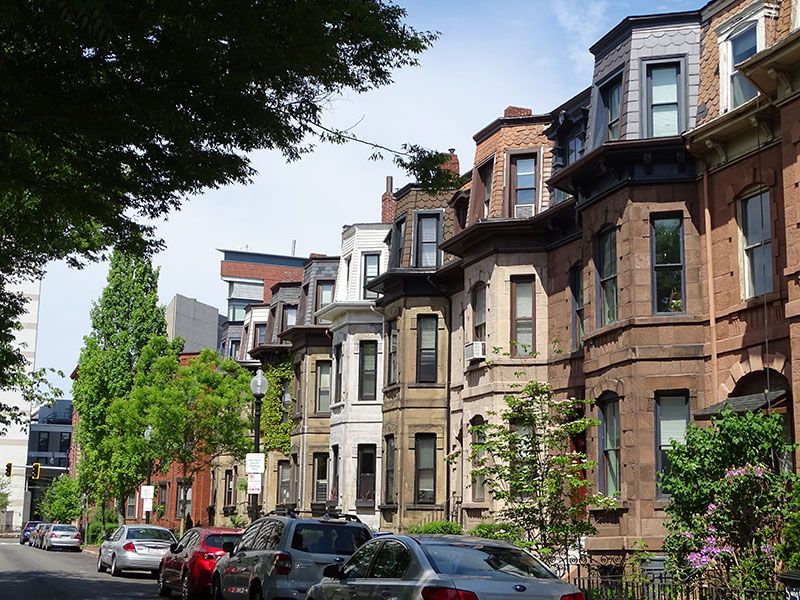 Apartments for Rent in Allston
Many people who search for apartments for rent in Mission Hill, MA might also consider Allston. Rent for an apartment in Allston is comparable to Mission Hill apartments for rent. There is also a wide selection of condos for rent, townhomes for rent, and duplexes. This diversity of apartments for rent is helpful if you have more than one roommate; multiple bedrooms are plentiful here. When you search for an apartment in Allston, be sure to consider the wonderful restaurants, stores, cafes, and music venues that will be right outside your door.
Apartments for Rent in Chestnut Hill
When looking for apartments for rent in Mission Hill, MA you might want to investigate the Beacon St./Chestnut Hill Ave. area. The rates might a little higher than apartments for rent in Mission Hill, but it is famous for the number of high-rise apartment buildings and apartment complexes. The copious amount of units makes it simple to find a one bedroom, two bedroom, or three bedroom apartment. This is also a great place to look for condos for rent or townhomes for rent.
Chestnut Hill is a village that is actually part of Brookline, Newton, and Boston. If you are looking for apartments for rent in Mission Hill, MA but want to have the feel of the suburbs, you might want to consider perusing rentals here.
Apartments for Rent in Hyde Square
While looking for apartments for rent in Mission Hill, MA, you should take the time to check out Hyde Square. There are a number of apartments for rent, condos for rent, and townhomes for rent at competitive rates for the Boston area.
Find Apartments for Rent in Brighton
Don't neglect the neighborhood of Brighton when looking for apartments for rent in Mission Hill, MA. Townhomes for rent and condos for rent are comparable in price to Mission Hill rates. Living in apartments near the Green Line, B Branch in Brighton can also provide an easier commute to BU and other parts of the northern Fenway neighborhood. It is also a short distance to BC.
Education
From elementary school through high school, the schools found in Mission Hill are very good. The Boston Public School System operates the public schools in this neighborhood and is one of the best school systems in the country. It consistently produces graduates that attend top-tier universities around the world.
Maurice J. Tobin K-8 School
The Maurice J. Tobin K-8 School is a combined elementary and middle school. This extended service school helps students' social and emotional health and growth, artistic expression, and academic achievement. They provide a comfortable and respectful environment that inspires students to excel. Tobin's partnership with Achievement Network has facilitated their creation of the processes necessary to enable students to successfully master the Massachusetts Common Core curriculum.
Fenway High School
Fenway High School, founded in 1983, is one of Boston Public School's original pilot schools. BPS created pilot schools to serve as models for innovation and educational development. Fenway High School developed partnerships with the Museum of Science, the Dana-Farber Cancer Institute, and Emmanuel College to provide their students with opportunities that cannot be found elsewhere. Today, the United States Department of Education recognizes Fenway High School as a Blue Ribbon School and one of the best high schools in Massachusetts.
Roxbury Prep – Mission Hill Campus
Tenants, who live in apartments for rent in Mission Hill, MA are fortunate to be close to Roxbury Prep – a charter school in the Mission Hill neighborhood. While a charter school is still a public school, it has greater operational flexibility than a typical district school. That comes with a greater responsibility for the school to show performance and accountability. Unlike district schools, parents can choose to send their children to a charter school. However, the school chooses the final attendees using a lottery system.
Serving children from grades 5 – 12, Roxbury Prep Mission Hill is a combined middle and high school that prepares students for a productive academic future. Their core values are the "3 C's": Curriculum, Character, and Community. At Roxbury Prep Mission Hill, students receive academically rigorous and engaging lessons that teach them the moral, social, and problem solving skills that will make them successful in college, life, and in the community.
Restaurants near Apartments for Rent in Mission Hill, MA
There are many great places to eat near Mission Hill apartments for rent. They include everything from trendy spots to neighborhood staples. Many Mission Hill restaurants have options for those with dietary restrictions. No matter what your food preferences, you will find your tasty meal here.
Milkweed
The mission of the people behind Milkweed was to combine upscale cooking methods and dishes with the comfort of a home cooked meal. This restaurant offers its patrons breakfast, lunch, and dinner, with breakfast served until 4 p.m. every day.
Their breakfast is very inventive; it brings together dishes and ingredients from all over the world and adapts them by using traditional breakfast ingredients. One of these dishes includes the Spanish omelet, which comes with chorizo, roasted corn, grilled onions and peppers, cheddar-jack cheese, and pico de gallo.
They also offer a section titled "Milkweed's Best" which houses some customer favorites such as the grilled vegetable gyro. This is a Greek wrap that comes with seasonal vegetables, eggs, mushrooms, Kalamata olives, tzatziki sauce, and home fries.
While breakfast may be one of Milkweed's highlights, they also have stunning dishes for lunch and dinner including salads, sandwiches, soups, and recipes from different cultures. Some lunch dishes include buttermilk fried chicken, sirloin mac and cheese, and a modernized Cuban sandwich. For dinner, they have plates such as steak frites, squash and mascarpone ravioli, and sheet pan nachos with bacon, jalapenos, avocado, and pico de gallo.
Their drink menu featuring signature cocktails made with tequila, Irish whiskey, red wine, and vodka is just as amazing as their food. Having a meal at Milkweed is sure to be time well spent in Mission Hill.
Lilly's Gourmet Pasta Express
For many years, Lilly's Gourmet Pasta Express has fed people in and around apartments for rent in Mission Hill, MA with delicious and healthy pasta dishes. Lilly's boast is that all of their pasta and sauces are homemade. They use 100% durum semolina flour and filtered water to make their pasta dough. This restaurant offers 29 different shapes of pasta, 17 unique sauces, and 60 varieties of fillings for your dish.
At Lilly's, every plate is customizable so that you can be sure that what you order is exactly what you want. Every order consists of three steps: choosing a pasta type, choosing a sauce, and finally, choosing any fillings or toppings that you may want. Some favorite dishes from customers include Chicken Broccoli and Ziti, Lobster Ravioli, and Chicken Carbonara. So when your apartment search brings you to apartments for rent in Mission Hill, MA and you crave some terrific pasta, this should be your stop. Lilly's also delivers. That means if you decide to move to Mission Hill, MA, you can eat fresh pasta from the comfort of your new home.
J.P. Licks
J.P. Licks is a local ice cream chain in Boston that began in the nearby neighborhood of Jamaica Plain. Since 1981, founder Vince Petryk has brought unique and amazing ice cream flavors to Boston and Mission Hill. Overall, J.P. Licks has developed over 300 recipes, many of which Petryk himself invented.
J.P. Licks is a great place in Mission Hill to go during the summer or any time you want some of the best ice cream around. Every choice is the right one.
Parks and Outdoor Areas near Apartments for Rent in Mission Hill, MA
Kevin W. Fitzgerald Park
The Kevin W. Fitzgerald Park is one of the most beautiful outdoor areas near Mission Hill apartments for rent. This park covers 5.5 acres of land lovingly renovated by the residents of Mission Hill. The park offers visitors sparkling views of Mission Hill and the Boston skyline.
As you enter the park and pass through the glimmering steel archway, you will find puddingstone boulders placed all over the park. These boulders were removed from the quarry that used to cover this area of Mission Hill. Much local flora, including the white fringe trees that flower in the spring, decorates this Mission Hill park. This park is also pet-friendly, so feel free to bring your dogs and watch them play in the grass. Many people who live in apartments for rent in Mission Hill, MA agree that this park has one of the best views not just in the neighborhood, but also in the city of Boston.
McLaughlin Playground
The McLaughlin Playground is a park located at 239 Parker Hill Ave. on the southern side of this Mission Hill neighborhood. It offers pretty nature trails, swings, slides, a baseball field, two basketball courts, and many grass fields where you can have fun. This is one of the more popular parks in the Mission Hill neighborhood. It is also dog friendly as long as the dogs are on leashes. This park offers fresh air to those who have been inside way too long. The McLaughlin Playground is open every day until dusk although sometimes events here can last until nighttime.
Mission Hill Playground
The Mission Hill Playground is a lovely little green space located right next to the historic Basilica of Our Lady of Perpetual Hope. This place has tree-lined paths that provide shade and benches where you can relax, read a book, or just enjoy the fresh air. At its center, it features a large playground equipped with slides, a water splashing area for hot days, and picnic tables. The park also has a large grass area with a baseball and kickball field. It is no wonder kids love this place.
Mission Hill is a great place to live, shop, and eat! Its convenient location and its proximity to a multitude of schools and entertainment venues should make it a priority in your apartment search. Homes for rent move quickly here so don't wait!
Mission Hill Real-Time Average Rent Prices
Mission Hill Real-Time Vacancy Rate
0.43%
Mission Hill Real-Time Availability Rate
0.51%