Boston Apartments for Rent FAQ

About Apartments for Rent in Boston, MA
When you say the word "Beantown", most people immediately think of Boston. It is a rather peculiar nickname for the most spectacular city in the world. However, as so many things referring to Boston, this sobriquet has a history. The Native Americans who lived in what would become the Boston area, made baked beans using maple syrup. When Boston could boast that it was the rum capital of New England, there was a surplus of molasses. Slow baked beans in molasses were a favorite of sailors visiting Boston. Many of them referred to the place to acquire their favorite food as Beantown.
We begin with this little historical vignette because Boston and American history are inextricably joined. Boston, however, is so much more. No other city in the world contains the perfect blend of history and innovation that defines Boston. No other city in the world provides access to breathtaking views of modern and historic buildings, green space, and water.
In many large cities, there is almost no breathing space; apartments often have no yards. The Emerald Necklace park system bestows the gift of the natural environment to all of the residents of the greater Boston area. Connected by waterways and parkways, this chain of parks covers 1,100 acres. This is Boston's natural sanctuary.
The Charles River is eighty miles long and ends in the Atlantic Ocean. Many of the parks in Boston are along the river and provide spectacular views of the water. Two of the top universities in the world – Harvard University and the Massachusetts Institute of Technology – reside along the Charles River.
The events that occurred in Boston set the course for American independence. It would take volumes to describe all of the historical sites in Boston. These sites need to be visited and experienced. No written account could replace touching the bricks of the Old South Meeting House where the Sons of Liberty planned the Boston Tea Party. No book could ever replace the exhilaration of standing in Faneuil Hall – the scene of America's first town meeting. In order to visualize the lanterns in the Old North Church, one needs to stand in front of it.
Boston has a pulse like no other city. Having an apartment in Boston is luxury living for the mind and body. Touch the past, present, and future all at once. Come home to Boston.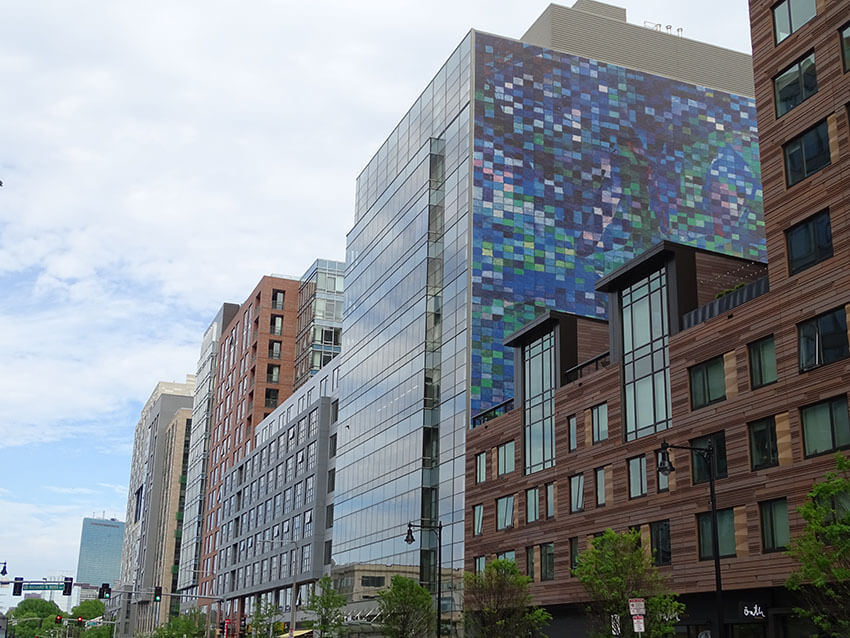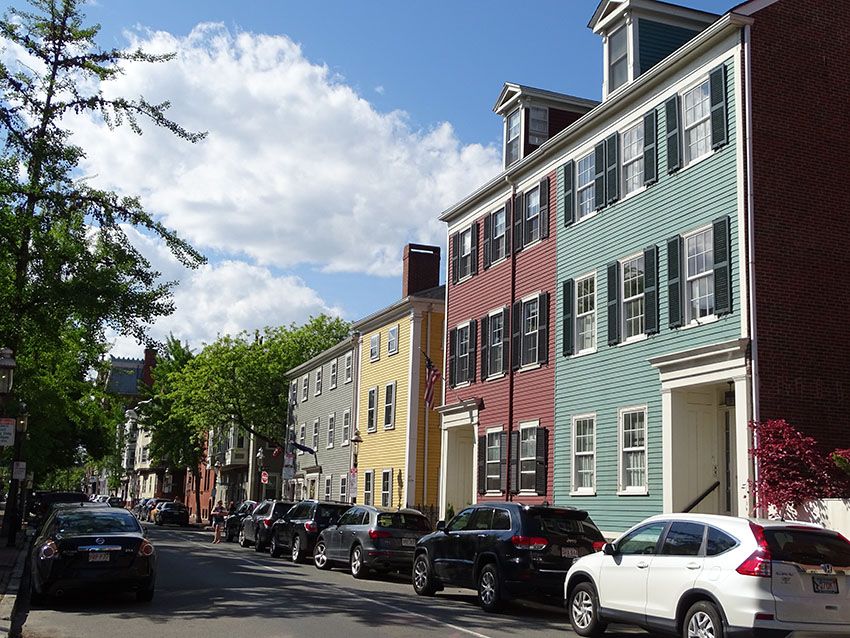 Boston Neighborhoods
A Boston neighborhood resembles a village within a much larger city. It is a microcosm of Boston yet retains its own personality. If you ask a Bostonian to name one favorite neighborhood, it would probably be difficult. When you find an apartment in Boston, it will be an interesting question for you too.
Allston
Boston is referred to as "The Cradle of Liberty". Well, Alston is the Boston neighborhood where the cradle rocks. In fact, Allston's moniker is "Rock City". Many apartment rentals are near music venues. If you are looking for apartments for rent in Boston, MA, Allston is a great place to start. With music, dining, culture, and more, Allston has something for everyone.
Back Bay
Back Bay is one of the most beautiful neighborhoods in the city of Boston. The picturesque brownstone houses add a touch of elegance to the Back Bay Boston area. The townhouses are also part of the offerings. Apartments at Copley Place are available for renters and provide a taste for the modern. When people search for apartments for rent in Boston, MA, this neighborhood is highly sought after.
Back Bay is a shopper's paradise. Copley Square, Shops at Prudential Center, and Dartmouth Street are home to stores that you cannot find anywhere else. The Boston Public Library is an architectural treasure filled with priceless works of art.
Luxury Apartments for rent in Back Bay
Back Bay is a luxurious neighborhood that provides a luxury apartment for any preference. The Mandarin Oriental Residences at 776 Boylston Street is a rental with contemporary flare that offers an exclusive amenity – a Five-Star awarded spa. At 755 Boylston Street, you luxuriate in a white marble bath. If you need a parking space, 30 Dalton Street offers private garage parking. If you have a pet, The Greenhouse Apartments are pet-friendly. A laundry room on each floor is a unique amenity at 28 Exeter at Newbury. One Back Bay is smoke-free, pet-friendly, and LEED certified.
Bay Village
If you are looking for an apartment in the untouched splendor of a Boston historic district, Bay Village is the place. The narrow, quiet streets and 19th century building facades of Bay Village are reminiscent of a time long past. Though it encompasses a small area, there are apartment listings in Bay Village. It's a charming place to look for apartments for rent in Boston, MA.
Beacon Hill
If you are seeking apartments for rent in Boston, MA that provide access to both green space and water, you are in luck. Beacon Hill is adorned with both. To the west is the Charles River and to the south are the Boston Common and Boston Public Gardens. The brick townhouses on lovely, tree-lined streets are considered some of the most desirable Boston apartments for rent. Each reddish brownstone lends an antique ambiance that beckons to both tourists and residents. These apartments will make you stop to appreciate beautiful architecture and beautiful surroundings.
Beacon Hill offers more than beauty and history. Suffolk University, founded in 1906, offers a variety of undergraduate, law, and graduate programs. The Tremont Street location provides students with direct access to all of the business, educational, and artistic opportunities for which Boston is famous. For renters seeking an apartment near UMass, the UMass Center on Beacon Hill provides a convenient location for higher learning.
Brighton
Boston MA apartments in Brighton provide access to a thriving community of academic opportunities, historic districts, and plentiful green space. If you are moving to Boston, Brighton should definitely be included in your Boston metro area search.
Finding an apartment is easy for a prospective renter in Brighton. Available rentals have lower average rent prices than many apartments for rent in Boston, MA.
If you want to find a Brighton apartment available near transportation, there are multiple MBTA T-stops and bus routes throughout the neighborhood. Brighton makes it easy for everyone, including a commuter, to get around. There are typically several one bed, one bath apartments available, or units with two or more beds if you need extra space or have a roommate.
Charlestown
If you are looking for an apartment rental near the water, Charlestown is one of the best places to look in the greater Boston area. Charlestown provides breathtaking views of the Charles River and the Mystic River. The water vistas make Charlestown apartments very desirable in the Boston, MA real estate market.
The Bunker Hill Monument
The Bunker Hill Monument was built to honor the fallen heroes of the Battle of Bunker Hill. In 1775, this battle was one of the first to be fought in the American Revolution. Renters living in Charlestown, MA apartments have a wonderful view of this 221-foot obelisk.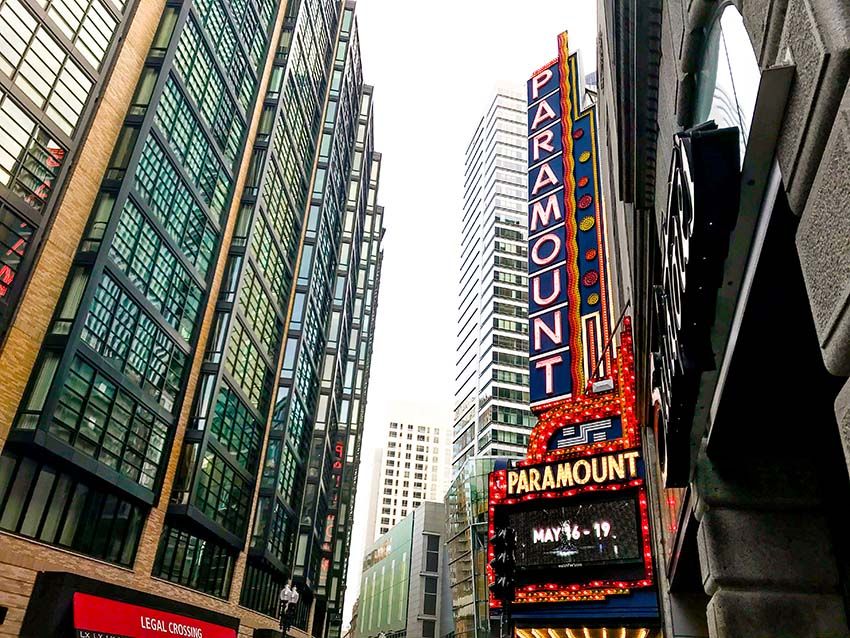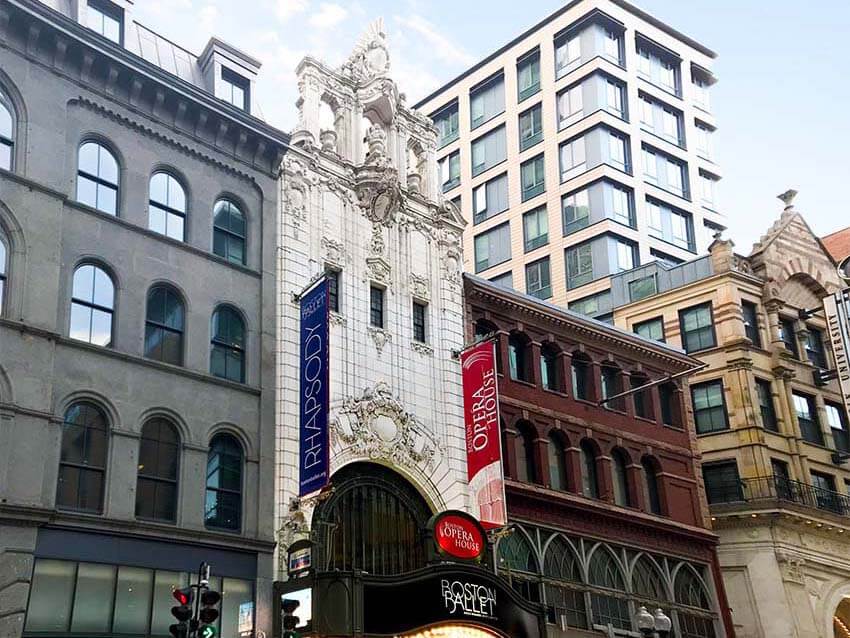 Chinatown
If you are fortunate enough to have one of the apartments in Boston located in Chinatown, you are in the hub of Boston nightlife. Asian cuisine is available on every street and the fun never stops.
The Leather District
This area is only nine blocks of Boston real estate, but it contains volumes of Boston history. In the 19th century, the bulk of Boston's leather industry was here. Lofts are available for rent in this part of the city and are very popular.
The Theater District
Dating from 1793, the buildings in the Theater District have undergone many amazing renovations. Emerson College has repurposed the Paramount Theater as a performance, academic, and residential building.
Dorchester
The second largest UMass campus is located in Dorchester. University of Massachusetts Boston offers all degree levels and provides beautiful waterfront views.
Available Apartments for Rent in Boston, MA – Dorchester
There are many available apartments for rent, including duplexes, in Dorchester. If you are looking for larger apartments with two or three beds, you will be able to find them here. If you want larger rooms with a high ceiling, many of the older homes in Dorchester have them. Many apartments for rent in Dorchester are near the gorgeous 28.5-acre Dorchester Park, Dorchester Shores Reservation, and Pope John Paul II Park Reservation.
Downtown/Financial District
If you are looking for apartments for rent in Boston, MA in the heart of the business district, apartments downtown are perfect for you. What makes downtown Boston unique are the number of historical sites within this modern enclave of commerce and industry. Downtown Crossing provides the amusement of a street fair. Located at the intersection of Summer, Winter, and Washington Streets, there is a dizzying mix of shops, street vendors, and food.
The Boston Massacre
The front of The Old State House in Boston was the location of the Boston Massacre. On March 5, 1770, British soldiers opened fire on a group of colonists. Six were injured and five were killed. This incident rallied many colonists to the fight for independence.
Faneuil Hall
In 1743, Faneuil Hall was the epicenter of free speech in Boston. The speeches of Sam Adams and others inspired many would-be patriots. Now, the historic buildings around Faneuil Hall are a shopping destination for Bostonians and tourists alike.
East Boston
If you want a scenic view of Massachusetts Bay, look in East Boston for apartments for rent. If you require more space, you can find an apartment listing for three and four bed apartments with one or more baths available. There are also multiple listings for one-bed apartments for rent.
Boston Harbor separates East Boston from the rest of the city. However, four tunnels provide easy access to Boston proper. If you need to commute farther, East Boston is the location of Logan International Airport.
For renters interested in history and architecture, there is much to see in East Boston. The Donald Mckay House, the Bennington Street Burying Ground, the United States Lightship Nantucket, the Temple Ohabei Shalom Cemetery, and the Boston, Revere Beach, and Lynn Railroad Tunnel are all historically significant.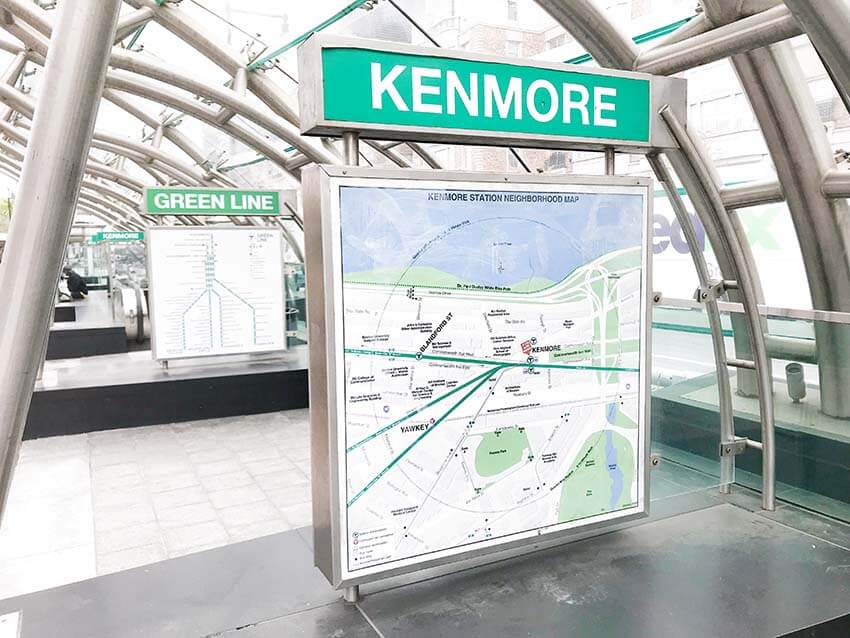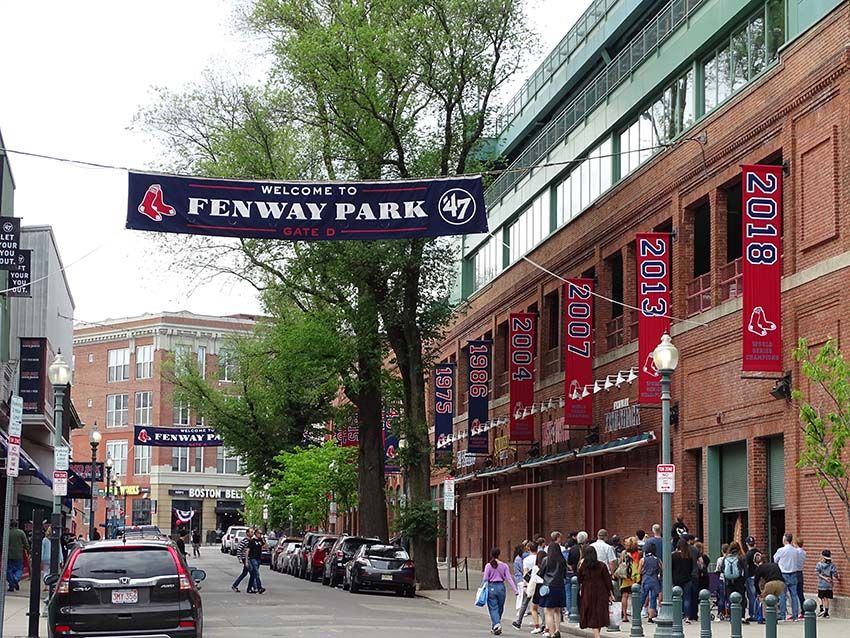 Fenway / Kenmore / Longwood
Most tourists visit this neighborhood to see a Red Sox game at Fenway Park. However, if you are looking for an apartment for rent in Boston, MA this neighborhood has much more to offer.
Berklee College of Music is the biggest independent, contemporary music college in the world. Boston University also makes this neighborhood their home. Boston University is a renowned private research university – Alexander Graham Bell did his research in a BU laboratory.
The Museum of Fine Arts has gained worldwide recognition as having one of the most comprehensive collections of art. The School of the Museum of Fine Arts at Tufts University is its affiliate.
Kenmore Square
Kenmore Square was famous for being the location of "the baseball hotel". After World War II, The Hotel Kenmore hosted all fourteen baseball teams. Today, this historic site is an apartment building.
Longwood Medical and Academic Area
Longwood contains numerous hospitals and research centers. Many of its medical facilities work in conjunction with Harvard Medical School.
Hyde Park
Hyde Park is different from other Boston real estate. This Boston neighborhood has the look and feel of a suburb. It is less densely populated as other Boston neighborhoods and is close to the Blue Hills and Stony Brook Reservations. Hyde Park is a great place to find apartments for rent in Boston, MA. Close to rentals, there are two public golf courses. Hyde Park has reasonably priced one and two bed apartments and people who live here rate it as a pleasantly livable neighborhood.
Jamaica Plain
Jamaica Plain is a lively and historic neighborhood. Those looking for apartments for rent in Boston, MA can find some great deals here. There is a wide range of affordable apartments for rent throughout the Jamaica Plain neighborhood. One-bed to four-bed apartments are plentiful. Jamaica Plain is community oriented and has festivals that attract people from all over metro Boston.
Mattapan
Mattapan is a good place to look for three or more bed apartments in Boston. Mattapan Square provides a convenient shopping destination and commercial hub. This is one of the few places that has a trolley; the Mattapan Trolley connects to the Red Line in Ashmont.
Mission Hill
Mission Hill apartments for rent are in demand due to their close proximity to many universities. One of those is Wentworth Institute of Technology, part of the Colleges of the Fenway consortium. Additionally, these Boston apartments have slightly lower rents than other apartments in Boston. Convenient access to public transportation and other desirable attributes mean that rentals here are not on the market for long.
North End
An apartment for rent in the North End provides more than just a bed and bath. Bostonians and new renters alike love the historic brick apartment buildings that are still providing homes today.
Hanover Street, one of the oldest streets in Boston, is a thriving commercial center. On nearby Salem Street, you will find the Old North Church where Paul Revere's famous ride began. Langone Park has something for everyone. The gorgeous waterfront views and three Bocce Ball Courts delight visitors.
Roslindale
Roslindale has undergone an awakening in recent years. New businesses are opening and the real estate options are expanding. Part of the Arnold Arboretum is also located in Roslindale. If you want to find apartments for rent in Boston, MA, Roslindale is a great place to start.
Roxbury
One of the main attractions for people looking for apartments for rent in Boston, MA is Franklin Park. In addition to 527 acres of magnificent green space, it is the home of the Franklin Park Zoo.
Apartments for Rent in Boston, MA – Roxbury
Roxbury contains a large variety of one to three bed apartments. Some of the larger apartments contain more than one bath. Attractions include Franklin Park and the William Lloyd Garrison House. Anyone moving to the Boston, MA area should consider these lovely, spacious apartments.
Seaport / Waterfront / Fort Point
Seaport not only bestows extraordinary views of Boston Harbor, it also places its residents in the heart of the innovation district. It has attracted health information companies and other technology firms to its shores.
The Boston Waterfront
The uninterrupted walkway called the Boston HarborWalk allows visitors to leisurely view the entire waterfront area. Cruises from the Wharf provide tours of the harbor from the water.
Fort Point
During the colonial period, Fort Point was the location of an actual fort. Today, it is home to a large community of artists. The Boston Tea Party Museum, located in Boston Harbor, is a must-see for anyone interested in American history.
South Boston
South Boston lives in Boston Harbor; it encompasses the peninsula that extends into Boston Harbor. In addition to the beautiful water views, there are parks and beaches. Children's Wharf in South Boston is the site of the Boston Children's Museum. The West Broadway apartment complex comprises more than twenty acres. One bedroom apartments are available, but there are units that offer up to six beds. There are now 133 townhouses due to recent renovations if you desire a new apartment.
South End
The abundance of Victorian architecture in the South End sets this neighborhood apart. There is also an abundance of both studio and one-bedroom apartments. The Boston University School of Medicine is located in the South End. Tremont Street is a focal point of this hip Boston neighborhood. Following Tremont Street from beginning to end is an interesting challenge. It begins as a continuation of Cambridge Street, passes through the Theater District, and traverses the Massachusetts Turnpike before gracing the South End. You can find many South End stores and restaurants – and amazing Boston MA apartments for rent – on Tremont Street.
West End
West End apartments are extremely desirable and move quickly. TD Garden is a sports and concert venue of massive proportions. Home to the Boston Celtics and the Boston Bruins, TD Garden seats 20,000 fans and is located in the West End. North Station is located at street level under TD Garden. North Station is an inbound terminal for MBTA Commuter Rail and Amtrak.
Massachusetts General Hospital, or MGH, is one of the top hospitals in the world. Innovations that began here have influenced medical care and treatment since 1811. The adjacent Blackstone Apartments provide on-site health services.
West Roxbury
West Roxbury is part greater Boston but feels like a suburb. It has all the amenities of living in a big city but provides the serenity of open spaces. You can find apartments in Bellevue Hill and many other sections of this neighborhood. West Roxbury has apartments for any lifestyle and preference.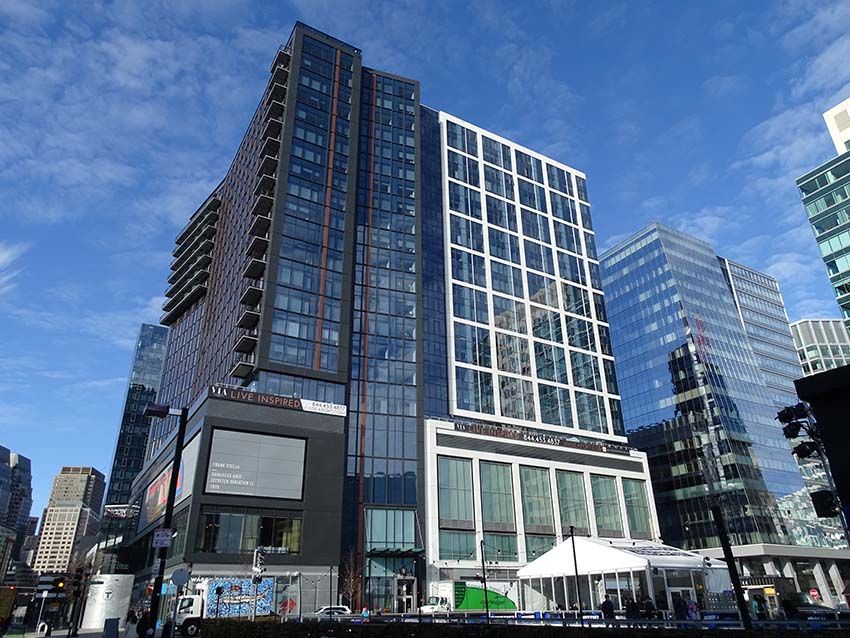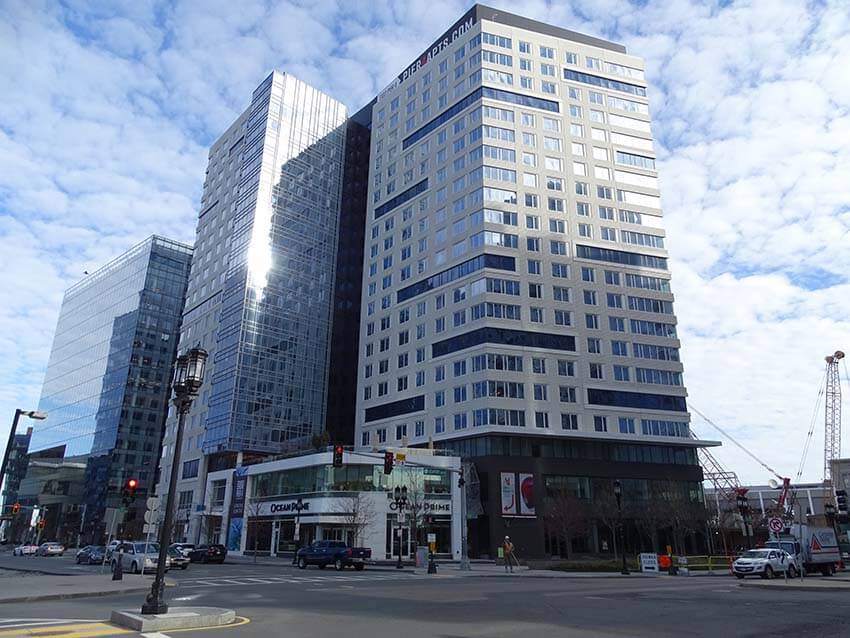 Boston Apartment Buildings
660 Washington Apartments
These luxury apartments for rent are in the Theatre District and provide an incredible view of the Boston skyline. The private balconies and the floor-to-ceiling windows supply quiet places observe the activity below.
Asteria
Amazing one or two bedroom apartments for rent provide luxury living in a well appointed building. Amenities include a children's play area and a movie theater.
Avalon Back Bay
These apartments for rent offer guest suites and community social events. Just a few steps away from the from the Prudential and The Copley MBTA stops, this area is a hub of shopping and restaurants.
Avalon North Point
These beautifully designed and modern apartments for rent capture the expansive culture that is Cambridge. One-bed, one-bath apartments with gourmet kitchens and stainless-steel appliances are available.
Burbank
Burbank apartments are close to Copley Place, Fenway Park, Symphony Hall, the Prudential Center, and the Museum of Fine Arts. Amenities include on site washer and dryer and an intercom entry system.
Cityview
Cityview is a high-rise apartment building with many amenities. Both garage parking and outdoor parking are available. The rooftop deck allows you to view the soaring Boston skyline.
Clarendon
These apartments for rent provide Boston luxury at its finest.
Their penthouse apartments have floor-to-ceiling large windows that provide a commanding view of Boston.
Devonshire
Devonshire at Devonshire Place has gym pool as part of their luxurious Sky Club. Furnished rentals are available.
Emerson Place
Emerson Place by Equity Residential provides apartment homes that feel like homes. Space is at a premium in a rental and they provide ample closets and an underground parking space.
Garrison Square Apartments
These apartments for rent in Boston, MA offer luxury living in luxurious Back Bay. They have a roof deck that provides grilling areas, lounging areas, and dining tables.
The Kensington
The Kensington is an award winning, LEED Gold Certified, and thoughtfully designed apartment home. This is your chance to rent an apartment home that benefits the planet.
Lantera at Boston Landing
This new apartment building, constructed in 2018, is in Brighton's new Boston Landing development. It's seventeen stories tall and contains 295 units. Rents are available for a one bedroom apartment, a studio apartment, a two-bedroom apartment, or a three bedroom apartment.
Park Lane Seaport
Penthouses provide the beautiful vistas Bostonians crave. Floor-to-ceiling windows provide an airy feeling despite being in a large city. Bedroom units with den options provide rooms that are even more spacious.
Radian
Radian's large windows allow you to view Boston in the quiet luxury of your own apartment. In addition, all apartments have a washer and dryer.
Van Ness
Van Ness is one of the apartment communities that furnishes smoke-free living and is LEED Gold Certified. It has 172 residential units.
Waterside Place
The pleasure of finding apartments for rent in the Seaport District cannot be overstated. They are just seconds away from the Harborwalk and yards from the MBTA Silver Line.
West Square Apartments
Located in South Boston, these apartments for rent in Boston, MA provide quick access to Boston's seaport district. The MBTA Red Line provides quick access to Downtown Boston, MIT, UMASS, Cambridge, and Harvard University.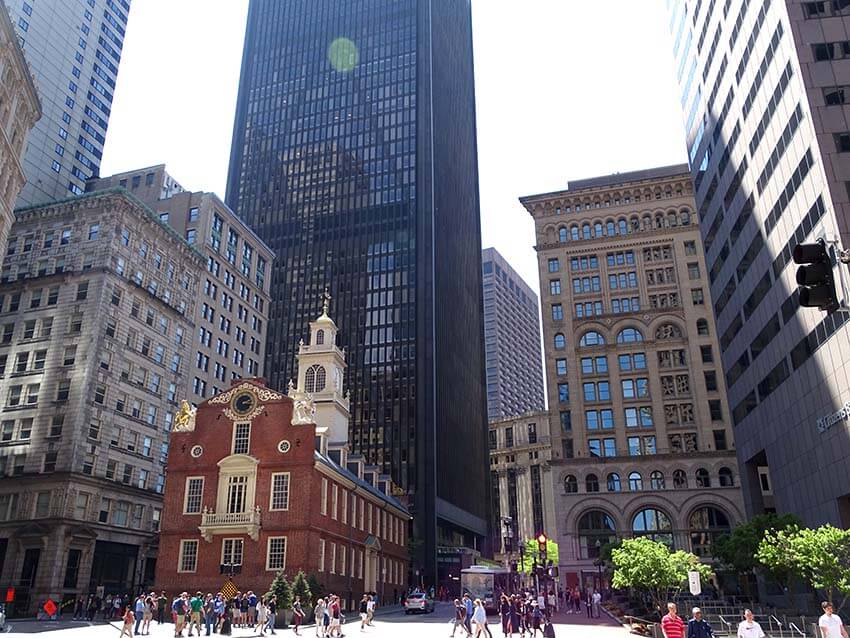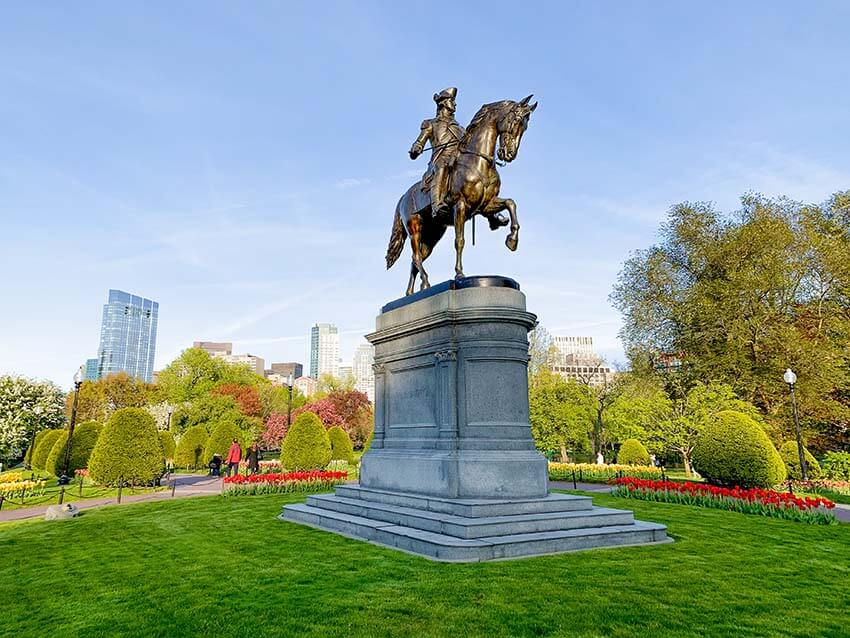 Boston History
Many of the events that launched the United States occurred in Boston. It is difficult to travel anywhere in Boston and not come face-to-face with our history.
Garrisons of British troops were not far from Boston. That did not deter the patriots from opposing unjust acts. The Townshend Acts imposed new taxes on imports of tea, paint, glass, paper, and lead. A Boston mob responded with an attack on the customs commissioners. On December 16, 1773, some of that tea was dumped into Boston Harbor. Bostonians continued their opposition. Paul Revere, best known for his ride to warn patriot troops, created an iconic engraving of the Boston Massacre. This engraving inspired patriots throughout the colonies. Boston became the loudest voice for the cause of liberty.
Landmarks and Attractions
Boston Public Library
This magnificent structure was established in 1852 and is funded by the state of Massachusetts. It contains approximately 24 million volumes making it the third largest library in the country. There is street parking near the library and plenty of parking garages.
Head of the Charles Regatta
This rowing event, held on the third weekend in October, is the largest crew tournament in the world. Top rowers from around the world travel here to compete. On the average, approximately 300,000 observers line the bridges and the river.
Arnold Arboretum
Residents of Boston MA apartments who love flowers and plants have easy access to the Arnold Arboretum. It is Harvard's tree Sanctuary and it is a great place to visit, have a picnic or engage in other outdoor activities.
Cambridge Center Roof Garden
This unique garden is located at the top of a multi-story parking garage. Unlike anything you've seen, this secret garden sits at Kendall Square and is made of tulips and trees. There are also rose bushes and different types of flowers.
Santarpio
This is a historic pizza joint in East Boston. If you want to eat some of the best pizza in Boston, it's definitely worth checking out. It's convenient to many apartments for rent in the area.
Mapparium
The Mapparium is found at The Mary Baker Eddy Library in Boston. The three-story tall stained-glass globe allows you to accurately view different countries' geography.
Hatch Shell
This popular landmark in the city of Boston has been the home of Independence Day celebrations for 75 years. Located on the Esplanade, it unites and enriches the lives of Boston residents with culture, arts, and a lot of green space. It is a fun place to visit if you live in Boston apartments.
Swan Boat Ride
Since 1877, taking rides in Swan Boats from Boston Public Garden pond have been a relaxing pastime for Boston residents. If you are looking for apartments for rent in Boston, MA near the gardens, you won't be disappointed.
Museum of Science, Boston
Residents of Boston MA apartments should definitely check out the Museum of Science. It is one of the largest science museums in the world and features over 700 exhibits, an IMAX theater, planetarium, live presentations, a butterfly garden, public events, and much more.
Faneuil Hall Marketplace
This marketplace is located at Market Street and houses four buildings – Faneuil Hall, Quincy Market, North Market and South Market. The oldest one of these, built in 1742, is the Cradle of Liberty – Faneuil Hall. If you find Boston MA apartments for rent available nearby, you will have easy access to fantastic shopping and dining.
Museum Of Fine Arts
The Museum of Fine Arts is located on Huntington Avenue near Northeastern University and Wentworth Institute of Technology. It is one of the oldest art institutions in the country. Within its walls, you can find some of the nation's best art collections. Nearby, you can find some amazing Boston apartments for rent.
Freedom Trail
The Freedom Trail is a 2.5 mile long marked path through the city that passes through sixteen historically significant locations. There are countless apartments for rent along this culturally significant route.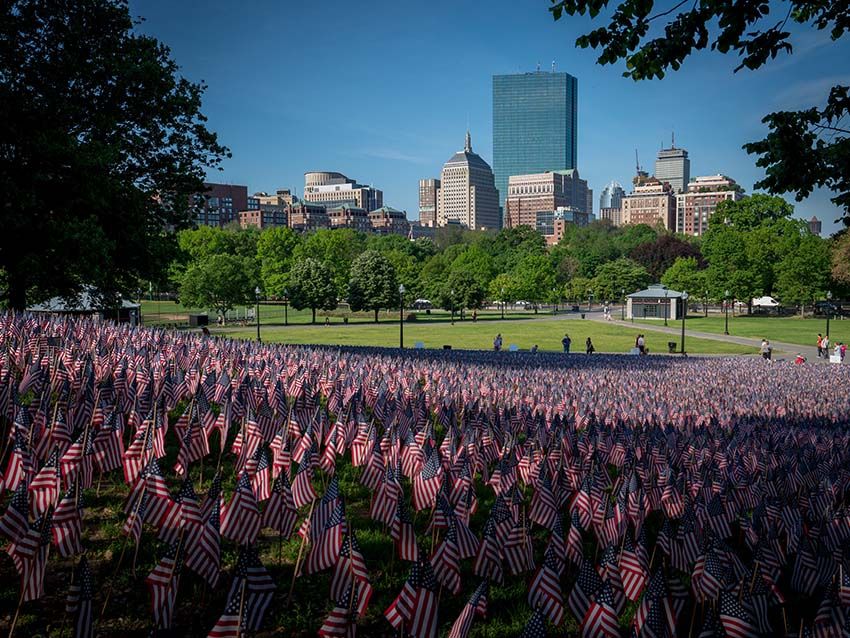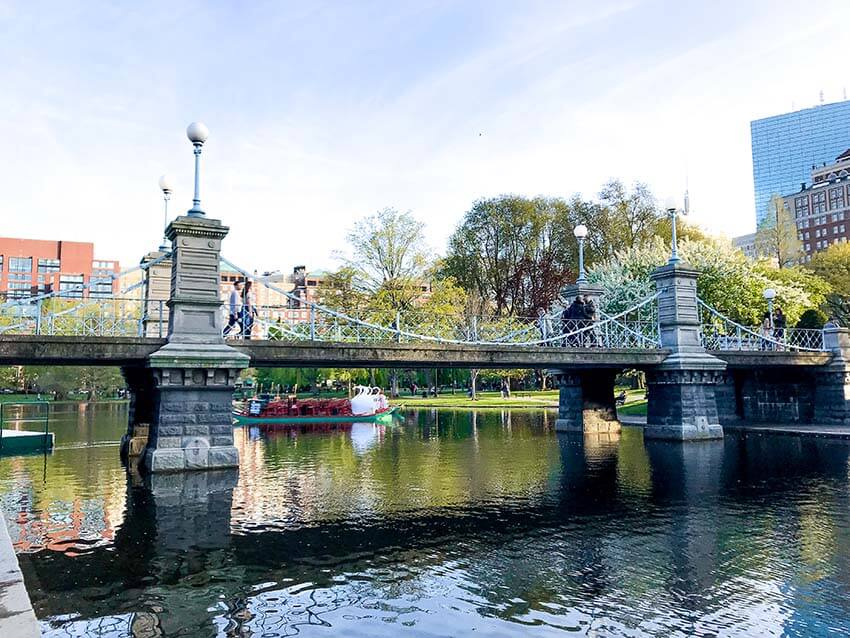 Parks in the Greater Boston Area
The Rose Fitzgerald Kennedy Greenway
This magnificent greenway traverses the North End, Financial District, Chinatown, and the waterfront past many Boston apartments for rent. It is an elongated green space that consists of specialty lighting systems, art, promenades, fountains, landscaped gardens, and plazas.
The Emerald Necklace
Thanks to the Emerald Necklace, no matter where you look for apartments for rent in Boston, MA, you will have access to green space. Frederick Law Olmsted designed this connected system of parks that covers approximately seven miles. It includes the following parks: Olmstead Park, Franklin Park, Commonwealth Avenue Mall, The Riverway, Forsyth Park, Boston Common, Jamaica Pond, Arnold Arboretum, Public Garden, The Fens, Jamaicaway, and Arborway. In total, the Emerald Necklace covers 1,100 acres.
Boston Public Garden
This garden alongside Boston Common was the first botanical garden open to the public in America. In addition to a large variety of trees and plants, the Garden contains a pond and historic and artistic statuary.
Boston Common
Created in 1634, Boston Common is the oldest park in the U.S. Located in the park are structures and plaques with inscriptions that date back to the 1600s. The Massachusetts State House is situated at the edge of the Common.
Charles River Esplanade
This state-owned park is located on the Charles River basin to the south in the Back Bay area of the city. If you rent in one of the Boston apartments near here, relaxing, jogging, or bicycling space is right at your door. The Boston Pops holds its summer concerts at the Hatch Shell in this park every year, as well as the annual Independence Day fireworks celebration.
Available Transportation in Boston, MA
All MBTA trains originate at South Station or North Station making it convenient to make connections to Amtrak or buses. Most apartments for rent in Boston, MA are convenient to public transportation.
The Green Line travels south from Cambridge to Boston. It then splits into the E Line. When it goes past Kenmore going west, it branches into the B, C, and D lines.
The Orange Line travels south from Malden through Downtown Boston and then into Jamaica Plain.
The Red Line travels south. The route is as follows: Cambridge-Boston-South Boston- branches to JFK/UMass- Braintree Branch to Quincy-Ashmont Branch to Dorchester.
The Blue Line moves as follows: Revere-North Shore-Boston-Beacon Hill.
The Massachusetts Bay Transportation Authority also operates buses that run throughout the city; this is referred to as the Silver Line. The MBTA Commuter Rail has 137 stops between eastern Massachusetts and Rhode Island. It connects those locations to downtown Boston. The Orange, Red, and Silver Lines go through Downtown Crossing.
For drivers, the Mass Pike offers routes in and out of the city. The highway begins in West Stockbridge and is the longest interstate freeway in Massachusetts.
Shopping and Restaurants in Boston, MA
Boston MA is a shopping destination for the fashion conscious and the discerning consumer. Prudential Center, Copley Place, and Newbury Street are a shoppers dream. There are hundreds of other stores and centers in Boston, MA, but descriptions are inadequate. You need to see them for yourself.
Boston is also a foodie's paradise. No matter what food you desire, you can find it here. Restaurants, cafes, and bars are on almost every street. Westland, Uni, Sarma, Chickadee, and Bar Lyon are great places to find culinary delights in Boston. If you are searching for apartments for rent in Boston, MA, rest assured there are always great restaurants nearby.
Cities and Towns Close to Boston
Cambridge MA
Boston Cambridge apartments will put in the midst of an intellectually and artistically charged city. There are also a plethora of restaurants, cafes, shops, and bars that make the city fun. Places like Harvard Square, Central Square, Inman Square offer apartments for rent near parks, universities, pubs, entertainment, live performers, restaurants, historic places, and international flavor. Kendall Square houses office space for Maven Technologies, Google, IBM, and other Tech Square residents. Cambridge apartments near Kendall Square are occupied by many professionals who don't have to commute. Porter Square, located between Davis Square and Harvard Square, is a dynamic spot with great cuisine and shopping.
East Cambridge offers easy access to Charlestown and Beacon Hill. The West End is just across the river and residents have easy access to all of Boston. Apartments for rent here are close to the Red, Green, and Orange Lines.
Cambridgeport contains University Park, which has renovated and newly constructed apartments for rent and offices.
Brookline
Brookline's proximity to the Boston neighborhoods of Jamaica Plain, Brighton, Mission Hill, Allston, West Roxbury, and Fenway-Kenmore make it easy to get into Boston from most apartments. There are a wide range of available apartments for rent in Brookline, from studios to apartments with seven beds and 3 baths.
Quincy
Quincy has a rich, colonial history. It was the birthplace of John Adams, John Quincy Adams, and John Hancock. For anyone looking for apartments for rent in Boston, MA, Quincy can be a great alternative. Quincy Point, Squantum, Houghs Neck, and Marina Bay provide water views. Blue Hills Reservation covers 6,000 acres and offers incredible scenic views. If you rent in the Boston, MA area and love natural preserves, this is the place to go.
Somerville
There is a wide range of available apartments for rent throughout Somerville. Davis Square is a popular location for retail businesses, offices, and corporations, as well as being the city's artistic and entertainment hub.
Other popular cities for MA apartments near Boston are Malden, Medford, Watertown, and Waltham.
The Most Boston Rental Listings
At BostonPads.com, we focus on Greater Metro Boston Apartments for Rent and surrounding Boston real estate. With the largest real-time database of apartments for rent in Boston, MA and over 209,518 verified Boston apartments, we make your apartment search a smooth and easy process.
Our database is maintained by the largest apartment leasing team in the state of Massachusetts. This gives you access to some of Boston's best real estate professionals to help you with anything related to Boston apartments for rent. In addition to using our apartment finder feature, connect with an experienced Boston rental agent to make the transition smooth and seamless. Be sure to check out all of the useful information and services we offer renters like our rent calculator. Learn how we can help you settle into your new place with the greatest of ease!
Apartment Finder
Using our apartment finder tool, you're able to browse through all of our Boston rental listings in real time. Our state of the art apartment finder allows you to filter your search results based on any parameter you can think of: rent price, location, size, pet-friendly, move-in date, amenities offered, and much more! You can even search on the map to find apartment rentals within that geographic area! Do you want to avoid a broker fee? You can find plenty of no fee apartments using our simple rental search. It's never been easier to search for apartments in Boston!
We have the most technologically advanced and manually intensive apartment listing staff with numerous people relentlessly updating the latest apartment rentals inventory from 9am to 9pm, 7 days a week. With over 150 skilled real estate agents spread throughout the Greater Boston area, we do what it takes to find apartments for rent in Boston Massachusetts that exceed your expectations. Start your search here and see why we are Boston's best for all your apartment-renting needs!
City Of Boston Real-Time Average Rent Prices
City of Boston Real-Time Vacancy Rate
0.60%
City of Boston Real-Time Availability Rate
1.49%
Greater Boston Area Real-Time Vacancy Rate
0.65%
Greater Boston Area Real-Time Availability Rate
1.38%