South End Top 5 Luxury Apartments
For years the appeal of Boston's Historic South End has largely rested on its rows of Victorian Brownstones, quaint cobblestone streets, and the pocket parks found throughout the neighborhood. Residents seeking a home in the South End have traditionally been after this particular brand of charm- one that has kept the South End at the top of the list of Boston's most desirable neighborhoods for years. As Boston grows and expands, however, so do the needs of its busy residents- making luxury living a more sought after option every year. Why trade in convenience for neighborhood charm, when you could have both?
Our top 5 picks of luxury buildings, and detailed descriptions of their amenities, can be found below.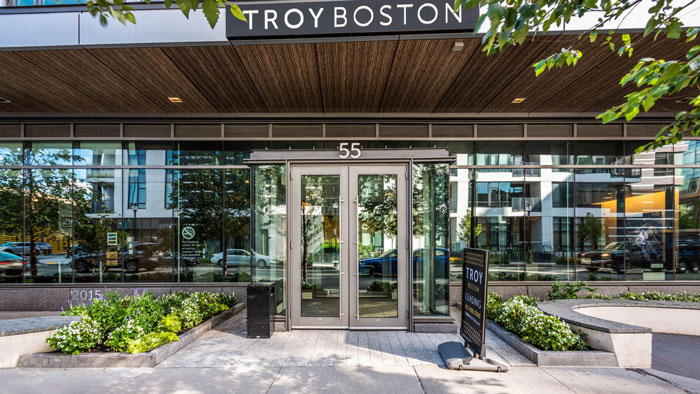 Troy Boston
Troy Boston apartments, located at 55 Traveler St, offer sophisticated finishes for their studio, 1 bedroom, and 2 bedroom options. A stark contrast in architecture to the typical Brownstone, Troy Boston is a large, primarily residential development that clearly expresses it is new, it is modern, and it is chic. All of their units have the traditional bells and whistles: top of the line stainless steel appliances, quartz counter-tops, and hardwood floors. As far as what makes them non traditional? Let's start with their absolutely unparalleled views of the city. Boasting two roof decks with ample space and plenty of seating, the Troy leaves nothing to be desired. On top of that, inside the building residents can enjoy a fitness center, yoga room, pet spa, and a swimming pool for the warmer months!

Ink Block Apartments
Next to the Troy, at 300 Harrison Ave, South End -ers also have the option of Ink Block Apartments. While the units themselves are sleek and high quality, of course, Ink Block Apartments really shine through their self described "creative amenity spaces". With a rooftop pool and a botanical garden, Ink block is great for those that love relaxing outdoors and catching some sun. Ink Block also caters to their more active residents, though, with not only two separate fitness centers but also a yoga studio with personal and group training! Whoever said work- life balance couldn't be achieved clearly just lived in the wrong building because on the more practical side, Ink block offers a 24 hour concierge, elevator access to a private garage, and options for conference rooms and work spaces amongst many others. With amenities as convenient as these, right outside your front door, and the South End's variety of coffee shops, restaurants, and fun nightlife spots- why choose anywhere else?

345 Harrison
Truly in the heart of this Historic neighborhood, 345 Harrison optimizes a true South End living experience. Immediately surrounded by the best of what this neighborhood has to offer, residents here are often foodies or artists. From the casual, and delicious, Tatte Bakery & Cafe on the corner to the decadent French cuisine of Gaslight just a couple of blocks away, a variety of incredible food spots are options right on Harrison Ave. "Restaurant Row" on Tremont street is just a few minutes away as well! One of the few, truly luxury, buildings in the city to offer apartments with 3 bedrooms, 345 Harrison can offer more floor plan options to its residents than most while maintaining, if not exceeding, luxury standards. 24 hour services such as a concierge and (separate) package pickup, as well as fun amenities like their sky deck, pool tables, two- story fitness center, and social lounge areas among other perks really seal the deal and put this building in our top 5.

Girard Apartments
The Girard, located at 50 Malden St, offers effortless elegance through contemporary designs with vibrant pops of color. For those into the art scene, the Girard has a collection of art displayed from various local artists on every floor- community is everything here and residents get a touch of the South End before they even step outside. Floor to ceiling windows allow for plenty of natural light, and the floor plans are spacious and more open than most- demonstrating how the very design of the building is meant to emphasize residents' comfort and happiness. This is a smoke free community with the latest in energy efficient technologies, making the Girard an easy choice for eco- conscious folks as well! Don't worry though- choosing the Girard doesn't mean giving up any of the fun amenities we've already mentioned. With a rooftop dog run, rooftop terrace with grills, a fitness center, and many more- the Girard more than holds its own among our other top choices.

James and Harrison Court
Another gem off of Harrison Ave, James and Harrison Court apartments epitomize sophistication from the moment you walk through their doors. There's two separate buildings, both quaint and very Boston with gorgeous brick facades. While each building is slightly different, they both offer the same high end finishes. Stainless steel appliances, quartz counter- tops, and top of the line cabinetry are a given, but on site zipcar stations, a pet spa, and a 24 hour concierge seal the deal for most. High ceilings- with floor to ceiling windows in most homes- allow for the feel of very open spaces. The private courtyard is perhaps their key amenity offered- it is beautifully landscaped and offers an escape from the hustle and bustle of city life. Want to see it for yourself? Tours are easily scheduled for either same day or next day availability.
These were our top 5 picks, but come check them out for yourself and tell us what you think! Our agents are eager to show you any options that fit your needs.
Tags: