This Week's Top 5 Boston Apartments with Virtual Tours
It's true- COVID-19 has made traditional house hunting more difficult, but Boston Pads is here to guide you through a new, virtual way of finding your dream apartment. Exclusive to the Boston Pads network, these apartments are not only great finds but also easy to visit with our virtual tours. To make renting even easier, these options can be seen whenever it fits your schedule and leases can even be signed electronically.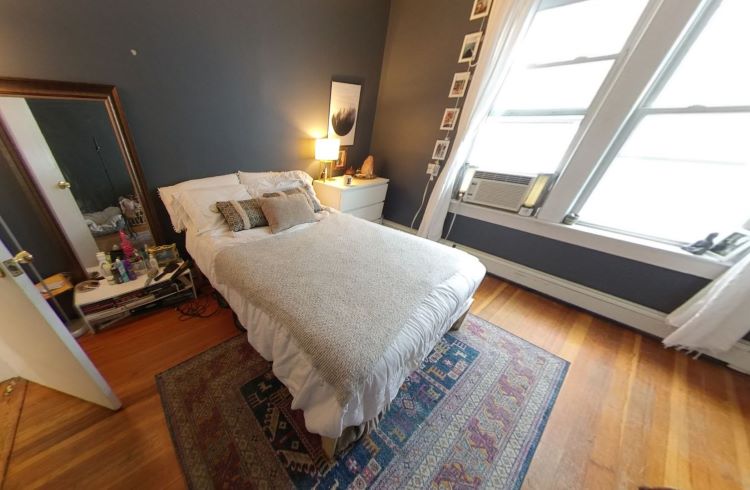 Cambridge- 4 Bed, 1 Bath
Enjoy access to everything Cambridgeport and Central Square have to offer in this cozy 4 bedroom apartment. With great amenities like hardwood floors, a tiled bathroom, a dishwasher, and shared laundry in the basement, you'll have everything you need right in the comfort of your own home. There's even a patio to enjoy fresh air and added living space. Each room is a comfortable size with windows letting in natural light. On one end of the unit there's a spacious living room with large windows and on the other end there's a kitchen with plenty of cabinet storage space.
This convenient apartment is available starting September 1st. At $4,050/month for 4 bedrooms, it's reasonably priced for its great amenities and central location. You'll be a short distance from grocery stores, boutiques, and public transit in this cozy place. To learn more and view the virtual walk-through, visit the apartment listing.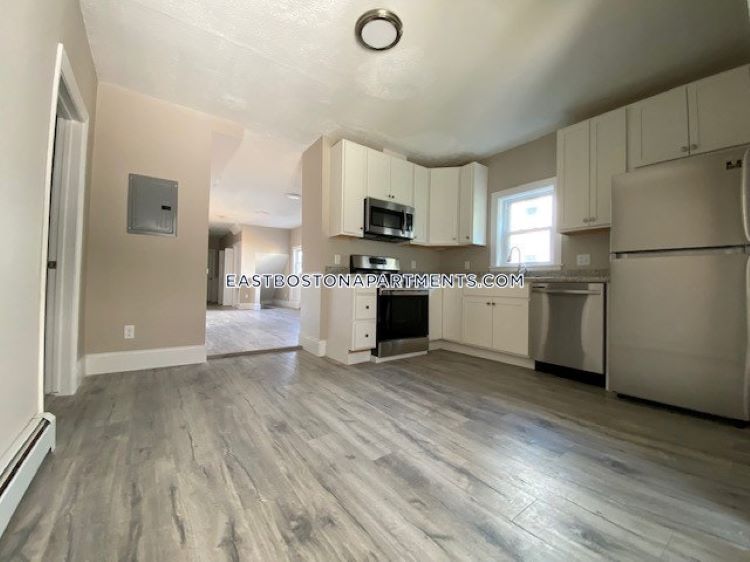 East Boston- 3 Bed, 2 Bath
Perched on Eagle Hill in East Boston is this ultra contemporary 3 bed 2 bath unit. Recently gut renovated, the house is gorgeous with fresh walls, brand new stainless steel appliances, and smoky hardwood floors. There's even a patio and private yard just off the kitchen to enjoy the fresh air, or you can soak up the sun from the house with its huge windows and tons of natural light. As a duplex, the house has spacious bedrooms with huge closets on the main floor and an open common area/living room on the lower floor.
If the open floor plan isn't enough to catch your attention, the fresh bathrooms and in-unit laundry sure will. Both bathrooms are full baths, one on the main floor with a tub shower and one on the lower floor with a walk-in shower. Laundry appliances also live on the lower floor, along with a spacious common area. Act quick on this great apartment- the move-in date is September 1st and at $3,000/month it won't be around long! If this sounds like the place for you, check out the listing, which has both a virtual tour and a video walk-through.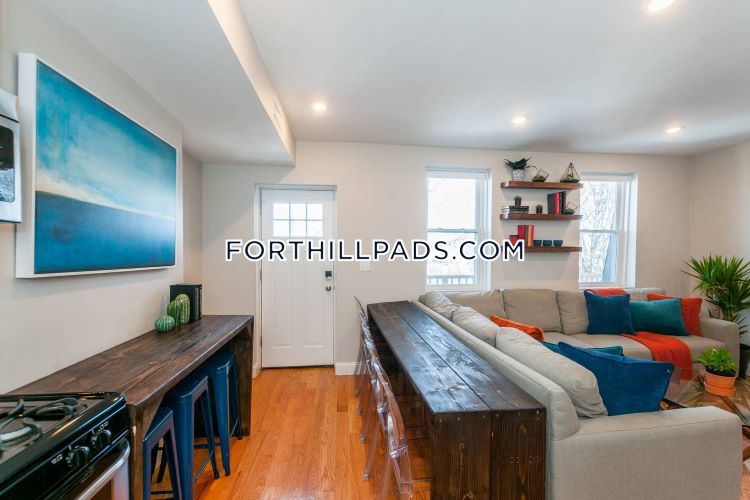 Fort Hill- 4 Bed, 2.5 Bath
Gorgeous and contemporary, this air-conditioned Fort Hill apartment is a wonderful place to call home. It's move-in ready now, so read on and grab this great apartment before it goes off-market!
This 2-story apartment has a kitchen, living room, bedroom, and bathroom on the first floor. Enjoy the newly updated kitchen with shiny appliances and the open-concept layout with the living room right next to it. On the second floor, you'll find 3 additional bedrooms, a bathroom, and a laundry closet with in-unit laundry. While the unit is fresh and modern, there's a reminder of historic Boston too with unique exposed brick walls in some of the rooms, including along the staircase. This beautiful apartment comes with a great location with 5 different bus stops only minutes away. For $4,300/month, this apartment could be yours! Check out the listing to see a virtual walk-through tour of this amazing unit.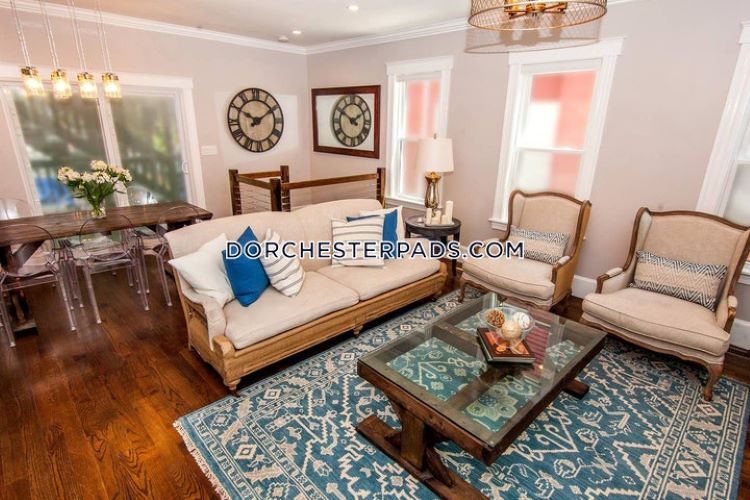 Dorchester- 6 Bed, 3 Bath
In the heart of Dorchester's happening scene and near the Savin Hill Red Line station, this huge apartment is perfect for anyone looking for space to stretch out a bit while staying connected to downtown Boston. Contemporary and practical, this stunning apartment comes fully furnished and even has all the necessary appliances (dishwasher, microwave, and in-unit laundry) to make living here a breeze. Situated across 2 stories, each floor has a living room, kitchen, bedrooms, and bathrooms. It's ultra spacious with generous living spaces and comfortable rooms. The bathrooms are sleek, like the rest of the apartment, with walk-in showers and white tiling.
You can also enjoy the private back porch and the backyard available for use when you sign the lease on this one-of-a-kind apartment. Act fast since it's available for move-in now and at $4025/month for 6 bedrooms, it won't be around for long! Visit the apartment listing to see a virtual walk-through tour and talk to an agent.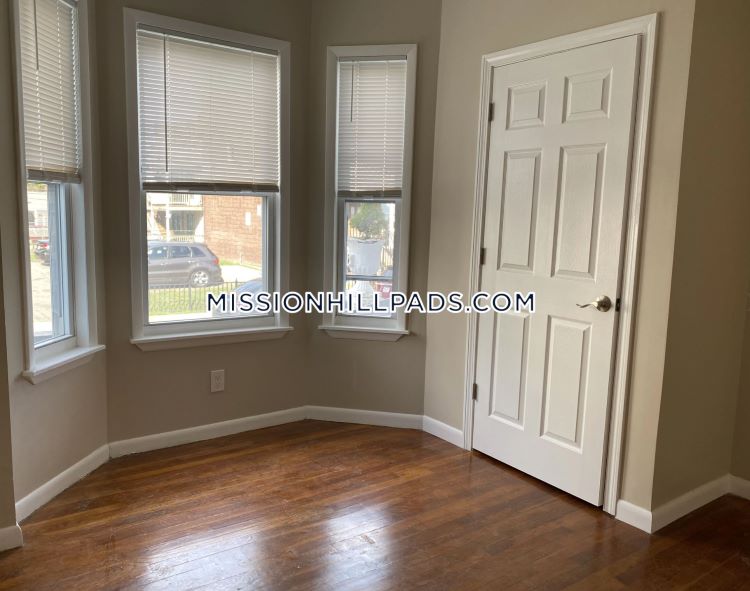 Roxbury- 2 Bed, 1 Bath
Pet-owners, this one's for you! Newly renovated, this 2 bedroom apartment is a steal at $2,050/month. The unit is outfitted with hardwood floors and laundry in the basement. Boasting a modern look, the kitchen is equipped with all of the necessities, plus beautiful stone counter tops. The bathroom looks great with a tub shower for flexibility. There's plenty of natural light in both the common spaces and the bedrooms, plus access to a yard. The location is desirable, too, with easy access to I-93 and public transportation. Did we mention that the street parking here is free? You won't want to miss out on this fantastic move-in ready apartment. Head over to the listing page to see photos and a video walk-through tour, or talk to an agent.
More Boston Apartments with Virtual Tours than anyone!
While the current situation has changed how the rental process works, Boston Pads is here to support you in finding your perfect apartment. Take advantage of our new virtual tours and "visit" these Boston Pads-exclusive units at your leisure. Like what you see but need more options? Check out our entire database here, we have something for everyone and more Boston Apartments with Virtual Tours than anyone!
Are you a local landlord looking to get your apartment rented? Contact us here and ask us about what boston apartments with virtual tours we can offer you!
Tags: