The Top 5 Price Reduced Apartments in Boston Right Now
Calling all apartment hunters! We have assembled the top five price reduced apartments in Boston based on price reductions. These property owners just want it rented in the next 48 hours. You won't believe the prices on these apartments this week! We have an incredible range of apartments whose prices just dropped, from a cute 1-bedroom place in Back Bay to a luxury spot in Downtown Boston. But be careful, these apartments won't be around for long. Quickly reach out to a real estate agent who can show you these places. Bring out the inner apartment finder in you, one that has been waiting for this special moment, and quickly pounce on a place that clicks for you. Let's take a look at these great properties!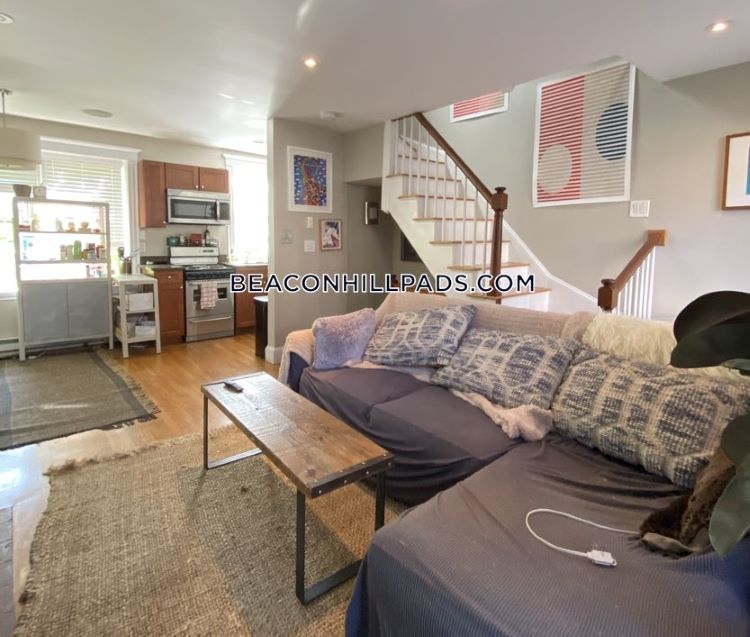 Beacon Hill- 1 Bed, 1 Bath
Located in the heart of Beacon Hill, you're getting a great location at an unbelievable price with this apartment. It has plenty of space, thanks to its multi-level design, plus all the trimmings you'd expect in this chic neighborhood, like hardwood floors. The apartment's first level has a sizable living room, with a brick fireplace and a mini bar area, plus enough space for a dining area. The kitchen has beautiful stainless steel appliances, including a dishwasher, and gorgeous wood cabinets. On the second floor you'll find a bedroom with unique touches, like stylish wall alcoves with mirrors.
The apartment also comes with access to a roof deck green space. Plus with this location, you'll have access to cute cafes and shops, and some of Boston's oldest and most picturesque streets. Another pro to this apartment- heat and hot water are included in the monthly rent. All of this can be yours for $2600/month, $600 lower than before! Of the price reduced apartments in Boston right now, this is one of the biggest drops! Head over to the listing before this gem is gone.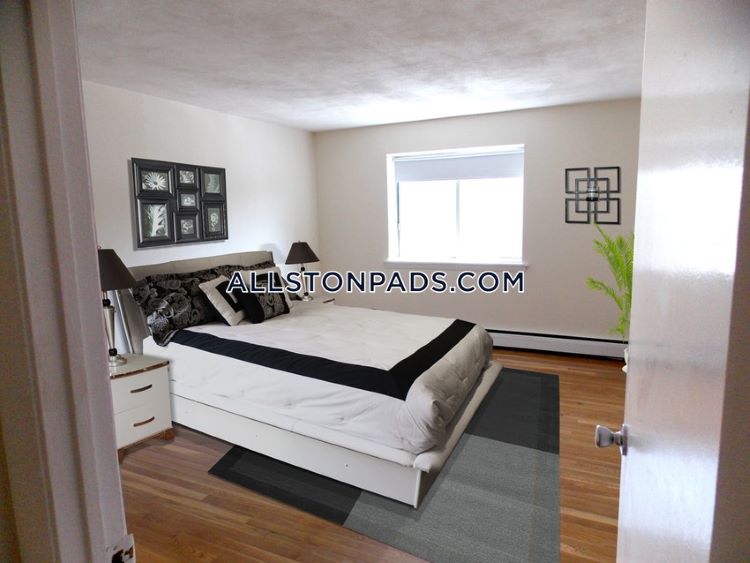 Allston- 1 Bed, 1 Bath
If space is your priority, this is the apartment for you. This Allston apartment brings location convenience and spacious interiors at a price that can't be beat. The living room is large enough for any sofas or chairs you'd want to fit, plus there's room for a dining area too. As for the kitchen, it's furnished with all the appliances, including a dishwasher, and beautiful ashy wood cabinets. The bedroom also has a great size- you could definitely fit a queen or a king-size bed here.
Not only will you find space here, but you'll love the included amenities too. The building is air conditioned, including the apartment, and you'll have access to an outdoor yard. There's also laundry available in the basement. The $1950/month rent (originally $2,720!) includes heat and hot water, a great way to save even more on this reduced-price apartment. Check out the listing and reach out to the real estate agent today, this apartment won't be around for long!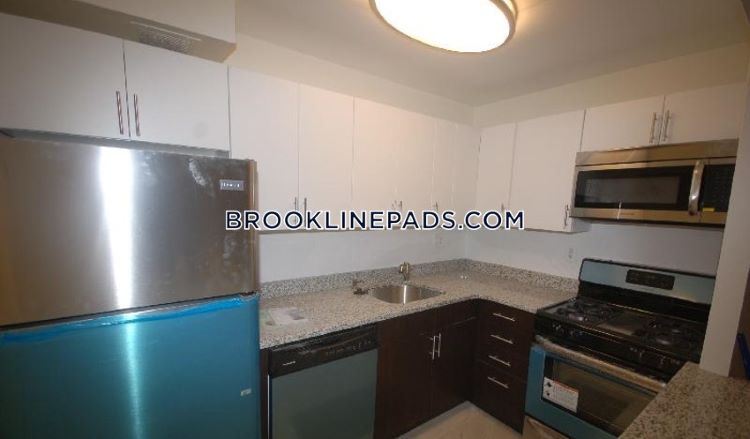 Brookline- 2 bed, 1.5 Bath
This apartment has a great location in Brookline, near Allston, and it was recently refreshed. The kitchen boasts new stainless steel appliances and beautiful stone countertops. There's also a little breakfast bar that overlooks the living room area to take advantage of the space and open-layout of the apartment. The bathroom has also been recently updated with a white tile shower tub. In both rooms you'll find large windows for natural light and closets, plus plenty of space.
The unit is in an apartment building, which gives you access to a complete laundry room in the basement. With a great location like this in Brookline, you'll also be close to restaurants, bars, and the Green Line B. It's available September 1st and with it's recent $400 reduction, this $3050/month place is sure to go off-market quick. Check out the listing to see photos and contact the agent.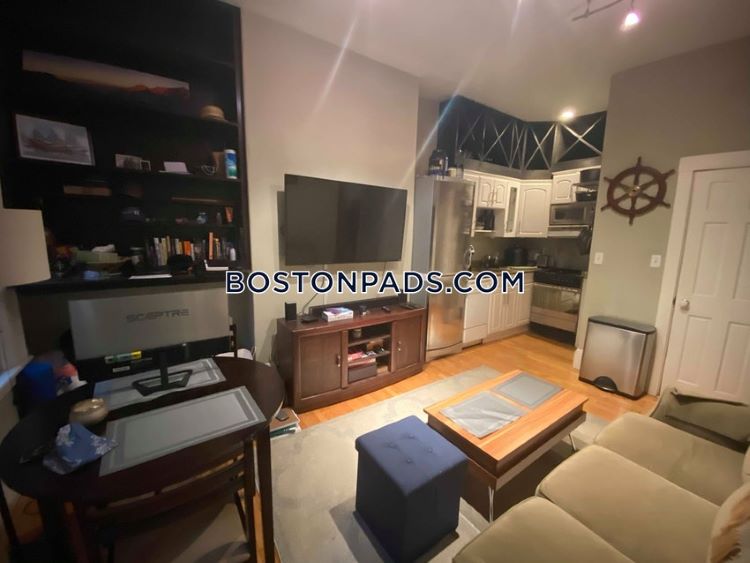 Bay Village- 1 Bed, 1 Bath
Here's a gorgeous place right in the heart of Boston, near the Prudential Center. Get access to tons of restaurants and shops, plus a great deal on this amazing apartment. The kitchen features stainless steel appliances and modern white cabinets. Right next to it is the living area, which can be used as a living room or a dining area, with enough space for a work from home desk. The bedroom is large and has a great closet. In the modern bathroom you'll find a shower tub.
This apartment comes with a dishwasher and laundry access to make your life easier. It's also in a great location with easy access to the Orange Line T. It's a beautiful space with so many perks, and with the recent $200 reduction, it won't be around for long. Head to the listing page to learn more about this $2,000/month apartment.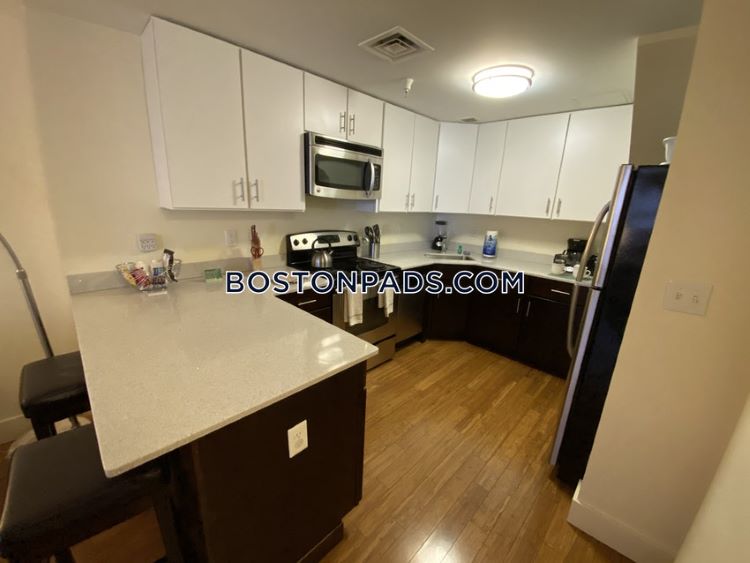 Downtown- 2 Bed, 1 Bath
Modern, chic, and super convenient, we love this apartment. Right in the heart of Downtown Crossing is this 2-bedroom gem. The kitchen has a modern look with a mix of dark and white wood cabinets and stainless steel appliances. There's a huge granite countertop with space for a breakfast bar that overlooks the living room. The bedrooms have an ultra contemporary look with sliding frosted glass doors. They're both a great size with plenty of natural light and great views of the city. Following the modern theme, the bathroom is all white and features a tiled shower tub.
The building has central air and access to laundry in the basement. If you're not sold on it yet, the $200 price reduction will grab you. It's available to rent now and with all its great features, this $3200/month apartment will disappear soon. Check out the listing for more information.
For More Price Reduced Apartments in Boston…
Be sure to act on these reduced prices while you can! With amazing apartments like this and their even better prices, they're sure to go off-market fast. But don't worry, even if you miss one of these great places we have over 7000 active listings and price reductions happening all the time. Keep checking back for the latest and greatest regarding apartments in Boston!
Tags: