The Top 7 Home Buying Tips For Millennials
The vast majority of society is under the false impression that Millennials don't have the desire to become homeowners. Many people think that Millennial's would rather live at home with their parents or rent apartments. However, those people could not be more wrong. In fact, Millennials in the process of home buying have surpassed baby boomers and Gen Xers for the past seven years running. This is according to the National Association of Realtors. Millennials are now entering into the housing market in massive herds. The home-ownership rate of home buyers under the age of 35 grew from 35.6% to 36.8% between 2016 and 2017. By 2018 that number grew. 37% of all home buyers were Millennials.
They are now by far the generation with the largest amount of home buyers. If you are a Millennial, you may be searching for your first home. You may be purchasing it on your own or with a partner. You may also be curious about buying your first home. Perhaps you'd like some tips to help you better understand the process. The following information will provide you with the top seven (7) home buying tips for Millennials. You will learn all about the cost of home ownership. You'll also learn all about the things you should be looking for when house hunting. Last but certainly not least, you will learn what you need to do when you find the perfect house. Well, if not the perfect house at least a property that will serve your needs well.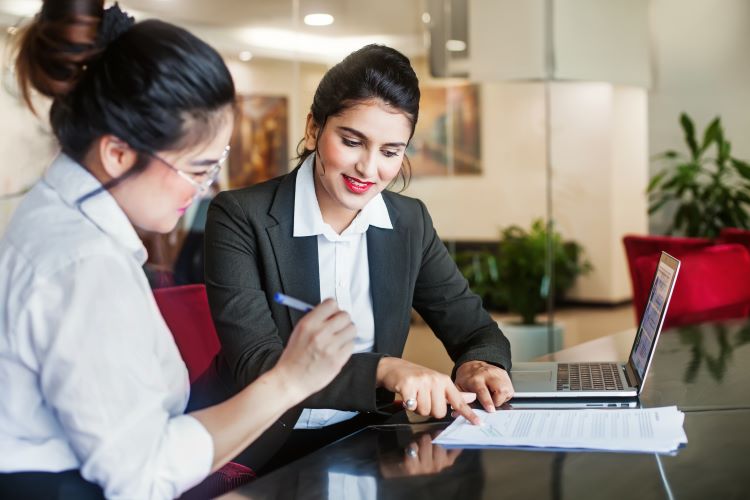 Learn How The Financing Works
Did you know that most home buyers utilize financing when purchasing their home? This is largely in part due to the fact the houses are expensive, especially in areas like Greater Boston. The vast majority of people do not have that amount of cash on hand and if you're like the majority, you'll need to finance your home purchase. That means you're going to need to understand how mortgages actually work. You'll also need to learn about the various financing options that may be available.
Mortgage Options
Mortgages are based on a few things. First and foremost, they are based on the amount of time that you have to pay back the loan. The standard mortgage is 30 years. That means you will be making payments each and every month for the next 30 years. You can also choose a 15-year mortgage or even a 10-year mortgage. The mortgage is also based on the interest rate. Interest rates are historically low these days. The lower your interest rate the lower your monthly payment will be. Some mortgages offer a fixed interest rate, this means the interest rate can never change. It's fixed for the life of the loan.
You may also choose an adjustable interest rate. This means the interest rate can increase, decrease, or stay the same over the life of the loan. The mortgage will typically have an initial fixed period before the interest rate can adjust. For example, the interest rate will be fixed for the first 5 or 7 years. After that it will adjust every 6-12 months. If you're lucky the interest rate will either stay the same or adjust down. However, it could very well could go up. It all depends on the current state of the economy including the mortgage and stock markets. You can typically pay off the mortgage balance if you sell the house or refinance.
People refinance when the interest rates go lower, or they need to pull some equity out of the property. Understanding the various mortgage options will help you choose a mortgage that works best for you and your budget.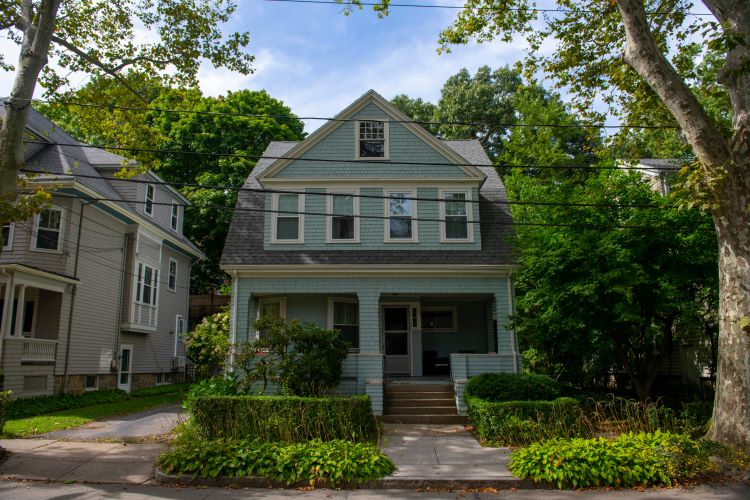 Calculate How Much House You Can Actually Afford
You certainly don't want to start looking at houses, find one that you love, and then find out that you can't afford it. That would just be a waste of your time. It would also be a bit demoralizing. That's why you should always calculate how much house you can actually afford prior to starting the search. A great deal of Millennial home buyers makes this mistake. The good news is that it's not difficult figuring out your price range. You can easily get a ballpark figure by starting with your current monthly income.
It is highly recommended to keep your total housing expenses at a maximum of 28% of your gross income. If you have additional debts such as student loans, car loans, and or credit card debt you need to factor that in as well. All of your monthly debts shouldn't be more than 36% of your gross income. That includes your new mortgage payment with taxes and insurance.
A Realistic Example
Let's say you earn $120,000 per year or $10,000 per month. Your mortgage payment with real estate taxes and homeowner's insurance should not exceed $2,800 per month. Your total monthly expenses including the mortgage, should not exceed $3,600 per month. Let's say the real estate taxes and homeowner's insurance is $500 per month. That leaves you $2,300 per month for the mortgage itself. If the 30-year fixed interest rate is 3.92%, a $2,300 per month mortgage payment equals a mortgage of approximately $490,000. That doesn't factor in the down payment, which is based on a percentage of the purchase price. If an average down payment is 10% the purchase price would be approximately $545,000.
So, if you earn $120,000 per year, you should be shopping the mid $500,000 price range. Regarding the down payment, you will typically need to make a down payment based on a percentage of the purchase price. Although some mortgage programs don't require a down payment, most do. The down payment can range anywhere from 3% to 20% of the purchase price of the property. You should use 10% as a rule of thumb. The down payment must be paid in cash from the buyer. Knowing how much house you can actually afford will give you a good starting point. You'll be able to base your financial plan and monthly mortgage payment budget from there.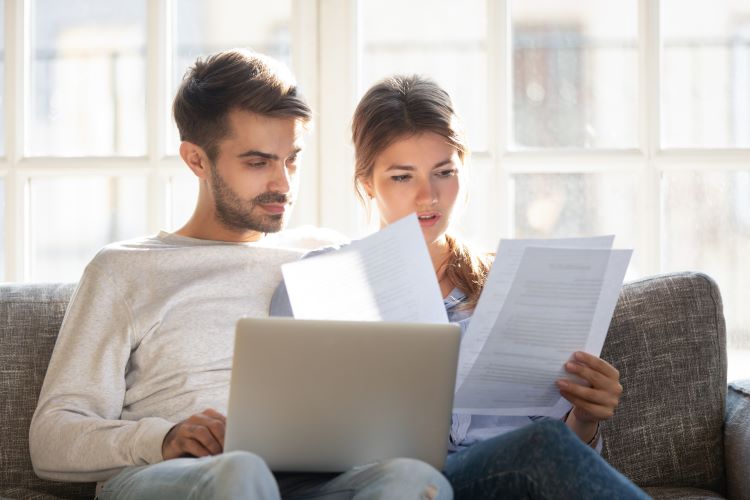 Keep Track Of All Documents
Many Millennial home buyers do not realize just how much paperwork is involved in the home-buying process. You will be receiving a bunch of documents and disclosure forms from your real estate agent. You'll also be receiving a bunch of documents and disclosure forms from your mortgage broker or loan officer. That means you should expect documents in both digital and paper formats.
You'll also need to keep your bank account statements, income documents, and other paperwork organized. Your mortgage broker or loan officer will need all of that information from you and usually more. For example, they may need copies of your investment statements and a list of your current debts to name a few. It's important to keep everything in one centralized place. That way you can easily access the documents when you need to.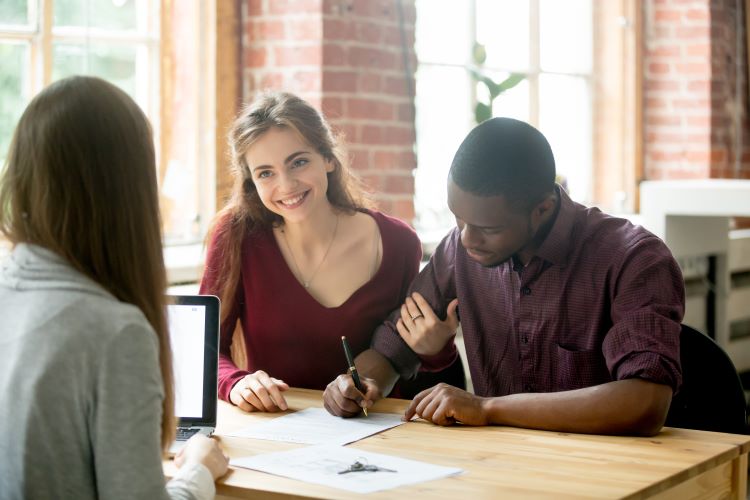 Get Pre-Approved For The Mortgage
A good real estate agent will have you speak to a lender before looking at any properties. This is because, of the reasons listed above, but also because usually in a seller's market such as what is happening right now, offers won't get far without a pre-approval letter.
The professional real estate agent will help guide you through the home buying process from this point moving forward. That includes helping you find a lender or mortgage broker to work with for your loan. Professional real estate agents have many contacts in the industry. This includes banks, lending institutions, and mortgage brokers.
However, you can choose to work with whomever you would like. Some Millennial home buyers know a mortgage broker or loan officer on a personal level. Other Millennials undergoing the home buying process have friends that had a great experience with a particular mortgage broker or loan officer. The bottom line, it's up to you to choose who to work with regarding your mortgage. Being pre-approved means your mortgage broker or lender has reviewed your financial documents. They have determined that you can cover both the monthly mortgage payments and down payment amount.
Start Making a List of Features That You Want and Features That You Need
Buying a house is a lot different than renting an apartment. It's something that you own and may live in for hopefully, a very long time. That means you need to ensure that your new home has all of the features that you need. It should also have at least a few of the features that you really want. Your best bet is to sit down and make a list of these features. Include everything that you want in the house. Divide the list into "must have" and "want to have" columns. You should include things that may be unrealistic in the "want to have" column. If you can think it up, add it to your list. The following examples will get you started….
• The Number of Bedrooms
• The Number of Bathrooms
• The Type of House (Multi-Family, Condo, Ranch, Colonial, etc.)
• Kitchen Counter Top Material Preference
• Central Air Conditioning
• Heating System
• Deck, Patio, Outdoor Space
• Smart Home Features
• Finished Basement and/or Finished Attic
• Floor Plan
• Garage
You should also give careful consideration to the location of your new home. How far from work do you want to be? How far from the local super market do you want to be? You also need to decide if you want to be close to a hospital and what schools are nearby. How close is the house to major highway access? Many Millennial home buyer choose to live in urban areas. However, urban areas like Boston may have fewer homes available than the suburbs of Boston or rural areas. Yet, urban areas tend to be closer to job opportunities and have more amenities than suburban and rural areas.
Start Your Search
The next piece of the Millennial home buying process is perhaps the most fun part. When the financial details are figured out, it's time to start searching for your home. Most house hunters work with a professional real estate agent. It makes things a lot easier when it comes to scheduling times to see the properties in person. This is also known as setting up showings. You may already have a few houses in mind. You may already know that you like a particular area. Maybe you are brand new to Boston and surrounding areas and have absolutely no idea about the different neighborhoods. Once again, this is where a real estate agent comes in incredibly handy. Professional real estate agents are familiar with the various neighborhoods in Boston and surrounding areas.
They will be able to provide you with the proper information about each one of those neighborhoods. You need to keep in mind that the location of the property is an important factor. The recent sales price of similar properties near the house you're interested in buying affects the value.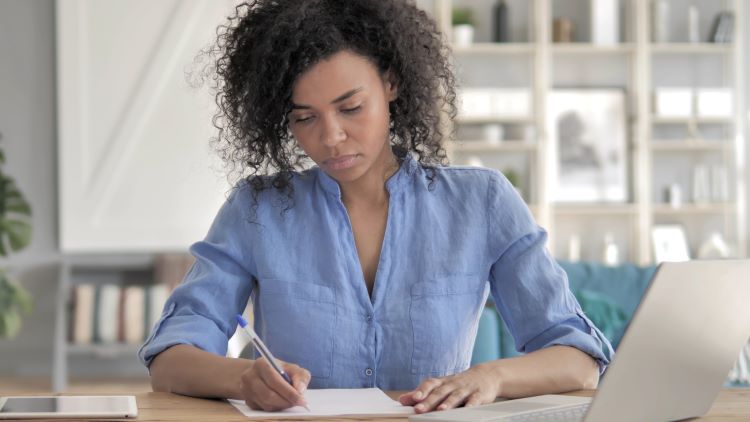 Make Yourself Stand Out From the Crowd When Making Offers to Purchase Real Estate
Boston and surrounding areas are currently experiencing a sellers' market. That means there's a lot of demand for houses, but the inventory of housing is low. In addition, some Millennial's are buying more established homes instead of starter homes. That means you may very well be competing against a larger pool of buyers. Your competition may be other Millennials, and people who are roughly your parents' age. That also means you may find yourself in a bidding war with buyers who have larger budgets. Your competition may also have a lot more home buying experience than you. Although you should expect competition, do not let it negatively affect you.
Like any good competition the most physically and mentally prepared opponent typically wins. Buyers who stand out are far more likely to have their offers excepted by the sellers. This holds true even if the competition offers the same amount of money. So, the question that remains is how can you make yourself standout from other buyers? The good news is there are a bunch of things that you can do that will further the chances of your success.
Include A Cover Letter With Every Offer
A cover letter can be a short but sweet letter about you (and your partner if you have one) and why you love the property. Include details. You want to connect with the seller in a way that other potential buyers are not. Keep in mind that selling a home tends to be emotional. Connect to them with that emotion. It adds a personal touch to the process and sometimes can make a deal happen!
Act With A High Level of Certainty
You need to do everything within your power to keep the process moving forward as fast as possible. Typically speaking, the seller wants to get the house sold sooner rather than later. They may be up sizing and need the money for the deposit on their next home. They may be downsizing and need the money for the deposit or the outright purchase of their next home. They most likely need to close the deal with you before closing the deal on their next home. That means you need to reduce the amount of time that it takes to close. A lot of things will be out of your hands. However, you can make sure that everything on your end is covered. For example, make sure all of your loan documents are submitted to the broker or lender upfront.
That way you'll avoid wasting time going back and forth with the mortgage broker or lender. Make sure to schedule the home inspection immediately and take the first day/date they offer. Home inspections can take weeks if you're not on top of it. Speaking of which, stay on top of the home inspector regarding issuing the report. You want that in hand ASAP. These things can make a humongous difference. You should never make a motivated seller wait weeks for the home inspection.
Make A Large Down Payment If You Can
Cash is king. That means the larger the down payment the better. If you have the money and end up getting into a bidding war, use that to your favor. For example, offer a 20% down payment. Based on our $545,000 purchase price as mentioned above, that would equal $109,000. A seller may even accept your offer of $545,000 with 20% down over someone who offers $550,000 with 3% down. Once again, money talks. It shows that you're serious about buying the house. It also shows that you have the financial means in which to do so.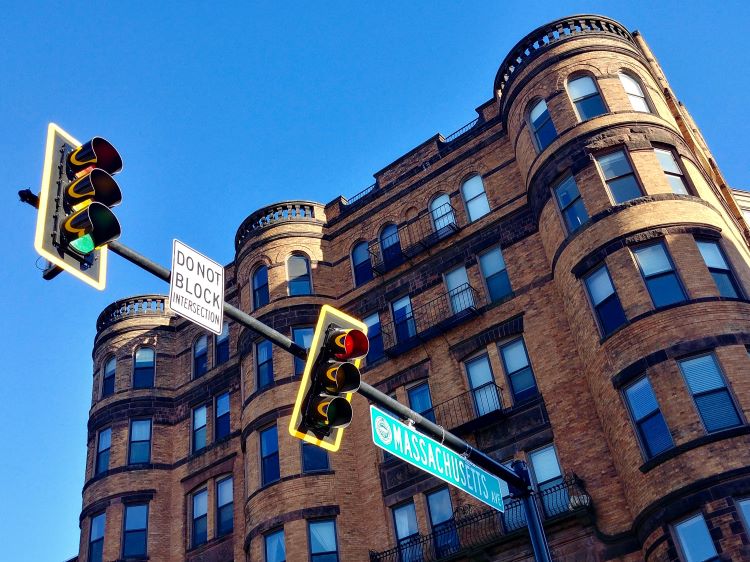 Millennials Do Want to Own Their Own Homes
In conclusion, it's currently a great time for Millennials to purchase property. Although it may be a seller's market, rates are still low. So, if you purchase a home now it may very well increase in value over the next few years. Even if the real estate market happens to decrease over the next few years it has always bounced back. Historically speaking, real estate is one of the very best investments you can make. Most Millennials don't think of buying a home as an investment, but it certainly is. In fact, it may be the biggest investment that you'll ever make.
If you're a Millennial that needs help buying a home, please contact Boston Pads today. We are your Boston real estate specialists. Boston Pads also has the area's largest real time database of homes for sale in Boston. Our cutting edge website also has many great resources for first time home buyers. Please contact one of our dedicated and local real estate agents today for more information. We look forward to hearing from you and working with you!
Tags: