Storage Solutions for Your Boston Apartment
Make your space more efficient and cut your clutter.
You're looking for the perfect Boston apartment in your dream neighborhood, but everything you're finding is too small for all of your stuff. Between winter coats and bedding, sporting equipment, and the other everyday items it takes to keep you up and running, it seems like you'll never find a place big enough for everything. Instead of going for more space, the answer may be rethinking the way you use your space. Try these money-saving — and space-saving — storage solution to do more with less.
Look for Dead Space
Look around your new apartment for square footage that's not being utilized. An awkward corner, the space behind a sofa or chair, a window nook — all of these can be home to a corner cabinet, storage bin, or basket. Looking for even more space? Look up. You may find that high ceilings, the top of kitchen cabinets, and the top of your closet provides ample square footage to install some shelving — and some extra storage. Invest in a sturdy step stool and store rarely used or out of season items on these higher elevations.
Hang it Up
Think of all of the space you're not using on the walls, doors, and cabinet doors. Even your closet, when properly organized, hides additional storage space. Add a wall grid or peg board to an unused wall and use it to hang up pots and pans, cooking utensils, plants, a mail sorter, keys — anything that is currently taking up space on your tabletop or in a cabinet. An over-the-door rack can help organize your shoes, coats, purses, and other clothing items. Hang a rack inside your cabinet doors for additional storage in the kitchen or bathroom as well.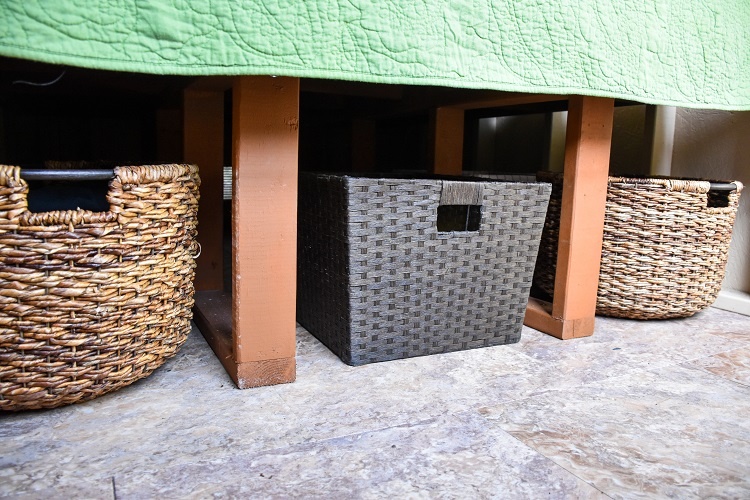 Look for Hidden Space
Now it's time to look underneath your furniture. The space under your sofa and under your bed is a great place for shallow, lidded storage boxes full of out-of-season clothing, unused linens, and even bulk-bought paper goods or cleaning products. Now look in your cabinets — see all of the space that's not being used? Add a second tier of shelves in order to double the storage capacity. Now check the space between the refrigerator and the wall. You may find that there's a few inches available, allowing you to add a sliding pantry.
Make Items Do Double-Duty
An ottoman with hidden storage inside. A bedside table with a door and interior shelving. Even a drape over an end table can provide a place to tuck away items. Think utility and make the furniture you buy work harder. Need a TV stand? Make sure it has built-in storage for components and equipment. Need a dining table? It should have a drawer to hold linens. Even an easy chair can have hidden storage under the seat that's perfect for storing sports equipment, books, or blankets.
Maximize The Entryway
Did you know that maximizing your entryway is an incredibly important aspect of keeping your Boston apartment organized? In essence, it will go a long way in preventing large items from taking up space in the living areas. Adding a few hooks on the wall and or a coat rack is helpful for multiple reasons. First and foremost, you can hang coats on them. Even if your Boston apartment happens to have a coat closet, it's probably very small. That means it most likely won't have room for your guests' coats or even all of your own coats. Adding hooks and a coatrack in the entryway will prevent people from throwing their coats on the chairs. It will also eliminate jackets from being tossed on the couch or even your bed.
Place A Sapien Style Bookcase In A Convenient Spot
If you're like the majority of tenants in the city, your Boston apartment doesn't have a lot of extra floorspace. However, a Sapien style bookcase will make the most out of the floor space that you do have. In essence, it's an incredibly small footprint bookshelf that has the ability to stack things vertically in small sections. Perhaps the best part is that it works in all settings and comes in different styles. They are typically 16 to 20 inches wide and have upwards of 9 or 10 shelves that rotate. That means you can swing them out at different angles for a unique look.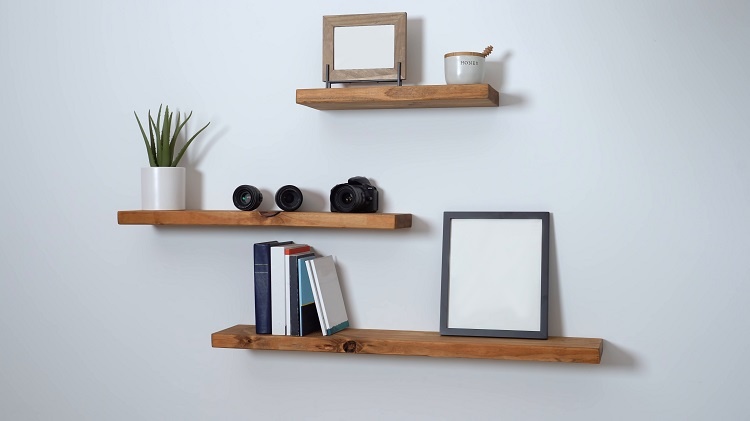 Add Some Floating Wall Shelves
Your Boston apartment will truly benefit if you add some floating wall shelves. They are clean, simple, and don't take up any actual square footage regarding the floor space. They're also great for storing things like mail and keys that tend to clutter the kitchen countertops. Floating shelves can be as narrow as 4.25 to 4.5 inches deep and still provide plenty of storage space. You can even hang a few of them in on the same wall. The lower shelf can be used to hold your mail and the upper shelf to hold your keys. The possibilities with floating shelves are endless.
When you make your furniture and your space work harder, you're sure to cut clutter and enjoy your home more. When you know how to better utilize space, you open yourself up to a world of new possibilities when choosing your new Boston apartment. Let Boston Pads help you find the apartment that fits your budget and your lifestyle. Contact us today to start your apartment search — we're here to help!