The Best Neighborhoods in Boston
Boston is an amazing place to visit and an even better place to live. Our city is a global technology hub with a thriving economy that is home to some of the best educational institutions in the world. From culinary delights, shopping, and historical places to music, art, sports, science, and nature, Boston has something for everyone. No matter what neighborhood you choose, there is always a new experience waiting for you. Join us as we explore the best neighborhoods in Boston.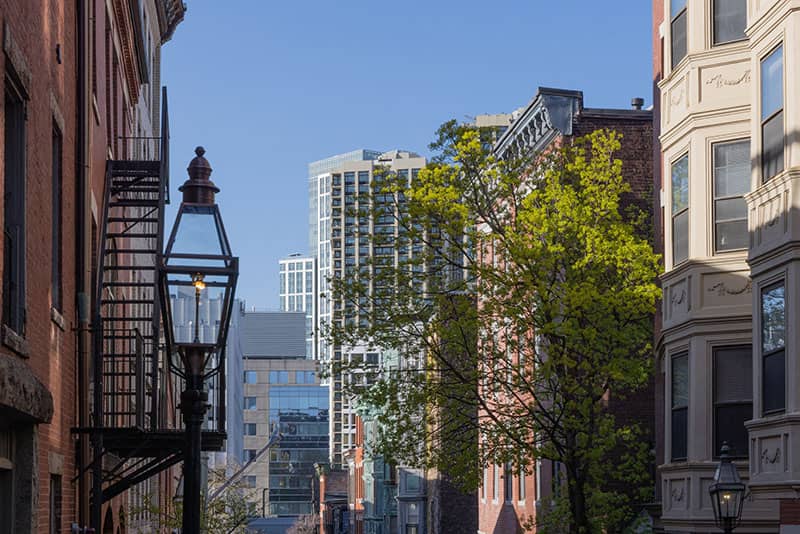 Beacon Hill
The picturesque cobblestone streets of Beacon Hill in Boston are lined with majestic trees, Victorian brick, and Federal-style row houses that invite you to experience the refined antiquity of Boston. As one of the most photographed neighborhoods in the city, Beacon Hill holds a special charm embodied by its old-world lanterns and a cozy atmosphere seldom found in big cities. Despite being surrounded by centuries of history, it is also incredibly close to some of the best modern attractions in Boston.
Visitors from around the world come to marvel at the beauty of Beacon Hill and take a journey though some of the most iconic landmarks in the city. It is just north of Boston Common, the oldest city park in the U.S. Experience this lovely greenspace that provides a place to relax, ponds with ice skating in the winter and paddle boats in the summer, and ballfields to get your game on.
If history is your cup of tea (and remember Boston is famous for a certain tea party) you are in the right place. So much of the past is present here. The Massachusetts State House, with its stunning golden dome, has been located on this hill since 1798 and is one of the oldest public buildings in Boston. The Granary Burying Ground, Museum of African American History, Park Street Church, and the Boston Athenaeum begin just a partial list of historical places to see.
It's no surprise that a neighborhood this elegant has restaurants and shopping to match its style. Charles Street is a bustling commercial district filled with historic buildings, specialty shops, and restaurants where you can find some unique treasures. If exclusive gifts and home decor are on your list, travel down to Flat of the Hill or Whitney + Winston. Clothing shops offer styles from trendy to classic at Crush Boutique, December Thieves, ouimillie, and NRO Boston. And after all that shopping makes you hungry, try the taste treats at Cobblestones a Beacon Hill Eatery, Bin 26 Enoteca, Peregrine, or Mooo…Beacon Hill.
When you ascend Beacon Hill, you are getting more than a great view. You are absorbing the perfect blend of ancient and modern Boston.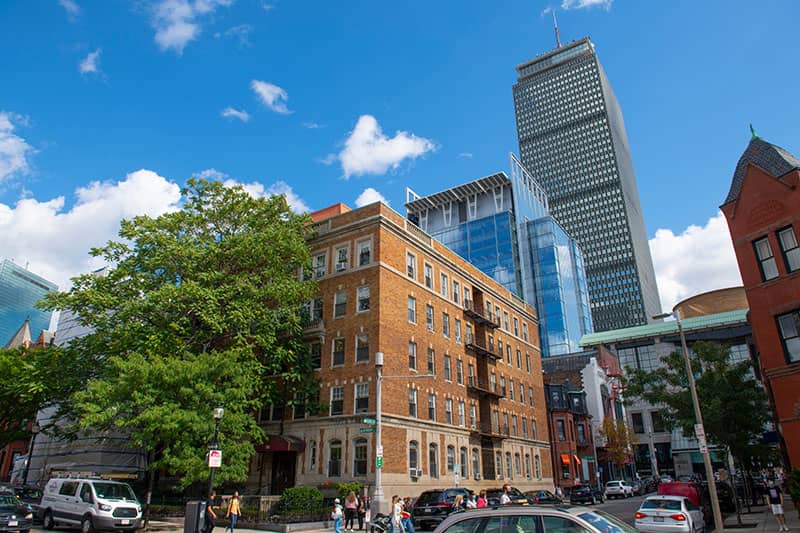 Back Bay
Visit history with a modern twist in Back Bay. It's listed on the National Register of Historic places and has brownstones from the 19th century. Back Bay's well-preserved and magnificent architecture makes it one of the most desired neighborhoods in Boston. In addition, the location can't be beat. There are stops for the Orange Line, commuter rail, and the Green Line. It's conveniently located between Fenway Park and Boston Common. It's also close to the Charles River, the Prudential Center, and Copley Plaza.
If you are lucky enough to live in Back Bay, you will be surrounded by critically acclaimed architecture. The most notable of these buildings is the main branch of the Boston Public Library. Opened in 1895, this was the first free public library in the United States and is considered one of the most magnificent structures of the 19th century. The artwork, statues, marble floors, mosaics, and grand staircases are breathtaking.
In addition to its historic and cultural beauty, Back Bay provides superb views of the Charles River. The Charles River Esplanade is a riverfront park that provides greenspace for passive recreation, nature trails, gardens, and educational and recreational events. So, stop and smell the flora in Back Bay.
There are so many amazing places to visit here, it's difficult to know where to start. Beautiful outdoor venues are unusual in a large city such as Boston, but Back Bay has them. In addition to the park along the river, there is the Commonwealth Avenue Mall. You may be thinking of an enclosed space for chain stores, but this is a place of beauty. It is a 32-acre park lined with lovely trees that runs through the architectural district.
There are also some remarkable modern buildings here. The tallest building in New England, 200 Clarendon Street, is a 790-foot glass tower. The second tallest building at 749 feet is the Prudential Tower. The observation deck is a great place to visit if you want to see Boston from above.
As far as shopping goes, Newbury Street is a destination point for shoppers. From the trendy Bobbles & Lace, to the elegant Serenella, to the whimsical Fairy Shop, you can find something unique on Newbury Street. There are also plenty of enticing restaurants that feature cuisines from all over the world: La Voile (French), CAVA (Mediterranean), Lolita Back Bay (Mexican), Sorellina (Italian), and the list continues.
You will have a tough time leaving this place once you visit. Back Bay has something for everyone!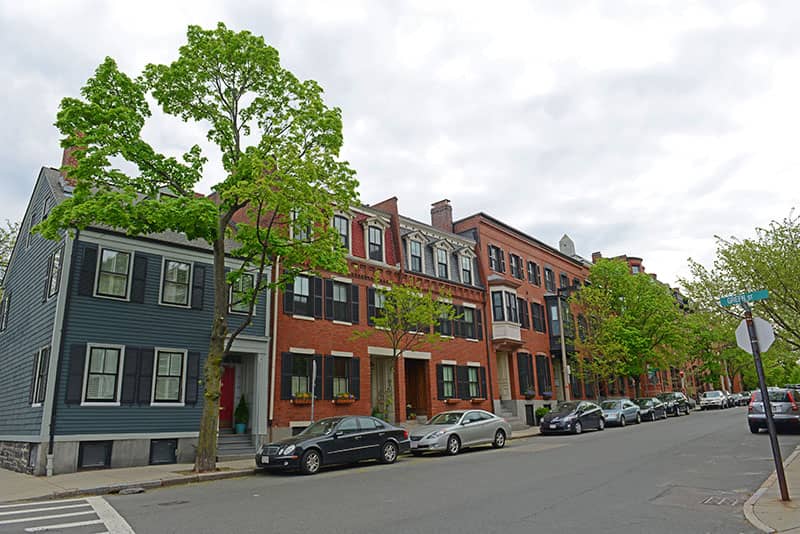 Charlestown
Charlestown makes the old look new again. Colonial and modern architecture coupled with a tight community vibe make the oldest neighborhood in Boston a much sought-after locale. Charlestown places you close to the water at the confluence of the Charles and Mystic Rivers. Follow the Freedom Trail to the harbor and visit the USS Constitution; keep following the trail to the Bunker Hill Monument that rises above the neighborhood like a watchtower. This mainly residential area will enchant you with its Revolutionary War roots and townhouses dating from the 1830s. Cross the Charlestown Bridge into the North End and down to Downtown Boston nightlife. No matter where you go in Charlestown, you are not far from Boston history and Boston fun!
A popular attraction in Charlestown is the Boston Navy Yard that is managed by The National Park Service. One of the oldest shipyards in the United States, it now covers 30 acres and is home to the USS Constitution, the museum ship USS Cassin Young, and the USS Constitution Museum. To get an even better view of the harbor, you can board the MBTA Boat at Pier 4.
For food and drink with a nostalgic aura, visit Warren Tavern, the oldest tavern in Massachusetts. We don't know if George Washington slept here, but he definitely ate here. If you like natural woods and brick settings, the Monument Charlestown Restaurant & Tavern is popular with locals and tourists alike. The flavor of Charlestown wouldn't be complete without visiting the Tavern at the End of the World. And since you are at the harbor, don't forget the seafood at Pier 6.
If you are attracted to naval history, gorgeous water views, renovated and pristine historic residences, check out Charlestown.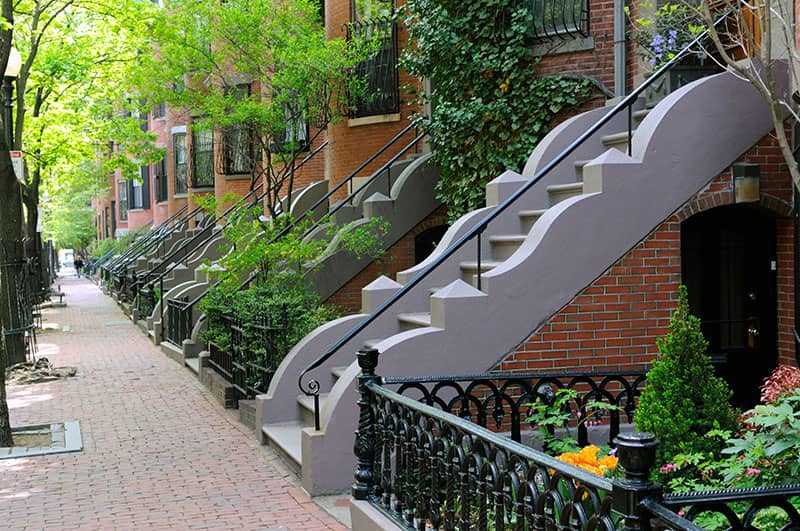 South End
When you are in the South End, you are never far from a park. English-style residential squares with fountains dot the landscape. The greenery, historic brownstones, Victorian row houses, and the neighborly feel make this an appealing place to live and an inviting place to tour. The intact architectural history has earned it a place in the National Registry of Historic Places. With Roxbury, Back Bay, and Chinatown on its borders, the central location provides easy access to the rest of Boston.
Like most Boston neighborhoods, the South End has its own unique charm. Many of the brick bow-front townhouses have hidden gardens. You will be enchanted by the hidden greenery nestled among and behind the historic buildings. The South End is also noted for its pocket parks. These urban sanctuaries might lack space, but they make up for it with their beautiful foliage.
One of the biggest draws in the South End is the SoWA (South of Washigton) Art and Design District. Art flourishes in this district with its home design showrooms, boutiques, studios, and galleries. People flock to the SoWA open market on Sundays, May-October for fresh farm food, interesting food from food trucks, and art. This is a great place to meet local artists and artisans and try the local fare. The SoWA vintage market is open every Sunday of the year.
The artistic offerings in the South End include more than SoWA. The Artist Studios are housed in a gallery at 450 Harrison Avenue and are open at various times. This is a lovely way for people to explore art and meet the artists. The International Poster Gallery has over 10,000 original posters and is reputed to have one of the best collections in the world. Some of them are vintage dating from 1890, some are modern, and they are for sale!
The South End is also noted for international cuisine. Gastronomically visit a different country every day and indulge in American, Cambodian, Italian, Asian, Greek, French, Mexican, Spanish, Mediterranean, and Chinese food.
Great food, art, parks, and outstanding architecture draw people into the South End. Don't miss out on this unique piece of Boston.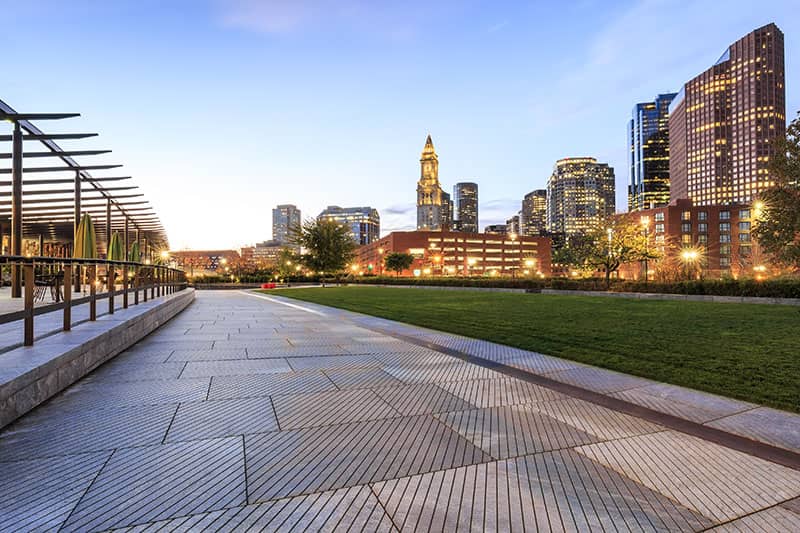 North End
The North End neighborhood is small; it's only 0.36 square miles, but it has an abundance of character. Since the 1630s, it has been occupied, making it the oldest residential community in the city. Almost 100 businesses and tourist attractions are packed into this modest space. The narrow, crowded streets only add to its old-world charm. Famous for its Italian restaurants and bakeries, it is not unusual to see both natives and tourists in the streets munching cannoli.
If you are following the Freedom Trail, you will traverse the North End and pass the Old North Church. On April 18, 1775, Robert Newman and John Pulling held up two lanterns as a signal from Paul Revere that the British were coming by sea. This church is the oldest surviving church building in Boston and the most popular historical site. Stay on the Freedom Trail and you will see the oldest structure in this area of Boston; its former resident was Paul Revere. Copp's Hill Burying Ground is also in the North End. The second oldest cemetery in Boston holds the remains of some famous historical figures such as Robert Newman and Phillis Wheatley. It is also the resting place of some infamous figures: Increase and Cotton Mather who participated in the Salem witch trials.
Every part of Boston has green space, and the North End is no exception. The Harbor Walk provides a view of the water and sailboats. Christopher Columbus Park is part of the Harbor Walk and includes a playground and space for local events. The North End Parks are a series of parks that comprise the northern end of the Rose Kennedy Greenway. People come here to enjoy the trees and flowers, and take in the sights from the benches.
Many people believe the food is the best part of Boston's North End, so don't leave the neighborhood without trying the delicacies: wood-fired pizza, house-made sausage, gourmet pasta classics, traditional Sicilian, Italian recipe fish, and Italian dishes with locally sourced ingredients. If you still have room, don't forget the cannoli, biscotti, and cucidati.
It is astonishing the amount of history, greenery, and deliciousness that's loaded into this small space. The vibrancy of the North End never wavers day or night. Don't miss it.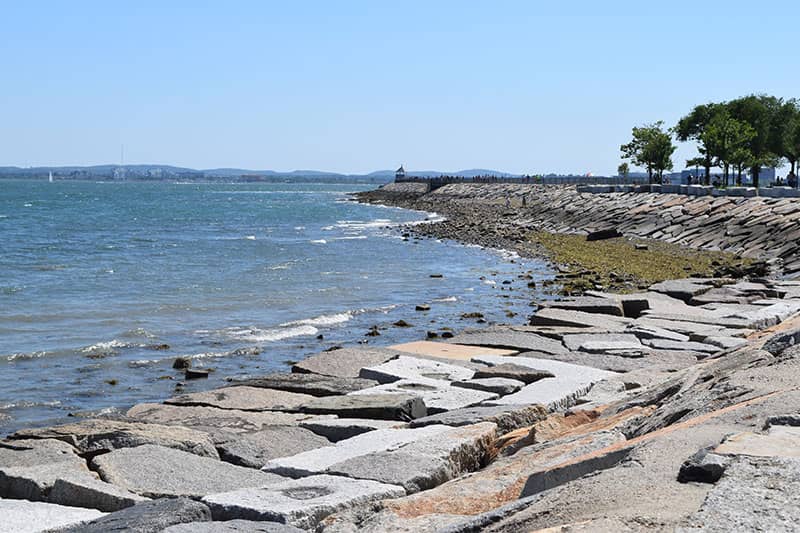 South Boston
South Boston (Southie to the natives) is not one of the diminutive Boston neighborhoods; it covers over 1,700 acres and includes the sub-neighborhoods of Fort Point, Andrew Square, City Point, Seaport, and Telegraph Hill. Enjoy being close to the water! Boston Harbor is to the north and east of South Boston. It also has American Revolutionary War history; with strategically placed canons, George Washington "convinced" British troops to leave. Evacuation Day is still celebrated as a holiday on March 17th. When you consider the demand for housing, the outdoor events, the parks, the interesting stores, and the great restaurants, South Boston is booming!
With all that water, you are probably wondering about beaches. South Boston will not disappoint. Carson Beach is the largest beach and offers restrooms, tables, a snack bar, and exhibit space. Castle Island Park is open all year and has nature trails and beach access. Pleasure Bay is an enclosed lagoon and if you are on the Castle Island side, you have access to the Harry McDonough Sailing Center, restrooms, and a playground. City Point/Kelly's Landing Beach is very small but is still attractive to beach goers.
In addition to Evacuation Day, South Boston has one of the most popular parades in the United States: The Saint Patrick's Day Parade on March 14th. People come from all over the country to watch and participate in the festivities. Another event is The L Street Brownies New Year's Day Plunge that is not for the faint of heart. The waters of Boston Harbor are freezing! Since 1904, this has been a Southie tradition. Polar bear clubs have been around for a while, but the L Street Brownies were the first.
All these fun activities can work up an appetite and South Boston has plenty of restaurant choices. There are numerous places for pizza, sandwiches, and other casual fare: Lincoln Tavern & Restaurant, Seaport, My Diner, Sal's Ristorante & Pizzeria, McGoo's Pizzeria, Sidewalk Café South Boston, and many others. But since you are at the harbor, take advantage of the fresh fish from Legal Sea Foods, B&G Oysters, Drydock Café, Row 34, World Seafood Processing, Bootleg Special, and Lobstah On A Roll to name a few.
There are those who say that this is Boston's liveliest neighborhood. To have restaurants, museums, summer concerts, art galleries, and incredible views overlooking Boston Harbor is a feast for the senses. When you discover South Boston, you may never want to leave.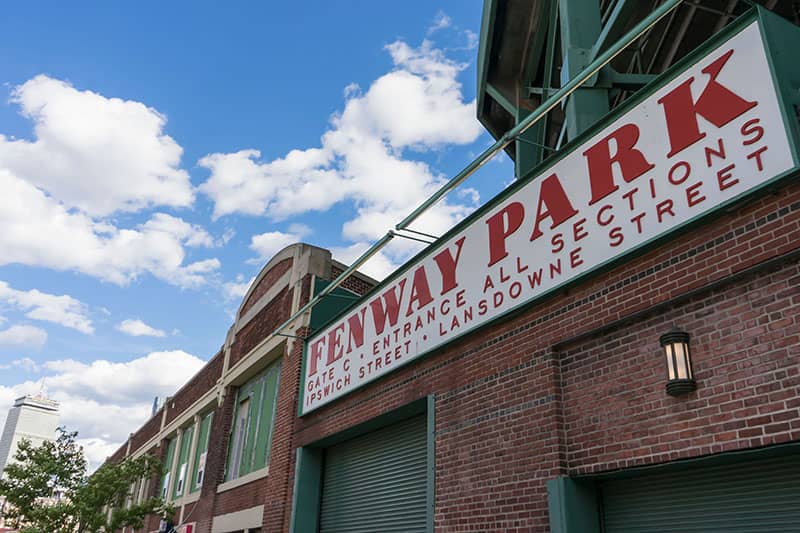 Fenway-Kenmore
The Fenway-Kenmore neighborhood is only 1.24 square miles, but it is the location of an amazing array of schools, entertainment venues, shops, restaurants, and museums. This area is so dynamic, it's difficult to know where to start. Fenway-Kenmore is home to the Berklee College of Music, parts of Boston University, Fenway Park, portions of the Harvard Medical School, Harvard School of Dental Medicine, Simmons College, New England School of Photography, The Art Institute of Boston, Northeastern University, Harvard T.H. Chan School of Public Health, Wentworth Institute of Technology, the Isabella Stewart Gardner Museum, the Massachusetts College of Pharmacy and Health Sciences, the New England Conservatory, Massachusetts College of Art, Wheelock College, Museum of Fine Arts, and Emmanuel College.
Fenway-Kenmore also offers an abundance of natural beauty. Part of Boston's Emerald Necklace, Back Bay Fens became a Boston Landmark in 1983. Frederick Law Olmstead created the original design for the park and landscape architect Arthur Shurtleff added more stylized landscaping and The Rose Garden. The Fenway Victory Gardens located in the Fens are the last of the original victory gardens created during World War II.
You will never be bored in this neighborhood. No matter where you turn, something is going on. The MGM Music Hall at Fenway is a massive (91,000 square feet), modern, performing arts center that showcases popular performers. Fenway Park hosts concert series every summer. Citizens House of Blues Boston provides live rock and blues. Game On! is a sports bar that provides pizza, beer, and bar games. Lansdowne Pub offers great bar food, live music, and open-mike nights.
Variety, excitement, entertainment, education, and the Red Sox await you in the Fenway-Kenmore neighborhood. You could write a book about every Boston neighborhood, and this area is no exception. This description is just a small taste; don't miss the feast.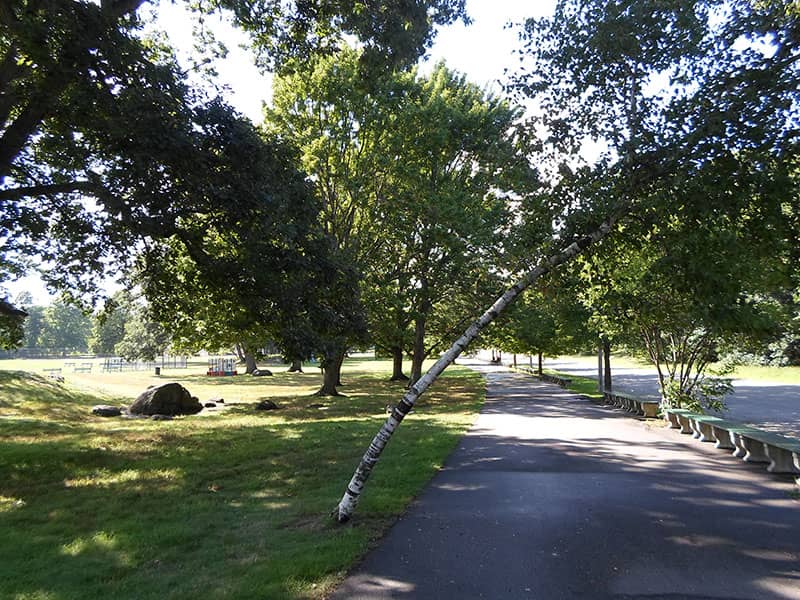 Jamaica Plain
Jamaica Plain is a cultural, architectural, artistic, organic, and gastronomical fusion that creates an atmosphere that is both exhilarating and cozy at the same time. People from all over the globe have settled here and call Jamaica Plain home.
The architecture is a journey through time. You can view historic homes from the 1700s in the historic districts of Sumner Hill and Monument Square. There are Victorian era homes (1837-1901) and there are many of those iconic Boston structures called triple-deckers (1880s-1930s). Right now, homes are being built and renovated to accommodate the many people seeking to live in this vibrant neighborhood.
The Jamaica Plain Artists Association encourages and exhibits community art. An outdoor art festival called the Jamaica Plain Open Studios occurs in September. The Boston Cyberarts Gallery that also has a yearly festival celebrates media arts. This is a great neighborhood for celebrating the artistic spirit.
Jamaica Plain is home to a large section of the Emerald Necklace. The Emerald Necklace is a series of parks that was designed by Frederick Law Olmsted and stretches through Boston all the way to Brookline. Within minutes, you can be transported out of the city and into nature. Olmstead Park, Arnold Arboretum, Franklin Park and the Franklin Park Zoo, and Jamaica Pond are located here.
Enough sight-seeing! It's time to eat. You never have to suffer with a bored palate in Jamaica Plain. There are French, Mexican, Dominican, Cuban, Vietnamese, Ethiopian, Italian, Latin American, Irish, Lebanese, Chinese, and Indian restaurants daring you to try something new.
In a time when chain stores are gobbling up all the retail space, it's refreshing to see independent stores. The number of interesting, locally owned stores says a lot about the community. Here you can find clothing stores, markets, bookstores, furniture stores, gift shops, and package stores that serve the neighborhood.
You could probably spend a lifetime here and not run out of things to do. Food, fun, art, nature, and shopping are dynamic and changing. This is a good time to plan a visit to Jamaica Plain.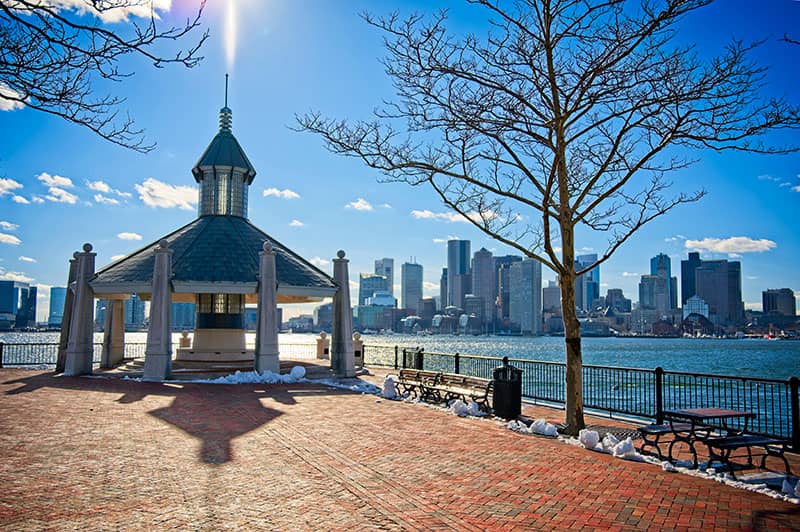 East Boston
The waterfront of Boston Harbor beckons to people. It separates East Boston from mainland Boston and that lends a certain romanticism to the area. Many people believe East Boston (Eastie) has Boston's most beautiful waterfront and the most spectacular views of the Boston skyline. You can get to the mainland by driving through one of the four tunnels. However, to take in the sites of Boston Harbor, we recommend taking a ferry across at least once. You will find that the mystique of the city's ship building past is still present in the ocean breezes.
Though there are numerous new buildings in East Boston, it still retains remnants of Boston's history. In it's 4.7 square miles, there are eight locations on the National Register of Historic Places: Eagle Hill Historic District, Baker Congregational Church, Trinity Neighborhood House, Barnes School, United States lightship Nantucket, Bennington Street Burying Ground, Donald McKay House, and Temple Ohabei Shalom Cemetery. The Bennington Street Burying Ground is significant because it contains the graves of Civil War soldiers and sailors. The most popular historic site is the United States lightship Nantucket. You can see her at Boston Harbor Shipyard and Marina.
This is a great place for outdoor fun. Bremen Street Park is part of the East Boston Greenway and has spacious lawns and a community garden. Take a tour on the boardwalk in Condor Street Urban Wild and observe some nonhuman wildlife. Piers Park has a trail, promenades, and an amphitheater. Belle Isle Marsh Reservation will give you the chance to experience a salt marsh. And before you go home, take a dip at the 223-acre Constitution Beach.
When you hear that rumble in your tummy, head for one of East Boston's great restaurants. Whether you want a pizza, a light meal, or the cuisine of a far away place, you can find it here. The water views are great for the appetite and the seafood is fresh, so try ReelHouse and Harborside Grill and Patio.
East Boston is an up-and-coming neighborhood with great views, greenspaces, and waterfronts. The mix of land and sea makes every day an adventure.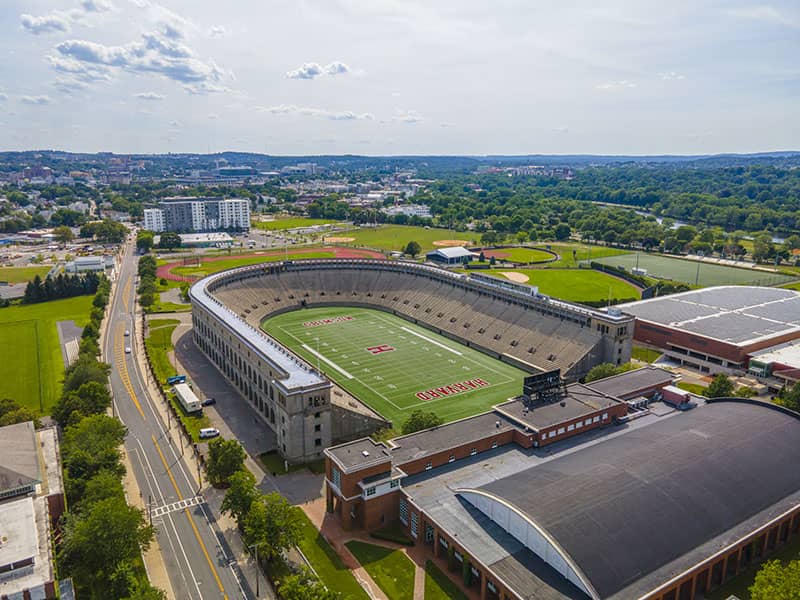 Allston
If we had to describe Allston in one word, that word would be fun! Called Rock City by the locals, Allston has endless attractions: incredible music venues, numerous international restaurants, schools, parks, Charles River views, and some funky stores. Allston also has some of the more affordable rentals in Boston, with a mix of brick apartment buildings, triple-deckers, and Victorian homes.
The sidewalks and streets vibrate in Allston and there are plenty of places to rock on. Brighton Music Hall has helped launch both local and national acts. There's standing room only for indie, alternative, and local bands. O'Brien's Pub prides itself on fostering every musician from established acts to newbies. All genres are welcome. The Paradise Rock Club is a relatively small venue that welcomes alternative rockers and bands new to Boston. For a more intimate musical experience, there are smaller bars and pubs that provide live music such as the Silhouette Lounge and Aeronaut Allston.
If you want to visit another country but can't quite make the plane fare, you can still experience the aromas and tastes of distant lands. Just travel around Allston and pretend you are on vacation. Go to Coreanos Allston for Korean food, Ajeen for Middle Eastern , Carlo's Cucina Italiana for Italian, Garlic 'n Lemons for Mediterranean, Habanero Mexican Grill for Mexican, Dumpling Kingdom for Chinese, Laughing Monk Café for Thai, Yoma Burmese Foods for Burmese, SABOR DO BRASIL for Brazilian, Indian Kitchen Allston for Indian, etc. There are also vegetarian restaurants and a variety of restaurants serving your favorite American foods.
Allston has community events that you won't find in a more sedate environment. Remember, Allston means fun. Wear green and bring your squirt gun on Squirt Gun Day. It happens in August at Ringer Park. The yearly Allston Village Street Fair has live performances, activities for all ages, and a large selection of international food. The Allston Brighton Parade celebrates the neighborhood with food, fun, and music. And then there's Allston Christmas. Allston and the surrounding neighborhoods are home to many students who move out of their apartments in the days circling September 1st. They have accumulated stuff they don't want so they put these possessions on the street hoping others will take them. It's a great way to recycle!
Allston is playful, thoughtful, adventurous, and entertaining. It's a great place to visit and an even better place to stay.
Tags: