2023 Mid-Year Boston Apartment Rental Market Report
As we pass the halfway point in 2023, Boston's apartment rental market has been turning heads.  The average rent price for an apartment in Boston surpassed $3,000 in April of this year and continues to climb.  Both apartment availability and vacancies are near their levels in 2022, a year where Boston already experienced the lowest rental supply on record.  As the local economy continues to stay strong and new construction stalls, conditions are ripe for continued price growth as we head towards 2024.  Let's examine the real time data trends and their possible impacts on Boston's apartment rental market as we enter the second half of 2023.
Boston's Apartment Supply Remains Low
The current real-time availability rate (RTAR) for Boston apartments is 3.20%. That is up slightly (+2.24%) from a year ago, but down -59.69% compared to its pre-pandemic level in June 2019.  Boston's RTAR peaked at 4.37% in March of this year, which is -12.07% lower than the seasonal peak recorded in April of 2022 (4.97%).
Boston's real-time vacancy rate (RTVR) is currently sitting at 0.54%. That figure is up +25.58% compared to a year ago but down -39.33% compared to its pre-pandemic level in June 2019. Vacancies have remained below the 1% line since January 2022 which is unprecedented. Regardless of the recent upward spike we are currently seeing in vacancies; we are still under 1% and there is little reason to think a trend is emerging that could impact some pricing until we see at least a 2% RTVR.
Up until mid-June, both RTVR and RTAR were down by double digit margins from a year ago. Supply absorption has slowed down over the last few weeks compared to last year when both supply metrics maintained a fast downward trend from May to August. This eventually led to both RTAR and RTVR hitting all-time lows in the fall. It is quite possible we are finally seeing the top of the rental market. Perhaps if we see two more months of slower rental activity it could be a stronger signal that rent growth will stop in the latter half of 2023 and possibly be flat in 2024. It is important to note that in about 10 weeks we will be entering the slower period of the apartment rental season as we roll into September- so it will be interesting to monitor how rentals perform in the off cycle season.
If supply absorption continues to decelerate, it's unlikely that Boston will set another all-time low for the RTAR and RTVR this fall. Still, the median days on market for Boston apartments (28 days) is still down -15.15% compared to a year ago according to the most recent apartment data for Boston. This indicates that demand is still strong and price points will mostly likely not fall in a meaningful way. That being said, the greatest driver of price reductions on apartments is days on market. Most landlords are nearly always open to a slight price reduction after an apartment sits on the market for over 30 days. It's going to be an interesting 50 or so days to watch what dominate patterns emerge on the remaining apartment rentals for 9/1/23 – 8/31/24 leasing cycle.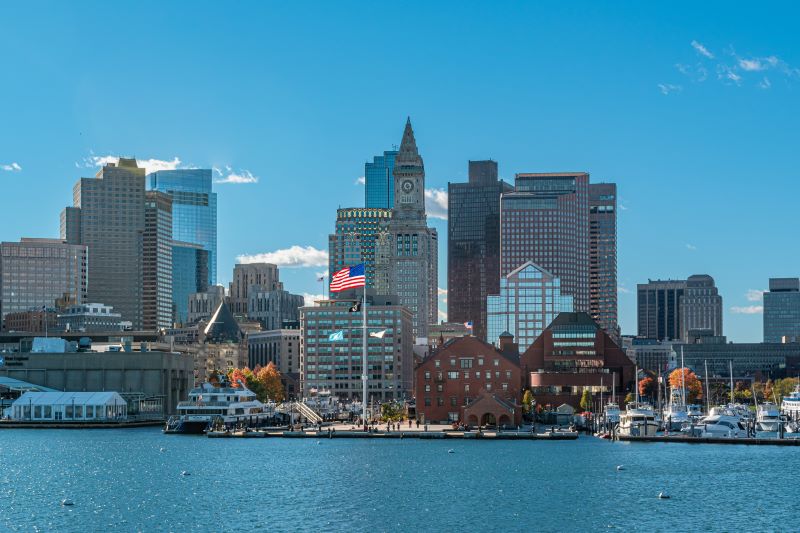 Boston's Average Rent Price Continues to Climb
The current average rent price for apartments in Boston is $3,116. That marks a +12.50% increase compared to a year ago. Price growth has accelerated this year amidst a shortage of rental units. With both RTVR and RTAR well below their pre-pandemic levels, it might take massive job layoffs to change that trend. After speaking with hundreds of property owners over the past several months, the consensus is that their tenants are continuing to maintain high income occupations with minimal job losses. It would appear that Boston seems to be able to generate and maintain innovative industries even throughout an inflationary environment with high energy prices.
2023 Rental Market Trends in Boston
By examining the overall broader statistics and trends, it appears that conditions could be leaning towards a final and modest rental price growth for the remainder of the peak July -August leasing season. The combination of low supply and solid demand are the main contributing factors towards price growth, and those indicate that rents should be going up. That being said, several of our larger property owners have mentioned a significant decrease in showings and calls over the last ten days. This could also be related to the 4th of July falling on a Tuesday which may have created a longer than expected vacation time.
New Construction Numbers Are Lagging
In our last Boston apartment rental market report that we released in January, we reported on a drop in new housing units hitting the market in 2022.  Combine that with the disruption that COVID caused in getting new inventory to market during 2020 and 2021, you have the foundation laid down for the critical shortage in housing inventory we're seeing this year.
We emphasized how important it would be this year that we regain the new construction numbers we were seeing prior to the pandemic.  So far, that has not been the case in 2023.  Only 83 building permits have been issued for residential or mixed-use new construction by the BPDA, down from 94 issued last year.
Unless we see a big uptick in new permits issued during the second half of 2023, expect Boston's rental shortage to only get worse.  This will put additional upward pressure on rent prices in 2024 and beyond.
Massachusetts Unemployment Is Falling
One concern we shared in our 2023 Boston apartment rental market report was the national economy and its effect on our local economy here in Boston.  We predicted that if the recession worsened and mass-layoffs ensued, it would have a negative impact on rental demand.  That has not been the case at all so far in 2023.

After hovering around 4% for most of 2022, the unemployment rate in Massachusetts has plummeted back down to its pre-pandemic level of 2.8%.  This is a big indicator of a healthy and robust local economy, and it forewarns that housing demand is not going away anytime soon.
Boston Metro Population Is Still Climbing
According to macrotrends.net, metro Boston's population is still on the rise despite a declining population state-wide.  The current metro population of 4.34M is up by +0.39%  compared to 2022 and U.N. projections have the area population continuing to rise over the next few years.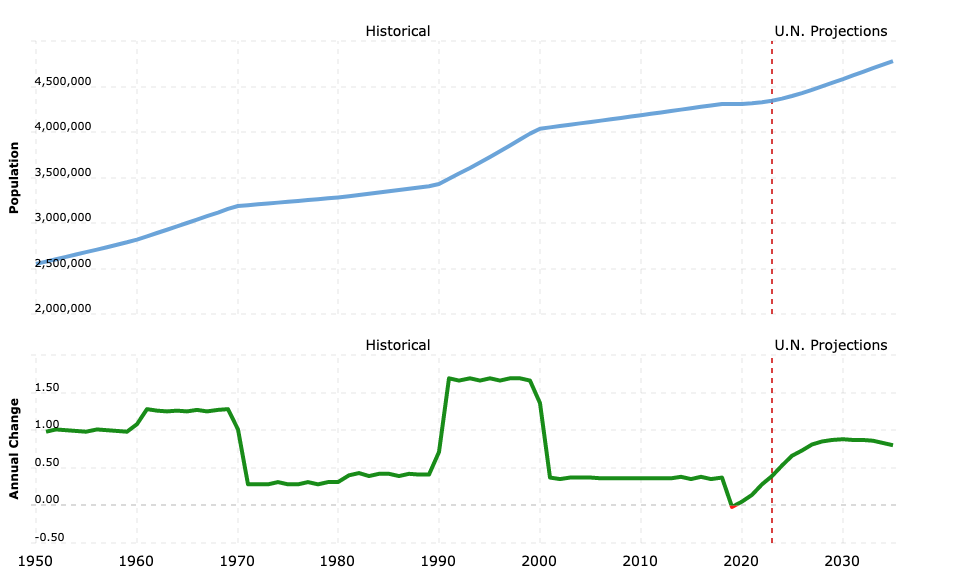 Boston continues to attract new opportunities in the technology and medical sectors, which has provided the fuel for the population boom over the past decade.  Pitchbook's Q1 Venture Monitor still has Boston as the 3rd largest market for VC capital in the US, a trend that is unlikely to change anytime soon.  As long as Boston continues to attract venture capital funding, it will continue to add high income residents to the local population which will put additional strains on housing supply.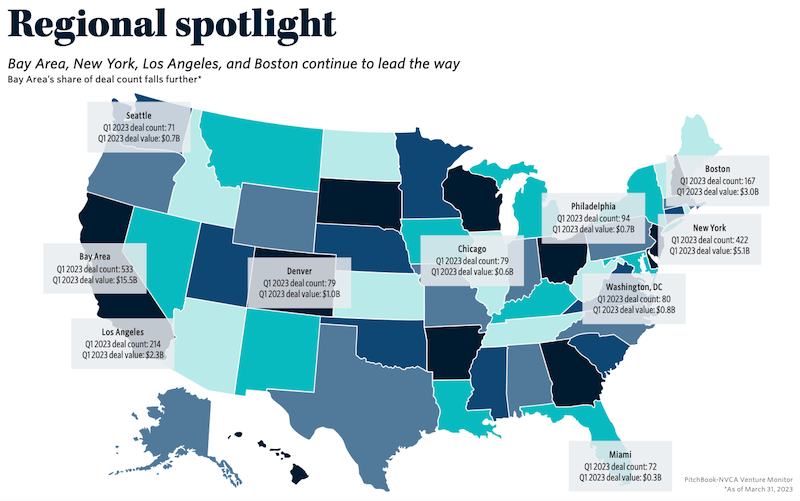 Boston Apartment Rental Market Forecast
All of these market trends considered, Boston's apartment rental market will continue to face tight supply and rising rents. Predicting the durability of continued upward pricing is going to be challenging- and it could change quickly. Overall, we believe that rent prices will flatten out during the Fall of this year in the city of Boston while they continue to modestly rise in the Greater Boston surrounding suburbs.
As prices have soared in the city of Boston, we've seen apartment availability begin to tighten in the suburbs over the past few years.  In 2022 we saw RTAR for Greater Boston fall below the RTAR for the city of Boston for the first time on record.  Now apartment availability for both the city and metro Boston are much closer than they have been in the years prior to the pandemic.
Low supply of available apartments is an unfortunate problem that is likely here to stay for the near future.  With the unprecedented rise in energy, utility and material costs our construction industry has been hampered by costs that do not seem to mathematically pencil out.  These unnecessary and self-inflicted inflationary policies have slowed down new supply in a significant way.  When coupled with the threats of rent control and other non-business friendly policies; it is not shocking to consider that rents will stay high as developers look at opportunities in other states.  Boston is also geographically small and that limits the ability to purchase land at an affordable price for new developments.
With a lack of land for new construction in the city of Boston, much of the new housing development will be built outside of city limits.  These suburban communities should attract more residents seeking to escape the soaring rent prices of the city.  We're already seeing apartment availability up in the city compared to 2022, while RTAR in metro Boston is down year-over-year.
Our elected officials may want to consider a bundle of sticks approach to additional tax incentives for developers stimulate supply.  We really should explore any and all opportunities to build the widest range of apartment supply and it starts with incentives.  There are numerous ideas out there floating around to spur development, and hopefully we can act soon so that we can retain the best and brightest talent for our great city and state.  As always, we will continue to monitor the latest real estate and apartment data trends as they develop.
Tags: