Featured Medford Apartments for Rent
The current demand for apartments in Medford is at an all time high. The Real- Time Vacancy Rate (RTVR) and the Real-Time Availability Rate (RTAR) are 20- 30% below the pre-pandemic levels- meaning there's just not enough inventory. This much demand in the Medford area is typical. Due to the lack of inventory, the average rent price for Medford apartments is up 4.63% from this time last year. It's now $57 more expensive on average to rent than the previous all time high of $2,159 in July 2020.
That being said, if you are looking to live in the Medford area, we have the most inventory available. Let's take a look at some featured Medford MA apartments that are available for rent.

Available: 9/1/2022
Apartments in Medford this nice go quick! Let's start with the modern kitchen. It has gorgeous white cabinets with matching solid stone countertops. The stainless-steel appliances, including a gas stove, dishwasher, disposal, and refrigerator look amazing with the light colored wood flooring. This awesome unit also has a laundry room, which makes things far more convenient for the tenants. The living room is a nice space to hang out with family, friends, neighbors and or co-workers. The bedrooms are nice and large. There's gleaming hardwood flooring throughout. Let's not forget about the updated and modern looking bathrooms. This apartment also has a private deck. Parking is available in the driveway. There are also multiple public transportation options within 0.2 mile of the property.

Available: 9/1/2022
This is one of those large and in charge Medford apartments. The kitchen is awesome. It has high-quality dark wood cabinets and  white solid stone countertops. The modern appliances are stainless-steel. They include a stove, hooded vent, dishwasher, and refrigerator. The kitchen floors are dark stained wood. This humongous apartment is spread out over three (3) floors. The bedrooms all have plenty of room to fit an ample amount of furniture. The living room and dining room are also large. There are gleaming hardwood floors throughout the unit, and it gets plenty of natural light. Other amenities include a private yard, and parking in the driveway. Public transportation is available within 0.3 mile of the apartment.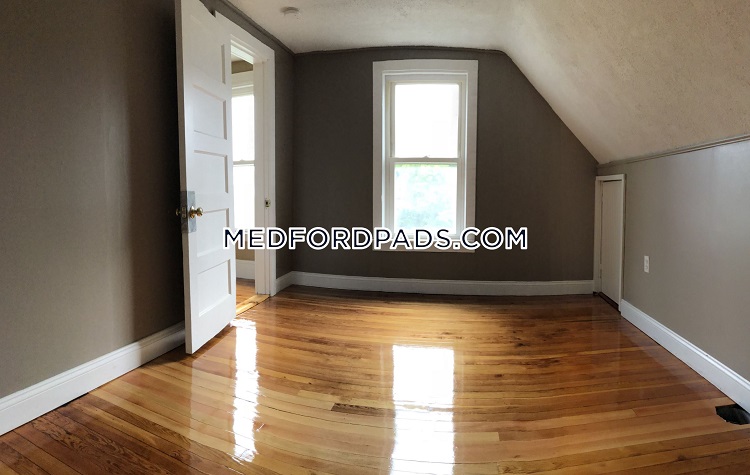 Available: 9/1/2022
Medford apartments with five (5) bedrooms don't stay on the market long. This one has a nice back porch and a roof deck. Laundry is available in the building. The kitchen has stylish white cabinets, dark granite countertops and stainless-steel appliances such as the stove, dishwasher, refrigerator and microwave oven. There are nice and shiny hardwood floors throughout the unit. The bedrooms are spacious. A fresh coat of paint has recently been applied to the walls and ceiling. The bathrooms have been updated and have a modem look and feel to them. There's also a full living room and separate dining room. Laundry is available in the basement. There are half a dozen public transportation options located within 0.1 mile of this apartment.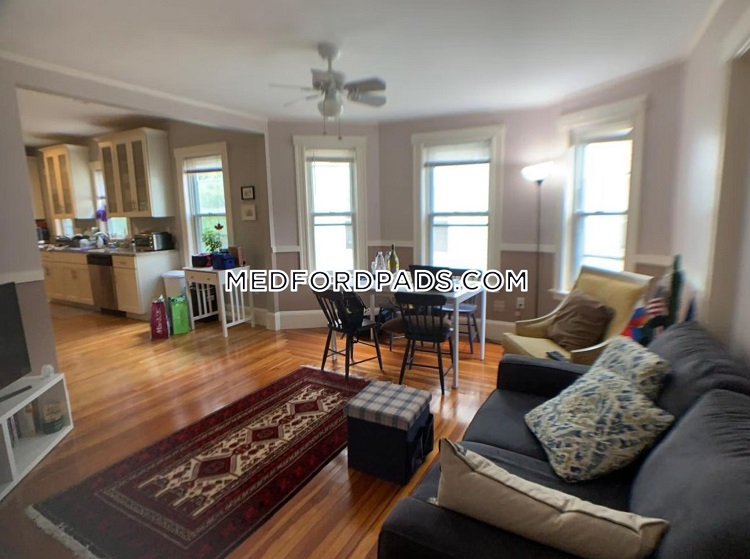 Available: 6/1/2023
Apartments in Medford tend to rent rather quickly and in advance for June, so don't delay. The designer kitchen has white cabinets, which are all the rage these days. The countertops are a thick granite stone. High-end stainless-steel appliances consist of the stove, refrigerator, dishwasher and countertop microwave oven. The matching granite  island is large enough to fit at least four (4) chairs around. The living areas are spacious including the bedrooms. There's also a nice living room. The bathroom has recently been updated with new fixtures. Tenants can enjoy the fresh air on either the front or back porch. Laundry is in the unit as an added convenience. There are multiple public transportation options available within 0.1 mile.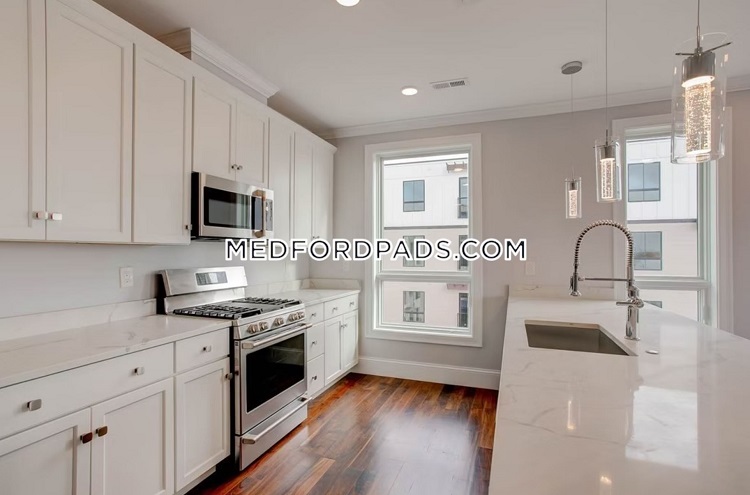 Available: NOW
There certainly aren't a lot of pet friendly apartments in Medford where the tenants can move into right now! This one is going to rent fast. The absolutely gorgeous open kitchen has in style white cabinets and white marble countertops. It also has top-end stainless-steel appliances.  In addition to the two (2) large bedrooms, there's plenty of room in the living room and dining room to entertain or simply relax with family and friends. There are beautiful hardwood floors throughout. There are multiple public transportation options within 0.1 mile of this awesome unit.
In conclusion, the rental market in Medford should be even stronger in 2023. In addition, the Real Time Availability Rate (RTAR) was the lowest it's ever been during the month of July 2022. In addition to the Medford apartments as listed above, you can find other units on The Boston Pads Real Estate Portal.
Tags: